Product reviews on kiwireviews.nz : Saturday 1st April 2023 - 20:08:49
Score:

10.0

/

10

[

2

reviews]


ProdID: 7180 - Fuzzy Doodle


Author: Melinda Szymanik
Price:

$19.00

Sample/s Supplied by:





Available:

June 2016
Fuzzy Doodle product reviews
Fuzzy started as a scribble, just a scrawly little doodle, a smudgey sort of something at the bottom of the page. He nibbled, chomped and gobbled scrumptious words and tasty colours. They made Fuzzy grow ... and grow ... and GROW! Hello!
This Review: 10/10
Price:

Value for Money:

ReReadability:

Personal Choice:
The saying 'don't judge a book by its cover' springs to mind with this book. Looking at the cover I wasn't that excited about reading it, but as it was my daughters birthday when it arrived and we were cuddling in bed I thought what better time then now to find out what it is about. We were both blowing away by the story and the pictures. I have since found my (now) five year old daughter skipping through the pages, on more than one occasion, on her own, just absorbing the pictures.

Last night she was doing just that when her elder sister who is seven asked her what it is and she quickly said its 'got amazing beautiful pictures about a scribble who turns into a butterfly'. So when it came time to choose a book to read, this was naturally the books she selected. I have to admit sitting back and having this read to you is such a thrill. The words are so poetic and it just flows at steady rate and I felt like a child all giddy, as I got to just look at the pictures as I listened to the words. Out of the whole book there was only the one word she had trouble with but after sounding it out she got it and so she was more than happy with herself. She stopped on a couple of the pages and looked at the pictures and made comments like 'wow its so shiny' or 'that's amazing' or 'its just so pretty'.

Donovan Bixley is honestly an incredible artist. The way the pictures can come alive from just a little scribble and the potential for it to turn into something so beautiful. I loved how it went from this dull black and as you turn the pages it becomes more vibrant until there are splashes of colour added to it. The gold added to the blue was awe inspiring and you just stare at the beauty of it all and just swallow as you take it all in.

The words are lovely and have such a fast pace rush to them but yet they still manage to glide off your tongue. The story evolves around you and you feel rather magical that you have been chosen to watch the evolution of something incredible. I had no idea what would happen but that feeling I got when I witnessed the end result left me feeling light and fluffy.

This is a stunning book and one we will cherish for a very long time. It seems to have awaken the artist in both girls and my youngest has done a couple of scribbles hoping to turn them into master pieces during the holidays. It makes you feel that anything is possible. Great for all ages as I don't think anyone will not be touched by the beauty of it all. Miss seven has already asked if she can take it to school in three weeks when she has to read in front of the class. We just love it.


This Review: 10/10
Price:

Value for Money:

ReReadability:

Personal Choice: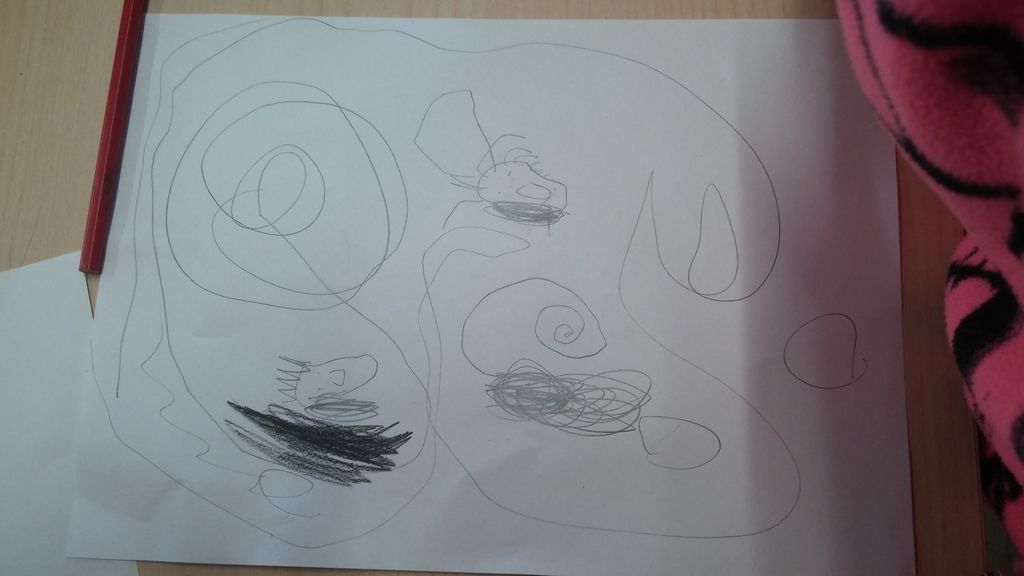 Oh my gosh I just love this book, it has to be one of the best, most well written children's books that I have ever come across, and being an Early CHildhood Teacher I have read a lot of children's books. I was intrigued about this book right from the start right from reading the title 'Fuzzy Doodle' and from seeing the image, although I initially thought it was a book about an animal or some sort of insect there was no way of being 100% sure so I was excited to open it up and find out more!

When I arrived home with the book Miss 3 and I sat down together and looked at the front cover when I asked her what she thought the picture was of her reply was "a worm". We began to read the book, and soon came to learn that Fuzzy was in fact a tiny caterpillar that had started off as just a tiny scribble. This book was so much fun to read and it reminded me a bit of another popular children's book that I love, though I felt this book had more meaning behind it. The story follows Fuzzy as he grows and changes as he nibbles, chomps and gobbles lots of words and beautiful colours on each page of the book, at the end he turns into a beautiful butterfly

I loved everything about this book, but most of all myself and my work colleagues agreed that this book had the most amazing message intertwined in it. Working with children we often see children who feel that their work or drawings are not good enough, or who feel that their 'scribble' is pointless and means nothing, this book has been great for building children's self-worth and giving them a positive light on their drawings, I know that within the 2 weeks of having this book my 3 year olds confidence has grown immensely, she used to put a mark on her paper and say she was drawing something such an elephant give up and say it's too hard, now thanks to this book her markings grow and grow and grow and turn into something magical, even her Dad agrees this book has worked wonders.

Last week during four year old time this book came out again as we read it to the children, we then got them to create their own pictures by first doing a little scribble in the bottom of their paper. It was incredible to see how these scribbles came to life, even with children who are usually not very confident with such tasks, though many children recreated what they had seen happening in the story, some went on to remake their own drawings from a scribble, it was so neat to see.

The pictures in the book are gorgeous and Fuzzy is just so cute, I love how he grows and changes per picture. The book features many different drawing mediums such as sketching, with ink, and what looks to be watercolours or dye, I love the glossy ink blobs on each page, and the gold details on some of the pages, these really stand out. The text itself is fun to read and is written in quite a catchy rhyme, the fonts used vary and I loved this concept, the effects used on the words nibbled and chomped particularly stood out to me.

This book is sure to capture the hearts of many and I would totally recommend it, a great book which encourages you to try your best, and to never give up that even a tiny dot or scribble really is something magical.
Random listing from 'Books'...
Product reviews for listing 3618: The Wheels on the Bus -
Author: Donovan Bixley
"The wheels on the bus go round and round ..." Everyone knows the song. But now the bus is going around beautiful New Zealand and its passengers you just might know: kiwi, penguin, tuatara, fantail and many more. Come along for the ride!
General Disclaimer...
All trademarks, images and copyrights on this site are owned by their respective companies.
KIWIreviews is an independent entity, part of the Knock Out News Group. This is a free public forum presenting user opinions on selected products, and as such the views expressed do not necessarily reflect the opinion of kiwireviews.nz and are protected under New Zealand law by the "Honest Opinion" clause of the Defamation Act of 1992. KIWIreviews accepts no liability for statements made on this site, on the premise that they have been submitted as the true and honest opinions of the individual posters. In most cases, prices and dates stated are approximate and should be considered as only guidelines.

"Reality is what refuses to go away when I stop believing in it."
Philip K. Dick