Product reviews on kiwireviews.nz : Monday 8th August 2022 - 15:48:12
Score:

10.0

/

10

[

4

reviews]


ProdID: 7158 - Barrys Bay Wood Smoke Flavoured Cheddar


Brand - Barrys Bay
Price:

$6.50 / 140g

Sample/s Supplied by:





Available:

via Online Store and selected quality retailers
Barrys Bay Wood Smoke Flavoured Cheddar product reviews

Rich, creamy cheddar with a smokey flavour.
Age: 6-24 months

Food Match: Sausages or bier sticks
Drink Match: English Bitter, Bourbon
Best with: BBQ Chicken pizza, Chipotle tacos



This Review: 10/10
Taste:

Texture:

Value for Money:

Personal Choice:
This wood smoked cheese was on offer to our friends along with another two cheeses from Barry's Bay Cheese at a recent tasting we had. I love smoked cheeses, but my husband is not a big fan of that smoked taste. For that reason I wanted a wider view of how this cheese stacked up. I served this cheese with crackers and bread and a few different sauces as well.

I gave the cheese to one of my friends. She said that it almost smelt a bit fishy. My husband gave it a smell and disagreed but felt that the wood it had been smoked with was probably similar to the wood that fish is often smoked with. No one else thought it smelt fishy and it certainly didn't taste fishy at all. For the most part of the group gave it a big thumbs up. Even my husband was impressed.

I had held back a bit to see what everyone was thinking about the taste. So it was then my turn to have some. I cut a small chunk off and put it on a cracker. The moment it touched my tongue I was in heaven. The flavour was utterly delicious and I could not believe how yummy it was. I had another bigger chunk and then wondered aloud if I should put it away. No one thought that would be a good idea. So I didn't get to hide the rest for me!

As our tasting went on, this cheese was the most eaten of all the cheeses on the board. The saddest thing for me was when my youngest came along, and asked for some of the wood smoked cheese. I said yes, against my better judgement. I cut her a tiny piece and sent her away. She took a half turn away from the table, then spun around and took the whole rest of the block away with her. She loved it so much she ate almost half a block by herself. Needless to say, we need to get some more of this one.
This Review: 10/10
Taste:

Texture:

Value for Money:

Personal Choice: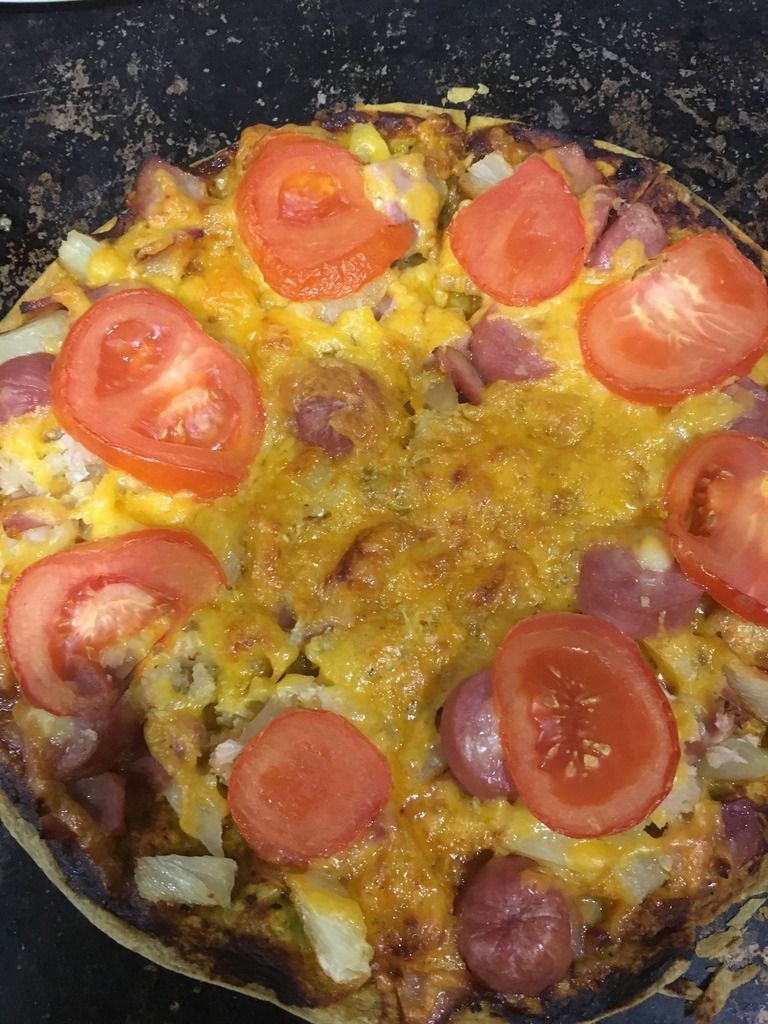 I love cheese so much so I once had a cat named that. When I heard that there was cheese available for review I put my hand up. Barry's Bay Wood Smoke Flavoured Cheddar sounded like one the whole family would love. The only smoked cheese the children have tasted has been processed cheese slices and that can't really be classed as cheese. We were all in for a treat.

One of the suggested uses for the wood smoked cheddar was on a pizza. Pizza is always a hit in our house so I knew we were a winner with this one. I grated about half the block and gave my girls (6.5 and 8 years old) a little piece to nibble. They both loved it and wanted more. The pizza was enjoyed by both the girls, myself and my husband. The cheese gave an orange tinge to the pizza but no one complained about it. We all loved the smokey flavour the cheese gave to the pizza.It was a nice change from regular cheddar.

I hid the rest of the block so I could enjoy it by myself. I really loved the cheese by itself, no need to add crackers or anything else to change the flavour. I think I have a new favourite cheese. I am sure it will be popular on a cheese board and will appeal to the kids as well as adults. The price reflects its quality of the cheese and makes it a treat rather than an everyday cheese. It is something to be savoured.
This Review: 10/10
Taste:

Texture:

Value for Money:

Personal Choice: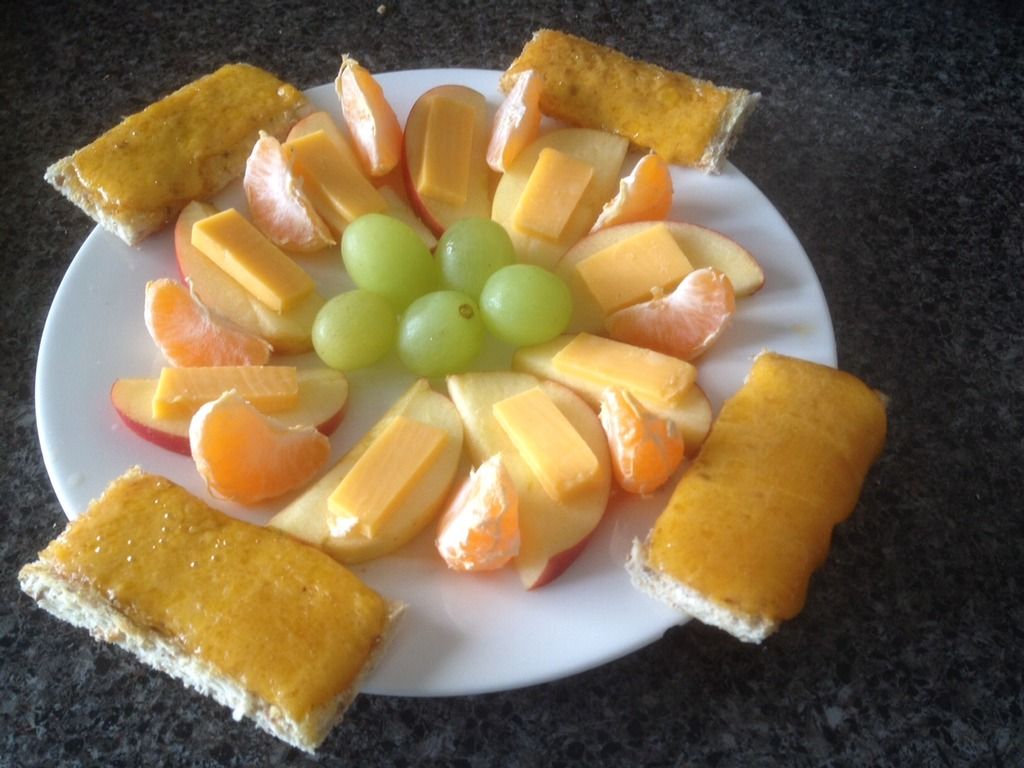 I love cheese and smoked cheese is one of my favourites. I found that Barry's Bay Wood Smoke flavoured cheddar had a great aroma and taste. The strength of the smoked flavour was perfect in my opinion. Interestingly enough, my husband thought that this cheese had a strong smell but wasn't so strong to taste. I was still very happy with the cheese and my husband enjoyed it too.

My husband suggested trying it with celery but we didn't have any. I then thought about the lovely crisp apples in our fridge. I sliced up some apple and put small slices of the smoked cheese on each piece. The combination worked very well with the cold crunch apple and the firm, tasty, smoked cheese. The apple made a great alternative to crackers and it would make the snack so much better for you too. I added some other fruit to the plate and it all worked really well together. I also put some on crackers and on little toast slices. It was nice very on the crackers and the toast - no real surprises there as the cheese it really good in any form! I found that the cheese melted quite easily and didn't burn in the process. This made a tasty little treat and Miss Four was particularly taken by these.

Barry's Bay cheese is handcrafted in Akaroa in New Zealand. It is much nicer to eat something that has been made on a smaller scale than through mass production. I can imagine real people making it for me rather than a huge factory. The ingredients are simple and items that I would expect to see in a cheese. This is the second cheese in the Barry's Bay range that I have been lucky enough to try and so far I am very happy with the range.

I note from the packet, that this cheese is best served at room temperature. I found that the flavour was enhanced as the cheese warmed up to room temperature (even though it is the middle of winter, there is a bit more warmth in the house than the fridge!). I really enjoyed the cheese by itself and could quite happily have eaten it chunk after chunk straight from the packet. I see that the Barry's Bay cheeses are available at Countdown, New World etc, so I will be sure to hunt them down in my local supermarket. I am always after cheese options that I know are tasty and good quality.
This Review: 10/10
Taste:

Texture:

Value for Money:

Personal Choice: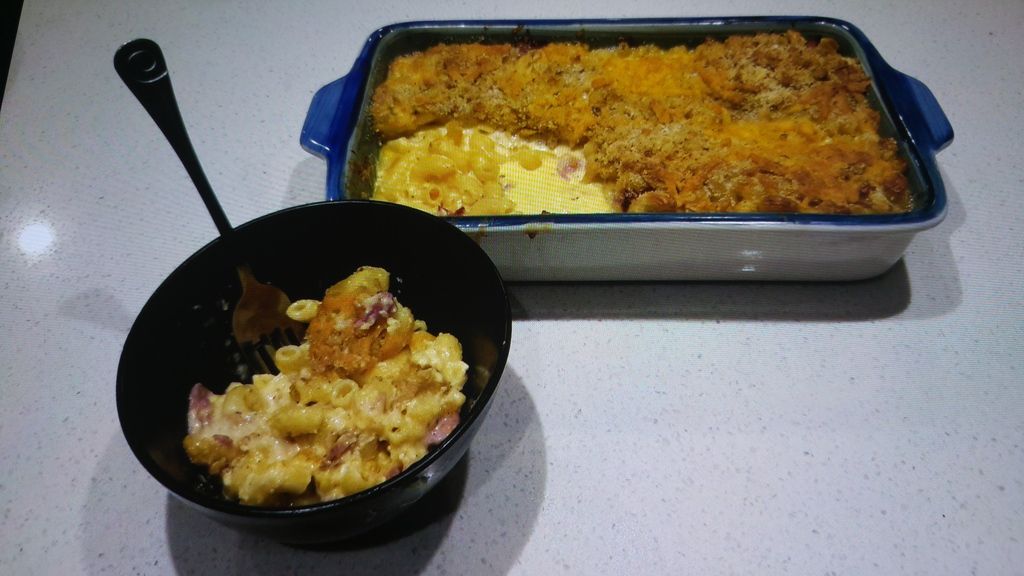 I absolutely love cheese, and will add cheese to most of my meals when I can! Smoked cheese isn't something which I have really tried a lot of to be honest, other than in processed form. However I had recently seen a Mac and Cheese recipe that I wanted to try out which had smoked cheese as one of the ingredients, so upon seeing this come up for review I knew it would be worth getting and trying out and boy was I right!

Tearing open the packet you are met with a strong smoky aroma,from the beautifully slightly orange coloured cheddar cheese, which smelt really rich. Immediately I had to give it a little taste and I found the flavours to be absolutely delicious rich, and creamy with a great smoked taste, the texture was a bit softer than I had expected with this being a cheddar cheese, however this was a good thing. I could have happily devoured the whole block of cheese right then and there but I refrained as I had other plans for this cheese. This cheese quickly went to number one spot as my favourite smoked cheese!

As I was using this cheese to make a Mac and Cheese dish I needed to grate it, cutting 3/4 of the block off I began to grate it, I was pleasantly surprised at how well this cheese grated it was so easy to grate and it didn't crumble up like I sometimes find happens with cheese. After boiling my pasta, mixing up a sauce of cream, milk, eggs and cheese (I used mozzarella, Edam and Barry's Bay Havarti cheese) I added this to the dish, with some chopped sundried tomatoes and bacon and then stirred it together. The recipe called for the smoked cheese to be simply added as a topping so this is exactly what I did, mixing the grated smoked cheese with some dried breadcrumbs and a generous sprinkling of Alexandra's Dukkah. I popped the dish into the oven for 30minutes until the sauce had thickened and the yummy cheese topping had melted and crisped up. I was pleasantly surprised when I opened the oven door to smell the lovely aroma of the smoked cheese whiffing towards me. Te colours of the orange cheese on top made the dish look stunning and added a lovely colour to the usually plain dish. The Macaroni Cheese tasted amazing the sauce was so creamy and smooth and the combination of flavours used in the topping went so well together, the smoked cheese however is what made the dish adding such a nice smokey taste to it.

With a small amount of the cheese left over I decided to use this on homemade cheese burgers, I used a cheese slice to cut it into pieces,again the cheese had no problems being cut this way, and was so easy to cut through. The flavours of the smoked cheese when added to the burgers made them absolutely delicious and much more gourmet than your average burger when paired up with homemade meat patties, gherkins, tomato sauce and lettuce. Miss 3 wasn't fussed on the actual burgers however she made sure she got her cheese out of the bun to eat, this says a lot as she is a huge cheese fan however, has always refused to eat smoked cheese flavoured processed slices but loved the taste of this cheese.

This is a cheese I will certainly be buying again as I absolutely loved it, the price is great as it's what you'd expect to be paying for such a quality cheese.
Random listing from 'Food'...
Product reviews for listing 140: Maketu Steak Pie - Single Serve -
Manufactured by Maketu Pies Ltd
Maketu Pies, made in the Bay of Plenty, and distributed to fine food outlets, for you to enjoy.

Available in a wide variety of flavours, there's a pie for everyone.
General Disclaimer...
All trademarks, images and copyrights on this site are owned by their respective companies.
KIWIreviews is an independent entity, part of the Knock Out News Group. This is a free public forum presenting user opinions on selected products, and as such the views expressed do not necessarily reflect the opinion of kiwireviews.nz and are protected under New Zealand law by the "Honest Opinion" clause of the Defamation Act of 1992. KIWIreviews accepts no liability for statements made on this site, on the premise that they have been submitted as the true and honest opinions of the individual posters. In most cases, prices and dates stated are approximate and should be considered as only guidelines.

"Before you criticise someone, you should walk a mile in their shoes... That way, when you criticise them, you're a mile away, and you have their shoes."
anonymous