Product reviews on kiwireviews.nz : Tuesday 29th November 2022 - 10:46:01
Score:

9.6

/

10

[

2

reviews]


ProdID: 7334 - What Do They Do With All The Poo From All The Animals At The Zoo? -

Author: Anh Do
Price:

$24.00

Sample/s Supplied by:





Available:

October 2016
What Do They Do With All The Poo From All The Animals At The Zoo? product reviews
What do they do with all the poo, from all the animals at the zoo? The hippos, the tigers, the kangaroos - what do they do with all that poo? There's so much poo at the zoo... Where does it all go?

Do they mix it into chocolate ice-cream? Sprinkle it on pizza? Stir it in the local swimming pool? With the hilarious bonus CD recording, you can sing along in search of the stinky truth.
This Review: 9.3/10
Price:

Value for Money:

ReReadability:

Personal Choice:
Miss Four was not well. She had just come home from hospital and was feeling very grumpy (and letting everyone else know too!) So this was just the day to arrive at her house with a new book, particularly a book about bodily functions because that is absolutely the funniest thing you can talk about with a pre-schooler. Especially poos!

We started with the cover and talked about what might be in the book. Miss Four thought that it was hilarious that the word "poo" was in the title. She knows quite a lot of her alphabet now, and is able to make out a few easy words. Now "poo" has joined that collection! We settled to read together; by now, she had forgotten that she was supposed to be unwell and had climbed on to my knee so she could see the pictures. We then proceeded to laugh our way through the story. Everyone else was laughing too because her giggles were so infectious - even if they had no idea what we were laughing at! After I had read it twice, Mr Six, who is a very capable reader now, took over and read it to her a third time.

There was a CD with the book so we put that on and our poor little sick girl was so happy that she got up and danced and sang along. In fact, she declared that she was now all better! I thought Mr Six might be too cool to join in because the book might be too young for him, but he was up with her in no time, singing and dancing as well. The song was very easy and quite repetitive so it did not take them long at all to get the hang of it.

I liked the format of the book. It had a good strong hard cover which will withstand some tough treatment from little hands. Of course, it also had to be strong enough to protect the CD so Miss Four could play it again. She is technologically quite able and it is not a problem for her to load the CD herself so she can sing and dance along to the music.

There was another advantage to reading the book together insofar as it prompted a discussion on what really happens to waste, both from animals and from humans. We talked about the huge quantities involved when you were dealing with a large number of animals (or people) and what an ecologically sound solution might be. The children were both astute enough to know that the solutions suggested in the book just might not be the best ones! And finally, we all agreed that if ever a blowfly could be described as cute, then those in the book certainly fitted the bill.
This Review: 10/10
Price:

Value for Money:

ReReadability:

Personal Choice: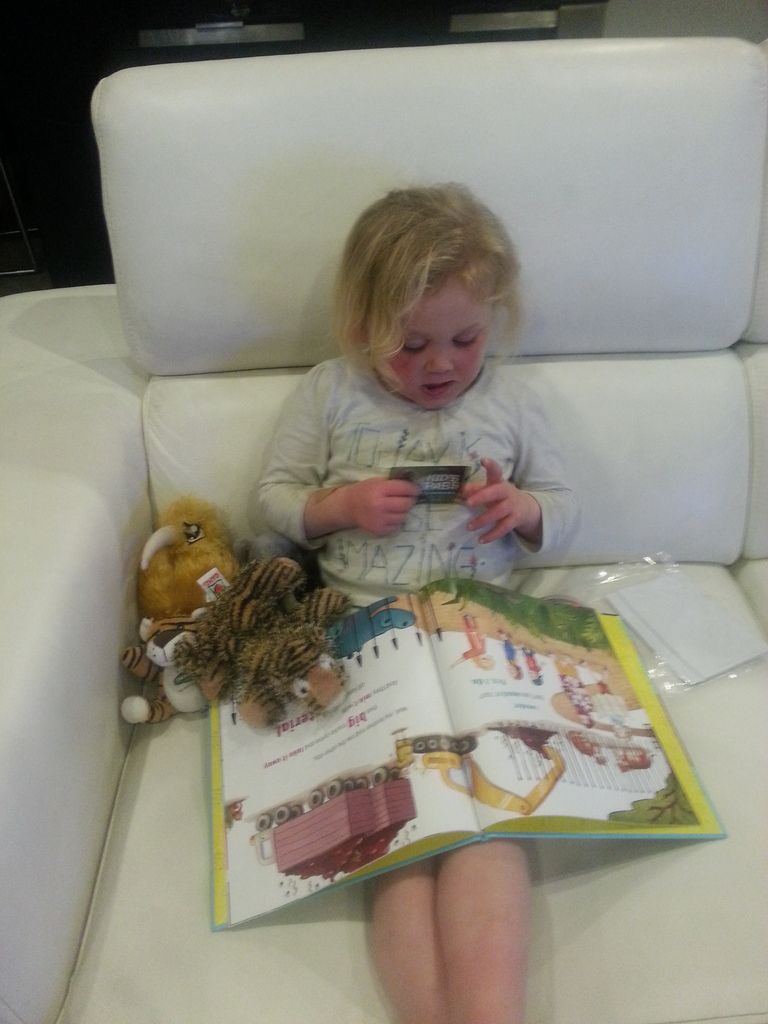 This has got to be one of the best, most funniest children's books which I have come across in a long time and I must say that my daycare children and my Miss 3 just loved it! It seems that any book that is associated with animals and with poo of all things is sure to be a hit with children, especially with the boys who it can often be a struggle to get to sit and listen to a story, however this book provided endless amusement and laughter for them.

"What do they do with all the poo from all the animals at the zoo?" is a book full of amazing graphics of animals, people and of course poo, all which are very bright and comical to look at. Throughout the book the reader asks the question "what do they do with all the poo?" and each character in the book shares their own funny theory on what they do with the poo, for example is it used to make chocolate ice cream, or to make pizza topping? My daycare children were is hysterics throughout this story and they just loved to share their own ideas of what they think happens to the poo's, it was great listening to their answers which prompted imagination. Not only did the children love the story but the teachers did just as much, it has certainly been a favourite over the past week or so.

Miss 3 absolutely adores this book, muchly due to the fact that she loves the zoo, which is a place we visit often. She has listened to this book so many times now that she can pretty much retell it word for word by herself, and she never fails to giggle her way through it. During our zoo visit today she was most interested in looking out for animal poo's and seeing if she could work out what really happens to them LOL, her verdict "it goes into the trucks, and then they flush it down the toilet and say see you later". She loves sitting down and flicking through the pages and naming the animals and also talking about experiences which she has had at the zoo, her Dad is a fan of this book also so this is one story he will happy sit down and read to her.

The beauty of this book is that it is fun to read as it is, and with it's rhyming words and repetitive saying children can easily join in after a few times. The book also comes with a CD for a whole new level of enjoyment with a very catchy tune and rhythm to it, however I did find the CD to be quite fast paced so you need to be quick to turn the pages so you can keep up.

A new favourite book which I don't think will ever get old. I would recommend this as an awesome present for a young child, and a must for every Early Childhood Centre.
Random listing from 'Books'...
Product reviews for listing 279: Greg Mandel : 2 : A Quantum Murder -
Written by Peter F. Hamilton
Part two of the Greg Mandel series

Professor Edward Kitchener was a double Nobel Laureate researching quantum cosmology for the Event Horizon conglomerate - but no good to anybody dead and with his lungs spread our on either side of his chest.

Who would want to murder him and why?

General Disclaimer...
All trademarks, images and copyrights on this site are owned by their respective companies.
KIWIreviews is an independent entity, part of the Knock Out News Group. This is a free public forum presenting user opinions on selected products, and as such the views expressed do not necessarily reflect the opinion of kiwireviews.nz and are protected under New Zealand law by the "Honest Opinion" clause of the Defamation Act of 1992. KIWIreviews accepts no liability for statements made on this site, on the premise that they have been submitted as the true and honest opinions of the individual posters. In most cases, prices and dates stated are approximate and should be considered as only guidelines.

"Why did Kamikaze pilots wear helmets?"
unattributed