Product reviews on kiwireviews.nz : Thursday 1st June 2023 - 06:27:18
Score:

10.0

/

10

[

2

reviews]


ProdID: 7333 - I want a Hippopotamus for Christmas + CD


Author: John Rox
Price:

$21.00

Sample/s Supplied by:





Available:

October 2016
I want a Hippopotamus for Christmas + CD product reviews
I want a hippopotamus for Christmas
Only a hippopotamus will do...

This cute little kitten has just one wish for Christmas-she REALLY wants a hippopotamus! How will Santa get this present under the Christmas tree? He's going to need a bigger sleigh!

I Want a Hippopotamus for Christmas was originally released in 1953 by 10-year-old Gayla Peevey, and was an instant hit. The song has been an enduring Christmas favourite ever since
This Review: 10/10
Price:

Value for Money:

ReReadability:

Personal Choice:
Despite this being an old song (released in 1953), we had never heard of it before. My daughter was just very keen to get the Christmas book with the cute cat on the front. She is four years old and she has been excited for Christmas for a month or so now. She loved the front cover of this book. The cat was a big draw card. She also liked the green background and the obvious friendship between the cat and the hippo, just in that cheeky cat smile.

When she opened the book, she immediately noticed the CD. She was keen to get it out and have a listen. But I didn't want to listen to it straight away as I knew it would influence how I read the book. So first we read through the book. Knowing it is a song explained a few grammar oddities in the story. My kid didn't notice and thought the book was great.

Of course the main draw for her was the illustrations. At each page, she would pour over the pictures. She would point things out and also have a wee giggle at the funny things happening. She loved the superhero Hippo and the cat too. We have read this several times over the last week. One cool thing I noticed is that even though she can't read it herself, she has a good memory for the story and she will re-tell it to me.

The song on the CD is great. It adds another dimension to the book and I have popped it in the car so that we can listen to it to and from daycare and school. It's going to be a fun way to get into the December spirit. We would recommend this book for kids Primary school age and younger, as both of my girls are enjoying it. It would be a neat Christmas gift, or an addition to a Christmas book advent if you do that in your house.
This Review: 10/10
Price:

Value for Money:

ReReadability:

Personal Choice: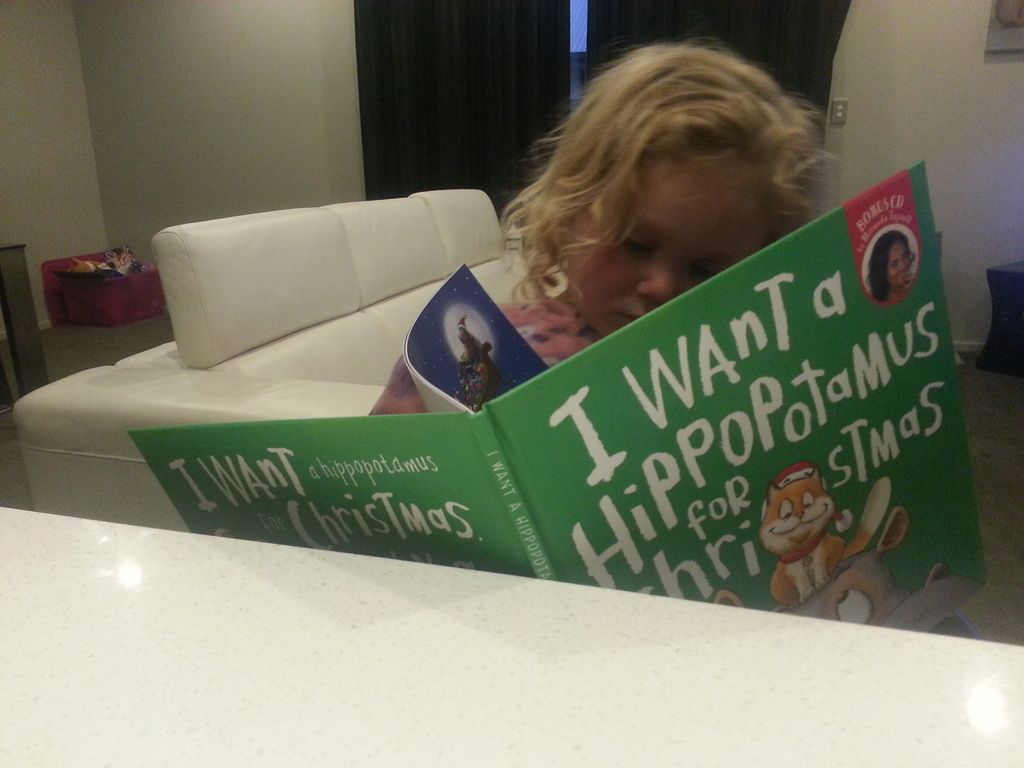 I always look forward to seeing the range of Christmas books that Scholastic will bring out each year, and I have to say I am delighted by the beautiful array of books that have been released this year just in time for Christmas. I have to say that out of all of the Christmas books I have looked at this year so far that 'I want a Hippopotamus for Christmas' has to be my absolute favourite! Without playing the CD this book is neat as it is, but with the CD playing it is amazing, and really adds to the Christmas spirit with the beautiful catchy music playing and the lovely singing from Miranda Tapsell! I had never heard of this song before now although it has apparently been around since 1953!

As soon as Miss 3 saw this book she became super excited, she thought it was hilarious that there was a cat sitting upon a hippo's head, and soon was full of 100 and 1 questions about what it was doing there, and how it got there, there was only one way to find out ... by reading the story! Reading the first page of the book we soon found that it was a cat who wanting a hippopotamus for Christmas, where as before this I presumed it was a child. The illustrations were just gorgeous, a cute little cat and a big fat hippopotamus, who looked like the best of friends when they were together side by side, they provided us with plenty of laughs as the cat showed how much it didn't want a different animal such as a crocodile or rhinoceros for christmas by trying to tie them up with string or push them over. The antics of the hippopotamus in the book were brilliant and we just loved looking at the funny things it got up to such as hiding in a box disguised as a present and having a bubble bath.

My daycare children also loved this book as did the teachers and we can already see what a requested book this is going to become when we begin our Christmas crafts and activities closer to Christmas, unlike many Christmas books which we feel are best left for just Christmas time we feel that this book is so fun to read and listen to that we don't mind it being read all your round. There is always so much laughter when this book is being read and listened to, and the 'Hippo Hero' is always the favourite part, everyone loves to sing along with the verse "I want a hippopotamus for Christmas, only a hippopotamus will do".

If you are after a great Christmas Book that is easy to listen to over and over this is well worth getting, I absolutely love it such a catchy, fun book, with beautiful images and lyrics, just be warned you may have a hippopotamus on your child's Christmas list as I do!
Random listing from 'Books'...
Product reviews for listing 6220: 3D Comic Sticker Book -
Brand / Author: Marvel
Read about the mysterious beginnings of two of the world's most famous superheroes. Join them on their adventures as their lives change forever. Finish stories by adding captions, stickers and sound effects, then create your own comic adventure and colour it in.
General Disclaimer...
All trademarks, images and copyrights on this site are owned by their respective companies.
KIWIreviews is an independent entity, part of the Knock Out News Group. This is a free public forum presenting user opinions on selected products, and as such the views expressed do not necessarily reflect the opinion of kiwireviews.nz and are protected under New Zealand law by the "Honest Opinion" clause of the Defamation Act of 1992. KIWIreviews accepts no liability for statements made on this site, on the premise that they have been submitted as the true and honest opinions of the individual posters. In most cases, prices and dates stated are approximate and should be considered as only guidelines.

"Political language... is designed to make lies sound truthful and murder respectable, and to give an appearance of solidity to pure wind."
George Orwell (1903 - 1950)