Product reviews on kiwireviews.nz : Thursday 8th December 2022 - 23:36:02
Score:

9.5

/

10

[

3

reviews]


ProdID: 7332 - Dinosaur Hunting


Author: Lucy Davey
Price:

$19.00

Sample/s Supplied by:





Available:

October 2016
Dinosaur Hunting product reviews
Down to the garden, tiptoe tracking, dinosaur hunting, Daddy and me. Following footprints, twigs snap-cracking-which kinds of dinosaurs can we see? Children will love romping, stomping, roaring and CHOMPING their way through this rollicking backyard adventure with Daddy. And all will enjoy spotting the different dinosaurs-look out for T-REX!
This Review: 10/10
Price:

Value for Money:

ReReadability:

Personal Choice:
Being an early childhood teacher I have plenty of children to read books to so I was excited to have won a copy of Dinosaur Hunting from a giveaway in the Say What E-Magazine. I had given the children pre-warning as to what was coming so when the parcel arrived at centre they all wanted me to open it up straight away. I managed to get them to wait until quiet time after lunch so that we would all be gathered on the mat together and everyone would be able to enjoy it.

Upon opening the parcel I was excited to read the book. The cover was very colourful and inviting and made me want to open it up to see just what the book was about. I have a number of children who really enjoy dinosaurs, and one child in particular is borderline obsessive about dinosaurs! I knew this book would go down well, but I hadn't expected it to be as good as it was. The book follows a boy and his Dad going on a dinosaur hunt. This hunt begins in their own backyard, heads past the washing line and then takes you down to the local park. The children, and myself, enjoyed seeing all of the different dinosaurs on the way. My favourite would have to be the dinosaurs that appear on the washing line. This was quite cleverly done! The rhyming words are always enjoyed by the tamariki and they love to join in on the repetitive bits.

One thing we hadn't noticed until the end of the book was T-Rex. I have come across many books lately that have something that appears on every page in the book and this book did just that. At the end we discovered cat helping to save T-Rex from being left behind. This then got us looking back through the book and discussing where we could see him. This meant that the first time looking at the book resulted in two read-throughs. I was pleasantly surprised at how well the children sat through this as we were on the mat for about 20 minutes making the most of this book.

Having read other Lucy Davey books I can highly recommend them to teachers and parents for their young children. The fact that this (and other Lucy Davey books) are often requested by the tamariki at my centre, I can safely say that the tamariki enjoy them and would recommend them to others too.
This Review: 8.5/10
Price:

Value for Money:

ReReadability:

Personal Choice:
In our household, our youngest often calls the shots and gets to choose the book before bed. He has strong favourites - and lately that has included Dinosaurs after seeing a replica skeleton in his big sisters classroom at school. We are always on the lookout for new books to read - especially as I am an ex teacher, and really feel strongly about have a variety of books, genres, authors and types in the house.

This book first captured my attention for the cover picture - lots of colour, beautiful Father and Son pictured, and the cheeky dinosaurs peeking out from behind the trees. The first thing my son asked was - is this like a "Where's Wally" book Mum? - I chuckled and said we would have to wait and see.... and find those dinosaurs!

I do not want to give too much of the story away - but as you go on through the book, the imaginative ways, and ideas that each page provides as to where dinosaurs are and what they could be made from are great! Some of the things I would never have even thought of - and my kids definitely took the ideas and made their own from them.

I love that this book has a Dad and son as the main focus - and them getting out there together and doing something - this does not always occur as often as it should - and this book is a great catalyst for "let us go and explore". Every bit of this book, from the illustrations, to the rhyming words - it is just gorgeous! You will not regret reading it - over and over and over, as I suspect you will like it happens in our house!
This Review: 10/10
Price:

Value for Money:

ReReadability:

Personal Choice: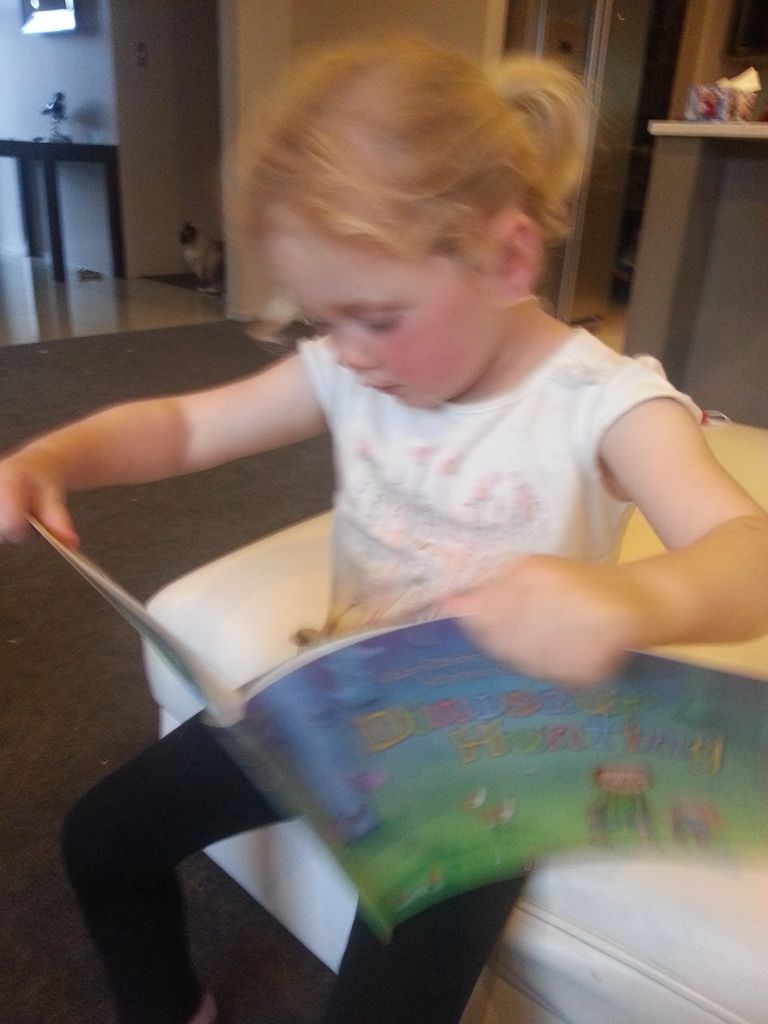 Dinosaurs are always a firm favourite with young children, so when I saw this book I knew it would be a hit with the children at my daycare, as not only do the preschoolers love all things to do with dinosaurs, but so do the toddlers and the children in the nursery room. As dinosaurs have suddenly come back in full force as a firm favourite game to play at the centre the children, including my Miss 3 were delighted to see that I had a new book to read to them about dinosaurs.

Right from the very front cover I thought this looked like a beautiful book, the illustrations were done in beautiful shades of pastel colours, and the font that read 'Dinosaur Hunting' spelt out FUN, the dinosaurs that were hiding behind trees and under rocks looked like super friendly dinosaurs, not scary at all which meant this book was safe to read to all ages, without scaring anyone! I first read this book to Miss 3, straight away all of the bugs that were hiding throughout the pages caught her attention and she really enjoyed searching for these on each of the pages, of course she also enjoyed finding the dinosaurs on each page too, and naming each one she has been interested in dinosaurs for quite some time now so is a bit of a expert when it comes to naming dinosaurs.

The children at work were all really taken by this book, especially several of the younger toddlers and the preschoolers, they loves hunting for dinosaurs on the pages and had heaps of fun talking about the imagination and creativity used throughout the book in which dinosaurs were created and seen through different ways such as the slide used as a dinosaur tail and sock puppets that have been made to look like dinosaurs. Since reading this book the children have been on many dinosaur hunts of their own, down in the gully and throughout the playground, shadows have become a favourite way in which to find dinosaurs! Even one of my just turned 2 year olds was really excited by this book and ever since reading it with her she has been recreating dinosaurs at meal times with her biscuits and crackers.

This book has certainly been great for fostering children to be creative and use their imaginations out int he playground, and the staff have been loving this and felt that it has been a great way of supporting the children's dinosaur interests in such a fun way, and love that it illustrates a beautiful relationship that children have with their dad's. The book has lots of fun rhyming words which are a heap of fun to say and play around with. This is a gorgeous book perfect for any dinosaur lover out there.
Random listing from 'Books'...
Product reviews for listing 6356: I'll Be there

Written by: Holly Goldberg Sloan
Emily believes in destiny. She's waiting for the moment her real life begins.

Sam wishes he could escape. He's spent his life being dragged from place to place by his father. But he could never abandon his little brother.

Then everything changes when Sam meets Emily.
General Disclaimer...
All trademarks, images and copyrights on this site are owned by their respective companies.
KIWIreviews is an independent entity, part of the Knock Out News Group. This is a free public forum presenting user opinions on selected products, and as such the views expressed do not necessarily reflect the opinion of kiwireviews.nz and are protected under New Zealand law by the "Honest Opinion" clause of the Defamation Act of 1992. KIWIreviews accepts no liability for statements made on this site, on the premise that they have been submitted as the true and honest opinions of the individual posters. In most cases, prices and dates stated are approximate and should be considered as only guidelines.

"Why does Goofy stand erect while Pluto remains on all fours? They're both dogs!"
unattributed