Product reviews on kiwireviews.nz : Saturday 15th August 2020 - 20:00:51
Score:

10.0

/

10

[

3

reviews]


ProdID: 7369 - The Little Yellow Digger & Jigsaw


Author: Betty & Alan Gilderdale
Price:

$25.00

Sample/s Supplied by:




Available:

November 2016
The Little Yellow Digger & Jigsaw product reviews
When digging out a drain, the little yellow digger gets stuck in the mud. So they bring in a bigger digger..... Is it a DIGSAW? No, it's a Little Yellow Digger JIGSAW! Build your very own jigsaw puzzle of this much-loved, hard-working little digger.
This Review: 10/10
Price:

Value for Money:

ReReadability:

Personal Choice:
It is a very rare occurrence in our house that our 4 year old son asks to go to bed so we can have story time. But after the excitement and glee of a book and jigsaw all about his most favorite thing in the world, diggers, this is exactly what happened.

The book and jigsaw were presented in a beautiful quality box and clearly showed attention to detail that ensured you knew exactly what to expect from the contents. The jigsaw was the first to be pulled out and then consequently tipped all over the floor as we prepared to match the "pieces with the box". It was well produced and not the flimsy puzzle pieces that make us all a wee bit crazy and master 4 enjoyed matching all the blue and yellow words.

Next came the book, cuddled in bed we started to read this delightful story. We loved it. It was easy to read, had a lovely flow and rhythm to it and throughout we had to turn back to the previous page so master C could point out something in the illustrations I may have missed. The illustrations were beautiful and so full of depth and movement that even on our 3rd and 4th read we are still finding something new and exciting to squeal about.

This has been an absolute pleasure to review and is now a bedtime staple in our house which we all love to read. The Little Yellow Digger will become a classic for us for years to come.
This Review: 10/10
Price:

Value for Money:

ReReadability:

Personal Choice:
I was first introduced to this book while at work (daycare teacher) with a young 20month old who would bring this book to me every single day and about 2 times a day. We would read it over and over again, he just loved diggers and this was truly a wonderful story. Even though its about diggers it really shows that the smallest one can save the day, the small one can have the power to do it. I like to think of this as a lesson in life no matter how small you are, you can go it. Digger after digger gets stuck in the mud and the little one comes to help and shows teamwork.

What I love about this set is it comes with a large floor puzzle with 48 pieces and it has the book with it. While reading the book your little ones can do the puzzle with or without help, the book is so much fun with rhymes and easy words to read. Children learn the words and try and read it with you. I can fully understand why this book is a best seller as which child doesn't like mud and heavy machines even a lot of girls do. The puzzle is bright and colourful and matches the front of the book, it also comes in it own little box inside the big box that the book comes in, perfect to take away and the pieces don't get lost. I would be happy to pay $25 for this as a gift for a young child as it provides lots of fun and gives the love of reading at the same time.
This Review: 10/10
Price:

Value for Money:

ReReadability:

Personal Choice: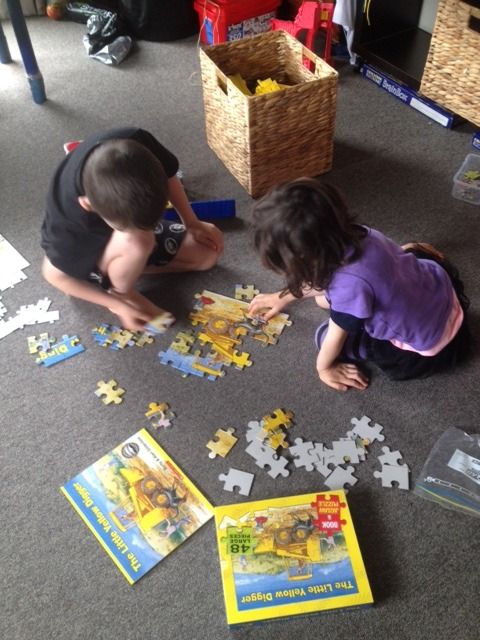 The Little Yellow Digger is a favourite in our family. I don't know how many times I read it to my son when he was little. I do know that it was often read time after time in the same sitting. I think that the fact it is about a digger captured the interest of a little toddler very quickly. I remember reading it to him night after night as he fell off to sleep. They lyrical nature of the text made it easy for him to relax to and interesting and fun for me to read as well. I never felt like it was a chore to read the book many times over!

The storyline is gorgeous and shows how a little digger can save the day when all their other diggers got stuck in the mud. The little yellow digger is very much the hero of the story. Little kids love mud and the story is also all about mud and rain. What kid wouldn't like to get out in the mud to watch diggers getting stuck? There is some humour in the illustrations as well. One of the images is of a child with a gumboot on one foot and the other foot is bare. I have memories of being in the farm in the mud and losing a boot in the mud! Quite an experience.

The book is a Premier New Zealand Platinum best seller and while I haven't noticed a stamp like that before on a book, I think that this book would easily be a best seller because it has been loved by so many families over the years. Although it was only published in 1993 and I didn't grow up with the book during my childhood, I can see that the book will be something that my future grandchildren are likely to enjoy (many years to go for this to happen though!)

I think it is a great add-on to offer the book in a set with a jigsaw as well. This set has rekindled a love of the The Little Yellow Digger for my son (now nearly seven). The jigsaw puzzle only has 48 pieces and this makes it a great sized puzzle for young children as they first get into jigsaws. Needless to say, my son was very excited to put the puzzle together when I handed it to him. The love of the book encouraged this excitement in the puzzle for Mr Six, even though he usually does much more complicated puzzles.

In summary, I am sure that any young child would love this book and the addition of the puzzle makes the set a perfect round for a Christmas or birthday present.
Random listing from 'Books'...
Product reviews for listing 8169: My New Zealand Story: Chinatown Girl -
Written by: Eva Wong Ng
Auckland, 1942.

Silvey Chan lives above a shop in Auckland's downtown Chinese district. Hers is a close-knit community with its own traditions and festivals - and even a neighbourhood ghost. New Zealand is at war when Silvey starts her diary, but for Silvey this is just a backdrop to the main issues of her world - the closure of her school and the arrival of Chinese-American soldiers.

Included in the book are archive photographs of Auckland's Chinatown during this period.
General Disclaimer...
All trademarks, images and copyrights on this site are owned by their respective companies.
KIWIreviews is an independent entity, part of the Knock Out News Group. This is a free public forum presenting user opinions on selected products, and as such the views expressed do not necessarily reflect the opinion of kiwireviews.nz and are protected under New Zealand law by the "Honest Opinion" clause of the Defamation Act of 1992. KIWIreviews accepts no liability for statements made on this site, on the premise that they have been submitted as the true and honest opinions of the individual posters. In most cases, prices and dates stated are approximate and should be considered as only guidelines.