Product reviews on kiwireviews.nz : Monday 6th February 2023 - 23:01:52
Score:

9.5

/

10

[

1

review]


ProdID: 7284 - Ida, Always


Author: Caron Levis
Price:

$29.00

Sample/s Supplied by:





Available:

September 2016
Ida, Always product reviews
A beautiful, honest portrait of loss and deep friendship told through the story of two iconic polar bears.

Gus lives in a big park in the middle of an even bigger city, and he spends his days with Ida. Ida is right there. Always.

Then one sad day, Gus learns that Ida is very sick, and she isn't going to get better. The friends help each other face the difficult news with whispers, sniffles, cuddles, and even laughs. Slowly Gus realises that even after Ida is gone, she will still be with him - through the sounds of their city, and the memories that live in their favourite spots.

Ida, Always is an exquisitely told story of two best friends-inspired by a real bear friendship - and a gentle, moving, needed reminder that loved ones lost will stay in our hearts, always.
This Review: 9.5/10
Price:

Value for Money:

ReReadability:

Personal Choice: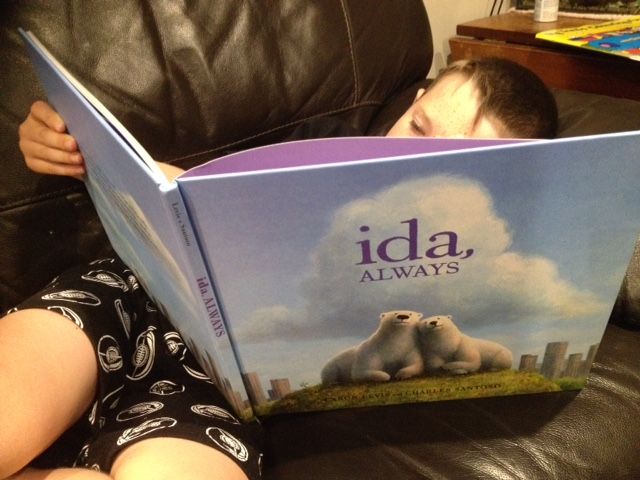 Before I read this book, I was aware that it would be sad as I had read the brief outline of the story. To be honest, I wasn't prepared for my own reaction to it! As I was reading the book to the children (Mr 6 and Miss 4) at bedtime, I became more and more emotional. I tried to keep it quiet as I read; however, by the end, I was a bit of a blubbering mess (in the quietest way that I could!!). I don't know that a book has ever had such an impact on my emotions! I could see that the kids were sad too, but most of their emotional reaction actually came from how I was feeling after reading the book. When I asked the kids what aged children would the book be good for, they thought that it was suitable for all ages. I think that they are right as the book had quite an impact on me as well as my children.

I told a friend of mine about this book as we were discussing our children and how to help them deal with their emotions and she said that she wished she had had such a book when her family were dealing with the loss of a precious family member some years ago. I think that even if the book isn't used to open up discussion about a particular event/loss in the family, it is important for children to understand feelings and talk about them.

As we read the book together, my kids and I really felt for the bears in it. The words and illustrations in the book encouraged us to give human feelings to what the bears were experiencing. They loved each other, and, right up to the end, Gus and Ida were there for each other. I think that the ending was perfect as it left us with the thought that although Ida had passed away, her spirit would be there, always.

The illustrations and the words combine to make a masterpiece. The images of the two bears are a strong feature of most pages in the book. The background scenery makes the bears pop out of the pages. The illustrations look as though they are paintings; they use a wide range of tonal variation with a small palette of colours - with green being the predominant colour. The book is set in Central Park in New York and it makes sense that green is used so much in the book.

If you are reading the book to young children, you might like to consider reading it yourself first so that you know what to expect. I imagine that it all depends on how you see things. There are also merits in your reading the book with the children and letting them see how your own emotions unfold as the book progresses. The book is so beautiful and I think that it is a treasure to have on a family book shelf. It is not a book that we would necessarily read all the time, but one that gives a chance to let out a bit of emotion and perhaps start talking about other things in our lives.
Random listing from 'Books'...
Product reviews for listing 6953: The Expanse - 5 - Nemesis Games -
Written by James S.A. Corey
A thousand worlds have opened, and the greatest land rush in human history has begun. As wave after wave of colonists leave, the power structures of the old solar system begin to buckle.Ships are disappearing without a trace. Private armies are being secretly formed. The sole remaining protomolecule sample is stolen. Terrorist attacks previously considered impossible bring the inner planets to their knees.

The sins of the past are ... more...
General Disclaimer...
All trademarks, images and copyrights on this site are owned by their respective companies.
KIWIreviews is an independent entity, part of the Knock Out News Group. This is a free public forum presenting user opinions on selected products, and as such the views expressed do not necessarily reflect the opinion of kiwireviews.nz and are protected under New Zealand law by the "Honest Opinion" clause of the Defamation Act of 1992. KIWIreviews accepts no liability for statements made on this site, on the premise that they have been submitted as the true and honest opinions of the individual posters. In most cases, prices and dates stated are approximate and should be considered as only guidelines.

"A torn jacket is soon mended; but hard words bruise the heart of a child."
Henry Wadsworth Longfellow (1807 - 1882)