Product reviews on kiwireviews.nz : Thursday 6th October 2022 - 20:05:19
Score:

9.0

/

10

[

1

review]


ProdID: 7205 - Tiny Timmy #3: Living the Dream!


Author: Tim Cahill
Price:

$12.00

Sample/s Supplied by:





Available:

July 2016
Tiny Timmy #3: Living the Dream! product reviews
Tiny Timmy dreams of playing for Australia when he grows up. He'll have to work hard to make that happen, but now he has a chance to be out on the field with his heroes at their big game! All he needs to do is win the soccer trick competition. Can he show off his skills in time? Find out if Timmy has what it takes!
This Review: 9.0/10
Price:

Value for Money:

ReReadability:

Personal Choice: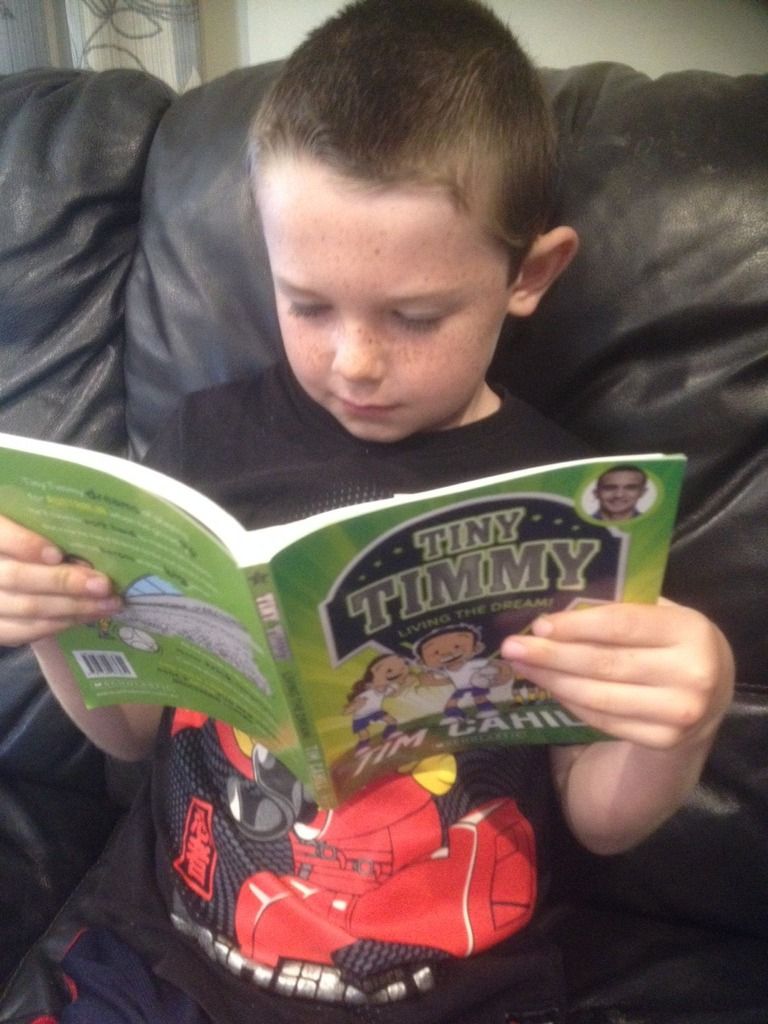 The cover appealed to Mr Six because it showed him that the book was about sport. He thought that he would be likely to choose it off the library shelf because of the cover. He wasn't that keen on the fact that there wasn't any colour on the inside of the book. As he got into the book, no more comment was made about that and he just got used to how the book was. He noted that there are more books in the series and he thought that he might like to read them too.

The first page in the book allows for the book to be gifted to a particular person and it says "follow your dreams". I think this is awesome and would make the book an even more special book for a soccer loving child (or for any child for that matter) with a dedication like that.

Mr Six loved the flip animation at the bottom of each page. At first he didn't know what it was for and just enjoyed looking at each of the pictures. As soon as I realised what they were for, I showed him how to view the animation. He thought it was awesome and that it was just like a movie. He flicked through the pages over and over again in order to see the animation. He even stopped every now and then, while reading the book, to play the animation!

I love listening to Mr Six read and enjoy books. I also find that I really get into some of the texts that he reads, both fiction and non fiction. Although I enjoyed listening to him read this book, I can't say that it hooked me in the same way that other books have. Having said that, it isn't about me, it is about Mr Six. I did get more invested in the story as we read more into the book. The funny thing is that Mr Six was quite aware of who might be interested in the book. He said "I think that people would lose interest if they were too old, like if they were 12 or something". He knew that it was aimed at children around his sort of age rather than older kids/teens. The book is a good length chapter book for Mr Six. It isn't overwhelming for a young reader and it allowed him to be successful with finishing each chapter in a reasonable time frame.

The book was at a perfect level of interest and reading ability for Mr Six (who is a good reader for his age). He is really into rugby but I think that a book about any sport would inspire him. He really liked the idea of the being able to enter to be the ball kid for a big game. He figured that there might be something similar for rugby as he knows that there are ball kids who get to help out at the big rugby games at the local stadium in Hamilton. This has certainly given him food for thought.

Mr Six enjoyed the book because it was about children at school and involved in sport. It is all very similar to the life he will lead at school. It is all about relationships, sports, school, challenges, competition etc. The sort of things that are part of normal life for kids and what they see as important. Mr Six found it easy to relate to the storyline. Mr Six didn't like Studs and Hacker as they were 'big bullies'.

I liked the message in the book about aiming high and working toward what you really want regardless of who else is going for the same thing or what they think of you. Tim worked hard to become a ball kid and he made it. I thought that it was good to show that girls enjoy sports as well by including a girl as one of the soccer-loving main characters. The dedication at the front of the book shows that the author was inspired to do this by his "princess, Sienna".

I think that Mr Six will want to read the other books in the series now that he has finished this one.
Random listing from 'Books'...
Product reviews for listing 3376: Catching the Sun

Written by Tony Parsons
When Tom Finn is almost jailed for confronting two burglars in his own home, this taxi driver takes his young family to live on the tropical island of Phuket, Thailand.

Phuket is all the Finn family dreamed of - a tropical paradise where the children swim with elephants, the gibbons sing love songs in the jungle, the Andaman Sea is like turquoise glass and this young family is free to grow.

But both man-made disaster and ... more...
General Disclaimer...
All trademarks, images and copyrights on this site are owned by their respective companies.
KIWIreviews is an independent entity, part of the Knock Out News Group. This is a free public forum presenting user opinions on selected products, and as such the views expressed do not necessarily reflect the opinion of kiwireviews.nz and are protected under New Zealand law by the "Honest Opinion" clause of the Defamation Act of 1992. KIWIreviews accepts no liability for statements made on this site, on the premise that they have been submitted as the true and honest opinions of the individual posters. In most cases, prices and dates stated are approximate and should be considered as only guidelines.

"Political language... is designed to make lies sound truthful and murder respectable, and to give an appearance of solidity to pure wind."
George Orwell (1903 - 1950)