Product reviews on kiwireviews.nz : Monday 14th June 2021 - 12:36:39
Score:

10.0

/

10

[

2

reviews]


ProdID: 7204 - The Cat Wants Custard


Author: P. Crumble
Price:

$19.00

Sample/s Supplied by:




Available:

July 2016
The Cat Wants Custard product reviews
Kevin has a craving. He wants custard, and he wants it NOW! Follow the hilarious antics of a cat trying to get its human companion to give him what he wants, using his own body to spell the word CUSTARD! Will he succeed? A brilliantly funny picture book treat.
This Review: 10/10
Price:

Value for Money:

ReReadability:

Personal Choice: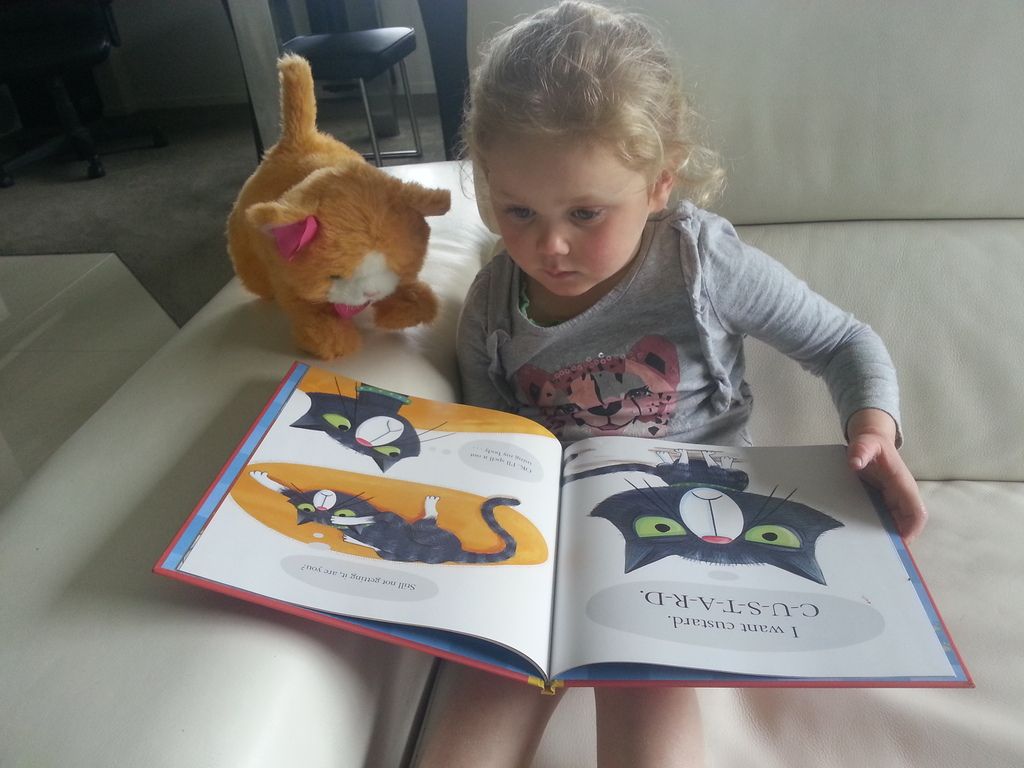 This book is great! Right from the front cover I just had to laugh, as the expression on the cat's face just reminded me so much of the look that my cat Molly gives every morning when we wake up, and every evening upon returning home from work for the day, a look that pretty much says "can you just hurry up and give me some more meat".

Miss 3 was delighted to sit down before bed and read this book with me, most impressed that was about a cat, she's always excited by books which feature animals which she can relate to and those that give her little opportunities throughout the book to tell stories about her own furry animals. Miss 3 loved the images in the book as did I they were full of humour and provided plenty of laughs as the cat just had so many funny expressions on his face, he certainly was a fussy cat who knew exactly what he did and did not want to eat, something which I have experienced with my own cats alot, they only eat what they want, when they want! After having now read this book to Miss 3 several times I have seen her sitting up on the couch with her toy cat retelling the story, and I am pleased with the way in which she has learnt a huge majority of the story and is able to retell it herself, always with so much expression and emphasise from my little story teller.

The children at my daycare and the teachers alike loved this book, many of whom have cats of their own so could also relate to the fussy cat. Half way through the story they many of the 4 year olds cottoned on to the fact the cat was after custard and so when asked what the cat wanted they would shout out CUSTARD, I love that this made the book rather interactive. The staff absolutely loved this book as we have a bit of a joke at work as one of our staff HATES cold custard and so we just had to give it to her to read, she thought the cat in the book was right not to like cold custard, and loved the book and found it very funny.

With such amazing pictures that are bright, colourful and speak 1000 words this is a really neat book! It is written in a different style than you would usually find in a children's book as it is very comical with much of the text been written in speech bubbles and written as the cat's voice the whole way through, other than on the first few pages where the cat's owner starts off the story as he entices the cat to come for dinner.

If you have a cat, or know someone who is a cat lover then this book is well worth buying, I can't recommend it enough, it is a book that we will read over and over again especially when we want a book that will make us laugh, a 10/10 for me.
This Review: 10/10
Price:

Value for Money:

ReReadability:

Personal Choice:
I have read this book with my children a number of times and now they are enjoying reading it to themselves or to others. Miss Four will sit on the sofa and retell the story as though she is reading it. She really enjoys it. Today, I watched Mr Six reading it to a friend of ours. There were lots of giggles from both of them as he read it. It is obviously written well so that it appeals to people on a variety of levels.

The style of the book is quite different to other children's books. This one is entirely written in the voice of the cat (with a few comments from the human owner). My children enjoyed trying out different voices that they thought might suit the voice of the cat. My mind couldn't go past the voice that is used for Garfield! When I first read the book, I thought that it would appeal more to Mr Six (or older) than it would to Miss Four. Now that I have read it to her several times, she has become rather attached to it.

Anyone who has a cat will see the humour which is written into the story. The cat in the book has very strong opinions about what he will eat and what he won't. I have known many cats who have been just as opinionated.

The cover of the book is very appealing and a number of people who I have shown it to agreed with this. I think that the bold colour, illustration and writing would stand out, enticing people to buy it and read it. The illustrations are comical and support the text in the book. You can just imagine the attitude that the cat is wishing to portray in his speech by the faces and posture he displays in the illustrations. We all loved the illustrations and Miss Four pointed out that the particularly liked the cat's face.
Random listing from 'Books'...
Product reviews for listing 6813: Corpse Talk Season 2 -
Author: Adam Murphy
Reading this book is like having history injected into your brain! Join your host Adam Murphy, for the chat show that digs up the dirt on history's dead famous celebrities! How did a letter put Guy Fawkes on a bonfire? Why did Queen Elizabeth poison her face? What made William the Conqueror explode?
General Disclaimer...
All trademarks, images and copyrights on this site are owned by their respective companies.
KIWIreviews is an independent entity, part of the Knock Out News Group. This is a free public forum presenting user opinions on selected products, and as such the views expressed do not necessarily reflect the opinion of kiwireviews.nz and are protected under New Zealand law by the "Honest Opinion" clause of the Defamation Act of 1992. KIWIreviews accepts no liability for statements made on this site, on the premise that they have been submitted as the true and honest opinions of the individual posters. In most cases, prices and dates stated are approximate and should be considered as only guidelines.

"If corn oil is made from corn, and vegetable oil is made from vegetables, then what is baby oil made from?"
unattributed