Product reviews on kiwireviews.nz : Sunday 22nd May 2022 - 04:45:16
Score:

10.0

/

10

[

2

reviews]


ProdID: 7097 - This Hungry Dragon


Author: Heath McKenzie
Price:

$21.00

Sample/s Supplied by:





Available:

May 2016
This Hungry Dragon product reviews
This hungry dragon is ready for a yummy meal. He eats and eats and eats - and eats! Soon, he's as big as a house! Can anything fill this greedy gobbler's guts?
This Review: 10/10
Price:

Value for Money:

ReReadability:

Personal Choice: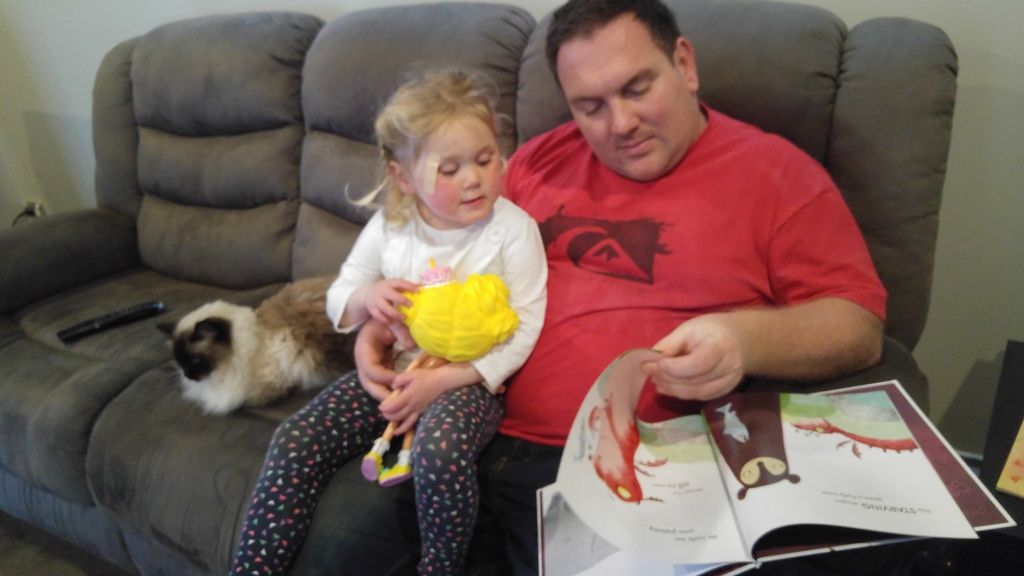 I absolutely love it when I manage to come across a great children's book, one that can be enjoyed by all children that is rad to, and that isn't gender specific, and this is exactly what the book This Hungry Dragon was like. Right from when I first saw the book, and looked at the front cover featuring a big , fat red dragon with a very toothy grin I had a feeling that this book would appeal to everyone who was to come in contact with it, and I was surely right, I loved it, Miss 3 loved it, my daycare children and colleagues love it, and even my dad loved it, so much so that he has taken it to his house for the weekend to read to his other grandchildren who have come to visit as they are apparently really into dragons and dinosaurs and the likes and so should love this book.

The pictures in the book are very well done, simple yet very entertaining and fun, I absolutely love the facial expressions that keep appearing on the faces of the dragon and the animals throughout the story, they are very well done and represent the text used in the story wonderfully. The layout of the text in the book is neat, and written in a fun font. The main words which are used to describe the dragon on each page are written in bold and also in a bigger font, which I feel really puts emphasis on them, the way the story is written in in a rhyme which is very catchy, so much so Miss 3 has started reading parts of the story by herself, rhyming books always seem to be rather catchy!

I took this book to my daycare to share with the children, I work with and they absolutely loved this book and found it very entertaining as did all the staff, whom thought it was a great book for catching and maintaining the attention of some of the older boys. It brought with it plenty of laughter and giggles as the dragon ate all sorts of funny things, from fancy foxes, muddy pigs and stubborn elephants ... all things that nobody would usually ate which made the book that much more fun! Some of the children were worried that the dragon's belly was going to pop especially after eating the elephant which made him get very, very fat! They were relieved to see that a doctor came along to fix the problem in the end and made everybody play a belly band inside his tummy which was enough to set everyone free at last, thank goodness!

This book provided us all with much funny and silly conversations about what other silly things we thought the dragon may try and eat one day, and also about what would probably be better for him to eat, such as healthy foods like oranges and apples. The children were really interested in the food pyramid which features on the last page so as an activity we decided to make our own by drawing up a pyramid on a piece of card and then cutting foods out of a supermarket pamphlet, a great extension from this book which reminds us all about being healthy.

This book I can't doubt in anyway I absolutely love it, as does everyone else who has been lucky enough to listen to it. I would thoroughly recommend this as a great book to buy for your book shelf that's sure to create a lot of fun in your house or daycare!
This Review: 10/10
Price:

Value for Money:

ReReadability:

Personal Choice:
This Hungry Dragon is a fun and entertaining book. The dragon on the cover looks so cheeky and the way he is looking at us, made us think that he might want to come and eat us for dinner! Dragons are bound to attract the interest of children and I know that my children love them. When Mr Six looked at the cover, he said. "It looks like the dragon is going to eat so much that it bursts. It is so big on the cover."

This book could be used with children in a classroom when discussing the use of adjectives. There are plenty of fine examples used to describe the dragon and the other animals in the book. Some of the words are ones that children may not have come across before and therefore is is a good chance to extend their vocabulary. I always like to look at a book to see if it offers a bit more than just a fun story. This one does!

The text is written in rhyme which makes it attractive for little ones who like to join in with the last word on each page once they have heard the story several times. Miss Four has become very good at joining in when I read this book to her (over and over!) There is a great message to children about what happens when you are greedy and eat too much; the picture where the dragon spits everyone out is just hilarious. It is a great way to remind children that eating slowly and stopping when you are full is a really sensible thing to do. Mr Six said that his favourite part of the book was when the dragon ate up all the characters. I must say that I found that page particularly entertaining. I enjoyed looking at the 'inside' of the dragon's belly.

White space is used effectively in the layout of the book and the words are in a nice, clear font. The illustrations are cute and rather humorous. The kids and I all enjoyed them.

There is something so nice about holding a hard cover book. It adds quality to the book and allows it to last longer. I think that this book is likely to have many readings and therefore I think the hard cover was a smart idea. This is lovely book and I am sure that it will be a hit in many households.
Random listing from 'Books'...
Product reviews for listing 293: Shrek : The Essential Guide -
Author: Stephen Cole
WELCOME TO FAR, FAR WAY!

Once upon a time a big, green, smelly Ogre met a beautiful princess... and they fell in love! Now you can join Shrek, Fiona (and Donkey!) inside their magical world with this fantastic Essential Guide.

Read all about old friends, and meet some new ones.

Squelch around Shrek's swamp and visit the glamorous fairytale kingdom of Far Far Away.

Packed with great ... more...
General Disclaimer...
All trademarks, images and copyrights on this site are owned by their respective companies.
KIWIreviews is an independent entity, part of the Knock Out News Group. This is a free public forum presenting user opinions on selected products, and as such the views expressed do not necessarily reflect the opinion of kiwireviews.nz and are protected under New Zealand law by the "Honest Opinion" clause of the Defamation Act of 1992. KIWIreviews accepts no liability for statements made on this site, on the premise that they have been submitted as the true and honest opinions of the individual posters. In most cases, prices and dates stated are approximate and should be considered as only guidelines.

"I wonder if other dogs think poodles are members of a weird religious cult."
Rita Rudner