Product reviews on kiwireviews.nz : Saturday 16th October 2021 - 18:55:48
Score:

9.4

/

10

[

6

reviews]


ProdID: 7031 - Alexandra's Dukkah - Traditional


Produced by Alexandra's
Price:

$7.99

Sample/s Supplied by:




Available:

at selected quality supermarkets
Alexandra's Dukkah - Traditional product reviews

A delicious nutty blend of 10 fresh herbs, spices and nuts including premium hazelnuts, roasted sesame seeds including coriander and cumin.
This Review: 10/10
Taste:

Value for Money:

Number of Uses:

Personal Choice:
I have had a lot of fun with this dukkah over the time I have had it to review and amazingly, there is still heaps left. This product is very versatile and can be used in a lot of different ways. You can use it as a straight snack, or you can use it to enhance the flavour for many meals. Because this is the traditional flavour, I was able to get away with using it in more dishes with the kids as well.

The first thing I tried was this as a meat rub. So I roasted some chicken drumsticks and coated the meat with oil and dukkah. I turned the chicken a few times and each time I applied a bit more oil and dukkah. When the chicken was done, it was had crispy skin and it was delicious. Even my kids who would not normally pick to eat something like this were hugely impressed with the taste and wanted seconds.

The next thing I did with this, was make Farrah's wrap chips. I cut the wraps into wedges, and then put a little oil and dukkah on top. Then I baked them for a short while. Again, these went down a treat with everyone. I shared them with friends and my kids. They got requested for dinner one night because they were so tasty.

Of course we also had to have some with bread chunks and olive oil. This is how I first tried dukkah and it is still a favourite thing for me. Almost all of our guests agreed with me on this, except for one who doesn't eat nuts. She couldn't bring herself to try it, because of the texture of the nuts. Though she was happy to have it on the baked wraps, so I think maybe the heat changed the texture somewhat for her.

In any case this is a versatile and excellent dukkah and one that would be handy to have in your cupboard for when you want to add something a bit different into meal time. Although it's almost $8 for a smallish pack, you really don't need a lot to add that tasty hit to whatever you are making.
This Review: 10/10
Taste:

Value for Money:

Number of Uses:

Personal Choice:
My husband and I love antipasto platters often when we are having a quiet night in I will whip together a platter grab couple of glasses of wine and relax. Dukkah is one of the of my favourite parts of the platter so when the Alexandra's dukkah came up for review I was keen to try it out. I have tried a lot of Alexandra's products and have loved all of them.

My review package arrived just before the weekend so it seemed perfect to whip together a platter for a cold Saturday night in. Filling the board with bread, cheese, relishes, pickles, olive oil and dukkah we were ready to tuck in. I had only dished up a little of the dukkah and soon had to refill the dish as it went down very quickly. The mix of herbs, spices, nuts and sesame seeds were perfect with the bread I had, my husband enjoyed it as much as I did. He quickly asked if there were other flavours in the range and where we could buy it.

As there was some left I decided to make one of my favourite recipes and made dukkah crusted salmon for dinner. Once again it was perfect, the mix went great with the salmon much better than the brand of dukkah I usually use for the dish. Alexandra's have moved to the top of my list when it comes to dukkah, the only thing that I would change about it is to make the bag resealable as it is a large bag to use in one sitting.
This Review: 8.0/10
Taste:

Value for Money:

Number of Uses:

Personal Choice: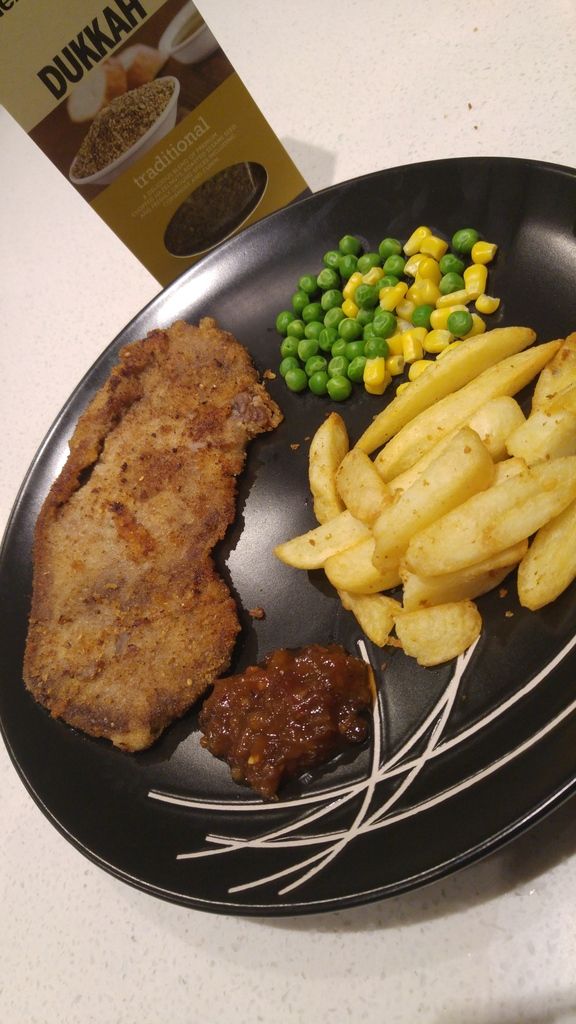 Dukkah is one of those things that I have heard of and seen about many times, but something that I hadn't tasted myself, why i'm not to sure? I am a fan of foods that have been seasoned with herbs and spices, and I also love snacking on various types of nuts so when I saw the Alexandra's Dukkah up for review I decided to bite the bullet and request some, deciding upon the traditional variety over the others that were available being a first timer and all.

The first thing I noticed was the packaging it was simple yet very well presented and appealing, I loved that the box was more of a triangular shape than the basic rectangular shape you most often see, and the viewing window at the front was a great idea as you are able to see exactly what the product is like before purchasing. The product smelt really nice and full of spices from the moment I first opened it , funnily enough I actually had peanut butter jump to my mind when I first smelt it, although the product actually does not contain any peanuts, however it does contain hazelnuts with these being the main ingredient. After a closer smell I could definitely capture the smell of the cumin and the sesame seeds!

I decided for my first initial taste to serve the Dukkah the traditional way, I got 2 small dipping bowls and in the first one I placed some of the Dukkah, and in the second some olive oil,m this I served alongside some fresh Ciabatta bread. The flavours went really well together and the spices were lovely combined with the hazelnuts, and while I enjoyed this myself the rest of my house screwed there faces up and said they didn't like it!

I decided to try the Dukkah as a topping to a Mac and Cheese that I had made, thinking that perhaps the Dukkah on it's own may be a bit to much I combined it with some white bread crumbs and smoked cheese, and then sprinkled it over the top of the dish and placed it in the oven. The combination of the smoked cheese and beautiful spices from the Dukkah when I opened up the oven door were heavenly and the taste even better, no one in the house complained this time round. With the success of the Dukkah combined with the bread crumbs, I went on to use it again mixed with bread crumbs but this time as a crumb for beef schnitzel which was again delicious, and again a huge hit.

This Dukkah is something I would consider purchasing again, but more as a seasoning to other items such as for coating meats etc that to use in a traditional way. Such a great flavour enhancer that is so versatile.

This Review: 9.8/10
Taste:

Value for Money:

Number of Uses:

Personal Choice:
I hadn't used Dukkah before getting this to review, but have heard good things and was keen to try it out. My first reaction was that this has attractive packaging which (despite being colours I don't usually like) and shows the typical use for Dukkah. One thing I don't like about the packaging however, is that whilst it says it needs to be stored in an airtight container, there isn't any Ziploc capability on the bag of Dukkah. My initial reaction to the smell of this was the mixed spices taking centre stage, followed by a hint of hazelnuts.

I used this in my pasta sauce. I cooked up some vegetarian mince, added some chopped tomatoes and a can of pasta sauce. I then added a teaspoon or so of the Dukkah mix and let it simmer for a couple of minutes. The addition of this to the sauce made it taste even better and even the kids scoffed down their dinner, so that was a big plus. Needing a quick meal, I cooked up some chicken burger patties. I didn't have any bread buns so sliced up some bread, melted some butter in the frying pan and mixed some Dukkah into it and then cooked my bread a little in it. This ended up making the meal even better and I'm looking forward to doing it again.

Versatile mix that will get used up for sure.
This Review: 8.8/10
Taste:

Value for Money:

Number of Uses:

Personal Choice:
Dukkah is something that I have never purchased myself however enjoy when out. I decided to try the traditional blend to start with as had a few ideas on ways that I could use this. I love that this dukkah is gluten free so thought I would challenge myself to use this in a totally gluten free way. Opening the packet you get a real fresh smell of the many spices including the cumin.

Being inspired from a cafe I had eaten at I thought I would first try and make this into a dip that I could serve with vegetable sticks. I was really unsure what to add it to so first tried with natural yoghurt. I found that the nutty taste was lost by the bitter yoghurt so then tried it with cream cheese. This was a much more pleasant taste. What I did settle on however was dipping the damp vegetables straight into the dukkah. This allowed the fresh taste of the nuts and spices to be enjoyed with crisp vegetable sticks. Learning from this I decided that this dukkah was best just the way it was and so did use it as a topping for fresh fish baked in the oven. The baking gave the crispy topping a toasted taste -yum.

Although the packaging of this product served a purpose I would have like to have seen a ziplock bag inside to be able to keep the remainder airtight. It states that once opened that it needed to be used within 4 weeks and I thought in my house this would not possibly happen and be wasted, so I popped the remainder in the freezer and found that this seem to keep the same flavour as a freshly opened packet.

Now that I know that I can use this is a couple of different ways I am keen to dry the other blends in this range. By being able to freezer remainder I think that is good value for money.
This Review: 10/10
Taste:

Value for Money:

Number of Uses:

Personal Choice:
Dukkah is something that that I really enjoy, it is also something that I don't get to have very often. In fact, I have never purchased it before. I have only ever had it at other people's places or when out for a meal. I was excited to be able to review Alexandra's Dukkah for KIWIreviews. I chose the traditional one and I am so glad I did. The aroma, taste and texture is exactly what I expected. I think that the cumin is an important smell/taste in dukkah and I was not disappointed with the level of it in this packet of the product.

The product comes in a heat sealed back inside the cardboard outer box. I used scissors to cut across the top of the bag. This did leave me with the issue of how to reseal it. The packet says that it should be used within four weeks and be stored in an airtight container. To save the hassle of storage, I grabbed a Magic Lock Sliding Bag Sealer out of my kitchen drawer (I had previously reviewed them through KIWIreviews and I have used them all the time since first receiving them) and easily sealed the top of the bag. The airtight part of the storage was sorted without the need for additional containers.

I was rather hungry this afternoon and I didn't want to wait for dinner to get some food into me. Other family members were hungry too, so it was a great excuse for a social snack and chat! The packet of dukkah was sitting on my bench and I quickly thought of ways to try it. Within a few minutes I had put together a tasty platter with dukkah as the main attraction. I found that some dukkah went very nicely in mashed avocado - this would be great on burgers, crackers, sandwiches or as a dip. The same was true when I mixed some of the dukkah with cream cheese. This gave some texture to the cream cheese and also a flavour highlight. Of course, it went well with chunks of cibatta dipped in olive oil and balsamic vinegar and then into the dukkah. This one wasn't a surprise at all as this is how I had previously enjoyed dukkah. As I type, I am thinking that it would be fabulous with a baked potato and some sour cream too.

So, overall, it is exactly what I expected from a dukkah. At a price of $7.99, I would be happy to buy it and keep some in the pantry to add to meals and snacks. If you are a dukkah lover, I think that you will be totally satisfied with this product. I will be watching out for where to buy it when I am out shopping next. Of course, I haven't tasted the other flavours in the range and would love the opportunity to do so at some stage. I am becoming rather fond of the quality and flavour of Alexandra's products and I would be willing to try any other products in their range and I am sure I would be impressed.
Random listing from 'Food'...
Product reviews for listing 7599: L'Authentique All Natural Cracked Pepper Pate -
Brand: L'Authentique
Our products use fresh free-range meat and produce, free from preservatives, gluten, starch and flour. This simplicity, and careful seasoning lets flavours shine, and with slow cooking the juices explode in your mouth. We also use natural casings, because it doesn't make sense to wrap something so good in something artificial.

No tomato sauce necessary.

Hand-crafted Traditionally with Free-Range NZ Meat - Made in New ... more...
General Disclaimer...
All trademarks, images and copyrights on this site are owned by their respective companies.
KIWIreviews is an independent entity, part of the Knock Out News Group. This is a free public forum presenting user opinions on selected products, and as such the views expressed do not necessarily reflect the opinion of kiwireviews.nz and are protected under New Zealand law by the "Honest Opinion" clause of the Defamation Act of 1992. KIWIreviews accepts no liability for statements made on this site, on the premise that they have been submitted as the true and honest opinions of the individual posters. In most cases, prices and dates stated are approximate and should be considered as only guidelines.

"If the temperature is zero outside today and it's going to be twice as cold tomorrow, how cold will it be?"
unattributed