Product reviews on kiwireviews.nz : Thursday 30th June 2022 - 18:56:23
Score:

10.0

/

10

[

2

reviews]


ProdID: 7353 - Zog and the Flying Doctors


Author: Julia Donaldson
Price:

$29.00

Sample/s Supplied by:





Available:

September 2016
Zog and the Flying Doctors product reviews
Meet the Flying Doctors: Princess Pearl, Sir Gadabout and, of course, their trusty 'air ambulance', Zog the dragon, in this fabulously original sequel to the best-selling Zog.

There's much to do, as they fly around tending a sunburned mermaid, a distressed unicorn and a sneezy lion. But should princesses really be doctors? Pearl's uncle, the King, doesn't think so - until he himself falls ill, and only Pearl knows how to cure him.

Donalsdon and Axel Scheffler at their sparkling best!
This Review: 10/10
Price:

Value for Money:

ReReadability:

Personal Choice:
My daughters and I have for a long time been huge fans of Julia Donaldson and Axel Scheffler books, from The Gruffalo, Stickman, The Snail and the Whale and Room on a Broom to name but a few! Zog and the Flying Doctors is the sequel to the hugely popular Zog and we were all excited to read this new addition together.

Zog and the Flying Doctors comes in a beautiful hardback book with a bright, colourful and enticing picture of Zog and his doctors flying through the air. The story is about two flying doctors, Gadabout the Great and Princess Pearl and their flying ambulance Zog who travel around helping to cure a mermaid, unicorn and lion. We also find out that Princess Pearl is not your average frilly dress, crown wearing princess and is not happy when she is told that "Princesses can't be doctors!" There is also a lovely lesson about team work and this lovely story challenges the 'Princess' stereotype and shows that girls can do anything they set their minds to! Although my girls love all things Princess orientated, they really liked the fact that Princess Pearl was exploring the world and helping out.

Zog and the Flying Doctors uses the tried, tested and popular rhyming paragraphs which are short and catchy. Both my 6 and 8 year old daughters enjoyed reading it to themselves after we had read it as a family. The pictures are fun and captivating and it is now a much loved and well read book in our home. I would definitely recommend for your own use or as a gift!
This Review: 10/10
Price:

Value for Money:

ReReadability:

Personal Choice: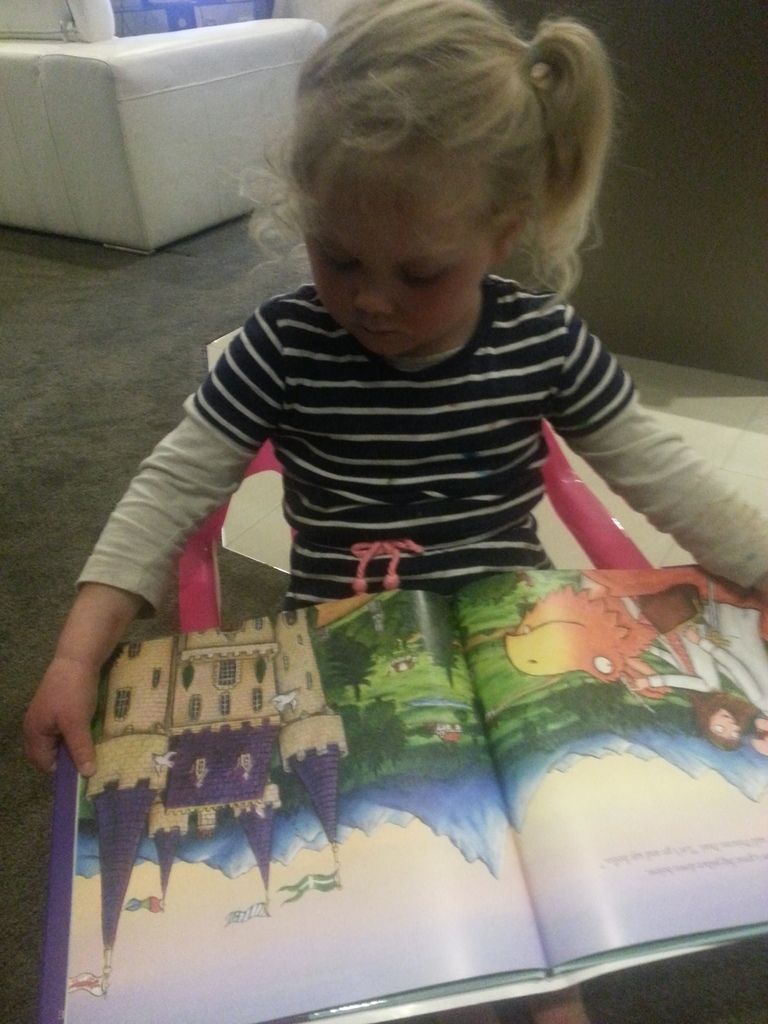 I absolutely love books which Julia Donaldson has written and which have been illustrated by Axel Scheffler, these 2 are always a winning combination and together they have produced many awesome children's books such as The Gruffalo and Room on the Broom, Zog is a favourite of mine and so I was very excited to see a new book released which follows the adventures of Zog , as was my daughter.

Zog and the Flying Doctors is a lovely book full of bright, colours and super cute non-fictional characters such a dragon and a unicorn. The main character in the book is a princess named Pearl, however Pearl is not your average princess who sits around in a castle all day wearing beautiful dresses and having tea parties, she is quite the opposite and likes going out to help others (by being a doctor), and is always motivated to do everything she can for others. I love that the main character of the story can be different from the usual princess stereotype we are all so used to in children's books and movies. Princess Pearl shows us that you can be anything you want to be, and also shows us how good it feels to help others in need, as well as the importance of teamwork. One of the other important messages in the book is to be yourself, and do what makes you happy in life, something I always encourage with children, also that if you are willing to help others, one day they may just return the favour.

I have read this book several times now both to Miss 3 and also to the children I work with and they all absolutely love it. The book is full of funny antics the whole way through from having a sneezy lion and a sunburnt mermaid, and it leaves so much to the imagination. The children have requested I read this book to them time and time again and it never seems to get old, it is iso much fun to read with all of the descriptive language and rhymes used throughout the book. One of the staff I work with is a huge Zog fan and has already put this book on her to buy list for her son for Christmas, and I can totally see why!

If you have a collection of Zog stories at home, I recommend adding this one to it. It is such a great book which I totally recommend.
Random listing from 'Books'...
Product reviews for listing 6953: The Expanse - 5 - Nemesis Games -
Written by James S.A. Corey
A thousand worlds have opened, and the greatest land rush in human history has begun. As wave after wave of colonists leave, the power structures of the old solar system begin to buckle.Ships are disappearing without a trace. Private armies are being secretly formed. The sole remaining protomolecule sample is stolen. Terrorist attacks previously considered impossible bring the inner planets to their knees.

The sins of the past are ... more...
General Disclaimer...
All trademarks, images and copyrights on this site are owned by their respective companies.
KIWIreviews is an independent entity, part of the Knock Out News Group. This is a free public forum presenting user opinions on selected products, and as such the views expressed do not necessarily reflect the opinion of kiwireviews.nz and are protected under New Zealand law by the "Honest Opinion" clause of the Defamation Act of 1992. KIWIreviews accepts no liability for statements made on this site, on the premise that they have been submitted as the true and honest opinions of the individual posters. In most cases, prices and dates stated are approximate and should be considered as only guidelines.

"Only two things are infinite, the universe and human stupidity, and I'm not sure about the former."
Albert Einstein