Product reviews on kiwireviews.nz : Thursday 7th July 2022 - 01:21:12
Score:

9.4

/

10

[

5

reviews]


ProdID: 7278 - gftreets - Delicious Mini Hotdogs


Produced by gftreets
Price:

$12.30

Sample/s Supplied by:





Available:

at selected quality supermarkets
gftreets - Delicious Mini Hotdogs product reviews

We've invested a lot of love and time into making sure our Gluten Free Hotdogs taste just as delicious as their wheat cousins. But the most important thing about this product is that it is manufactured in a controlled environment so it is safe for those with food allergies and sensitivies.

NB - this product is processed on the same production line as some fish products.

This Review: 8.5/10
Taste:

Value for Money:

Visual Appeal:

Nutrition:
YUM mini hotdogs! Miss 3 was rather excited when she saw these in our pile of review goodies as hot dogs are her food of choice when we get fish and chips or are out at a show or similar where they have food vans selling such things.

Luckily for me these hotdogs arrived at just the right time for me as it was our turn to host dinner for a group of friends, many of those whom have young children ranging in age from 1 to 7 years. I was faced with the dilemma of 'what am I going to feed the kids?' so getting the hotdogs solved this problem straight away, I had served this group of children up mini hotdogs in the past which they had enjoyed immensely so I was interested to see how these gluten free ones went down with them. The hotdogs were super quick to cook up, whilst the box has instructions for cooking them in either a fry pan or in the oven I choose to do mine in my actifry as the oven was full to capacity. In just 12 minutes the hotdogs were cooked to perfection a lovely golden coloured batter that was beautiful and crisp. I served these up on a platter for the children along with some chicken bites and curly fries, also a selection of dipping sauces - tomato, BBQ and mayonnaise and they went down a treat, not only with the children but also with the adults who couldn't resist.

The children gobbled them down and seemed to really enjoy the size of these making them easy to hold and great for dipping, perfect for little hands, the older children asking their parents "can we buy some of these?" Like the children the adults thought they were pretty good to, however we did feel that the batter was a little thicker than we would've liked and that the sausages themselves could do with some added flavour as they really were quite brand. When I announced they were gluten free everyone was impressed and said you wouldn't know. They went well with the range of sauces available.

For a gluten free product these are amazing, and would be ideal for serving out at children's parties and the likes as a gluten free option which could be enjoyed by all. I love that gftreets have released such an amazing range of gluten free products so that those with allergies don't have to miss out on yummy treats such as hot dogs, with 12 in a box there's enough to go around a small group. Something which I will buy again for Miss 3's birthday parties as several of her friends are gluten free.
This Review: 9.8/10
Taste:

Value for Money:

Visual Appeal:

Nutrition:
Well I am not a hot dog fan but my three little misses are and when our local fish and chip shop ceased to be able to source gluten free hot dogs our Miss Five didn't cope very well. As a result when this box appeared on our kitchen bench she was very excited. More so when she worked out the math that there are 12 hot dogs in a box which meant that if the girls had two each they could have two nights with hot dogs for dinner!

These mini hot dogs are missing a lot of the nasties that I would have expected and are about as healthy as gluten free hot dogs can get. They cooked really nicely in the oven and looked very appetizing. The three girls ate there two each with relish but to be honest I think two each was probably the perfect serving size. What was interesting is that when we finished the box and went to guy some more it was a bit of a traipse around the Hamilton supermarkets to find a stockist as even those listed on the website didn't have them. Eventually some boxes were procured and thankfully for cheaper then the RRP which made these a bit more cost effective when giving them to Miss Five whilst the rest of us had fish and chips.

I think these are great as they are the perfect size for dipping in sauce for birthday parties and great portion sizes for little kids. It is noticeable that they cost an exorbitant amount more than non gluten free hot dogs and I do wonder if there isn't an unacceptable mark up but unfortunately for us when Gluten Free is not a choice but a necessity there are times when I just find myself paying these costly prices simply so my children can experience "normal" foods like everyone else.

I can definitely recommend these based on taste and I will occasionally buy these as a treat especially for Miss Five who really loves them.
This Review: 10/10
Taste:

Value for Money:

Visual Appeal:

Nutrition:
As I was driving to pick up my review goodies after work last week I received a call from my husband telling me he would be late and I would need to cook dinner. Great, I thought, I would be late home myself with tired hungry kids. Thankfully among my review goodies was a selection of gftreets products. I gave my girls the choice which we would have for dinner and they both selected the mini hot dogs.

The cooking instructions were simple preheat oven and cook for 6-7 minute and turn. This meant that dinner was ready by the time both my girls had had their showers. Both of them opted to have their hot dogs with tomato sauce. I had mine with a chilli sauce. To be honest I found them very bland by themselves but this is a product more for children. The kids loved them and are keen for us to buy them again.

The price is more than we would usually pay for something like this but considering it is allergen free I expected it to be more. Thankfully we don't have to worry about allergies in our house but we have several friends and family members that do. I am really please to know that there is something out there that I can serve at birthday parties that not only tastes great but is safe for all the guests.
This Review: 9.0/10
Taste:

Value for Money:

Visual Appeal:

Nutrition: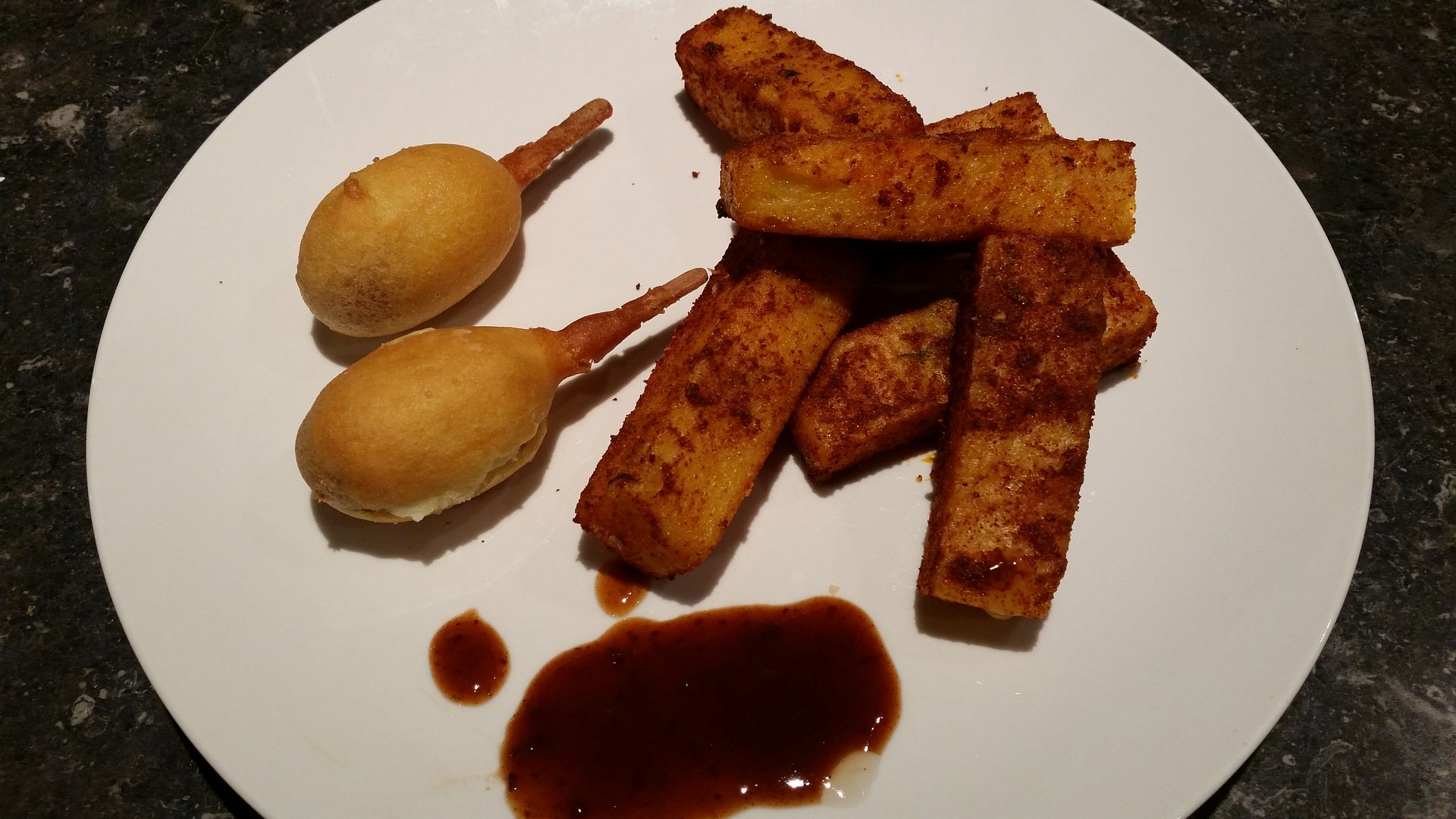 We were lucky enough to be provided with a bag of these hotdogs for review... just in time for dinner. I was serving up a simple dinner of polenta chips with leftovers and because I wasn't sure if Miss 8 would be overly keen on any of it, I added a few of these in for a bit of a treat.

Her eyes lit up when she saw the hotdogs - they are super cute and quite small, so Miss 8 decided that she'd like 3 of them. It turns out that although they are small, they are quite filling and my daughter ended up only eating 2 for dinner. My husband and I tried one each too, but I have to say that they are probably more geared towards kids.

I cooked them in the air-fryer for about 12 minutes from frozen and they came out perfectly. As far as taste goes, I noticed they were fairly plain with an average sausage inside and a good amount of batter - not too much that it overpowered the sausage. I felt they needed sauce to jazz them up, but this is pretty standard fair for hotdogs anyway! My husband commented they were a bit stodgy, but I didn't feel it was any more so than any other hotdog... it's just not something he's used to eating. I have to say that I would have had no idea that they were gluten free if the packet didn't state it!

Miss 8 got to take a leftover hotdog for her lunch the next day - it was well worth cooking an extra one for a treat in her lunchbox, and it was quite happily eaten cold. I've also tried reheating one of the cooked ones in the microwave and again there were no complaints from my daughter.

I see these as a great party food option, especially if you are catering for allergies - they are the perfect size that there isn't wasted food after a few bites. This isn't something I'd personally buy on a regular basis, but they definitely have their place and I can't stress enough how perfect they'd be when having to cater for gluten free options without doing 2 separate meals, so I'd highly recommend them on this basis.
This Review: 9.5/10
Taste:

Value for Money:

Visual Appeal:

Nutrition:
Everyone started laughing when I served up a plate of these hotdogs! They were just so cute. None of us had ever seen such a tiny hotdog, and Mr Six said he thought there would not be enough for the five of us. Luckily he was wrong. The size was deceptive - they were actually quite filling, and Miss Four gave up on her second as she was full!

We were eating outside, so it was great that little fingers did not need to touch the food at all, thanks to the sticks. This would make them a good party food for children as it would not be necessary to ensure hands were 100% clean. Their size is attractive to little ones as well; Miss Four said she thought they were probably designed for children. While I agreed with her, I noticed that the adults enjoyed them just as much.

I served them with two kinds of sauce, a plain tomato which I thought the children would prefer, and a spicy barbecue for the adults. Without exception, the adults voted that the plain tomato was a better flavour for the hotdogs as it did not mask the flavour. The meat was nicer than that found in the average sausage: it actually tasted like meat rather than a cardboard substitute, and everyone gave it the thumbs up.

I did have one problem with the cooking instructions. I cooked them in the oven, and the instruction was to "turn at 6-7 minutes". But the total cooking time was not given. I cut one in half at the end of seven minutes and it had barely thawed, so I left the batch cooking for a further six minutes. At the end of this time they were cooked to perfection. A minor annoyance, but it is important that the cooking time is accurate as it would be easy to overcook and cause the product to dry out.

I can see a real advantage in having a packet or two of these in the freezer for special occasions. They would make an ideal treat for children: often food designed for adult palates does not appeal to small people but it is important to be able offer them a nutritious alternative. This provides the perfect solution for impromptu dinner planning!
Random listing from 'Food'...
Product reviews for listing 5526: Nuttz Cinnamon Cashews -
Brand / Manufactured by: Nuttz Gourmet
Cinnamon coated cashews, rich in colour and flavour.

The soft texture of the Cashew nut and its mild flavour ensures the nut is suitable as an ingredient in many meals, as a snack as well as a gourmet confectionery. Our cashews are only sourced from A-grade packers that can guarantee consistent product quality, we only source the best grade nuts for the dry roasting & coating ... more...
General Disclaimer...
All trademarks, images and copyrights on this site are owned by their respective companies.
KIWIreviews is an independent entity, part of the Knock Out News Group. This is a free public forum presenting user opinions on selected products, and as such the views expressed do not necessarily reflect the opinion of kiwireviews.nz and are protected under New Zealand law by the "Honest Opinion" clause of the Defamation Act of 1992. KIWIreviews accepts no liability for statements made on this site, on the premise that they have been submitted as the true and honest opinions of the individual posters. In most cases, prices and dates stated are approximate and should be considered as only guidelines.

"I really have a secret satisfaction in being considered rather mad."
W. Heath Robinson (1872 - 1944)