Product reviews on kiwireviews.nz : Monday 29th May 2023 - 20:49:25
Score:

7.9

/

10

[

4

reviews]


ProdID: 7137 - Leena Spices - Rogan Josh Masala


Brand / Manufacturer : Leena Spices
Price:

$5.00 / 50g pouch

Sample/s Supplied by:





Available:

via Online Store and selected quality retailers
Leena Spices - Rogan Josh Masala product reviews

An aromatic range of spices which have been carefully selected, ground and roasted to create this flavourful dish.

Free from preservatives, artificial colours, salt, gluten, nuts and fat. Leena Spices are 100% pure.
This Review: 6.5/10
Taste:

Portions:

Value for Money:

Personal Choice:
Following the success of the Harissa Spice, I thought I'd give the Rogan Josh Masala a try. This one required a few more ingredients to prepare (yoghurt and tomato puree), so I had to make a quick trip to the supermarket before I could start. The spices come in a resealable foil pouch, and have simple directions printed on the label.

The meal was very simple to make, and looked great. The flavours itself were rather subdued, and lacked strength. Perhaps I didn't use enough of the spices, but I found while it had a flavour, there were no real distinct notes to the taste. It just tasted like a generic "curry" flavour, which disappointed me. Not bad at all, but nothing great. I was hoping for something more distinctive. It lacked something in the flavour, and definitely could have done with some additional heat to it.

As a product, it's good for a beginner, to learn the spices. You have a list of the ingredients used, which you can compare with other varieties by Leena Spices, and you can actually learn which ingredients contribute what flavours. But the actual blend was less than exciting for me. Future dishes will probably go without the yoghurt and tomato paste, and add some birds eye chilli to it, just to provide some strength and power to it.

Unfortunately not a product I'll be purchasing in the future. I love a strong aroma, and a real hit of heat, so the smooth, mellow flavours did not appeal.
This Review: 8.8/10
Taste:

Portions:

Value for Money:

Personal Choice:
When I saw this Rogan Josh to review, I was keen to try it out. Lamb is not something I cook often, but when we order an Indian meal from down the road, my husband and Miss 7 always go straight for the Lamb Rogan Josh and absolutely love it - so I was keen to see if this would measure up...

On the afternoon I had planned to cook it, I scanned the packet to give me an idea of how long it would take and I discovered that there was no indication of the time needed, mostly due to the fact that one stage said to cook on low until the lamb is tender. As I said, I'm not experienced in cooking lamb, but I had a gut feeling that this could take a while... but how long? I really didn't know if we were talking 20 minutes or 3 hours... that could make quite a difference to what time I would serve up dinner!

I checked some other lamb recipes and asked around but was still none the wiser, so decided this would be safer to make in the slow cooker as I'm confident with long, slow cooking using this. It would also be interesting to see if this is slow-cooker friendly as an alternative preparation method. I followed all the steps through on the stove top until it came to the longer cooking part and transferred it to the slow cooker with the water (using only 3/4 of a cup as I'm aware that my slow cooker adds lots of extra moisture).

I'll also note here that I actually doubled the amount of spice mixture after reading other reviews. I had read that the flavour was quite weak and others wishes they had increased the flavour, so figured it was a safe bet. I actually dipped my finger in the spice mix and found I could taste it straight from the packet without it being too hot or spicy so adding more couldn't really hurt, even though my husband and daughter don't tolerate spicy foods.

Anyway after 4 hours on high (as I'd run out of time in the day to use the low setting), I transferred the meal back to my frying pan to thicken the sauce. In hindsight I probably could have just left the lid off the slow cooker for the last half an hour. At this point I added some salt as per the ingredient list, even though I wasn't reminded in the step by step process to season it... but it definitely does need the salt.

Anyway, come time to serve it up I am pleased to report that Miss 7 absolutely loved it and went back for seconds, but this is probably due to how mild the flavour is... even after doubling the spice! My husband commented me how tender the lamb was (phew!), but told me if I was going to call it Rogan Josh I should use some spices. I showed him the packet and he was astounded as he couldn't taste that at all - he said the lamb itself was the overpowering flavour and didn't realise I'd added anything to it! I personally liked the taste, but I feel like it may have needed some added spiciness.

Overall I feel this is great value for money as you only use part of the packet, not the whole lot as per some packet mixes, and it has no preservatives or additives which fits with my style of cooking. You can't really consider this a standard packet mix, but more a helping hand to mix up all the essential spices needed to make authentic Indian dishes. It does need a few additional ingredients which are all stated on the packet - the main one to consider being the yoghurt. I figured pretty quickly that the fresh and fruity strawberry yoghurt in my fridge probably wasn't what they had in mind, so I made sure I had some unsweetened Greek yoghurt on hand!

Following on from this, I did feel that the instructions seemed a bit geared towards those with a bit of cooking know-how which is a bit of a shame as I see sachet mixes like this as being a great chance to try ingredients and/or cooking styles that I wouldn't normally be familiar with. As I have quite a bit left in the packet I definitely see myself making this again, but I'll probably not refer to it as Rogan Josh when I serve it up next time.
This Review: 8.3/10
Taste:

Portions:

Value for Money:

Personal Choice:
My girls were having a sleep over at their nanas so I thought this would be an ideal meal for my husband and I on a cold night. Nothing makes you feel happier then a warm belly when the wind is blowing outside. I loved that it had instructions on the packet and bought the ingredients that I required - luckily it was just the yoghurt and lamb as had everything else.

I was rather excited about preparing this as love Lamb Rogan Josh especially the smell of the spices. I could not wait to sample so I opened the packet straight away and found I was not disappointed - smelt divine. I put the rice into the rice cooker and got busy with preparing the meal. Extremely easy and mostly, explained well.

I combined my lamb and yoghurt and put in the fridge. I used a pot on the elements and fried my onions and oil - oh the smell. Then I added the Rogan Josh masala and fried for a further two minutes. After adding my meat and yoghurt I got a little concerned as the colour did not look very appetising but once I added the Tomato Puree it looked edible again. Added the water and cooked on low heat, this point had me questioning myself as I love my lamb to fall apart I have decided in future I will use a slow cooker from this point onwards. I was not sure also, on how long to cook until my gravy became thick in all honestly could of cooked a little longer.

I have to say I was a tad disappointed in the final product. I expected there to be much more flavour and some heat but really it was rather bland. It was edible don't get me wrong, just not the kick I was assuming. Next time I will be adding more than 2 teaspoons of Leena Spices as would like a lot more flavour then what it gave out. My girls would of loved this as there was no fire to it. I am impressed that for $5 it will last for a long time and definitely a dish I will play around with. Already decided next time I will try with beef and will double the spices and see how that works in the slow cooker.
This Review: 8.0/10
Taste:

Portions:

Value for Money:

Personal Choice: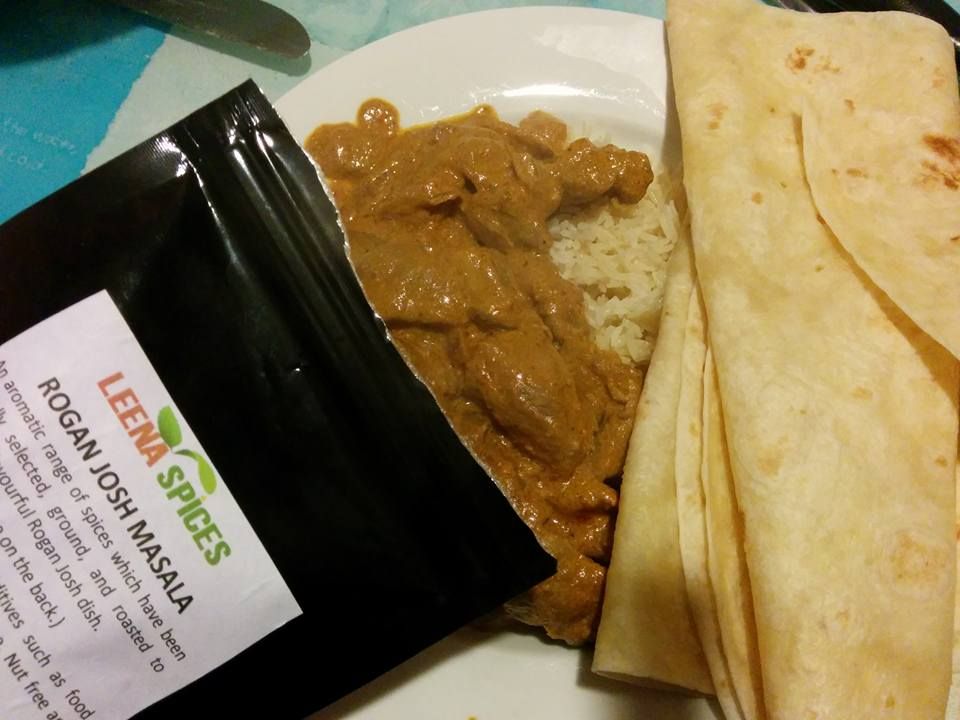 My husband and I like a good curry. I'm not much for the super hot curries, like he will have. But I like Butter Chicken, and Rogan Josh. I figured that if I could follow the instructions with this spice pack, then I could wow my husband with a yummy home-cooked curry.

I used diced lamb tonight for dinner. I didn't have any yoghurt, so instead I used a pot of sour cream. I'm not sure what flavour difference that would make. In a bowl I mixed the sour cream and the lamb together as per the packet's instructions. I chopped up some onions and cooked this in olive oil. Then I added the spice mix. The smell of the onions and the spices cooking was so delicious. My mouth was watering.

Next I added the meat mixture and then once I could see the oils coming to the surface I added the tomato and then finally the water. As it cooked, the smell was great. Neither of us could wait. I cooked some rice to have with it, and heated some of Farrah's Garlic Butter wraps to have one the side.

We sat down to our meal and we dug in. The first thing I noticed about the meal was that it was very tasty. However, it was lacking heat. I was a bit confused by this as we had already tried another of the range and that had good heat, due to the instructions directing an addition of cayenne pepper. This pack already had cayenne pepper in it, so I'm not sure whether I should have added more of the spice pack (I used 2 teaspoons) or if it was the sour cream. However, Rogan Josh should definitely be hotter than what this came out as.

My husband was a little disappointed as he felt that there was no heat whatsoever. I could easily eat it, and I had to agree that while the flavour was good, there was no heat. I'm not sure where we went wrong, but there is plenty of chance to keep exploring. Whether I increase the spice addition or if I add further cayenne pepper and see what happens. In any case, it was a nice change from our usual. The packet is an excellent size and will likely last us 3 or 4 more meals depending on how I use it.
Random listing from 'Food'...
Product reviews for listing 258: Box Office

Located: Downtown Complex - Main St
Located at the Main Street entrance to Downtown, this eatery is perfectly situated for anyone on their way to or from the movies who think to themselves 'I need something to eat.'

With a range of items on our menu, from Soup-of-the-Day to Burgers and Steak, From the smallest appetite to the biggest, we can cater to anyone's culinary needs.
General Disclaimer...
All trademarks, images and copyrights on this site are owned by their respective companies.
KIWIreviews is an independent entity, part of the Knock Out News Group. This is a free public forum presenting user opinions on selected products, and as such the views expressed do not necessarily reflect the opinion of kiwireviews.nz and are protected under New Zealand law by the "Honest Opinion" clause of the Defamation Act of 1992. KIWIreviews accepts no liability for statements made on this site, on the premise that they have been submitted as the true and honest opinions of the individual posters. In most cases, prices and dates stated are approximate and should be considered as only guidelines.

"Why do banks charge a fee on 'insufficient funds' when they know there is not enough?"
unattributed