Product reviews on kiwireviews.nz : Monday 23rd May 2022 - 17:30:14
Score:

10.0

/

10

[

2

reviews]


ProdID: 7099 - Gold Medal Me!


Author: Vicki Gausden
Price:

$19.00

Sample/s Supplied by:





Available:

May 2016
Gold Medal Me! product reviews
This winning picture book comes with a shiny plastic gold medal, perfect for children to enact their very own medal ceremonies. Toby the tiger can't wait for Sports Day - he's going to have lots of fun playing games and running races. Best of all, Miss Meadow has a whole table of gold medals to give out. But when Toby doesn't win any races, how will he get a gold medal? Luckily, it's the taking part that counts and Toby goes home proudly with his new gold medal.
This Review: 10/10
Price:

Value for Money:

ReReadability:

Personal Choice:
Miss 3 was really blown away when she saw this book for the first time, Tiger's are one of her favourite animals at the zoo and so she was chuffed that the main character of this book was a tiger, and even better still that he had a gold meal, a 'real' gold medal even. Of course the gold medal had to be removed from the book straight away before we could even read it. As the book didn't come with a piece of string to hang the medal from we had to hunt for a piece, which we found in the end.

With the medal sorted and safely and proudly hanging around Miss 3's neck we were able to start reading the book. The book is full of beautiful images, portraying a tiger and his friends who are getting ready to participate in a school sports day. Throughout the book the friends all compete in various different sports for example running races, egg-and-spoon races and sack races. Within each race one of Toby's friends finish first and so they are all excited about the fact that they are getting a medal at the end of the day, however Toby didn't win any of the races and so he is left upset that he isn't going to get a medal. Luckily upon the presentation of the medals the teacher announces that EVERYBODY gets a medal as they all tried there best and had fun which is the most important aspect of the day.

Miss 3 loves this book, as do all my daycare children we have read this several times now and it always provides a whole lot of laughter and giggles from the children especially when Toby goes looking under his bed for something, however the biggest giggles happen when Toby spills his bowl of cereal on top of his head, Miss 3 is forever telling me how silly Toby is! While I really liked the moral behind this story that it doesn't matter if you come first or last, as long as you had fun and tried your best, a teacher I work with disagreed she felt that not everybody should have got medals as she felt it wasn't teaching them that they can't get what they want all the time, it wasn't interesting to hear her opinion.

A great book which has led my daycare children into getting active outside having various different races against each other such as running, jumping and skipping, it also got us making gold medals of our own, yes everybody got one! Miss 3 has spent her afternoon today working on making gold medals of hr own from paper, using the included medal as a stencil, these to share with her toy friends for being on there best behavior.

I love it when a story has a happy ending, and a great moral to go with it and it's always a bonus when it's children rereading and telling the story, this is one of those books that got the children's creative juices flowing, I love it!
This Review: 10/10
Price:

Value for Money:

ReReadability:

Personal Choice: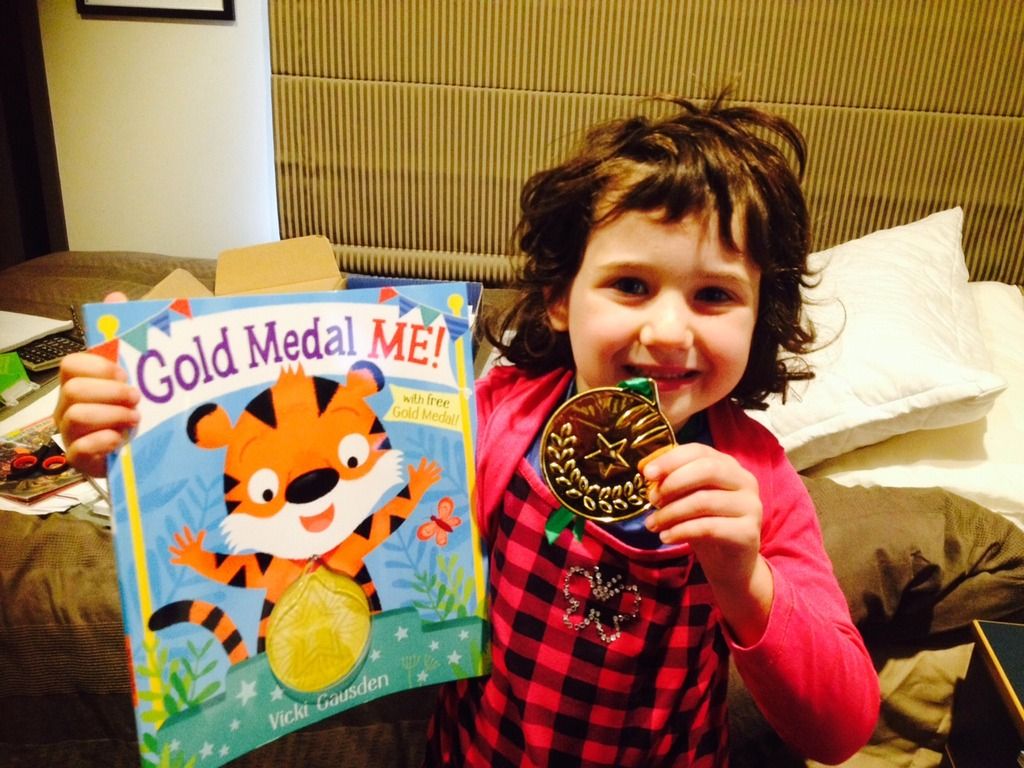 Miss Four saw the medal on the front of the book and that was it, it just had to be hers. The medal sits in a little plastic window on the front cover. When the medal has been taken out, it is likely to stay out for good. This has been considered when the book was created as without the actual medal in place, the plastic window looks through to an illustrations of a medal. This was smart forward thinking!

Over the past week, Miss Four has insisted on the book being read to her over and over. She regularly comments on the medal "I love the medal, it is so beautiful." I told her that she could have it and I got out a bit of ribbon for her. She was so excited "I want the medal now! Tie a knot please". She was so proud as I popped in over her head and she marched off around the house to show it to the rest of the family.

We shared the book with my four year old nephew and he couldn't understand why it wasn't for him. This caused a little bit of an issue as they both wanted the medal. We were together at the beach for the long weekend and we decided to have a mini sports day on the beach. We did some running, jumping, hopping, skipping etc. I made each child a little card medal so that they could all have one. Our sports day was very much inspired by the book and the children enjoyed having fun just as in the book. I really appreciate it when a book encourages creativity and/or physical activity. This book has done both for my children.

The book shows that all the participants in a sports day are winners and the fact that they have taken part and had fun is the most important thing. The main character, Toby, didn't come first at anything but still got a prize. He did show great sportsmanship and this is a very important part of a sports event for children to understand and experience. It is good for children to know that winning isn't the only reason to be involved in such events.

Miss Four has now had the book read to her so many times over the past week that she is very familiar with the story. She has enjoyed sitting on the floor and 'reading' the book by herself for quite some time. Occasionally there were chuckles or comments as she moved through the book. She thought that it was hilarious that Toby tipped the cereal bowl on his head. Kids always like it when unexpected things happen in books. As parents, we often see funny things like this when our children are in a hurry or under pressure. It made me laugh too.

This is a fun book with plenty of room for discussion and followup activities. It could be well placed in a classroom at school in the lead up to sports events. The illustrations are bright and bold. They are also seriously cute. Every page spread in the book is full of colour and fun. The pictures are bound to inspire energy and happiness in any child, even on those grumpy days!!
Random listing from 'Books'...
Product reviews for listing 3097: Pale Demon

Written by Kim Harrison
Condemned and shunned for black magic, Rachel Morgan has three days to get to the annual witches' conference and clear her name, or be trapped in the demonic ever-after . . . forever after.

But a witch, an elf, a living vampire, and a pixy in one car going across the country? Talk about a recipe for certain disaster, even without being the targets for assassination.

For after centuries of torment, a fearsome demon walks in ... more...
General Disclaimer...
All trademarks, images and copyrights on this site are owned by their respective companies.
KIWIreviews is an independent entity, part of the Knock Out News Group. This is a free public forum presenting user opinions on selected products, and as such the views expressed do not necessarily reflect the opinion of kiwireviews.nz and are protected under New Zealand law by the "Honest Opinion" clause of the Defamation Act of 1992. KIWIreviews accepts no liability for statements made on this site, on the premise that they have been submitted as the true and honest opinions of the individual posters. In most cases, prices and dates stated are approximate and should be considered as only guidelines.

"Making duplicate copies and computer printouts of things no one wanted even one of in the first place is giving America a new sense of purpose."
Andy Rooney (1919 - )