Product reviews on kiwireviews.nz : Wednesday 6th July 2022 - 00:08:53
Score:

9.8

/

10

[

4

reviews]


ProdID: 7049 - Manuka Smoked Chilli Salt


Brand / Manufacturer : Down at the Farm
Price:

$8.00

Sample/s Supplied by:





Available:

via Online Store and selected quality retailers
Manuka Smoked Chilli Salt product reviews

Our second most popular salt so far.....

This used to be called Smoked Chilli Garlic Salt - we dropped the Garlic from the name but haven't changed anything else! The best of both if you like it hot... the smoky flavour first then the bite. Best used at the table so you don't lose the smoky flavour during cooking.

Natural solar-dried sea salt blended with garlic, chillies and cayenne.

Important! Grinder is coarse and fine. Pull out firmly for coarse grind and push in for fine.
This Review: 9.0/10
Taste:

Portions:

Value for Money:

Personal Choice:
I enjoy chilli a lot, and will often add it to my meals in order to give it more of a kick. But when you work with fresh (or even frozen) chilli peppers, it can be a bit hard to be the amount right, especially if you are making meals to share. This seasoning as made more as a post-preparation item, so each member of the family can add their own preferred amount of chilli salt to the meal.

I have come to love these latest grinders for salt and pepper. Gone are the days of pouring finely ground salt seasonings from a shaker. Nowadays, everyone has their own grinders to ensure that the seasonings are freshly ground for that extra kick. So I love having it all built into the packaging, with the ability to adjust the grind from fine to coarse depending on whether you want a consistent seasoning, or bursts of flavour.

I was feeling peckish, but also very low on foodstuffs, so I decided to put in a bit of effort and make some crunchy roast potatoes and kumara. As I was just cooking for myself, I decided to use the product during preparation rather than an additive afterwards. After par-boiling some peeled vivaldi gold baby potatoes and quartered red kumaras, I gave them a generous coating of the Manuka Smoked Chilli Salt (both coarse and fine), before giving them a shake in the pot to break up the edges, placing in an oven dish, coating in oil and yet another layer of the Manuka Smoked Chilli Salt, before allowing to roast in the oven for a good 60-70 minutes (ensuring I turn them over once).

Being Manuka Smoked, this product has an interesting flavour to it. With garlic and chilli as some of the primary ingredients, you don't really get to taste them quite as much as I had expected. You still feel the heat of the chilli (depending on how much you use), but the overall flavour actually ends up tasting a bit like bacon to me. That being said, bacon is a great flavour, and a very popular food, so we all know a variety of dishes that work well with bacon.

This is a nice seasoning that provides salty, sweet, and hot, all in one grinder. I was personally hoping for a bit more chilli compared to the other ingredients, but it's still a welcome addition to the generic salt and pepper at the table.
This Review: 10/10
Taste:

Portions:

Value for Money:

Personal Choice:
My husband and I both like dishes with a little kick but the only problem is we both have different tastes and I like a much bigger kick than him. After discovering Down at the farm chilli salt I think all out problems have been solved this stuff is perfect! You can add as much or as little chilli after cooking as you please. No more having to try a balance that suits both our tastes buds. I can just grab the grinder and add a little more heat to mine.

Since the salt has arrived I have used it for everything, as an extra hit in nachos, in soups, with fish, in stir fries and to jazz up roast vegetables. When making an antipasto platter I even brushed some bread with olive oil added a quick grind of salt and toasted it. I honestly don't think there is a bad way to use the chilli salt it goes with everything. The smokey hit of heat and the hint of garlic really appeals to my taste buds.

I have been recommending the salt to everyone as it's the perfect addition to every meal. It has quickly become one of my favourite must haves int he kitchen. The design of the container is a great selling point for me as it doubles as a handy grinder. I love the fact with a quick pull you can switch from fine to coarse grind to suit your needs. For $8 it's a bargain as you only need a little to create a big chilli hit.
This Review: 10/10
Taste:

Portions:

Value for Money:

Personal Choice: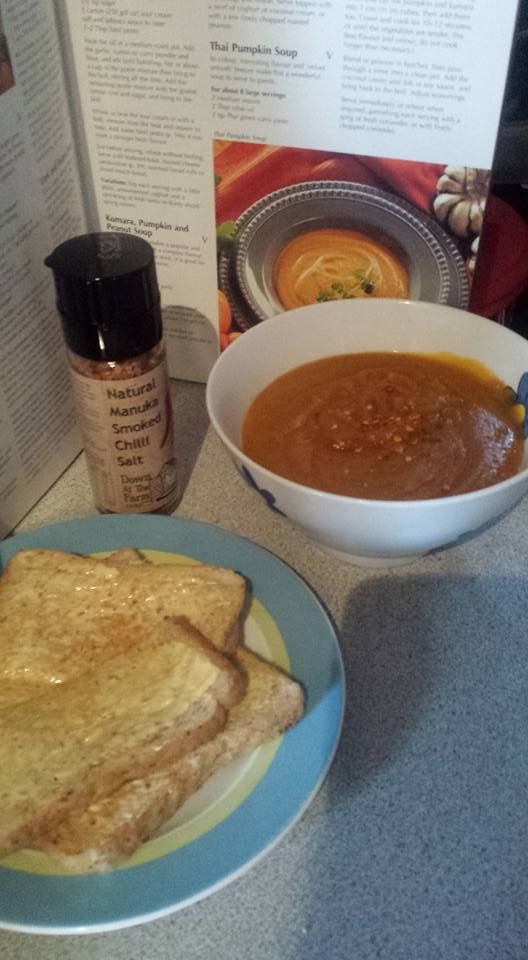 Every now and then a product comes along that takes me by surprise, especially when it is a food item. To find one that actually fulfills what it promises - in this case, to be hot with a smoky flavour is rear. Most foods do not fully live up to the label, usually lacking in something. But this - omg this is the bomb!

I am addicted to pumpkin soup, especially home made, and I love spicy, pumpkin soup with a kick! I have really been struggling to find the perfect addition for my pumpkin soup that would enhance the flavour and provide that kick. I have tried several different recipes from spicy thai, to some very well known NZ chefs own recipes. None have had the kick I have been looking for

But the struggle is over! This manuka smoked chilli salt is amazing and my soup soooo good. Yummy!

The thing is, until recently I was not even aware of this salt. I was browsing Facebook one-day and came across a photo on a friends wall. The photo included a picture of this salt and a description that made me think that maybe this was what I had been looking for. A slight interrogation of said friend later, and a read up of his review and I was certain this was the answer to my prayers. Fast forward a wee bit, and as you can see...it is exactly what I needed! My friend was honest in his report that this stuff has a kick, it is not for the faint at heart that can't handle the heat! (unless used sparingly or in cooking to reduce the heat a bit), and the beautiful smoky flavour (and aroma) is just as he said it would be!

The other great thing about this is the lid doubles as an easy to use grinder, and it allows you to either grind it to a nice powder (suitable for those who do not like to much) or to just grind it down a little. I prefer to grind it a little, not turn it in to powder. I grind it in to my soup while cooking, and then use it as a garnish on serving. It has made my soup go from being, ok, to being perfect! I admit that I am actually astounded to read that this is Down at the Farms second most popular salt, and I have to purchase the other salts because of this.

I admit that I have not used this on anything else. I make soup in bulk and freeze it, as a result the whole lot went into several soup making sessions (pumpkin, chicken and vege). It adds a really great flavour to them and the aroma that floats through my home when cooking is to die for. Down on the Farm should make an air freshener to match haha. Seriously though, two thumbs up from my. Absolutely LOVE it and am so glad I seen the photo my friend shared!


This Review: 10/10
Taste:

Portions:

Value for Money:

Personal Choice:
I love chilli. I'm not some mad fanatic who is always trying to go hotter than the last meal, or even one who is always testing myself against the latest variety of face-melting seed pod. But I do love a dish with a bit of kick that still also has flavour. So this was one product I was determined to trial myself. So glad I did.

Since this arrived, I have used it in scrambled eggs, to enhance the flavour of packet soups, as a rub on steak, as a replacement for regular ground salt in sandwiches, and I have even used it to add some extra flavour layers to a chocolate sauce. All of which have turned out brilliantly. To say I am impressed at the versatility of this salt would be an epic understatement.

However... none of those uses were very photogenic, so I started to think of ways I could use it that could be captured in a photo... alas, the best I could come up with was to grind some on top of a fish pie I made that was a bit 'weaker' in the flavour department than my ideal. Still, that is a valid use for it so I was again happy with how it panned out.

Overall, I found this to be a great product. Being able to grind the chilli flakes is something I am really happy about, as it reduces the chances of me biting down on a chilli seed - that's a bit uncomfortable for me due to sensitive teeth and a few missing fillings. As a side comment on the container, more than the contents, I really liked how easy it was to use. I didn't realise that the grinder could do 'fine' and 'course' settings until, by chance, I overheard someone talking about it. However, what I did work out for myself was how this design could be used to avoid 'grinding in the steam' - when you want to grind salt into a dish while it's cooking, and the steam causes the salt to clog. Hate that. So the simple answer is you leave the cap on, turn the grinder upside down and grind away a few times, then turn it right way up, pop the cap off and tip the pile of ground salt into your hand and transfer it to the cooking pot. No clogged grinder!
Random listing from 'Food'...
Product reviews for listing 4613: ABC Sweet Soy Sauce

Produced by ABC
This thick, rich caramel-colored sauce is naturally sweetened with sun-dried palm tree sugar and adds an aromatic, sweet flavor to any dish
General Disclaimer...
All trademarks, images and copyrights on this site are owned by their respective companies.
KIWIreviews is an independent entity, part of the Knock Out News Group. This is a free public forum presenting user opinions on selected products, and as such the views expressed do not necessarily reflect the opinion of kiwireviews.nz and are protected under New Zealand law by the "Honest Opinion" clause of the Defamation Act of 1992. KIWIreviews accepts no liability for statements made on this site, on the premise that they have been submitted as the true and honest opinions of the individual posters. In most cases, prices and dates stated are approximate and should be considered as only guidelines.

"Why does your Obstetrician or Gynaecologist leave the room when you get undressed if they are going to look up there anyway?"
unattributed