Product reviews on kiwireviews.nz : Wednesday 29th June 2022 - 18:37:17
Score:

9.7

/

10

[

4

reviews]


ProdID: 7050 - Manuka Smoked Salt with Lime Horopito


Brand / Manufacturer : Down at the Farm
Price:

$8.00

Sample/s Supplied by:





Available:

via Online Store and selected quality retailers
Manuka Smoked Salt with Lime Horopito product reviews

Made in New Zealand from locally sourced ingredients. Horopito is the native equivalent of pepper. Combined with a zesty Lime Kelp seasoning and Manuka smoked salt - it's a winner.

It's fragrant zingy and delightful when used to accent fish, pasta, potatoes...and any salad where a burst of citrus tang is required.

Important! Grinder is coarse and fine. Pull out firmly for coarse grind and push in for fine.
This Review: 9.8/10
Taste:

Portions:

Value for Money:

Personal Choice:
I was thrilled when my manuka smoked salt with lime horopito arrived. I couldn't wait to try it. I was very pleasantly surprised by the size of the container as I thought it would be smaller. It was the perfect size to fit easily into my hands and I loved the fact it had the grinder on top. I think this grinder top is a great idea. Some other brands have it but its not adjustable like this one. I love the fact I can make it coarser if I want to use it as a chunky seasoning for much more taste or I can turn it so it grinds it thinner if I just want a little bit.

I loved the smell when I used it the first time and you could really pick the lime smell out of it. It was (in my opinion) the perfect mix of lime kelp seasoning and manuka smoked salt. The first time I used this I put it over my roast veges. I drizzled in some oil, mixed the veges through and put a decent amount of this over the veges. I think in hind sight I would put a little less on next time as this is a very strong seasoning.

I have this lined up on my kitchen bench today to add into some thai pumpkin soup I am about to make. I am hoping the hint of lime will give it a nice wee zing of flavour. All in all I loved the flavour, was impressed with the size and the grinder and would definately buy again. I am looking forward to trying the other seasonings in this range.
This Review: 10/10
Taste:

Portions:

Value for Money:

Personal Choice:
When these came up for review I was most excited for the Manuka Smoked Salt with Lime Horopito flavour. It seemed so different from anything else I had seen available. I like Horopito and I like lime. I imagined all sorts of things that I could do with this salt.

When I got the container, I was pretty impressed with the presentation. The salt mix comes in a grinder. The label is a bit hard to read in parts, due to the size of the font in some places and the background image of the sticker. However, for 80% of the label I found it nice and clear to read the ingredients and description. There is a panel of clear glass in the back of the bottle, that let's you see the mixture inside. It was great being able to see the large chunks of smoked salt and the herbs as well.

The lime scent from the container is really strong. This will be because it contains an essential oil as well as lime powder. The taste has an immediate citrus flavour followed by the smoky salt and Horopito. I have used this in all sorts of meals over the last two weeks. It's very versatile and a little goes a long way which means that this bottle is going to last us a good long while, even if we used it daily.

I have used this on roast vegetables, steamed vegetables and in sauces. I also made a corned beef recently and I swapped out the salt and pepper I usually use for this seasoning instead. It added a good point of difference and stood out despite the other flavours. It all just worked well together.

In a recent macaroni cheese, I made the white sauce base by using this instead of other seasonings and we really liked the difference to the sauce. It had a light lime zing to it. It was noticeable but very welcome from everyone in the family.
This Review: 9.8/10
Taste:

Portions:

Value for Money:

Personal Choice:
Manuka Smoked Salt with Lime Horopito was a delight to try. When opening the bottle the lime flavour hits you like you have just squeezed a fresh lime in your hand. I used this salt in a variety of ways so far, and all of them have turned out really well and tasty, which is great when experimenting that you have a positive outcome. The bottle is stylish and easy to use, the twist top lid glides easy and gives a prefect amount from one twist. I also really love the design of the label, its eye catching and simple but effective.

Some ways I tried the Manuka Smoked Salt with Lime Horopito was in bread, and it turned out amazing. I made a batch of focaccia bread and added the salt to the dough. When cooking the bread and lime flavour smelt so good. My friends really loved it and thought the new flavour was a hit. I normally make it with mixed herbs, but I love to experiment and add in a new twist so it's great when it pays off. I also added it in a chicken, mushroom, lettuce and carrot chutney salad. I added the Manuka Smoked Salt with Lime Horopito to the chicken when cooking it. I found the lime really brought out the flavours within the whole salad and it was super yummy.

I really enjoying cooking and trying new things, so adding this lime salt to food has been great. I have also tried it when cooking roast vegetables which turned out well. The thing with experimenting is it can either be a fail or a success. When it's a success then it is always a bonus, new flavours and meals are a way of keeping food interesting. This salt is definitely a salt I would use and would love to try some of the other flavours. I love the flavour of salt and the punch from the lime.
This Review: 9.3/10
Taste:

Portions:

Value for Money:

Personal Choice: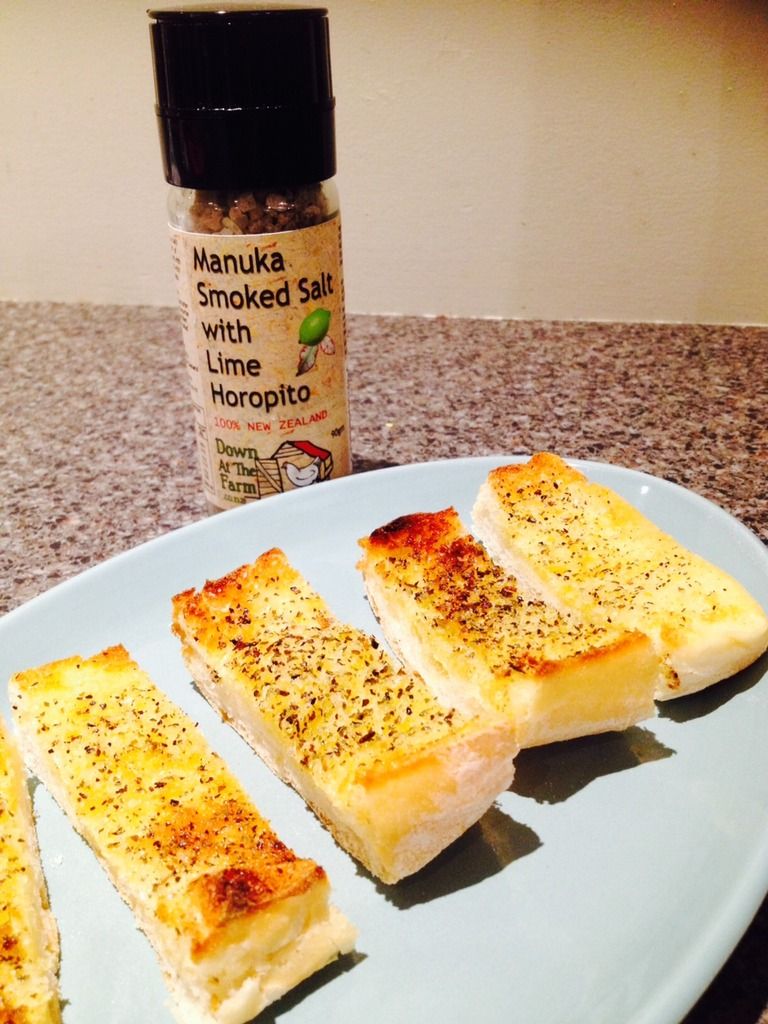 When I opened the container, I was hit with a tasty citrus smell. It was a kind of sweet smell. My husband and I enjoy lime in our cooking, so we were keen to know what Down At The Farm's Manuka Smoked Salt with Lime Horopito would taste like in our meals.

I added some of the salt to some potato cubes in the oven. I also added a little bit of oil. I found that I needed to add more than I initially thought in order to get a good hint of flavour to the potatoes. Once I added more, I was quite happy with it. The parsley and kelp added nice flicks of colour to the outer of the potatoes. Obviously salt doesn't really have a colour, so it was nice to be able to visually see the covering on the potatoes.

Tonight I had a couple of left over cibatta rolls, so I decided to try some herbed bread for a pre dinner snack. The kids always enjoy garlic bread, so I thought this might be another option to try for them. I melted butter and then used a brush to coat the surface of the cabin roll (cut in half). I then ground some of the salt over the bread. I added quite a bit as I figured I hadn't added enough when I did the potatoes the previous night. After trying the first batch of bread, I found it quite salty. The second roll that I cooked still had a good covering but a much lighter amount. I hadn't taken into consideration that the butter already has salt in it and therefore the initial combination was too salty. The kids gobbled it all up regardless of how salty it was!!

The container is attractive and looks classy. It is something that would look good in the pantry or on the table. When opening the lid, you need to simply flick the lid off rather than trying to turn the top. The top is also the grinder and when you turn it, you are actually riding the salt. It is also important to note that if you can alter how coarse the grind is by either pulling up the top of the grinder (for coarse grind) or pushing it down for a fine grind. If you have a preference toward one of these grinds, you can leave it in position so that it is ready for the next time you use it. The plastic used at the top of the bottle feels nice and strong. I was glad to see this as I wouldn't want the mechanism to fail due to cheap plastic. Again, this is another sign that the product and its packaging is a high standard.

One container of this salt would last us a long time as we don't generally add too much salt to our meals. Looking at the best before date, we have about 18 months to use it, which is great!! We enjoyed the flavour of this product and the fact that the whole family liked it means that they would be happy to have it added to meals from time to time. I see it as a special product that will enhance meals every now and then rather than being an everyday addition to our meals. I can see it going really well with a meal of fresh fish at the beach!
Random listing from 'Food'...
Product reviews for listing 6440: Pretzel Crisps - Garlic Parmesan -
Brand: Snack Factory
Deli-style Garlic Parmesan Pretzel Crisps are a zingy twist on an old favourite, with a great gourmet taste from naturally wholesome ingredients. The best part of the pretzel - that satisfying flavour and crunch - is brought to life in these delightful, light snacks.

Enjoy them straight from the bag, or dip your crisp in hummus or creamy cheese dip.
General Disclaimer...
All trademarks, images and copyrights on this site are owned by their respective companies.
KIWIreviews is an independent entity, part of the Knock Out News Group. This is a free public forum presenting user opinions on selected products, and as such the views expressed do not necessarily reflect the opinion of kiwireviews.nz and are protected under New Zealand law by the "Honest Opinion" clause of the Defamation Act of 1992. KIWIreviews accepts no liability for statements made on this site, on the premise that they have been submitted as the true and honest opinions of the individual posters. In most cases, prices and dates stated are approximate and should be considered as only guidelines.

"Making duplicate copies and computer printouts of things no one wanted even one of in the first place is giving America a new sense of purpose."
Andy Rooney (1919 - )