Product reviews on kiwireviews.nz : Monday 14th June 2021 - 11:12:12
Score:

8.9

/

10

[

4

reviews]


ProdID: 7051 - Manuka Smoked Salt with Lemon Pepper


Brand / Manufacturer : Down at the Farm
Price:

$8.00

Sample/s Supplied by:




Available:

via Online Store and selected quality retailers
Manuka Smoked Salt with Lemon Pepper product reviews

Something a little different...

We have blended our manuka smoked salt with red & green peppercorns and added a good dash of Lemon Kelp. So you get a Lemon Pepper with the addition of Iodine from the kelp and a bit of the smoked salt flavour as well. Use as you would a Lemon Pepper - Customers tell us it's great on aubergine when barbecued.

Important! Grinder is coarse and fine. Pull out firmly for coarse grind and push in for fine.
This Review: 10/10
Taste:

Portions:

Value for Money:

Personal Choice:
We often buy lemon pepper to have on oven fries and in some other meals at home. I quite like a sprinkle of it on fish and chips when we get them from the chip shop too. So I was keen to give this one a go. The first thing I noticed about the bottle was how pretty the mixture was. The red and green peppercorns were really striking and it just looked visually appealing.

The bottle it comes in, has a grinder lid. This is excellent and worked really well. When I ground the mixture into things over the course of my time with it, I could see flecks of the red and the green as well. The grinder can also do coarse or fine grind, which is really useful depending on what you need. This is not just a lemon pepper though. It's got salt in it, and so it's all all-round seasoning.

I used this on roasted vegetables, and hassle-back potatoes. I used this to add more flavour to a mince chow mien I made. That was nice, as it had a citrus zing to it. Then last night I made something I haven't made in years. When we were students at university I made chicken with honey and lemon pepper, and it was one of our main meals every week. My husband was thrilled to see it back on the menu and it is really easy.

All I do is rub the chicken with oil, coat with lemon pepper seasoning and then add about a teaspoon full of honey to the top of the chicken. Then half way through cooking, I turn the chicken pieces, re-season and add more honey. It's easiest to do with a squeeze bottle of honey. The chicken was so good, honey and lemon pepper works so well together. I'll definitely be doing that again.
This Review: 8.8/10
Taste:

Portions:

Value for Money:

Personal Choice:
When I was a child my grandparents would take us to their favourite seafood restaurant. Their chips always tasted so good. It wasn't until years later that I discovered lemon pepper seasoning. I don't know why but I have never had it in my pantry but when I'm at my parent's I always use it. When I was offered Down at the Farm's Manuka Smoked Sea Salt with Lemon Pepper to review I knew it was perfect for me.

The jar is very attractive with the different colours of the sea salt, peppercorns and kelp. The lid has a built in grinder which worked well on both the coarse and fine settings, although I would have preferred a hinged lid than a removable one that was often misplaced. I also saw when looking on their website that they sell refill pouches for all their grinder salts. This makes it more economical and environmentally friendly.

The taste of the salt was fabulous on hot chips and crumbed fish. It reminded me on that seafood restaurant. My husband and children loved it too although I didn't tell them it had kelp or onions in it. I loved that it had all natural ingredients and was a New Zealand made product.
This Review: 8.3/10
Taste:

Portions:

Value for Money:

Personal Choice:
I was excited to try this product as I go through a lot of lemon pepper and thought by having the salt added would solve the need for two separate products. This product is packaged in a glass jar with a grinder on top which allows the colourful salt and pepper to be ground freshly. I was surprise to read in the ingredients list that I contained onion and kelp and that the lemon flavour was only a lemon flavour oil.

I would normally use lemon pepper on my beef steak so thought this would be the perfect opportunity to try. I used the attached grinder and put a good layer on both sides of my steak with a bit of olive oil. I took into consideration that I would normally put both salt and pepper on so made sure it was a good coating before frying. In tasting this however I found that there was very little taste of pepper and lemon. This was really disappointing and felt by putting on any extra would not have made a lot of difference. I tried this on chicken baked in the oven and once again put quite a bit on. The pepper flavours came through this time but not the lemon so much.

Considering it is the lemon taste in lemon pepper that draws me to it I was rather disappointed in this product. I will continue to use this product as feel that the smoked pepper itself can be used in many dishes. I think the price is reasonable and feel that if it is just the pepper taste it will last quite some time.
This Review: 8.8/10
Taste:

Portions:

Value for Money:

Personal Choice: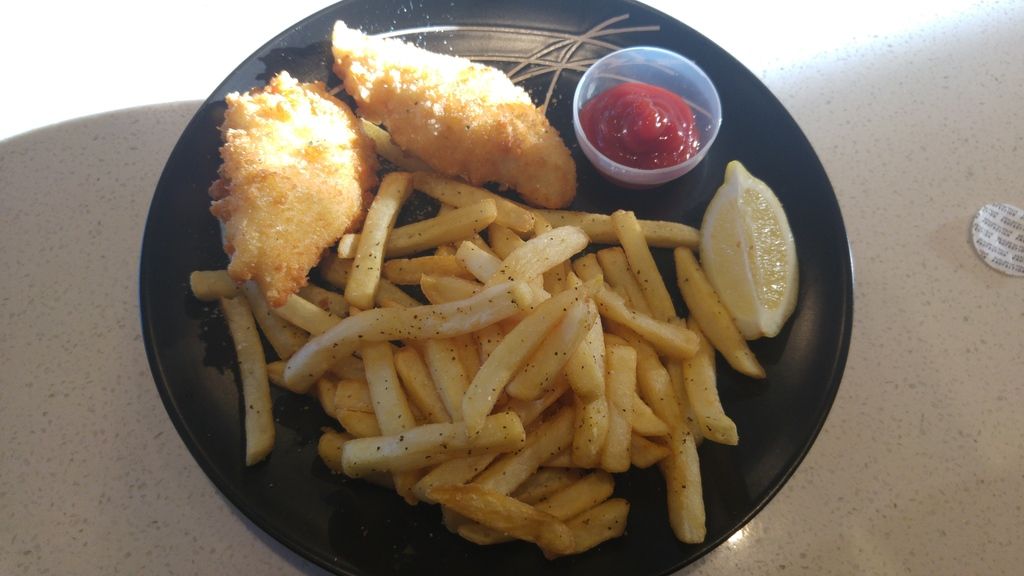 Lemon Pepper is a favourite in our household, especially of my partner, and although it is not something that you can really buy in the supermarkets to use we do tend to go for this flavour if it is available as a seasoning while out at a restaurant. So when I saw the Down At The Farms Manuka Smoked Sea Salt with Lemon Pepper up for review I was really hoping I would get to review it, and luckily I did.

The Lemon Pepper Sea Salt comes in a 60 gram glass jar, it has an eye catching label with bold black lettering and also features pictures of lemons and a chicken coup with a chicken in it, to me this really does emphasis that the product is made of natural ingredients, those of which you could find or grow on a farm, and even better still in New Zealand/ On the back of the label are instructions for how to use the grinder (which I found very helpful, as I must admit I was having a bit of difficulty with using this prior to reading what to do). The grinder features options - to get a fine sprinkling of salt you push the grinder down, and for a coarser sprinkling of salt you push the top up firmly, I really loved having both of these options available.

The colours through the glass jar looked really appealing with different colours of peppercorns, red and green, a touch of yellow from the kelp, flakes of black pepper and white from the sea salt I couldn't wait to try it out! This product arrived just in time as my partner had been fishing the day before and so we were having fresh fish for dinner, which is a perfect way to use lemon pepper! I decided to add some of this salt to the bread crumbs that I was going to be coating the fish in, I didn't know exactly how strong the flavour was going to be so being on the safe side I decided to add a couple of good sprinklings of finely grinded salt. As the fish cooked away in a little bit of oil in the fry pan, and the chips in the acti-fry I couldn't wait for dinner to be served!

The flavours as I took my first bite of fish were far from lemon pepper tasting, so I thought that perhaps I hadn't added enough so decided to sprinkle some more over my cooked fish and chips, the colours looked lovely on top of my meal, adding a touch of colour. I could certainly smell the lemon from the glass jar but the taste even from apply to the top of the cooked meal was very limiting to that of lemon or pepper, it was there but not strong at all, not as strong as I would have liked anyway, although I must admit the smoked salt taste itself was pleasant and I enjoyed this much more to normal salt and can see it being a great addition to many more meals.

I see this yummy salt lasting quite some time in our house, and look forward to trying it in sauces etc and seeing if I can perhaps find a way to enhance the taste of the lemon pepper even more!
Random listing from 'Food'...
Product reviews for listing 3439: Sids Raspberry Mint Vinegar -
Produced by Sids Sauce
• Use as a Mint Sauce on lamb, hogget, mutton, pasta salads & potato salads.
• Delicious on new potatoes and schnitzel.
• Low sodium - 16mg/100g.
• No fat, animal products, fish products or nuts.
• Gluten Free - made with Wine ... more...
General Disclaimer...
All trademarks, images and copyrights on this site are owned by their respective companies.
KIWIreviews is an independent entity, part of the Knock Out News Group. This is a free public forum presenting user opinions on selected products, and as such the views expressed do not necessarily reflect the opinion of kiwireviews.nz and are protected under New Zealand law by the "Honest Opinion" clause of the Defamation Act of 1992. KIWIreviews accepts no liability for statements made on this site, on the premise that they have been submitted as the true and honest opinions of the individual posters. In most cases, prices and dates stated are approximate and should be considered as only guidelines.

"Proof that God doesn't exist: If God created the earth for mankind, why is it that we can only live on a less than a quarter of it?"
anonymous