Product reviews on kiwireviews.nz : Wednesday 6th July 2022 - 00:31:46
Score:

9.5

/

10

[

6

reviews]


ProdID: 7039 - Alexandra's Quinoa - Red Bean & Corn


Produced by Alexandra's
Price:

$6.95

Sample/s Supplied by:





Available:

at selected quality supermarkets
Alexandra's Quinoa - Red Bean & Corn product reviews

Our 'Red Bean & Corn' Quinoa is gluten free, ready to cook and super delicious. Just add water and in 25 minutes you'll have a healthy and nutritious meal for two. Eat on its own or add meat, fish or chicken.

Ready in 25 minutes.
Handmade in New Zealand
Serves: 2 as a main or 4 as a side
This Review: 9.3/10
Taste:

Value for Money:

Visual Appeal:

Nutrition:
Being a foodie, I love trying new things. Quinoa is something that I have heard talked about a lot but not something I am overly familiar with, so when I saw this was available to review I was intrigued and excited. When it arrived I think my husband was more excited than me - and we decided to have it that night!

One of the few things I do know about quinoa - like cous cous - it does not have a lot of flavour on its own, and is good with strong and bold flavours. I liked that the corn and red beans, as well as the spices with already in the packet - being matched together hopefully - and making it more fail safe for me (who is not, lets face it, the best cook!)

The packet itself is really appealling - you are clearly see what is in it and what you are get. It clearly shows how many you can expect it to feed, that it is gluten free, how long it should take to make it, and that is is proudly a NZ made product - excellent Alexandra's - wish more producers would make it so easy! The bag was easy to open and the cooking instructions are clear and concise - making it simple for busy parents, new to cooking for yourself, and even not so great cooks (my category!). I found the cooking to be pretty straight forward but being the first time I had cooked this, and used Alexandra's products, I was checking it quite a lot. I added a little bit more water to it towards the end when I tested it and still found it a bit "crunchy", for want of a better word. Other than that - it was exactly as the instructions set out - yay!

We decided to put it with sausages, as the kids can sometimes be picky with foods and we wanted them to try it. Their first response was - "What is it - is it rice?" We had to explain that it was sort of like rice and cous cous put together. They seemed okay with that explanation, and since rice and cous cous are huge hits in this house - they were tempted to try it. There was a mixed reaction - they loved the quinoa (fat cous cous they called it) and the corn, but were not super keen on the red beans and the spice. They ended up leaving the beans but did eat everything else, so a win in my book! For both hubby and I - we really enjoyed it! It had enough flavour and spice for me - but husband ended up adding spice, but then again he does to everything!

The amount is makes does mean it is good value for money - it fed all of the family one night and then my husband again the following night - the children refused - but we will definitely be hunting it out as a nice quick, tasty and different to the norm dinner. This is a great idea for so many reasons - and I am eager to try the other variety - whitebean and cranberry when I get a chance!
This Review: 10/10
Taste:

Value for Money:

Visual Appeal:

Nutrition:
I really enjoyed the taste of the Alexandra's White Bean and Cranberry Quinoa so was looking forward to trying the Red Bean and Corn Quinoa. I cooked this up as I did the previous packet on the stove top. I knew that the previous packet had cooked quicker and needed more water so I was prepared for this one and added some extra water then let it sit until I was ready to serve.

I served a little of this up on everyones plates and to their credit the kids all tried it but none liked it very much. I liked the flavour and the texture and had a decent serving but there was still a lot leftover for lunch the next day. Rather surprisingly this was actually so much nicer the next day. I think the flavours had had time to infuse and deepen and I really liked it. I actually preferred it so much more on the second day that I think in future I would prepare this day ahead of time. I am still really impressed at the quantity produced from such a small packet. With such a lovely depth of flavours this packet is really good value for money especially as it tastes so good and cooks up far better than I have ever managed myself.

I can definitely recommend this Red bean and corn packet and would recommend trying it especially if you have never had success cooking quinoa before or just want to try a new food. These packets make cooking up a nutritious and easy dish so easy that you will find yourself becoming a little more ambitious in the kitchen. These packets are also a great way to introduce your family to new foods that they may have been a little dubious about trying in the past.
This Review: 9.5/10
Taste:

Value for Money:

Visual Appeal:

Nutrition: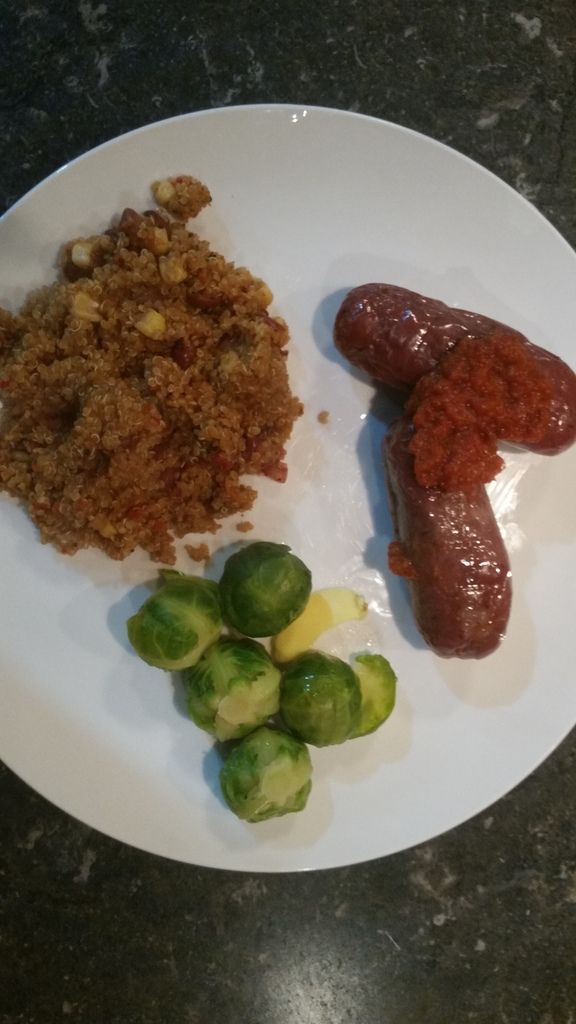 I love quinoa and have a few recipes I like to make myself, and in doing so I know how important it is to pack the flavour in, as the quinoa doesn't have much flavour in itself. This packet appealed as it meant that it was done for me, and I have to say that the flavour is really packed in.

Firstly though in regards to the cooking, I found the instructions were really clear and it uses the absorption method of cooking, which makes sense as you wouldn't want to drain away the flavour. Unfortunately I don't usually have much success with this method of cooking quinoa, and tonight was no exception. With about 8 minutes of cooking time left, I ended up having to add a bit more water and then I decided it was cooked enough with 5 minutes still left on the clock. I possibly had it simmering a bit too high, but I ended up with the correct result so it all worked out in the end.

I served this up one night when I really needed an easy dinner and it was perfect for this. I just threw some sausages in the air fryer and a few veges on, and with this to serve on the side, dinner was done... I love nights like this! I hadn't clicked straight away that the quinoa had Mexican flavourings, but as soon as I noticed this, I got out my Barkers Tomato and Capsicum sauce for the sausages which tied everything together beautifully.

This makes plenty, so the leftovers were served up the next night, but it would also be an easy lunch to take to work, as it is just as nice cold. Adding the Barkers sauce the next day moistened it up a bit which was good as it had dried out a bit overnight. As far as flavour went, I enjoyed this but didn't absolutely love it. It definitely needed the suggested 1/2 teaspoon of salt and although there was good flavour, it just wasn't totally to my tastes. My husband probably liked it a little more than me, so I'd definitely consider buying this again. Quinoa isn't cheap, so I have no problem with the price as this has everything done for you, plus it has done my husband and I two meals each, so that's pretty good for under $7 as far as I'm concerned. It's a great way to give quinoa a go, and if you like Mexican flavourings, or are just looking for a nice easy meal then I'd certainly recommend this.
This Review: 9.0/10
Taste:

Value for Money:

Visual Appeal:

Nutrition:
I have previously heard of quinoa but never had it before. I'm always up for trying something new, and since I had enjoyed so many things from Alexandra's I thought I would give this one a go too. I was making chicken for dinner last night and I needed a side dish, so I used my packet of Red Bean and Corn quinoa.

The cooking instructions are on the packet and were really easy to follow. There is not much to quinoa. You just heat some lightly salted water and then add the quinoa mix and simmer it for 20 minutes. Then you rest it, season it and it's good to go. The chicken baked in the oven while I did this on the stove top.

When I added the packet to the pot, it was amazing to see all the ingredients. The smell as the spices warmed was delicious. It immediately made me think of Spain and paella. My eldest daughter came into the kitchen and said "what is cooking?" I told her it was quinoa and it was part of dinner. She said she hoped not, so I don't think the smell impressed her. However, she has a very bland palate at times.

At dinner I served everyone a portion of the quinoa with their chicken. My eldest would not touch it. My youngest tried it but didn't like it very much. My husband thought that the texture was a little weird but he ate quite a bit of it and said it was definitely filling and flavourful. For me, I had to agree the texture was quite different. I was expecting something between rice and couscous and it wasn't quite what I imagined.

However, I really liked the taste. I'm only sorry I didn't think to make a Spanish stew with it. I can imagine adding chorizo slices and maybe plantine. This product is also gluten free so while we don't have any intolerances in our household, I think it's great to have another gluten free option for families. This little packet makes a lot of quinoa as well, so it goes a long way.
This Review: 9.8/10
Taste:

Value for Money:

Visual Appeal:

Nutrition:
I discovered quinoa quite recently and use it occasionally instead of rice or couscous, but I have always found it rather dull. The combination of ingredients in this product has made me revise my opinion. I gave it the sniff test when I first opened the packet, and was impressed with the spicy scent that wafted out. Not too strong, but definitely inviting.

Preparation could not have been easier. I gave it the recommended twenty minutes in the microwave, stopping every five minutes to stir it, and at the end of that time the quinoa was cooked through and the beans and corn were beautifully tender. I had been concerned that they might cook unevenly, but the end result was just right. The entire mix was fluffy and just dry enough. I tasted it, and decided it did need some more seasoning, so I added a small amount of Down At The Farm Manuka Smoked Kawakawa Horopito salt. That gave it more piquancy and left a slightly peppery aftertaste.

Having first tried a helping of the cooked quinoa mix on its own, I made the rest into a potato-free "cottage pie". I already had some minced beef in the fridge; with the addition of an onion, a small tomato, and two cloves of garlic, I had the makings of the base. I added a small amount of sumac and asafoetida, then stirred in half a teaspoon of Matakana Coconut Hot Chilli Sauce. The mixture was sauted gently till cooked through, then packed into the bottom half of a casserole dish. I then added the remaining quinoa mix on top and smoothed it flat. Finally, I put a knob of butter on top and reheated it.

The combination worked very well. Two of us shared the dish and there was still enough left for one more helping. It was quite filling, just the meal for a cold winter night, and the different flavours complemented each other nicely. The quinoa had quite a different texture from the usual mashed potato based version, and we thought it was far more interesting. It was also attractive to look at; potato slips down into a cottage pie base if it is too soft, but the quinoa mix was firmer and stayed level on top.

The ingredients are clearly listed on the packaging. Everything is natural, and the buyer is warned to keep the unopened pack in a cool, dark and dry place - presumably because there are no artificial preservatives. I don't think that will be a problem in my house; it won't stay in the cupboard long enough to be an issue. I will definitely be adding this to my shopping list.
This Review: 9.8/10
Taste:

Value for Money:

Visual Appeal:

Nutrition:
I love the texture of quinoa and have tried a few ways of adding it to the family dinner plate with not a lot of success. I find if you don't get the flavours right or cook it well it becomes a bit of a disaster that the family will not eat. After already trying Alexandra's couscous I knew that this packet would have flavours already added and the cooking instructions very clear.

All that is needed to be added to this packet is water and salt. I do like that the salt is not automatically added as it does give those on a low sodium diet the choice, however I believe that by adding the full amount of salt suggested just makes the flavours burst a little more. After the required 20 minutes cooking time it is cooked to perfection. I loved how red beans and corn had been added to this mix as it did mean that it was a little more filling and also made it look more appealing on the plate.

The taste of this mix was not too over powering. Like all quinoa dishes after a few mouthfuls can be a bit dry. I was happy to eat this with other things on my plate and I came across an amazing combination. I mixed it with the coleslaw I had and this gave it crunch. It tasted so fresh. After my family of four all enjoyed this for dinner I had quite a bit left over so decided to mix this with the left over coleslaw and for hubby and I to have this for lunch the next day. It looked really appealing and tasted great as a cold salad.

I will definitely be buying more of this product. I can see this being a easy dish to take to BBQ's or to have for lunch at work. The ingredients make it very filling and you also know that you are getting all the nutrients you need. I feel that for the price this is a great deal as it went so far. What I would love to see however is a packet of this come out with only 2 servings so that it could be made just for lunch or that smaller households would also be tempted to buy.
Random listing from 'Food'...
Product reviews for listing 5431: European Creations - Watties Chicken Chasseur -
Produced by Watties NZ
In French, it's the 'Hunter's Sauce', but your hunt is over. This glossy rich savoury sauce, made with a splash of white wine, is the simple way to create a classic French dish. Partner it with chicken thigh meat, add mushrooms and voila, it's bon appetite!

Product Size: 375g
General Disclaimer...
All trademarks, images and copyrights on this site are owned by their respective companies.
KIWIreviews is an independent entity, part of the Knock Out News Group. This is a free public forum presenting user opinions on selected products, and as such the views expressed do not necessarily reflect the opinion of kiwireviews.nz and are protected under New Zealand law by the "Honest Opinion" clause of the Defamation Act of 1992. KIWIreviews accepts no liability for statements made on this site, on the premise that they have been submitted as the true and honest opinions of the individual posters. In most cases, prices and dates stated are approximate and should be considered as only guidelines.

"Computer games don't affect kids. I mean if Pac-Man affected us as kids, we'd all be running around in darkened rooms, munching magic pills and listening to repetitive electronic music."
Kristian Wilson, Nintendo, Inc, 1989