Product reviews on kiwireviews.nz : Tuesday 29th November 2022 - 17:27:50
Score:

10.0

/

10

[

2

reviews]


ProdID: 7335 - Glitter Face Painting


Brand / Manufacturer : Klutz
Price:

$35.00

Sample/s Supplied by:





Available:

October 2016
Glitter Face Painting product reviews
With more than 1.5 million copies sold, Face Painting has consistently been a bestseller and is the book that launched a zillion faces. This sequel shows you how to add rhinestones to all-new designs to add dimension-and make them sparkle. Includes 5 face paints, face painting brush and sponge, rhinestone body stickers.
This Review: 10/10
Value for Money:

Contents:

Functionality:

Personal Choice: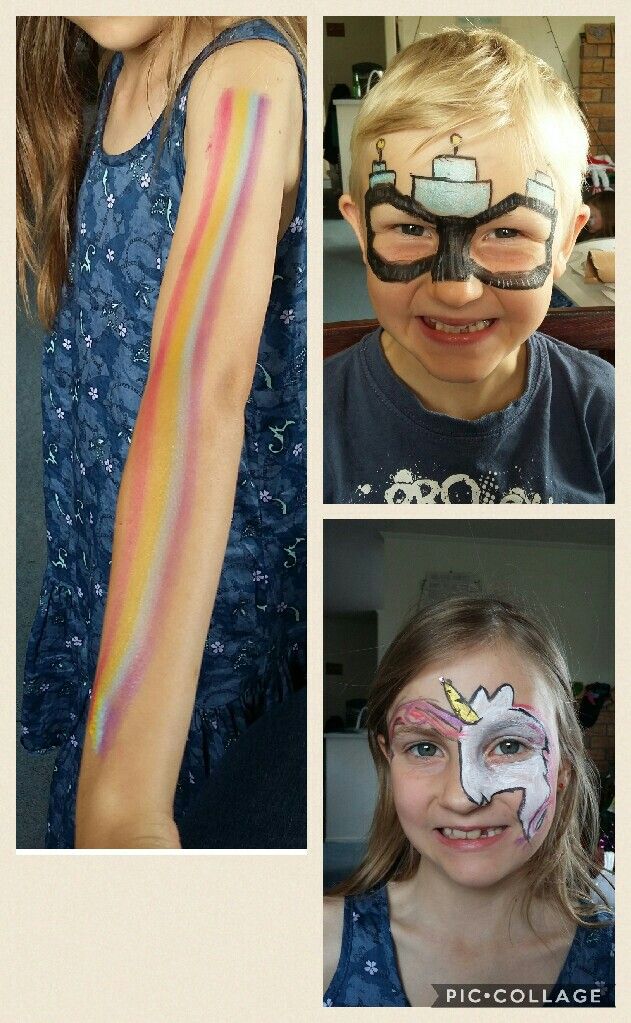 As a daycare teacher and a mum of three I always get asked if I can paint faces while working or my kids 7 & 8 years will ask to paint their face. Now all I can do is a butterfly and spiderman that's it, but looking for facepaint that doesn't stain my kids or they react to is a mission. When I saw this I wanted to give it a go, it comes with everything to start up face painting and it comes with a book with designs and instructions PERFECT. While looking in the book the pictures actually look daunting and I put the book down and away as I really didn't want to try but knew I needed to. The kids kept bugging me about face painting so I told them to pick one and I will give it a go, No promises on how it will turn out.

My daughter chose the unicorn which actually to be honest scared me a little. The picture instructions looked easy but I had to give it a few goes just to get the first part right so that the rest of it would follow on and look good. I managed to do it and follow the instructions and thought it looked pretty good, daughter loved it. My son choose the space bot this looked a lot easier and I wish I did this one first as it would of helped me learn the paintbrush etc first. My son loved his face too.

After I had done their faces I sat at the table looking in the book again reading the first pages, this time with different techniques with the sponge. I wanted to give the 'painting the sponge with different colours' a go and then sliding it down the arm which created a rainbow, my daughter then told me I have to learn to make clouds and a pot of gold, so I will give this a go another time.

The colours were easy to use with the brush, the sponge surprised me and was also easy to use. Once I worked out I don't need a lot of water for the paints we were on a roll. I do wish these colours could be sold individually as well with different colour choices, as I'm not a fan of mixing up colours (lazy I know).

I loved that they were easy to apply to the face and didn't run. When washing the kids faces that night I only needed a face cloth and water and it came off with ease, the blue on the rainbow stained a little but in the morning it was gone.

The price of this is good considering I have spent so much on facepaint recently and this comes with a book, the paint looks like it will last a while as you don't need a lot, I love that it has reinstones to add as well.
This Review: 10/10
Value for Money:

Contents:

Functionality:

Personal Choice:
Working in a daycare centre the children often ask for face paint. This is something we have available at our centre, and while the majority of the time it is the teachers who apply it to the children, every now and then we let the children paint each other's faces.When I saw this amazing looking glitter face painting kit by Klutz come available for review, I was very keen to test it out and knew I wouldn't be short on children who wanted me to try it out on them.

Obviously as I work in a daycare the children all have very different skin types, sensitive, dry, normal, some with eczema so the fact that this particular face paint was said to be made of "all cosmetic grade ingredients" made me feel like it was going to be safe to use on the children's skin. Before I applied the face paint to the children's skin I applied a little bit of moisturiser to their faces to help ease the removal of the face paint later on. The children flicked through the pages of the book, deciding upon which picture, character or design they wanted on their face, whilst the book did seem more to cater towards girls than it did boys, the boys did manage to find something in the book that they wanted to be, I did however reassure them that they could be anything they wanted even if it wasn't featured in the book. Each of the designs had amazing step-by-step pictures and guides of what to do which was great for me, and so easy to follow so I couldn't really go wrong, which was awesome as I'm not the most artistic person.

The colours mixed together beautifully, and I loved referring to the colour mixing guide near the front of the book to know what colours to mix to make certain colours that were needed . The face paint was lovely to use, and only a little bit of water was needed on each of the colour palettes to produce a rich , shimmery effect which was so easy to apply to the children's faces. The face paint was certainly of great quality as it didn't go see-through or crack once it was dry. The book was easy to follow with lots of handy hints and tips, such as how to get the desired thickness of brush strokes, and also hints for applying the paint with the sponge. The set contained lots of lovely fine glitter and rhinestones both which stuck well to the wet paint and actually stayed in place once dry. The only thing I found a bit frustrating was that it did take quite a while for the colours to dry which meant you needed to avoid that area for a while in case of smudging, however the book does warn of this happening.

As my daughter attends the daycare I work at I was able to see how the removal of the paint went and while it was easy and pain free to remove with warm, soapy water, I did find that the pink paint did tend to stain the skin quite a bit, however the next day it had disappeared so not to bad, most importantly it didn't irritate her skin (she suffers from Eczema). The staff I work with loved this book aswell, as it gave them ideas of things to paint, and they thought the paint was easy to apply, much better than the stuff you get from the $2 shop which can be super thick and clunky! They certainly are keen to buy more of this!

All in all a very awesome book by Klutz which with the huge amount of face paint we have left we will get hours of fun out of. I recommend this to all who have children who love to be face painted, you don't need to be an artist to use this book.
Random listing from 'Arts and Crafts'...
Product reviews for listing 1386: Candle Wicking

Brand / Manufacturer: New Zealand Beeswax Ltd
We can offer a variety of candle wicking suitable for use with beeswax.

All of our wick is bleached and pickled to ensure correct burning.

Website: www.beeswax.co.nz
General Disclaimer...
All trademarks, images and copyrights on this site are owned by their respective companies.
KIWIreviews is an independent entity, part of the Knock Out News Group. This is a free public forum presenting user opinions on selected products, and as such the views expressed do not necessarily reflect the opinion of kiwireviews.nz and are protected under New Zealand law by the "Honest Opinion" clause of the Defamation Act of 1992. KIWIreviews accepts no liability for statements made on this site, on the premise that they have been submitted as the true and honest opinions of the individual posters. In most cases, prices and dates stated are approximate and should be considered as only guidelines.

"If quizzes are quizzical, what are tests?"
unattributed