Product reviews on kiwireviews.nz : Saturday 27th February 2021 - 19:49:01
Score:

9.8

/

10

[

2

reviews]


ProdID: 7122 - Beep Beep Beep Time For Sleep!


Author: Claire Freedman & Richard Smythe
Price:

$19.00

Sample/s Supplied by:




Available:

May 2016
Beep Beep Beep Time For Sleep! product reviews
A team of sleepy vehicles make their way home from a busy day on the building site in this charming bedtime story. A perfect rhyming bedtime read in the style of Goodnight, Goodnight, Construction Site.

This Review: 10/10
Price:

Value for Money:

ReReadability:

Personal Choice: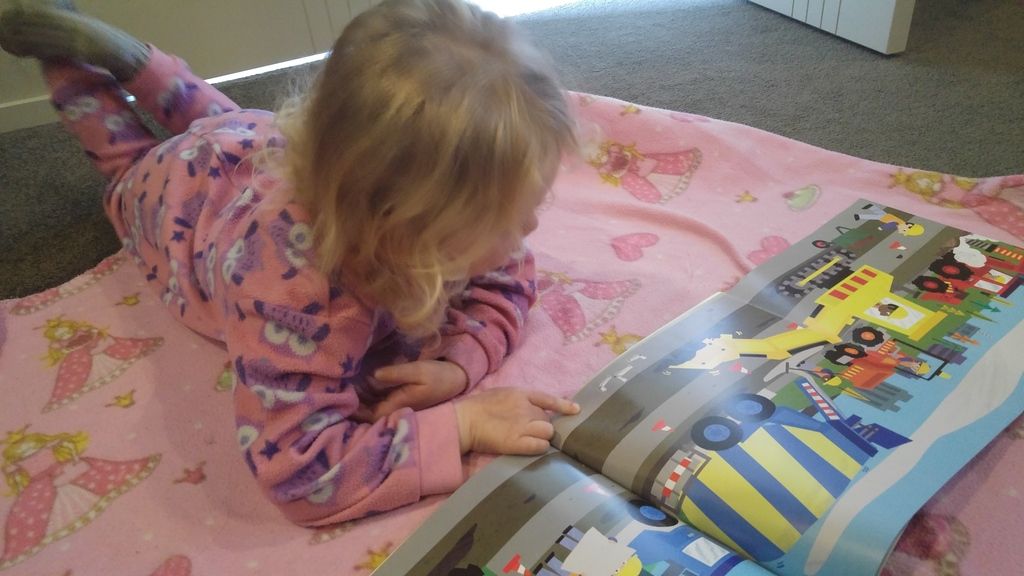 It's not very often that you can spot a great book right from the get-go, but when I saw this book come up for review I had a funny feeling that it was sure to be a hit, and how right was I, I loved it, my daycare children and colleagues loved it, and Miss 3 loved it, in fact even her Dad was happy to read this one! It has been such a popular book that it has to come to and fro with me each day as the kids just love it. Not only is very well loved, but it's also along with 1 of the other books I have recently received for review became a great tool for getting Miss 3 to bed each night!

Each night before bed Miss 3 reads the book with either her Dad and myself, and we go through a routine of wishing each of the vehicles a goodnight and sweet dreams. Once the story is finished Miss 3 then says goodnight to both her Dad and myself and heads off to bed HAPPILY, if it's sleep time for the vehicles then it must be sleep time for her right? My daycare children love this book just as much as Miss 3 does, and it is particularly a hit with the boys, they love pointing out and naming each of the different vehicles and have even started catching on to parts of the story which they help to retell, this is particularly easy for them to pick up on as there is quite a rhyme to the story, this is one story that they will gladly listen to over and over.

The book is bright and colorful, and I love how the images of the vehicles are really made to stand out in bright colours. The book features a great big fold out page in the middle of it and the children love looking at this, it is a great way to test out their memory by asking them to name the different vehicles. The only thing I'm actually worried about is the durability of the fold out as due to it being made from paper I don't feel that this is a book I could leave the children to read independently on their own as it would be likely to tear within seconds of them trying to open it up, perhaps this may have been better made from a stronger card or maybe could have come in a poster form for the wall instead?

All in all such a delightful book that is hard to fault, I find it is suitable for all ages, as children from ages 1 to 5 really seem to respond to and love it. It is very simple, and bold but sometimes this is best. Well worth buying and at such a great price you'd be silly not to! If bed times a struggle this may be the answer, I've already had parents asking where to buy this as some children can't stop raving about it at home!
This Review: 9.5/10
Price:

Value for Money:

ReReadability:

Personal Choice:
I just love this book, and so do Mr Three and Mr Four. They are well and truly into the toy-cars-and-other-vehicles stuff (not to mention the odd teddy bear) so this book is perfectly suited to their taste. It is bold and bright, and the most commented on feature was the collection of embossed traffic cones on the front cover. Mr Three wanted to get them off so he could line them up on the floor so it was a bit disappointing that they were joined to the book!

Bedtime can often be a trial for parents so a book devoted to sleepy engines is just the boost they need to get pre-schoolers to agree to get into their pyjamas and admit that they are tired. The engines are big and strong and if they can insist that they are ready for bed, then so can the "tough" children. The way in which the machines close down one by one and take the slip road home and then get all scrubbed up ready to go to sleep is really clever: it gives the message that showering, cleaning your teeth, turning off the lights and jumping into bed is the normal way for a Big Strong Machine to end the day. What a delightful way to get the message across!

I do think it is a pity that this is a paperback edition. A hard cover would help the book to last longer, especially as there is a fold-out centrepiece which I kept expecting to tear. (So far it is intact but I wonder how long it will last?) Our junior tractor drivers and digger operators have to be strong to be able to control those big machines, so they are sometimes over-energetic with their books and toys - so the sturdier the better.

Having said that, I find it hard to fault the book in any other way. It is simple and colourful, a strong point for the very young. It is written in rhyme so little ones quickly learn to join in with the last words in each line - which increases their enjoyment. And it has an important message which is so cleverly concealed that the child is not actually aware that he is being manipulated. But I don't think any adults would consider that the message is anything but positive, so it's all good!
Random listing from 'Books'...
Product reviews for listing 6845: Shark in the Park on a Windy Day! -
Author: Nick Sharratt
It's a wild, windy day.

Timothy Pope is looking through his telescope.....

What can he see in the blustery park??

Could it REALLY be a shark?
General Disclaimer...
All trademarks, images and copyrights on this site are owned by their respective companies.
KIWIreviews is an independent entity, part of the Knock Out News Group. This is a free public forum presenting user opinions on selected products, and as such the views expressed do not necessarily reflect the opinion of kiwireviews.nz and are protected under New Zealand law by the "Honest Opinion" clause of the Defamation Act of 1992. KIWIreviews accepts no liability for statements made on this site, on the premise that they have been submitted as the true and honest opinions of the individual posters. In most cases, prices and dates stated are approximate and should be considered as only guidelines.

"I like to pick up hitchhikers. When they get in the car I say, "Put on your seat belt. I want to try something. I saw it once in a cartoon, but I think I can do it."
Steve Wright