Product reviews on kiwireviews.nz : Monday 13th July 2020 - 01:26:59
Score:

9.4

/

10

[

5

reviews]


ProdID: 7381 - Farrah's Mexican Range - Taco Spice Mix


Brand / Manufacturer : Farrah's
Price:

$2.99

Sample/s Supplied by:




Available:

at selected quality supermarkets
Farrah's Mexican Range - Taco Spice Mix product reviews
Farrah's Taco Spice Mix is a great way to coat your chicken, beef, lamb or vegetables to give a burst of Mexican flavour to any meal. A blend of cracked coriander and cumin seeds, along with smoked paprika gives a rich authentic flavour you can see and taste. Perfect for Taco's of Fajitas, it has a medium heat, contains no artificial flavours, or colours and is made right here in New Zealand.
This Review: 10/10
Taste:

Portions:

Value for Money:

Personal Choice: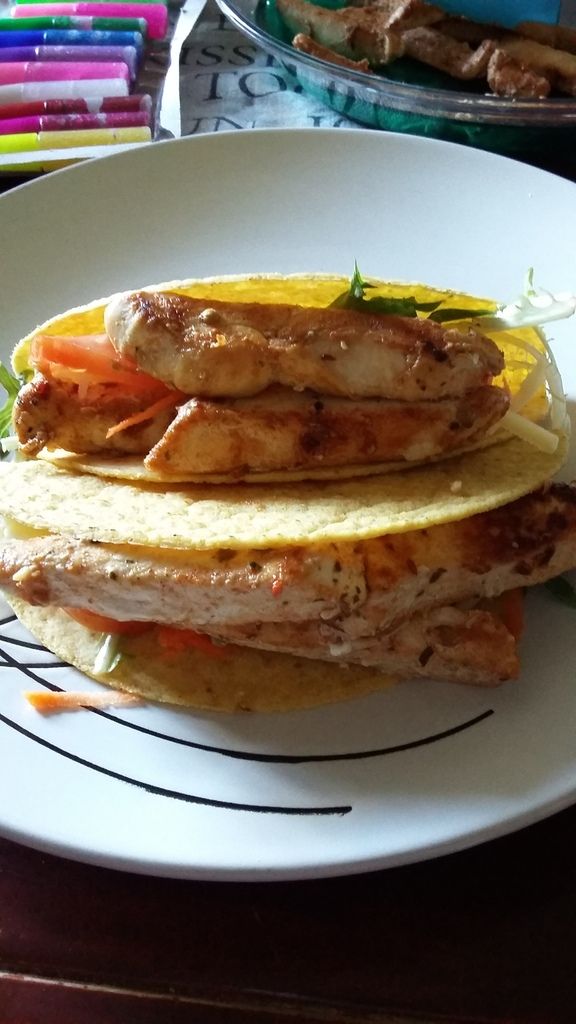 We eat a lot of tacos in our house but always use mince, when I saw this taco spice mix I really wanted to give it a go, as there isnt many spices like this that are gluten free. I read the packet and it said to coat the meat in the spice which I have never done before so I cut up the chicken coated it and then fried them up. The smell from the packet as I opened it was so good and you can almost taste the spice already. It said medium spice so I didn't use a lot of it to start with as my daughter complains when I do spicy food.

While I was cooking up my chicken with the coating of the spice over them, it smelt so good and my partner ended up hovering in the kitchen trying to get a taste of what was going on, as I turned away for 2 seconds he was in the pan eating a chicken strip (lucky they were cooked) he said they tasted good and asked for a bit more spice on them so I made the next batch with more. This gave off more yummy spice smells in the house and made the chicken look really cooked and yum.

Served up on the table along with lettuce, cheese, tomatoes, and carrot these made the best tacos I have had for a long time. The taco spice really brought out the flavours of the meal and tasted amazing, the hotter spiced ones went really well with the sweetness of the other vegetables in the tacos which downed the hotness more and my daughter didn't even click. The leftovers were eaten on their own and then taken to work the next day in wraps. So good and for the price you can get a few meals out of a packet so will be buying this for now on as I can use it in so many dishes not just tacos.
This Review: 9.0/10
Taste:

Portions:

Value for Money:

Personal Choice:
We eat a lot of tacos in our house it's my way of getting the kids to happily eat salad ingredients without them realising so was excited to try the new Farrahs Taco Spice Mix. I use a lot of Farrahs larger wraps so was keen to try their new range of Spice mixes and tortilla wraps. I like how they colour match the Spice mix with the Tortilla wraps these being blue in this instance.

I read the instructions and was quite surprised this was more of a coating rather than the normal powder to add to your meat I was using mince this time around. Upon opening I was blown away by the amazing smell of this mix with all the spices they have used including coriander, cumin, chilli, bell peppers and loved the fact they didn't pound everything into a fine powder and you could see the different spices as you were cooking. I only used half the pack as I wasn't sure how spicy it would be being medium I could of used abit more but it was still really tasty and the kids loved it.

I also like the fact it's gluten free, has no artificial flavours or colours and is made in New Zealand. I would definitely use this again and would be keen to try it has a coating on chicken next time at $2.99 it's great value for money especially if I get two meals out of it.
This Review: 8.8/10
Taste:

Portions:

Value for Money:

Personal Choice:
Excited to get the Taco mix to try as it meant we would be having tacos for dinner this week. My son and I love Mexican food and we often have nachos and tacos so this was exciting to try. I decided to use the taco mix with chicken strips as I prefer to have chicken over beef strips. I normally use a real mild blend for chicken so I was interested to see how much spice this would have and if my son would enjoy it or not.

I found it really tasty and easy to use and well the spice was just right for me, once added with cheese lettuce sour cream and tomato it was the right balance of mixture for me. My son did say his was a little to spicy so I added more sour cream to his which he enjoyed. He said he did like the flavours though and nothing a glass of milk with dinner could not fix. I liked how the packet it bright and inviting and says medium heat on the packet.

As a mum it is important to know the heat of the product you are using so your kid does not get a surprise and think you have set them up or something. I did pre warn my son that I was trying something new so to take a few bites first and see how you go with it, which he appreciated.

I like the easy to follow recipe on the back of the pack as well, and the steps on how to use the taco mix. I do like the layout of the pack and feel everything is well placed and not too much information that you get lost. It's the right amount of information and placed right within the packet size. For the price I think this is great and adds lots of new and exciting flavours to tacos and will buy it again.
This Review: 9.5/10
Taste:

Portions:

Value for Money:

Personal Choice:
When we read the instructions on the packet and consulted the list of ingredients, we were a little bit concerned that it might be too strong for the children. Personally, I love spicy food, but not everyone has the same taste, and it would be a shame to prepare food and then find some people could not tolerate it. So, although we followed the instructions, we divided the meal ingredients into two bowls. We used half the packet of spice for the first bowl, and another quarter for the second, which resulted in one mixture that was full strength and the other that was half.

For the main, we followed the suggested ingredients on the packet although we did not have any capsicum. Apart from that, we wanted to stay as close to the manufacturer's suggestions as possible so that we could replicate the test kitchen results.

It was great to discover just how easy it was to assemble the meal. I love cooking and experimenting with different combinations, but this is not always possible when I am working long hours. Using a mix like this means that you do not have to compromise on quality and you know that the spices you are using are really fresh and have been selected for a particular effect.

The children enjoyed the milder dish. They don't mind a little spice, but too much can be overkill and the last thing we want is to discourage them from trying new flavours. One of the adults said he preferred the milder version too, but the rest of us went with the original strength and thoroughly enjoyed it. Although the meat and bean mix was quite hot on its own, it was perfect when mixed with salad and served in a wrap, and the addition of plain yoghurt as dressing plus some grated cheese and sweet pickle toned it down quite a lot.

The children's version was prepared with canned baked beans while the adult version featured home cooked beans made into a sauce with onions, tomato and the spice mix before being combined with meat. The textures were not dissimilar and one of the children actually tried the adult version (mixed up with a spoonful of yoghurt) and said he would actually eat that if there was enough yoghurt and cheese to "calm it down" as he described it.

I took some leftovers to work and had them on toast (yes, we do have a toaster and microwave there!). I would have preferred wraps or tortillas but we had eaten them all! However, it made an interesting variation on beans-on-toast and some of my workmates made some envious comments when they smelled my lunch - once it was reheated, it was quite aromatic. Maybe I am mean, but I did not offer to share it. It was too good!
This Review: 9.8/10
Taste:

Portions:

Value for Money:

Personal Choice:
I was so excited when I saw that Farrah's had expanded their product range outside of wraps. Their new spices are not totally out of left field either. They make perfect sense as an additional product that goes well with the wraps already on offer. I got some recently to try.

The packaging on this is really well laid out. I love design and the black with the pops of colour from the vegetables and the teal/blue background on the font all works so well together. Plus they really stand out in the sea of yellows, oranges and reds usually associated with Mexican food. When I opened the packet, I was really impressed with the mixture too. I could see seeds and spices, not just a fine powder.

Our kids like Mexican food, but they like a low spice level in their mince. For this reason, I often cook the mince through, remove Miss 9's mince to a bowl, add a little spice and then remove Miss 4's mince. Then I add the spice level that will suit my husband and I and finish cooking the mince. This allows me to do three different levels of spice for the family. I found that this product easily allowed me to cook in this same manner. I used approximately half the spice mix for our meal and so the pack will do us two meals.

We had the tacos with lettuce, tomato, cheese, and sour cream. They were so good. I enjoyed mine immensely. My kids liked theirs as well. Miss 4 was happy with the spice level on her mince. We all enjoyed our meal. My husband did have some slight tummy issues afterwards. This can happen when I use a more authentic spice mix. So that was a shame, but not a fault of the product at all as the rest of us had no issues.
Random listing from 'Food'...
Product reviews for listing 4790: Cuisine Scene Smokey Stout Chutney -
Produced by Cuisine Scene
This traditional tomato-based chutney is given a twist with a splash of real stout and natural Hickory smoke flavour. Delicious with any meat, or with cheddar cheese; adds depth to a casserole.
General Disclaimer...
All trademarks, images and copyrights on this site are owned by their respective companies.
KIWIreviews is an independent entity, part of the Knock Out News Group. This is a free public forum presenting user opinions on selected products, and as such the views expressed do not necessarily reflect the opinion of kiwireviews.nz and are protected under New Zealand law by the "Honest Opinion" clause of the Defamation Act of 1992. KIWIreviews accepts no liability for statements made on this site, on the premise that they have been submitted as the true and honest opinions of the individual posters. In most cases, prices and dates stated are approximate and should be considered as only guidelines.

"I wonder if other dogs think poodles are members of a weird religious cult."
Rita Rudner