Product reviews on kiwireviews.nz : Monday 10th August 2020 - 08:41:47
Score:

9.3

/

10

[

5

reviews]


ProdID: 7380 - Farrah's Mexican Range - Nacho Spice Mix


Brand / Manufacturer : Farrah's
Price:

$2.99

Sample/s Supplied by:




Available:

at selected quality supermarkets
Farrah's Mexican Range - Nacho Spice Mix product reviews
Farrah's Nacho Spice Mix is a family friendly recipe packed with flavours including cumin, coriander and a little bit of spice to give you deliciously seasoned nachos. This easy to use and versatile spice mix is great for fun dinners and snacks. It has a mild heat, contains no artificial flavours or colours and is made right here in New Zealand.
This Review: 9.5/10
Taste:

Portions:

Value for Money:

Personal Choice:
$2.99 is on the higher side of the price tag when it comes to getting some sauce or seasonings for the family dinner, which is why I love getting things to review, the adventure without the cost. Opening up, I could smell the spices and various flavours right off the bat, I took note that it said mild but I know my three kids and I know they're not up to the mild stage yet, so I decided that my first dish would just use a small portion of the spice mix. I made vegetarian nachos, adding some of the mix to the 'meat' and serving it as one would. We all found that there was a little bit of heat and a bit of flavour to it too.

My second dish, I was tired and feeling lazy, so made burritos using pre cooked and chopped chicken, mixing it with a tin of flavoured chopped tomatoes and a heaped spoonful of this spice mix (though it was more than intended due to distraction). My first taste test I found the heat to be too much, so fretted about serving it to the kids. However after I left it to simmer for a few minutes I found that the flavours had multiplied and the heat diminshed. With some cheese, lettuce and sour cream, I added my mix to the burritos and served it to the kids. Everyone loved it, my nine year old and I had two servings, but my seven year old (who likes spice the least) went back for a third helping!

I still have half a packet left, so at $2.99 and a variety of uses, I can see this being added to the shopping cart.
This Review: 8.8/10
Taste:

Portions:

Value for Money:

Personal Choice:
We love Mexican in our house and for years we've been purchasing the Farrah's Wraps as they seem more wholesome than many other brands and never split. When I heard they were creating seasonings I was so excited to give them a go, finally I didn't have to mix and match brands and instead could stick with my favourite Farrah's.

Prior to reviewing the taco seasoning we did try the burrito seasoning. Maybe we are weak Mexicans but that one was a little too spicy for our taste so when we received the Nacho mix and saw it was mild I went a little alternative and decided to try it on our burritos. The result: Perfection, you wouldn't know it was specifically created for Nacho's so if you're after something a little less spicy this is your seasoning.

Rest assured we have tried it for Nacho's as well and it was equally as delicious. So if you're weak Mexican's like us then try this one out. All in all the extended Farrah's range is just as tasty as the original wraps so good on them for broadening the range. I'll definitely continue to purchase their range on my weekly shop and recommend that you do as well.
This Review: 9.0/10
Taste:

Portions:

Value for Money:

Personal Choice:
I really didn't want to go food shopping, so when this product arrived, I decided to make do with the ingredients available in the house at the time; wraps, chicken, and Wattie's four bean mix. Not much to choose from, but a quick flash in the pan and a generous dose of Farrah's Nacho Spice mix, and all of a sudden I had a pretty Mexican themed meal.

The spices worked really well with the meat, acting as both a 'rub', and as a sauce (once I added some 'juice' from the canned four bean mix). The spice mix easily created that beautiful mexican flavour blend that I love, but it didn't really provide much in the way of heat. But that is something that can be easily remedied by adding a couple of birds eye chillis, or even some Chilli and Lime chutney from Castle Rock Cafe (I went with the second choice). All of this added to a Farrah's Chilli Wrap, made for a great mix of chillis and added to the overall flavour profile. Everything added to the flavour. Nothing was separate, all parts just helped create a bigger, fuller flavour.

I loved the product. And when I finally get around to the supermarket, I will definitely be buying some hot chilli beans, and mince to make myself some proper nachos.
This Review: 9.5/10
Taste:

Portions:

Value for Money:

Personal Choice:
We all like nachos. Everyone in my family likes nachos. My friends like nachos. So I could not wait to try out this spice on everyone just to see how it would work out. The mix is not too spicy so I was able to use plenty and not stint for fear of burning someone's tongue. It is described as "family friendly" and I would agree with that. I made a bowl of beef and beans and flavoured it well with this spice. We had it outside around a campfire at the beach; there was a slight breeze and the warm food was welcome. And it didn't matter if anyone dropped their nacho chips - the seagulls would take care of any edible litter!

Having tried it the conventional way, I did my usual experimenting with other combinations. There was some home-made pumpkin soup in the fridge, left over from the day before, so I added a teaspoon and brought the soup back to a slow simmer for a few minutes. That really woke the soup up; instead of being quite bland, it had a noticeable kick to it and was eaten with enthusiasm by the two bottomless teenagers who had been hanging round the kitchen hoping something edible would appear. They had tried the unseasoned version and both said they preferred the spicy variation, so there is something that will be happening from now on.

The next night we were down to two people for dinner so I used up the last of the packet. I cut a packet of haloumi into small cubes then marinated them in a little olive oil and the spice. When they had been sitting in the marinade for a while, I fried them gently and served them with some seasonal vegetables which I had picked up at the local market (broccoli, spinach and avocado). I added some nacho chips on the side and we had a very enjoyable meal. I had not thought of adding spices to haloumi, but this combination worked well. It certainly made it more interesting to eat even though there was a predominance of green items on the plate which is apparently not very artistic!

The last thing I tried was literally with the scrapings from the side of the packet, but I wanted to prove a point and did not need a large amount to check out my theory. Friends keep telling me how well chilli goes with chocolate so I wondered how this spice would go in a mug of drinking chocolate. I drink my chocolate black (as I am allergic to cow's milk) so I get the full flavour up front. No hesitating - I made the chocolate then scraped in what amounted to a quarter teaspoon of spice and stirred it. The result? Interesting and quite pleasant. I think it would have been really nice if I had added a couple of marshmallows, so next time I have a packet to scrape that is what I will do.


This Review: 9.5/10
Taste:

Portions:

Value for Money:

Personal Choice: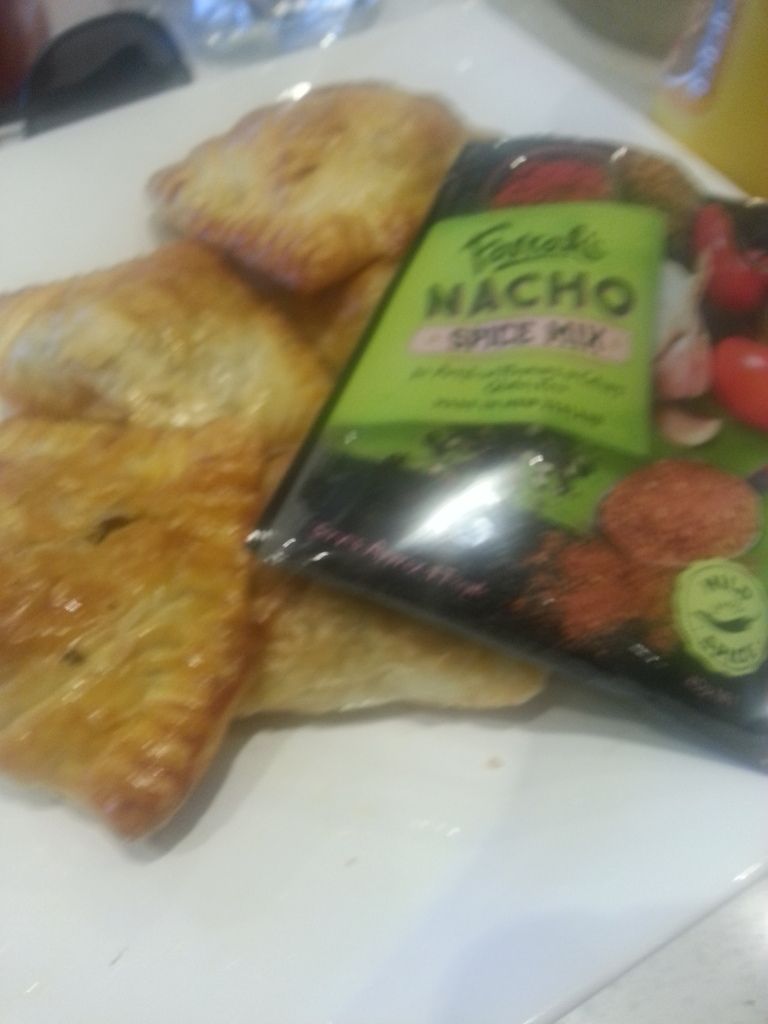 My family are great fans of Mexican foods, and our all time favourite Mexican dish would have to be Nacho's, especially miss 3's. When I saw that Farrah's had introduced a Mexican range of spices and wraps to their already amazing range of products I was excited to be able to try these through KIWIreviews, knowing how great and versatile the Farrah's wraps are, I was expecting good things from the Nacho spice mix.

I decided to first try the spice mix out in Nacho's for dinner. I cooked up a tray of mince and added to this some chilli beans and pasta sauce, once the mince was cooked and the other ingredients combined I slowly added some of the Nacho spice mix to the pan a teaspoon at a time, I was being very cautious not to just go ahead and add the whole packet in case the product, although classed as being mild may be to spicy for my family. I found that 2 teaspoons of the spice mix to be just right for us. I loved the flavour which this mix added to our normally plain nachos, taking them from boring to flavoursome with just the perfect degree of heat. My partner asked me what I had added as he really liked the taste of the mince, and Miss 3 wolfed her's down and said it was "very yummy".

With over half a packet of the Nacho spice mix left I decided to get a bit creative and explore it further by making up some nacho mince and cheese pies. Using the leftover mince from dinner the night before I added another teaspoonful of spice mix, and then placed the mixture into pieces of pastry cut to size. Each pie was sprinkled generously with lots of yummy tasty cheese (after all what's a pie without any cheese!). These were covered in pastry and then brushed with an egg wash and baked in the oven until golden. These were amazing the flavour was delicious and all of our visitors loved them and had no issues with the level of spice, all of the children were even happy to gobble these down.

This has got to be one of the best spice mixes I have come across, I love that the blend is so perfectly combined to provide a great taste, looking at the dry mix you can actually see the different ingredients used which is not something i'm used to, it has a real Mexican flavour to it so Farrah's have got this spot on (no surprises here). I can see that this is such a versatile product which can be used above and beyond just Nacho's, it would be great mixed with mince and placed in burritos, and I can also picture it going well on chicken as a coating when combined with breadcrumbs or the like.

As far as value for money goes this is awesome as a little goes along way! A great product well worth trying for any Mexican lovers out there.
Random listing from 'Food'...
Product reviews for listing 1497: Nero Cafe and Restaurant -
Located: 36 Amesbury Street, Palmerston North
Built in 1918, Nero Café & Restaurant encompasses a stunning Victorian character home with excellent food that leading Head Chef & Owner Scott Kennedy is renowned for in Palmerston North.

We welcome you to experience Nero. Enjoy our romantic open fire, warm and cosy during the chilly winter months. Take time to cool down in summer - dine in our tranquil outdoor alfresco area surrounded by established trees and gardens. Wander through ... more...
General Disclaimer...
All trademarks, images and copyrights on this site are owned by their respective companies.
KIWIreviews is an independent entity, part of the Knock Out News Group. This is a free public forum presenting user opinions on selected products, and as such the views expressed do not necessarily reflect the opinion of kiwireviews.nz and are protected under New Zealand law by the "Honest Opinion" clause of the Defamation Act of 1992. KIWIreviews accepts no liability for statements made on this site, on the premise that they have been submitted as the true and honest opinions of the individual posters. In most cases, prices and dates stated are approximate and should be considered as only guidelines.

"If corn oil is made from corn, and vegetable oil is made from vegetables, then what is baby oil made from?"
unattributed