Product reviews on kiwireviews.nz : Thursday 13th August 2020 - 12:16:39
Score:

9.6

/

10

[

2

reviews]


ProdID: 7233 - Noisy Nights


Author: Fleur McDonald
Price:

$29.99

Sample/s Supplied by:




Available:

January 2016
Noisy Nights product reviews
The crickets chirped, the dogs barked, the cows mooed and the sheep maaed. The horses knickered to their foals and foxes howled, as they came out of their holes. How will Farmer Hayden ever get to sleep with all this noise?
This Review: 10/10
Price:

Value for Money:

ReReadability:

Personal Choice:
What makes this book fantastic for our family, is that it is a nice quick book for Daddy to read to the girls before bed after work, Miss 4 to contribute to sounding out easy words, and for Miss 13 months to listen to new and different animal sounds to what we are used to hearing in the city. Her favourite part has been pointing to different animals and having her big sister act out what the animals do and what sounds they make. It's great learning for both of them and we as the parents love watching them learn while having fun.

The perfect amount of repetition and rhyming throughout the book right from the start which makes it the ideal book for toddlers and preschoolers. I loved the oxymoron of reading about a noisy book, yet it being perfect for bedtime when it should be a quiet time. The subtle hint of counting was thrown in nicely into the book without making it the focal point.

The pictures match up with the words perfectly, and the subtle pastel colours harmonise well with the tone of the story as being about a farmer who just wants to sleep at night!! Miss 4 kept laughing at the poor farmer, as she often is just like the animals at night and wanting to stay away. Very enjoyable reading about rural life and farm animals when we live in the city and surrounded by cats, dogs and birds only. When it comes to choosing books, having only daughters we often tend to stay to the same sort: princesses, ponies and fairies. It was nice to read about something different without having to go for fighting or something gruesome. We now have a depth to our nightly reading that is a very warm welcome!
This Review: 9.3/10
Price:

Value for Money:

ReReadability:

Personal Choice: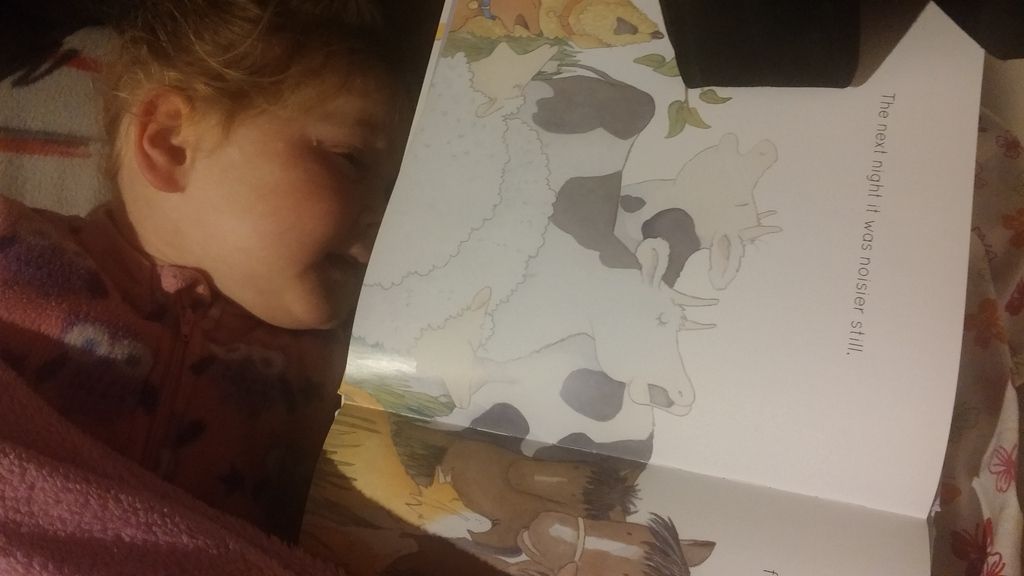 Working in a daycare centre out in the country I knew this book was bound to be a hit with the children I look after as a majority live on farms. When I first took the book to work and introduced it to them they straight away began to buzz with excitement as they saw all of the different farm animals on the front cover, many of which they have on their own farms.

Right from the front cover of the book you can see the beautiful illustrations of the animals, which continue throughout the whole story, these are done in shades of pastel colours something which I found to be really effective as the book focuses on times in the day early morning and evening when the sky is often a pastel shade of blues and purples. The graphics at times were quite humorous and made the teachers and children laugh especially as the farmer spent so much time within the book falling asleep while attempting various tasks such as milking the cows. The text I felt was well written with many of the sounds and phrases in the story being repeated this was great as the children soon cottoned on to these and so were able to join in with the reading of the story, they especially enjoyed making the train sounds and the animal noises.

This book brought up lot's of conversation amongst the children and teachers in regards to what sounds they hear at night when they are trying to sleep and many could relate to the animals being the main culprits for keeping them awake. We talked about the concept of counting sheep to help us fall asleep, , which led to a whole new conversation about how many numbers we could count to and how on earth the sheep can float across the sky, the responses were very entertaining to us teachers. The children loved the ending where Farmer Hayden finally manages to fall asleep even with the racket the animals are making out on the farm, according to some of the children counting sheep really does help, not only with them but also with the animals on their farms! Many parents came in the day after first reading this book asking why their children wanted to take pictures of sheep to bed to count so they could fall asleep, they thought it was most hillarious when I showed them the book, a classic example of how children view things differently to adults.

Miss 3 has always been a shocking sleeper so I love the fact this book is another based around bedtime and sleeping as these are always good at encouraging her to go to bed, since reading this book over the past week she has had to go to sleep with the book beside her, so she also can count sheep.

All in all this is a delightful children's book which has been a hit with both staff and children at my daycare and which i'm sure will continue to be. The price is a bit higher than what you would pay for your average children's book, however it does have a hard cover so this is understandable and worth it for a great book which will be protected even more this way. A great book worth buying for your little sleepy head!

Random listing from 'Books'...
Product reviews for listing 373: Stop The Clock

Written/Developed by Robyn Martin
Robyn Martin aims to help people maintain good health, eat well and avoid the once-expected and accepted processes of aging. Written with humour and in a light-hearted yet informative tone.

Stop the Clock is full of delicious, mouth-watering recipes, all stunningly photographed by Alan Gillard. An added bonus is that all the recipes are easy and quick to make - in classic Robyn Martin tradition.

It is divided into chapters ... more...
General Disclaimer...
All trademarks, images and copyrights on this site are owned by their respective companies.
KIWIreviews is an independent entity, part of the Knock Out News Group. This is a free public forum presenting user opinions on selected products, and as such the views expressed do not necessarily reflect the opinion of kiwireviews.nz and are protected under New Zealand law by the "Honest Opinion" clause of the Defamation Act of 1992. KIWIreviews accepts no liability for statements made on this site, on the premise that they have been submitted as the true and honest opinions of the individual posters. In most cases, prices and dates stated are approximate and should be considered as only guidelines.

"The difference between 'involvement' and 'commitment' is like an bacon-and-eggs breakfast: the chicken was 'involved' but the pig was 'committed'"
anonymous