Product reviews on kiwireviews.nz : Friday 28th January 2022 - 17:56:11
Score:

9.4

/

10

[

5

reviews]


ProdID: 7371 - Popped Gourmet Popcorn - Caramel Crunchy


Brand / Manufactured by: Popped
Price:

$7.50

Sample/s Supplied by:





Available:

Via online store
Popped Gourmet Popcorn - Caramel Crunchy product reviews

Grown and made in New Zealand, GMO free, Handcrafted recipes with all natural ingredients cooked in Coconut oil.
This Review: 9.0/10
Price:

Portions:

Flavour:

Personal Choice:
Growing up in my house, popcorn was always served sweet with a shake of icing sugar through it. Later I was introduced to the delights of caramel corn. My own children, however, only really know or like savoury popcorn. They have grown up with buttered popcorn. Kettle corn, or that brightly coloured fruit flavoured popcorn is wasted on them. When we were picking up some review goods recently, my youngest saw this crunchy caramel corn and wanted to try it. I knew I'd like it, but I wasn't sure she would. She was insistent though so I requested a bag.

With Christmas parties and BBQs in full swing, I opened the bag when I had a large group of friends around. My daughter was the first to dive into the bowl. She took a couple of pieces and tried them. Sure enough, she wasn't a huge fan. However, she did eat what she had. I had more luck with the older crowd. That bowl was empty within 30 minutes. Everyone was impressed with the flavour of the caramel. They were also delighted by the crunch. A couple asked if it was crunchy on purpose. So I showed them the bag and the product name. They really liked it and will be looking out for it.

Another friend thought that it was good, but not a lot different to other caramel corn they had tried. They did concede that the crunch was a point of difference though. To me, the corn coating tasted like a hard toffee. It gives it that crunch, but the caramel flavour wasn't quite what I expected. It was still delicious, but it was more like caramelised sugar toffee than a buttery caramel. I am more a buttery caramel girl, but I don't believe you'd get that awesome crunch with butter.

The price is higher than I expected given the size of the bag. However, it is made with good quality ingredients and people will be willing to pay extra for that. I can't wait to try out other flavours in the range.
This Review: 9.8/10
Price:

Portions:

Flavour:

Personal Choice:
I was keen to request this popcorn as my children especially like caramel coated popcorn, but the brand I buy from the supermarket (the only one on the shelf) has palm oil as an ingredient and while I am not naive enough to believe many more products do contain palm oil, the Popped Gourmet Caramel Crunchy did not so it was an easy choice.

Firstly I was very impressed by the size of the bag, the portion size was very generous and as I suspected my children were similarly impressed! The bag itself had very limited information on it, which made me surmise that their popcorn was maybe only sold direct online or at artisan markets. When we opened the bag there was a lovely instant sweet and slightly salty scent, which really made our mouths water! The popcorn was very very moreish, each piece of corn was really well coated in caramel, which of course we all loved. The popcorn also had a delicate light salty taste, which was just enough to balance out the sweet taste of the caramel.

The popcorn would be great for lunch box snacks, children's birthday party snacks or as a sneaky treat for the adults when the kids have gone to bed! The price was a little more than I expected but you do pay for quality and in comparison the any other coated popcorn that we have tasted, this would have to be the superior product.
This Review: 9.3/10
Price:

Portions:

Flavour:

Personal Choice:
Caramel popcorn has to be my favourite type. I'm pretty sure I've tried almost all the caramel popcorn brands that I've managed to find but I hadn't yet tried this one. When it arrived I was delighted to see that the packet was clear and I could see all the caramel goodness coating every kernel I could see. This is a good start because of every other packet I've tried there are at least a quarter that have no caramel at all and those are really disappointing to eat.

My husband and I decided to crack this popcorn out while watching TV after dinner. We quite like a sweet treat after we put the kids to bed, a sort of reward for surviving another day with young kids. My husband grabbed a handful and I took the rest of the packet and after about a minute there was a tapping on my shoulder for me to hand over more popcorn. He's not as big a fan of caramel popcorn as I am but he really liked this. I thought it was fantastic and easily satiated my sugar craving.

I love the size of the packet which means you don't eat too much, especially if you are sharing with someone else, but you still have plenty there to make you feel satisfied. The biggest bonus for me and the reason I'm going to go hunting for Popped popcorn everywhere I shop is the fact that the Caramel Popcorn is fully coated in caramel, and I mean FULLY coated. We didn't find one piece that was lacking caramel and I think that's the test of a good caramel popcorn.

I do think the price is a little high for what I'd usually pay for a treat but I also think it's worth it. I will definitely be buying some to have in the cupboard for a special movie night but at that price I'll be keeping it to myself and wouldn't get it out for company (but that could just be me being a little selfish).
This Review: 9.3/10
Price:

Portions:

Flavour:

Personal Choice:
I do love me some good popcorn, and if you add caramel I love it even more... but only if it's done properly. Overcooked caramel ruins a great snack, and undercooked means it stays a little runny and makes a mess. To get it just right, and slather it all over well-cooked popcorn... that's something special. Welcome to "Popped" popcorn - something very special indeed.

First off, the portions are bang on. Feeling somewhat less than inspired, gastronomically, I decided to enjoy popcorn the old fashioned way... in front of the TV watching something classic, so I opted for a night of binge-watching classic MacGyver and nibbling away on the bag of caramel crunchy. That way the original plan, and as with all battle plans, it didn't survive first contact. After the first couple of nuggets of golden yumminess, I soon found myself grabbing handfuls at a time. Oops. While this highlighhted just how good this popcorn is, it also meant I plowed through it in less time than it took to watch a single episode.

I was really hoping that I could have stretched this bag out for a few hours, heck, even a single hour would have been good... but it wasn't to be. Because of that, I feel the price is a little higher than I would be able to afford on a regular basis. That is not to say the price is unjustified - far from it! This is a quality product, handcrafted by people who know what they are doing. It's just not something I could afford to buy as often as I want it... which is probably a good thing for my waistline.

Overall, this is a snack that sounds like it should be at the bottom end of the style-scale, but it's of such a high quality that you could feel comfortable offering it to some very posh people. As long as they don't go all snobby and do themselves out of a taste test, they should find themselves pretty keen to repeat the taste test.

This Review: 9.5/10
Price:

Portions:

Flavour:

Personal Choice: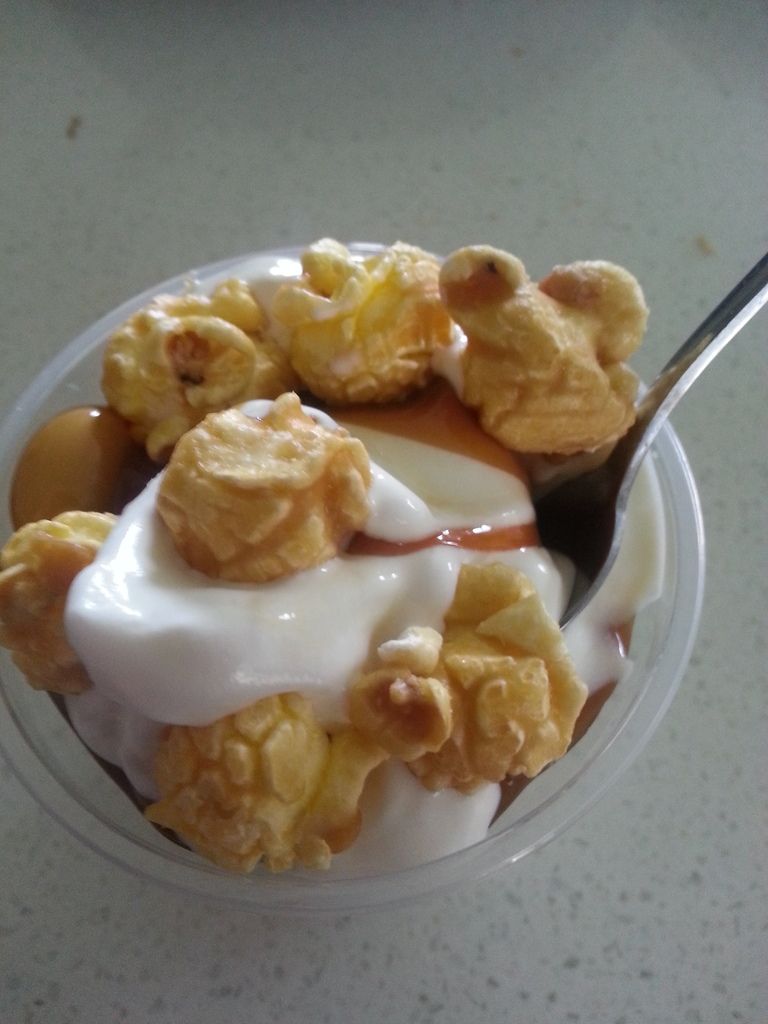 I only have one word for this popcorn... YUM!!! As soon as I received the bag of this delicious looking popcorn I knew I was in for a treat, through the clear cellophane bag you could see just how golden in colour and generously coated in caramel this popcorn was. When I was younger I remember every few weeks at grocery's we would pick up a special golden bag on caramel corn which use to taste amazing, and this is exactly what this reminded me of, sadly the golden bag of popcorn no longer exists so both my partner and myself were over the moon to discover something even tastier, as we have not been able to find a good caramel corn until now!

Miss 3 had never had caramel corn before but she loves plain or buttered popcorn that you pop in the microwave, so when she saw the bag there was absolutely no fooling her she knew that what was in the bag POPCORN!!! We opened up the bag because we couldn't not, and I allowed a handful each for Miss 3, myself and my partner to try. Miss 3's face lit up when she ate her face piece and she asked "what is this amazing popcorn from?", it didn't take her long to gobble it all up which left her begging for more! My partner loved it has already told me that I need to buy more of it, he said it reminded him of the stuff he ate as a child and loved the amount of caramel that the popcorn was smothered in. I of course also loved it, it was by far the best popcorn I have had in ages! We could have easily sat and eaten the rest of the packet right then and there as it was that good, but I quickly popped the rest into a airtight container as I had other ideas for it!

With the remainder of the bag of popcorn I decided to try it out with ice cream as when at the movies I love to dip my popcorn into ice cream (I know it might sound a bit odd but it tastes really good). We got some ice cream sundaes that were topped with a caramel sauce and to the top of these added a few spoonfuls of the crunchy caramel popcorn. Miss 3 was asking me why I was putting the popcorn on top of ice cream, but once I had finally convinced her to try it she said it was yummy. The crunch from the popcorn added such a lovely texture to the ice cream, and the flavours of the caramel made it taste amazing both with and without any sauce on the spoon.

This caramel popcorn has got to be hands down the best on the market, it totally lives up to it's name 'Crunchy Caramel' as it was super crunchy and coated in the most divine rich, golden, creamy, caramel that was full of flavour, and didn't leave your hands feeling sticky afterwards. This is one product I will be recommending to others and one that I will no doubt be buying again. I can't wait to try out the other flavours in the range, and to try them out in more inventive ways!
Random listing from 'Food'...
Product reviews for listing 452: Costa's

Located: 282 Cuba St, Palmerston North
Particularly popular with big groups, Costa's remains "the most fun you can have at a restaurant!".

The original concept was largely inherited from the prior restaurant called Mannelito's and was fashioned around a large Mexican style BYO restaurant that catered for a significant student market at the time.

This ... more...
General Disclaimer...
All trademarks, images and copyrights on this site are owned by their respective companies.
KIWIreviews is an independent entity, part of the Knock Out News Group. This is a free public forum presenting user opinions on selected products, and as such the views expressed do not necessarily reflect the opinion of kiwireviews.nz and are protected under New Zealand law by the "Honest Opinion" clause of the Defamation Act of 1992. KIWIreviews accepts no liability for statements made on this site, on the premise that they have been submitted as the true and honest opinions of the individual posters. In most cases, prices and dates stated are approximate and should be considered as only guidelines.

"Who was the first person to look at a cow and say, 'I think I'll squeeze these pink dangly things here, and drink whatever comes out?'"
unattributed