Product reviews on kiwireviews.nz : Tuesday 19th October 2021 - 18:48:03
Score:

10.0

/

10

[

3

reviews]


ProdID: 7356 - Jingle Bells, Rudolph Smells


Author: Deano Yipadee
Price:

$21.00

Sample/s Supplied by:





Available:

October 2016
Jingle Bells, Rudolph Smells product reviews
Jingle bells! Rudolph smells from eating carrots and hay, went over a bump and he did a trump, and it went in Santa's face - hey. Laugh out loud as you sing along to this hilarious, smelly-as Christmas song... and find out how Santa's #1 stinky-bottomed reindeer saves Christmas.
This Review: 10/10
Price:

Value for Money:

ReReadability:

Personal Choice:
Last christmas daycare Santa gave my daughter a book that we knew she would like but we didn't realise it was going to become one of her favorites. The book, Jingle Bells Rudolph Smells by Deano Yipadee.

My daughter, being 4 at the time, loves Christmas and everything about it. She was learning Christmas songs at daycare for their Christmas party. Although she got all the words wrong Jingle bells was he favourite. She had also just learnt about Santas Reindeer and of course Rudolph is the favourite. I saw this book in the book store and knew this was the book she was going to be getting.

Jingle Bells Rudolph Smells is a mash between Jingle Bells and Rudolph the red nose reindeer. This is the second book we have purchased which is written by Deano Yipadee. His books are aimed at the younger children and are very catchy. Of course this book is no different. It's illustrations are just as good as the fun lyrics. It is a cleaver take on the two songs. It also comes with a CD so be prepared to listen to this on repeat and possibly singing along.

In the book Santa is having trouble with his sleigh and calls on his trusty reindeer Rudolph, but not for his traditional red nose but for the smell that comes from his 'trump'. Of course apart from the odd mishap like the smell going in Santas face, Rudolph saves the day.

The book catches the attention of the preschoolers who are in that stage where toilet humor is hilarious. So of course a book about what Rudolph eats and what comes out the other end is great in the eyes of a preschooler.

Jingle bells Rudolph smells is a hilarious book with very catchy lyrics. It is a book that has been well read by both my children. I don't think the $21 is a bad price for this book especially as it does include the CD. I would recommend this book to anyone with young kids who want a good funny book. But I will warn them, it is an extremely catchy song, be prepared to find yourself singing along.
This Review: 10/10
Price:

Value for Money:

ReReadability:

Personal Choice:
Being an early childhood teacher I had requested this book from KIWIreviews to be able to share with the tamariki at my centre. With Christmas fast approaching both the children and adults at centre have been getting excited and into the Christmas spirit. We recently held our Christmas party in which the tamariki and kaiako (teachers) learnt some Christmas songs to sing to our families and Mrs Claus. Jingle Bells was one of those songs. So with the original version of Jingle Bells fresh in our minds, it was a great time to throw in this little spin on the well known song.

When I let the tamariki know that I had a new book to share they were so excited. I said to them it had a CD and was about Rudolph and they couldn't contain their excitement. We have recently introduced some new CD stories and they love them, as do we! For some reason the CD books capture the attention of the tamariki more than we can at times, maybe because they include music, and maybe because they enjoy listening to a voice that is not ours! I know I enjoy putting a CD book on as it gives my voice a rest (well that is unless I end up singing along, which often happens!). One of the other teachers warned me that the book starts quickly and then offered to press play for us while I sat ready with the book (our CD player is on the other side of the mat to where the kaiako sits).

As soon as the CD started the tamariki were fixated - their eyes weren't anywhere else than on the book. This story certainly provided a lot of laughs. We have had quite a lot of toilet talk lately, in particular with the older boys and one girl. Isn't it funny how many children go through a period where toilet talk is absolutely hilarious?! This book certainly appealed to these children as they understood what Rudolph was doing!

Another great Scholastic book to add to the collection whether you are a teacher or a parent. It will certainly get lots more play time between now and Christmas - and I'm sure it will be requested even after Christmas has passed!
This Review: 10/10
Price:

Value for Money:

ReReadability:

Personal Choice: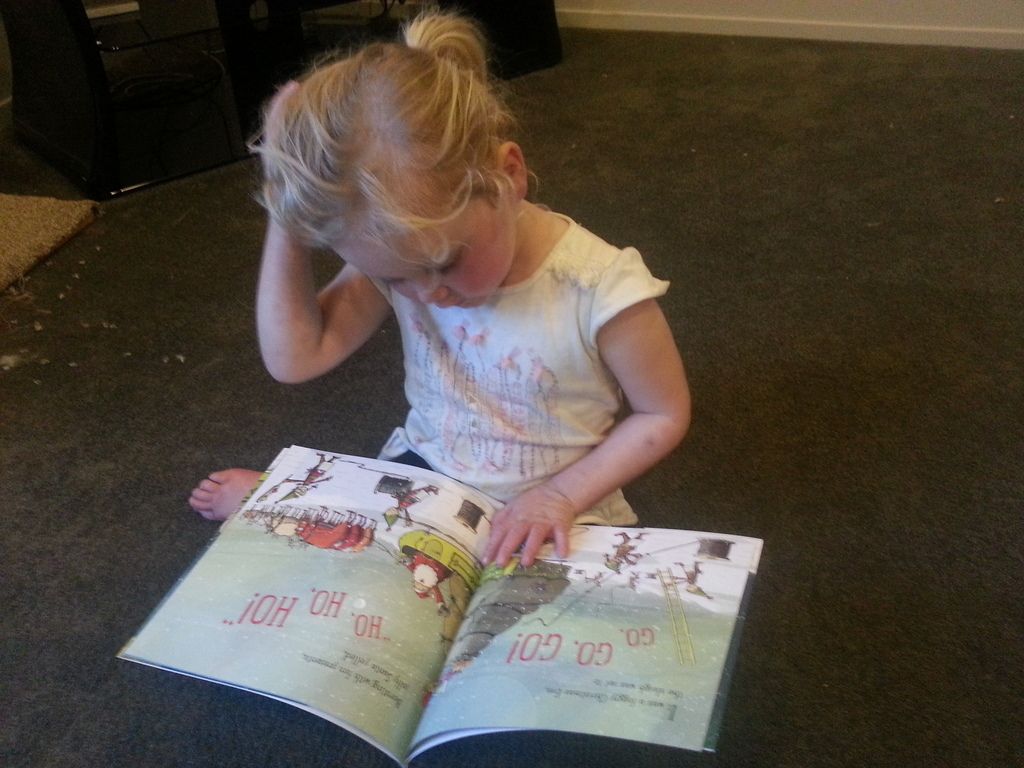 Both Christmas and Birthday's are one of those things that are constantly talked about in our house by Miss 3 no matter what time of the year it is! If it has just been Christmas, she's already planning her Christmas list for Santa for the following year, and if her birthday has just passed then the invites are started for the next birthday! For this reason Miss 3 was extremely excited to see a book about Santa and his Reindeers, which has created a lot of hype from her about the fact that Christmas must soon be going to be here!

Miss 3 straight away began to flip through the book, buzzing with excitement as she counted each reindeer, and tried to remember their names from previous books and as she saw the pictures of Santa on each of the pages. She was in hysterics the first time which I played the CD of the song to her, she absolutely loved it and has listened to it over and over again (much to Daddy's dislike). The song being sung is really great value and you can't help but laugh at the lyrics, the tune is super catchy and it really doesn't take long until it has you joining in and singing away, the singer does a brilliant job of this. Miss 3 now that she knows what the book is all about, her all time favourite Christmas song 'Jingle Bells' with a twist loves to sing along and point at all the funny happenings on each page of both Santa and the Reindeers, such as Santa holding his nose and the reindeer looking as though they're going to be sick she finds it hilarious, though her latest question to me has been "why doesn't Rudolph just have a bath?".

I took this book into the daycare which I work at and the children were excited that I had brought along a Christmas story to share. They loved hearing a new version of the Jingle Bells song and loved that Rudolph and all of the other reindeers were a part of the story. They thought both the book and the CD were a heap of fun, and loved joining in with the singing where they could, the boys became huge fans of the book and were in hysterics when I turned to the page which read "With a rumble from his tum, then thunder from his... bottom, it jet-propelled the sleigh, they rocketed away", anything to do with bottoms is always a hit with the 4 year old boys. The teachers and parents who heard the book and CD playing thought it was a very funny book and laughed along with the children.

I absolutely love this book myself, it is so nice to see classic Christmas songs getting a make over, while at the same time remaining favourites, this book takes in parts of the songs 'Jingle Bells' and 'Rudolph the Red Nose Reindeer'. The story is filled with rhymes, and very catchy and fun to listen to, and the illustrations are brilliant. This would be a fantastic book to add to any Christmas collection, that i'm sure would even have any Christmas Grinches in your family laughing!
Random listing from 'Books'...
Product reviews for listing 6748: Star of Deltora #2: Two Moons -
Author: Emily Rodda
Britta is now aboard the Star of Deltora with her three rivals for the Trader Rosalyn Apprenticeship. Nothing can prepare Britta for the terror that awaits her in the perilous, forbidden swamplands of Two Moons.

Book 2 in the spellbinding Star of Deltora Series.
General Disclaimer...
All trademarks, images and copyrights on this site are owned by their respective companies.
KIWIreviews is an independent entity, part of the Knock Out News Group. This is a free public forum presenting user opinions on selected products, and as such the views expressed do not necessarily reflect the opinion of kiwireviews.nz and are protected under New Zealand law by the "Honest Opinion" clause of the Defamation Act of 1992. KIWIreviews accepts no liability for statements made on this site, on the premise that they have been submitted as the true and honest opinions of the individual posters. In most cases, prices and dates stated are approximate and should be considered as only guidelines.

"Instead of giving a politician the keys to the city, it might be better to change the locks."
Doug Larson