Product reviews on kiwireviews.nz : Sunday 22nd May 2022 - 02:49:04
Score:

9.5

/

10

[

2

reviews]


ProdID: 7164 - Shimmer Art


Brand / Author: Klutz
Price:

$30.00

Sample/s Supplied by:





Available:

June 2016
Shimmer Art product reviews
Using the super simple patterns to guide you, you'll make expert-looking shimmer art with a combination of custom-made and palette sequins.

48 pages of instructions and inspiration
Contains sequins, pins and board to make your own.
This Review: 9.5/10
Value for Money:

Clear Instructions:

Clear Diagrams:

Personal Choice:
My almost 10 year old is exceptionally creative and crafty so when I saw this shimmer art kit available for review I was really excited. She has had the opportunity, along with her brothers, to review many of the amazing Klutz kits before, and we absolutely love them so I thought this would be the same. Unfortunately this was not quite the case here



My girl really struggled with this one, the instructions are clear and easy to understand and follow with clear pictures, in fact the instructions are pretty simple that even kids under 10 (the recommended age for the product) could follow them, and so it is easy to score this kit with full review scores, but there are some other things that just did not work for us.

The instructions/picture book is attached to the box that holds the sequins, pin pushing tool and stands for making the art. The sequins though are not all separate. They are all packaged together in the one bag, which was really frustrating for my daughter, and for me. We expected that each different size and colour of sequin would be in its own individual packet to enable ease of use. So because of this, before we could get started, a good hour was spent sorting the sequins into groups.

This may not be an issue for others but it was for us



Making the lovely art seems simple enough, but miss seemed to find it time consuming and got quite frustrated with the process really early on. I am thinking that the time it took to sort the sequins to start with may have taken some of the joy and excitement out of it for her, so when it came time to actually create something she was already over it. She still sat and persevered though, choosing the simple rainbow to start with, and was happy with her finished project. But, sadly, she has not attempted anything else from it since completing the first one

This is not a bad thing though, as it means next time one of her friends visit she has something new to do with them



Even though this one was not as big a hit with my girl as expected, we still adore the Klutz kits and she has not been put off by this. She loves Klutz, they are fun, they are educational, they are easy to use, and the end results are always awesome and they make the very best presents for kids (and some adults too!)
This Review: 9.5/10
Value for Money:

Clear Instructions:

Clear Diagrams:

Personal Choice: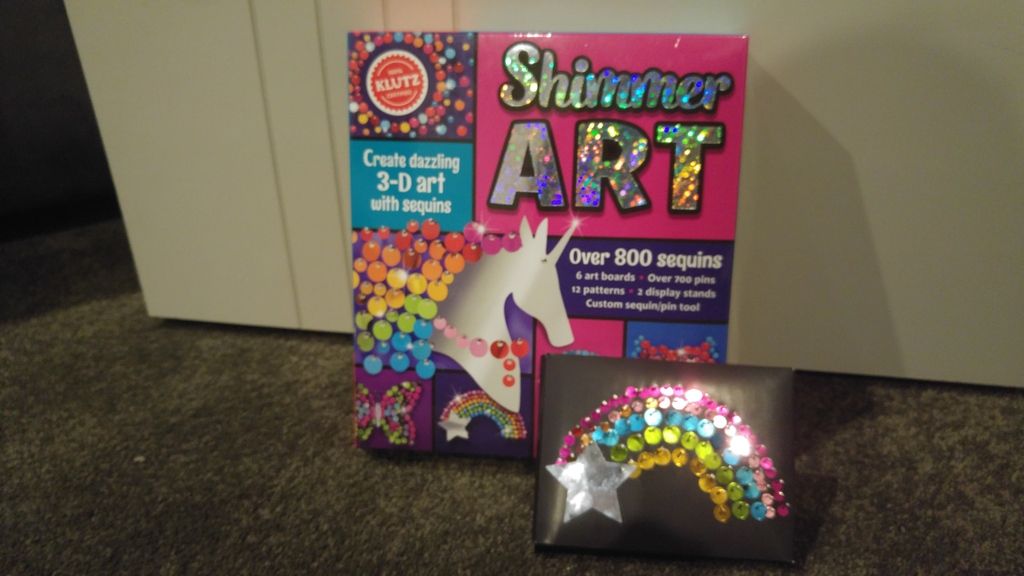 This product really captured my attention when I saw it come up for review. I love products that allow you to be creative and require certain processes to create something magical and different, which is exactly what this is! With my 9, almost 10 year old niece visiting me often this seemed an ideal kit to have on hand for her, as like me she loves to engage herself in art activities which allow her to express her creative side, seeing as this featured sparkles galore it would no doubt be up her alley.

I had heard great things about Klutz products so when I opened up the book and the box of goodies for the very first time I was most impressed, the amount of sequins in many beautiful colours and pins included were plentiful, though I did think it was a little bit of a shame that only 6 art boards were included, when the pack came with 12 patterns to complete, this meant you had to pick and choose your favourites to complete, however i'm sure it wouldn't be to hard to recreate some more art boards yourself as these are only made out of a thick cardboard. The set also featured 2 display stands and some special shaped sequins that had been specially designed to use with certain patterns, as well as a special custom sequin/pin tool to make using the pieces easier.

The book was very well laid out and was full of bright, colorful pictures and step by step instructions that were clear and easy to follow my niece had no problem here.There were instructions for each step along the way, how to wrap the boards, how to pick your colours and how to use the sequin/pin tool, it also showed you the best order in which to apply the sequins to each of the different designs, a handy thing to know. The last 12 pages of the book feature the patterns, the pages are serrated so that you can tear them out easily, making it easier to cut them out.

My niece got straight to work on her first project, the rainbow. After cutting out her template she glued it to one of the boards (the instructions say to use tape but we only had a glue stick handy).Next she selected the colours which she wanted to use for each stripe of her rainbow and set these out ready. The silver star 'special' sequin was the first to go in, this went in quite easily with the special tool that aids in pressing the pins into place, so far so good. Starting from the left Miss 9 began working on her first row of sequins, using the smaller sequins as suggested by the book, we noticed that many of the pins were proving a little tricky to push through the cardboard, as it seemed to be a lot stiffer in places, and even using the tool provided both her and myself couldn't seem to get them to budge. In the end I managed to use my fingers to press them in. About half way through the work Miss 9 decided she wanted to switch to the bigger sized sequins and choose different colours than the book had used. Just over an hour later with both Miss 9 and myself taking turns we completed the rainbow.

Everybody commented on how beautiful the work looked, her Grandma loved it and her Dad said that it would be a great thing to get out for her on a wet and rainy day when she says shes bored! The sparkles from the sequins and the pins were really effective and looked lovely sparkling in the sun. Miss 9 has already been asking when she can come and visit next to create the next on her list, the unicorn. She has noticed in the back of the book various other sets in the Klutz range and has asked about getting them for her birthday. When asked if she found it ok to use her reply was 'yes it's easy, but would be better if the box wasn't hard sometimes for the pins, and if some weren't bent".

All in all a fantastic product which allows creativity, however if your not feeling creative that's okay to as you can follow the guides as they are. I enjoyed this myself and it was a hit with Miss 9 for sure. The only thing worth changing is the perhaps having resealable bags for all of the pieces and perhaps lots of straight nails rather than bent ones. A great product and i'm sure it wont be the last Klutz product we try!


Random listing from 'Books'...
Product reviews for listing 8155: Louisiana's Way Home -
Author: Kate DiCamillo
When Louisiana Elefante's granny wakes her up in the middle of the night to tell her that the day of reckoning has arrived and they have to leave home immediately, Louisiana isn't overly worried. After all, Granny has many middle-of-the-night ideas. But this time, things are different.
This time, Granny intends for them never to return. Separated from her best friends, Raymie and Beverly, Louisiana struggles to oppose the winds of ... more...
General Disclaimer...
All trademarks, images and copyrights on this site are owned by their respective companies.
KIWIreviews is an independent entity, part of the Knock Out News Group. This is a free public forum presenting user opinions on selected products, and as such the views expressed do not necessarily reflect the opinion of kiwireviews.nz and are protected under New Zealand law by the "Honest Opinion" clause of the Defamation Act of 1992. KIWIreviews accepts no liability for statements made on this site, on the premise that they have been submitted as the true and honest opinions of the individual posters. In most cases, prices and dates stated are approximate and should be considered as only guidelines.

"Why do toasters always have a setting so high that could burn the toast to a horrible crisp, which no decent human being would eat?"
unattributed