Product reviews on kiwireviews.nz : Monday 8th March 2021 - 04:03:00
Score:

9.1

/

10

[

6

reviews]


ProdID: 7046 - Simon Gault Home Cuisine - Mexican Seasoning


Brand / Manufacturer : Simon Gault
Price:

$6.99

Sample/s Supplied by:




Available:

at selected quality supermarkets
Simon Gault Home Cuisine - Mexican Seasoning product reviews

This taste of Mexico can turn any meal into a Fiesta! Pep up tacos, burritos and nachos with some real Mexican zing. A complex blend of 18 ingredients including chilli, smoked paprika, oregano, cumin, chipotle, cinnamon, tomato, garlic and onion.

Use me on chicken, steak, lamb, pork, seafood, veges and more.

Use me in soups, sauces, dips, burgers, marinades, dressings, chowder, salads, stews, beans, guacamole, salsa, burritos, tacos, nachos, quesadillas, enchiladas, fajitas, tortillas, corn bread, rice and much more!
This Review: 8.5/10
Taste:

Portions:

Value for Money:

Personal Choice:
I am a real fan of Simon Gault seasoning and love looking up his recipes to inspire my cooking. I thought I would take a look at his recipes on the web page hoping to find a new use for it but only found the typical nachos and chilli con carne which was disappointing.

I first used this in a spicy tomato soup recipe of Sophie Gray in which I normally make her Mexican spice mix. Although Simon Gault mix had a few more ingredients I was hoping it would do the same thing. I like the thought of having this in the cupboard ready to use rather than making my own each time. I had to play around with the amount of mix needed and I found that the flavour was there but was quite masked buy the hot chilli.

I then decided to try making nacho cups. This recipe is a favourite in my family and I would normally use a nacho mix in which I can get 3 meals out of the one packet. I adjusted Simons recipe slightly and knowing that I was feeding young kids and did not want it too hot. Lining a muffin tin with two wonton wrappers, putting in a bit of nacho mince and topping with cheese, then baking makes awesome servings for the kids. With a dollop of sour cream and sprinkle of parsley these make an awesome dish to take as finger food.

I found that this mix is very versatile and I like how we can adjust the amount we are putting into the recipes depending who we are feeding. This is something that the packet mixes do not allow you to do so easily. The one thing that I do find annoying with Simon Gault seasonings is that the packaging allows moisture into the container. Meaning that it becomes a block of seasoning rather than a powder once it has been opened and left in pantry. I would like to see air tight packaging.
This Review: 10/10
Taste:

Portions:

Value for Money:

Personal Choice:
Ever since being given the chance to review some Simon Gault seasoning a couple of years ago I have been a fan and they have become a pantry staple in my house. As Mexican is one of the favourite cuisines in my house I was very excited to see that Simon Gault had released a new Mexican seasoning. I couldn't wait to try it and was super excited to be given the chance to review it.

Arriving home late from work the night after my review parcel had arrived I pulled out all the supplies for nachos to throw together a quick and easy dinner only to discover I had forgotten to get my normal flavouring. Luckily before abandoning the idea of nachos completely and making someone else I remembered I had Mexican seasoning in my review parcel. Deciding it was the perfect time to try it I browned my minced, threw in my beans and then threw in some seasoning. As I wasn't sure how much to add it was a bit of trial and error to get the perfect amount of spice.

Once again Simon Gault has managed to create the perfect blend for us it had just the right amount of heat to it. While it wasn't over powering it had a nice little kick to it. Since trying it in nachos I have also thrown it into my vegetable soup to spice it up a bit and also used it to season chicken breasts. Once again he is on to a winner and as quick and easy to use as all of his other seasonings, it will be another pantry staple in our house for sure.
This Review: 10/10
Taste:

Portions:

Value for Money:

Personal Choice:
I am already a big fan of Simon Gault's seasonings and so was pretty excited to see this new flavour in the range, thinking straight off the back that it might be a great way to make great nachos. Not having discovered the nacho recipe on Simon Gault's website, I decided to just wing it, and mixed a can of tomatoes, with 500g of mince and a can of baked beans. Then I had to decide how much flavouring to add... with the other seasonings, I usually find I'm supposed to get quite generous with them, but then I'm dealing with 2 people in the house who don't like things to spicy, so I decided on 1.5 tablespoons of the spice.

The resulting dish had great flavour - I loved not having to use flavoured tomatoes and getting to use baked beans instead of chilli beans as it made it a really cheap meal. I didn't need to add any salt at all, and I got a dish that wasn't overly salty but not under-salted either. I loved the level of spice, but with the moans from the other 2 members of my family, I'd reduce it back to 1 tablespoon next time.

Next time I tried this, I decided to use the Chilli Con Carrne recipe off Simon's website, but reduce the spice by half a tablespoon which brought it back to the same as the nachos. I wanted to keep some heat in the dish as it's supposed to have some spice plus it would be served with rice. The meal was easy to make and tasted lovely, but again a bit spicy for my family (but perfect for me)! The next night I used the leftover mixture for Enchiladas using Farrah wraps and adding a can of tomatoes and some cheese and baking. Everyone gobbled it up and complaints over the spice level were non-existent for once - yay!

I've tried this as a coating on home made chips too, but didn't overly like it, however there are heaps and heaps of ways I can see this adding '5% magic' (to quote Simon) to my dishes. The possibilities are endless, but mostly I can see this being a great way to make nachos and I can't ever see myself going back to trying to figure out a good mix of spices myself. I'll be keeping a good stock of this in my pantry for sure.
This Review: 8.0/10
Taste:

Portions:

Value for Money:

Personal Choice:
I remember watching Simon Gault on Masterchef on tv and my husband and I still quote his "5% magic" line from the show which I also see is his business name for his line of spices and stocks. I had seen that he had brought out a line of spices and been wanting to try them so I grabbed my chance at trying the Mexican seasoning.

I decided to use the seasoning to coat chicken pieces for the chicken wraps we were having for dinner. I added a fair amount to a bag to coat hoping it wouldn't be too spicy. I was pleasantly surprised at the taste it wasn't too overpowering which I liked but it added a bit of flavour to plain chicken, my husband didn't like it as much as me but he likes things super spicy.

We eat a lot of Mexican food and am looking forward to trying this product in other dishes as I read on the box you can use it in all sorts of dishes, salsa, tacos, guacamole rice and heaps more which makes it very versatile. The price is not too expensive as it is quite a large container and will last a long time, I will definitely try this again and look forward to trying his other flavours.
This Review: 9.0/10
Taste:

Portions:

Value for Money:

Personal Choice: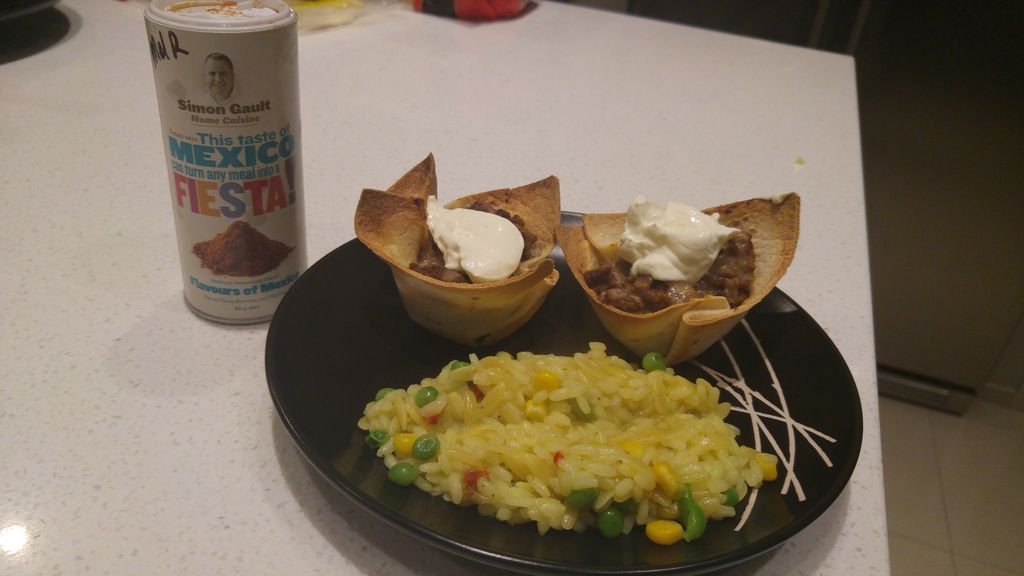 I had a Mexican inspired recipe that I had found a while ago but hadn't got around to making yet, so after receiving the Simon Gault Flavours of Mexico seasoning to review I thought it was the perfect time to try this new recipe out.

The canister of seasoning is bright, colorful and fun with lots of bold coloured writing which would make it stand right out on a supermarket shelf amongst other products. It features a picture of Simon Gault himself and a picture of the seasoning that is contained itself. Looking on the back of the canister it lists a range of ways in which the seasoning can be used such as nachos, and tacos, as a sprinkling on chicken and even fish, the ideas are limitless.

The lid features 2 different sized holes for dispensing the seasoning, one for sprinkling and another that is for pouring. I have used both of these on different days and have found that they both work well, the seasoning is nice and fine and so has no trouble at all coming out of the sprinkling holes and it also pours really nicely with the pouring part of the lid being just the right size to easily tip the seasoning onto a spoon without any spillage.

First of all I tried the seasoning with mince as I was making some Mexican mince taco cups for dinner. The recipe had called for 3 tablespoons of taco seasoning to be added to the cooked mince along with some diced tomatoes, so I opted to replace the taco seasoning with the Mexican seasoning, being unsure as to how much I needed (there wasn't much indication on the back of the canister) I added 2 tablespoons to begin, the spice and flavours were there, however I felt it needed a little more and so added an extra tablespoon which made it perfect. I popped the mince into muffin tins lined with Farrah's garlic wraps and then topped with grated cheese, popped them in the oven for 10 minutes and then they were done a super easy dinner which I then topped with sour cream. The smell of the meal cooking was divine with lots of notes of Mexican wafting through the kitchen I could definitely both smell and taste the smoked paprika and the chili.

Next of I decided to make one of my partners favourite dishes, Cajun chicken. Usually I would dust the chicken lightly in Cajun spices but this time I used the Mexican seasoning instead, just enough to leave a fine coating. I popped the chicken into the oven and once cooked topped with a chunky BBQ sauce and a dollop of sour cream. The flavours of the seasoning really enhanced the chicken and din't leave it extremely spicy, which I was pleased about, my partner also loved it.

All in all this is great product, which is so versatile and I can see myself buying more of it, it adds such a great flavour to meals adding just the right touch of Mexican flavours. I recommend it to all you Mexican fans out there!
This Review: 9.0/10
Taste:

Portions:

Value for Money:

Personal Choice:
Friday night is always the 'quickest meal you can possibly make' as both girls have hip hop so its a very late night for us. A family favourite that both girls love is Nachos it's nice and easy and can use as many or few ingredients as you see fit. Tonight because wanted to taste the spice just had cheese corn chips, diced onions, can of tomatoes with onion and garlic flavour and mild mexican beans with mince and then used a cheese and yoghurt topping.

First of all the container is very bright, fun and eye catching. We have used a lot of Simon Gault's products previously and have always loved them so we were sure this would follow suit. It has a small blog about all the various dishes you could use this with (and there are plenty) and of course the Nutritional information as to be expected.

I did have a bit of difficulty opening the tab as it was a tad stubborn, but once opened the aroma flooded out and it was beautiful. You have three options for using this container, a sprinkler, a big hole or a little hole in this case opted for the big hole. Like other Simon Gault products there are no directions or indictations on how much to use so its a bit of trial and error. I ended up using two tablespoons and as expected it was very easy to use.

It was enjoyed by the whole family, but - we are not quite sure they have the ratio correct with the flavour vs the heat. definitely has heat and a bit of a kick to it as my lips can attest to, but was not as strong in the flavour as we were expecting. It was nice, don't get me wrong, just thought would be more taste than heat. But there were no complaints by the young ones so its definitely a winner.
Random listing from 'Food'...
Product reviews for listing 7552: Sumrubthai Thai Black Cargo Rice -
Brand: Sumrubthai
Thai Black Cargo Rice is a long-grain black rice that is high in nutritional protein, dietary fibre, calcium, iron, potassium, zinc and antioxidants Vitamin B, Vitamin E, Anthocyanins and Proanthocyadin. Laboratory testing has determined this rice is up to 7x higher in nutritional content than white rice.

Though called "black rice", this grain has a deep purple colour which mellows to a lighter shade and it becomes soft and sticky ... more...
General Disclaimer...
All trademarks, images and copyrights on this site are owned by their respective companies.
KIWIreviews is an independent entity, part of the Knock Out News Group. This is a free public forum presenting user opinions on selected products, and as such the views expressed do not necessarily reflect the opinion of kiwireviews.nz and are protected under New Zealand law by the "Honest Opinion" clause of the Defamation Act of 1992. KIWIreviews accepts no liability for statements made on this site, on the premise that they have been submitted as the true and honest opinions of the individual posters. In most cases, prices and dates stated are approximate and should be considered as only guidelines.

"Reality is what refuses to go away when I stop believing in it."
Philip K. Dick