Product reviews on kiwireviews.nz : Sunday 12th July 2020 - 03:10:49
Score:

8.4

/

10

[

2

reviews]


ProdID: 7231 - Some Birds


Author: Matt Spink
Price:

$29.00

Sample/s Supplied by:




Available:

April 2016
Some Birds product reviews
Some birds are big! Some birds are small. And some birds are just incredibly TALL ...But what about all the others? Find out in this joyful celebration of birds and freedom, packed with wit and humour and with wonderfully fresh jewel-like illustrations. Matt Spink's debut picture book is, quite simply, glorious!
This Review: 7.8/10
Price:

Value for Money:

ReReadability:

Personal Choice:
This is a hard one for me, while I really enjoyed the book that was right up to the last page, I am still rather upset about it. I love birds and have owned them since before having children and treated them like my babies. Before moving to New Plymouth we lived in Napier and my Canaries used to fly free around the lounge while we weren't home, Bubbie used to sit on my shoulder and follow me everywhere he even treated me like I was his and would go mad at my husband if he came anywhere near me - jump forward some years and although my beautiful baby has now passed on we replaced him with Koby and Olive and as now have two cats they do not have the same freedom but they still have a massive inside aviary and are extremely spoilt.

The last page suggests that being free is the best option for a bird and while that may be the case with some birds it is not with all birds. It has upset both of my girls and they had a lot of questions regarding why we cage ours up when they should be able to fly free. I am assuming only people who like birds will read this book and I am also guessing a majority of those people will have pet birds and so too suggest that keeping a bird caged up is unfair is a tad on the nose.

My daughter read it to us on Thursday and we have read a couple times since and I left the review until I could think things through completely before writing this. The pictures are beautiful and remind me of a coloring book and the story has a lovely floating rhyme to it. However, the picture of the bird who is caged is very depressing and really does not look happy. To be honest I do not blame it being in a tiny cage but when I look at the lives I have provided my birds and my nana her Budgies which she has owned a few since I have known her, I think the author could of worded it better. With Bubbie I used to leave the windows and door open with a curtain pulled and on one occasion he jumped outside looked around tweeted then jumped back inside.

If you own birds with young children be warned there can be some very difficult conversations that follow. Although I am not a fan of the last couple of pages I still can appreciate the book for what it is and it really is lovely, but then again I would not pay $29 for it.
This Review: 9.0/10
Price:

Value for Money:

ReReadability:

Personal Choice: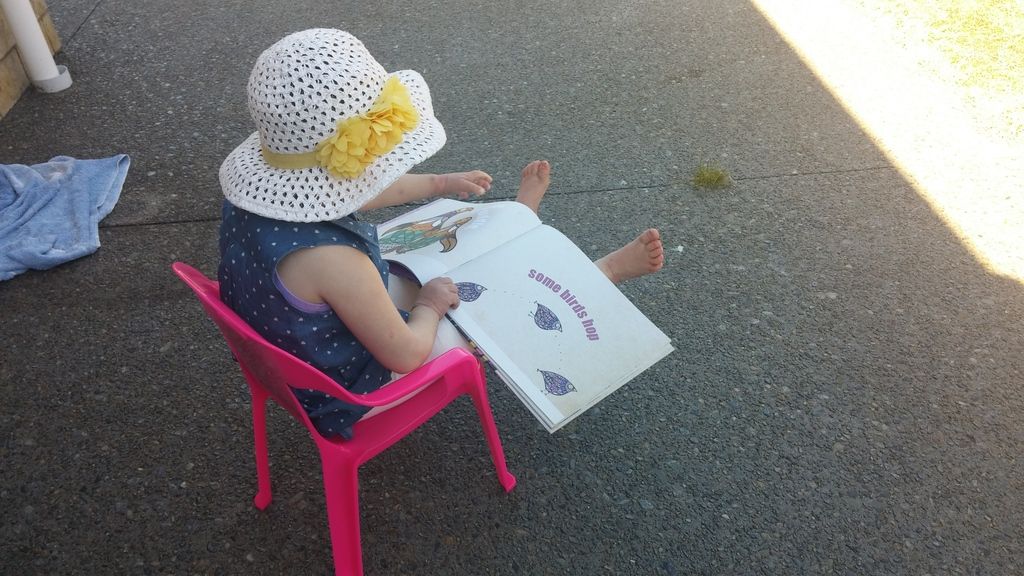 My daughter is obsessed with birds and my daycare children absolutely love birds too, spending lot's of their days making bird feeders and bird watching so when I saw this book was available for review I was sure it would be a hit with them.

The picture of the bird on the front cover demonstrates what the other birds in the book look similar to they are all decorated with geometrical looking designs and patterns on them, they reminded me a lot of patterns that you find in adult colouring in books, which is exactly what my Mum said this book reminded her of when she was reading it to Miss 3. In saying that I actually love that the birds have been decorated this way, as it show's children different ways in which patterns can be used to fill a animal or the likes and also demonstrates a great use of creativity. Each of the birds are bright and colourful, full of so much character and life with the main focus on each page being on the birds. The lettering in the book is also different than most books as instead of being your usual black and white text it is written in a colour which matches the colouring s used on the bird on that particular page. The text varies in size and in layout, for example the saying "some birds swoop" is written on a downwards slant to emphasise what is being said... very clever. The teachers I work with loved the patterns on the birds and have since used this book to get children to create patterns of their own.

The children loved this book, and like Miss 3 loved sitting outside bird watching with the book in hand trying to see if they could find any birds which replicate those shown in the book, sadly we didn't come across anything as bright or colourful as int he book however we did see birds doing such actions used in the book, which was a great point for discussions. This book brought up a lot of discussions amongst staff and children about animals being held captive and whether this was a kind thing to do, as some children were a tad concerned by this we talked about how sometimes it is okay to be in cages for pets as long as they are well cared for and can go outside for fresh air in their cages, a great way to talk about caring for animals and the importance of this.

A much loved book at home and daycare which celebrates the need to be different and free, it has already been read over and over and i'm sure it will continue to be a hit for some time. The price is a little steep however, and probably a bit more than I would be happy to pay for a book, though you need to take into consideration that it is a hardcover book which means it will stay in a good condition for longer than a paper back book.
Random listing from 'Books'...
Product reviews for listing 5669: How to Make Really Good Coffee - 2014 Edition -
Written/Developed by L'Affare
Learn from the professionals - a must-have guide to making the best coffee.

Many people like to kick-start their day with a really good cup of coffee. This is the book for them! It gives a brief outline of how and where coffee is grown and processed and then 'spills the beans' on how to get the best cup your chosen equipment can provide - whether you use a plunger, filter, stovetop or full-blown espresso machine. ... more...
General Disclaimer...
All trademarks, images and copyrights on this site are owned by their respective companies.
KIWIreviews is an independent entity, part of the Knock Out News Group. This is a free public forum presenting user opinions on selected products, and as such the views expressed do not necessarily reflect the opinion of kiwireviews.nz and are protected under New Zealand law by the "Honest Opinion" clause of the Defamation Act of 1992. KIWIreviews accepts no liability for statements made on this site, on the premise that they have been submitted as the true and honest opinions of the individual posters. In most cases, prices and dates stated are approximate and should be considered as only guidelines.

"Proof that God doesn't exist: If God created the earth for mankind, why is it that we can only live on a less than a quarter of it?"
anonymous