Product reviews on kiwireviews.nz : Monday 27th June 2022 - 04:48:45
Score:

9.0

/

10

[

2

reviews]


ProdID: 7410 - Nescafe Dolce Gusto Soy Cappuccino


Brand / Manufactured by: Nescafe
Price:

$9.99

Sample/s Supplied by:





Available:

At Supermarkets and online
Nescafe Dolce Gusto Soy Cappuccino product reviews
An espresso shot topped with deliciously frothy soy milk. For coffee lovers who want to give up milk but not the real coffee pleasure that gives a unique taste experience that will inspire you. Now you can enjoy our delicious Cappuccino without the dairy!
This Review: 8.0/10
Price:

Value for Money:

Taste:

Personal Choice: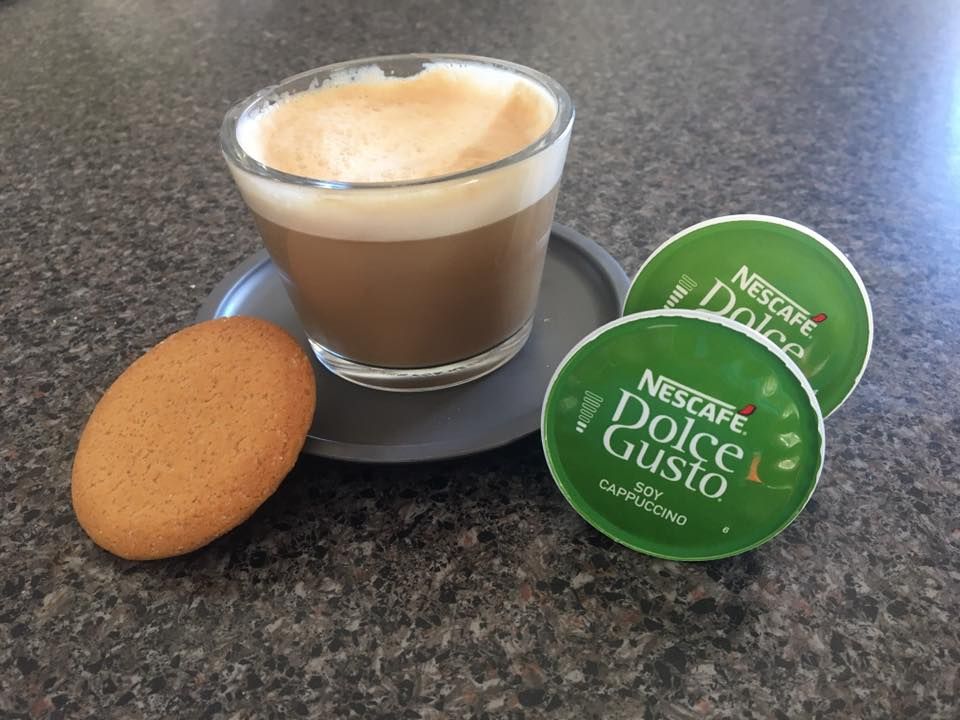 I have become a regular drinker of Nescafe Dolce Gusto Americano. A couple of years ago I was given a Mini Me through KIWIreviews and I have pretty much used it at least once each day since then. I don't drink milk, so up to now my options have been limited to the black coffee pods in the range. Americano has been the perfect strength for me. I was quite excited when I found that there was a soy milk option coming into the range and I thought it was worth a try.

My initial reaction was that it tasted horrible and I was ready to go back to my trusty Americano but I knew that I needed to give the product a decent try. To be fair, I a very fussy with the type of soy milk drinks that I like. My favoured 'milky drink' with soy milk is the caramel macchiato at a well-known coffee shop chain (or at Christmas time I move to a Gingerbread Latte). The fact is that I don't like the taste of soy milk but I have it because I can't drink dairy milk. I think the flavourings such as caramel and ginger are what help hide the taste for me. With this in mind, I trialed the soy cappuccino with some ice-cream. I made the coffee as per normal in the machine and then added it with a couple of scoops of vanilla ice-cream to a blender. The sweet addition of the ice-cream made it much nicer. I still wasn't totally convinced though.

Perhaps if I was one to add some sugar to a drink, it might have worked but there is something in me that can't stand the thought of adding sugar. My husband tasted the coffee as it was and he thought it was ok, in fact he liked the fact that it wasn't sweet. This goes to show that different people have different tastes and the best way to work out if you like it is to try if for yourself.

After the Christmas period, I was lucky enough to get hold of some of the ginger syrup that they use at Starbucks. I figured that I should try it in the Dolce Gusto Soy Cappuccino. I made the coffee in the machine and then added about a tablespoon of the ginger syrup. Ahhhh....this is what I was looking for! It tasted pretty much just like a gingerbread latte from my favourite coffee shop. I think that my initial dislike of the Soy Cappuccino was the fact that I am fussy with what I like for a 'milky drink' with soy milk, it wasn't a real indication of what the product is like!

With regards to the price of these pods, I find that the fact that the box comes with 16 pods in order to make up eight drinks it is a rather expensive everyday coffee. I think that our main family drinks will remain the black coffee options like Americano or Americano Intenso.

I am impressed that Dolce Gusto have come out with a soy option. Even though it is unlikely that I will purchase it, I know some people who have tried it and really enjoyed it. It certainly gives people who can't drink milk and option other than plain black coffee.
This Review: 10/10
Price:

Value for Money:

Taste:

Personal Choice:
I drink coffee two ways - black (short, long, espresso, in fact every way you can think of as long as it is real coffee with nothing else added) or with soy milk. So far I have drunk the soy version only occasionally because not many cafes offer it, and also because it tends to be VERY expensive. When I was told about the dolce gusto range and asked if I would like to try some of the products, I said it would be great if they were to include a version with soy milk - and miraculously, they do and I got to taste it.

It is difficult to describe just how welcome it is to find a drink like this at an affordable price but with no compromise in quality. There are many people like me who do not drink cows' milk but who appreciate a choice in their coffee selection. This product is up there with the very best commercially made soy coffee drinks, and now that I have a machine I intend to stock up on it!

When it first emerges from under the dispensing arm, the drink is topped by a layer of froth which looks very professional. Underneath is a rich, full bodied product with a hint of nuttiness and burnt caramel (although I could not find nuts actually listed among the ingredients). The level of sweetness is just right - not too sweet, but sufficient to bring out the coffee flavour. Altogether I think this is a taste that would appeal more to adults, and would be ideal as a dessert coffee or late night drink.

Having prepared it the first time exactly as directed on the pack, I tried two other variations. The first version was with caramel sauce drizzled over the top of the froth. This not only looked pretty, but added body to the flavour. Not that it needs any additions, but it does provide an extra dimension of taste. The second variation was to serve it as an iced drink. I was not sure whether or not I could prepare it using the cold water setting, so I made a hot drink in the usual way and then cooled it before putting it into the fridge to finish chilling. Before serving, I topped it with a pair of cherries hung over the edge of the glass. Unfortunately, it was so nice I remembered the camera after I had finished it. A coffee-flavoured not-quite-milkshake. Yum!

I can see people who normally drink their coffee with conventional milk trying this one to check it out. It is a very pleasant drink, and one which deserves a wider audience to appreciate it. I have already shared it with two of my friends, both of whom are very receptive to new flavours, and although they are confirmed cows' milk drinkers they did enjoy the opportunity to sample a product which was quite new to them.
Random listing from 'Beverages'...
Product reviews for listing 4453: Fruit Juice Orange With Fruit Bits -
Brand / Manufacturer: Bellich
Orange juice plus orange flesh sac get you feel higher freshness.
General Disclaimer...
All trademarks, images and copyrights on this site are owned by their respective companies.
KIWIreviews is an independent entity, part of the Knock Out News Group. This is a free public forum presenting user opinions on selected products, and as such the views expressed do not necessarily reflect the opinion of kiwireviews.nz and are protected under New Zealand law by the "Honest Opinion" clause of the Defamation Act of 1992. KIWIreviews accepts no liability for statements made on this site, on the premise that they have been submitted as the true and honest opinions of the individual posters. In most cases, prices and dates stated are approximate and should be considered as only guidelines.

"Did you ever notice that when you blow in a dog's face, he gets mad at you, but when you take him on a car ride, he sticks his head out the window?"
unattributed