Product reviews on kiwireviews.nz : Sunday 22nd May 2022 - 04:27:22
Score:

9.8

/

10

[

2

reviews]


ProdID: 7169 - Ko Terā atu o ngā tama


Author: Stephanie Thatcher
Price:

$19.00

Sample/s Supplied by:





Available:

June 2016
Ko Terā atu o ngā tama product reviews
Written in Te Reo - The Other Brother
Translated by Ngaere Roberts

Bertie McQuerty has three brilliant brothers. But Bertie isn't arty, or sporty, or clever. He's sick of being the other brother. What can he do that is brilliant?
This Review: 10/10
Price:

Value for Money:

ReReadability:

Personal Choice:
There is something very special about reading a book for the first time and sharing it with a pre-schooler. Our Mr Four is most receptive to stories, whether they are in English or Te Reo, and he likes nothing better than to snuggle up and listen while he looks at the pictures. His little brother does not yet have quite the same concentration span, but I have noticed a gradual improvement as he gets older!

Because Mr Four is the big brother, he found it interesting that this story deals with the "odd one out" in a family so we had to stop every so often to talk about the way he and Mr Three are sometimes different. As with the earlier books in this series, the pictures are just delightful. Mr Three was not visiting on this occasion so Mr Four had me to himself - which meant we could stop-start whenever he wished so that he could spend time looking at each illustration.

Both Mr Four and I thought the teacher was quite mean and was setting up poor Bertie to fail before he started - after quizzing him as to which brother he might resemble the most, she should not have been too surprised when he reacted negatively. We were both sad when Bertie tried to be like each brother in turn, and even at such a young age, Mr Four was able to process the way that Bernie might be feeling when he failed to measure up. It is not pleasant to be termed a loser and to be constantly compared to others. We actually took a break half way through the book and talked about the things that Mr Four is good at!

There is a delightful message in this story about the importance of self-esteem and the place of each family member within the wider whanau. Mr Four loved the illustrations and pointed out that when Bertie was being successful he was smiling so he must be feeling good about himself. The favourite picture, and one we kept returning to, was near the beginning where Bertie is rubbing his head against a trough while a fluffy yellow chicken looks on. This summed up for both of us where Bertie's true talent lay.

I hope there will be many more books in this series. This is the third we have read together, and it is pitched at just the right level for little ones. It is a bonus that a child who is growing up bilingual has access to quality publications in Te Reo. I did not speak Maori at all when I was his age; that came later and only when I was a teenager. It is wonderful to see him (and his little brother) enjoying books in both languages. By the time he starts school he will have a love of learning that will last a lifetime. Maybe that is his own pumanawa!
This Review: 9.5/10
Price:

Value for Money:

ReReadability:

Personal Choice: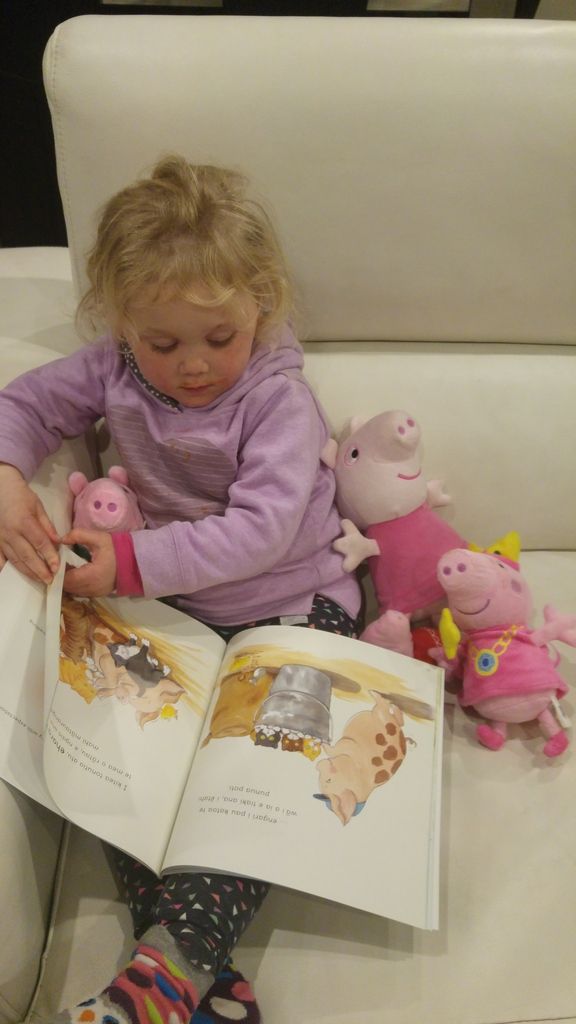 I really liked the look of this book, books based on animals are always so popular with children as much as with me. I was impressed to see that this book was available in both English and Te Reo, as Te Reo is such an important aspect of the New Zealand culture which I feel should be embraced in schools and early childhood centres with the younger generation so that it is not forgotten. I have to admit I am not the strongest speaker in Te Reo but as an early childhood teacher it is something that I am always looking to improve on, and there's no better to do this than through either book or song so this seemed an ideal book for me to review.

After doing a bit of research in regards to some of the words used in the book I felt comfortable being able to read the book to the children I care for, knowing that I could answer any questions they may have in regards to what I was saying in Te Reo, the glossary in the back of the book was very helpful in regards to this too. There were many words in the book that I was familiar with and recognized which really helped me, such as tama (boy), tuakana (older brother of a male) and whakapau kaha (to try hard). Luckily I also work with an amazing Te Reo speaking teacher so she was able to help me along the way as I read this book, and was also able to read the book wonderfully to the children at mat times herself.

Reading through the book and looking at the pictures I was impressed with how easy it was to work out the general story line. The book is about a group of pigs who are brothers, each of the brothers had something in which they were brilliant at, except for the younger of the brothers Bertie, who always was made to feel like he wasn't good enough. As his brothers continued to get praise for being brilliant Bertie continued to find something he could be brilliant at, finally his teacher found that he was brilliant at something which was being kind, Bertie was now known as the kindest brother.

This book had really important messages in it, and they were really great to talk to the children about such as that it is important to always try your best even though you may not be the best or most brilliant at it , and also that you should never give up you should always stay strong, as everybody has a special strength or skill sometimes it just takes a while to find out what yours is.

The children whom I shared this book really responded to the story, and loved the happy ending of Berite the pig finding something he was brilliant at, they loved that he was a kind brother as we are always talking about how important it is to be a kind friend and to be helpful to one another. This book opened up a whole lot of discussions around what we are good at, and how we can help and teach each other from our own special skills. The children and teachers alike loved the book the pictures were super cute and colorful, and it was so clear to see what was happening in them as they matched the words perfectly. The children I work with as well as my own daughters own Te Reo has improved since I've been reading this book, Miss 3 will often sit with a bunch of toys (usually pigs) and look through the book, speaking bits of Te Reo here and there which is neat to see.

This really is a great book, which the staff I work with agree will be a valuable teaching resource not only for extending our Te Reo skills, but also for using to teach children important messages such about important traits such as kind, caring, helpful and trying your best. The only suggestion I would have is to perhaps have the book written in both languages in the same one book, as this I feel would boost a adults confidence as they are reading it. I will be recommending this book to other teachers I know.
Random listing from 'Books'...
Product reviews for listing 7083: Marvel's Captain America: Civil War Special Edition Junior Novelisation -
Author: Chris Wyatt
In the aftermath of an unthinkable attack, the Sokovia Accords are drafted, declaring the Avengers responsible to a higher authority. While Iron Man sees the need for oversight, Captain America's fight against Hydra has taught him the danger of blindly putting his faith in those in power.

As tensions rise and the team starts to fracture, former friends are forced to choose sides.
General Disclaimer...
All trademarks, images and copyrights on this site are owned by their respective companies.
KIWIreviews is an independent entity, part of the Knock Out News Group. This is a free public forum presenting user opinions on selected products, and as such the views expressed do not necessarily reflect the opinion of kiwireviews.nz and are protected under New Zealand law by the "Honest Opinion" clause of the Defamation Act of 1992. KIWIreviews accepts no liability for statements made on this site, on the premise that they have been submitted as the true and honest opinions of the individual posters. In most cases, prices and dates stated are approximate and should be considered as only guidelines.

"How is it that we put man on the moon before we figured out it would be a good idea to put wheels on luggage?"
unattributed