Product reviews on kiwireviews.nz : Tuesday 29th November 2022 - 11:14:01
Score:

9.8

/

10

[

7

reviews]


ProdID: 7116 - Raspberry Vinegar


Produced by Castle Rock Cafe
Price:

$12.00 / 100ml bottle

Sample/s Supplied by:





Available:

via Online Store and selected quality retailers
Raspberry Vinegar product reviews

Works perfectly with any green salad leaves, use as a marinade for any red meat, pour over ice cream, drop into sparkling water or champagne.
This Review: 9.8/10
Taste:

Value for Money:

Number of Uses:

Personal Choice:
My friend makes her own Strawberry vinegar which is fabulous and I use it not only as a salad dressing but it's also a great sore throat remedy for small children (10-15 ml of hot water and 10-15 ml of vinegar). As my friend guards her recipe like the crown jewels, I was excited to sample the Castle Rock Raspberry Vinegar. The vinegar comes in a 100 mls glass bottle which has labels on the front and back. This allows you to instantly see the lovely rich red colour of the vinegar. The ingredients are simply raspberries, vinegar and sugar so you know there are no nasties and I love that raspberries is the main ingredient which would suggest a rich flavour.

The smell is gorgeous, obviously you can smell the vinegar but it's not overpowering and is complimented by the sweet smell of raspberries. I thought I would put it to the taste test first and get my children to sample with hot water (50/50 mix) and they both really enjoyed it and said it tasted very fruity! I next tried it on my salad and after tossing it around and letting it stand for 5 minutes, I tucked in! The taste was amazing and it gave my salad a wonderfully sweet and sour taste which certainly spruced it up!

I would certainly recommend Castle Rock's Raspberry Vinegar for flavour and taste and it certainly rates up alongside my friends homemade strawberry vinegar! Although a small bottle costs $12, a little goes a long way and for a quality and unique addition to your pantry, this is definitely worth the money!
This Review: 9.3/10
Taste:

Value for Money:

Number of Uses:

Personal Choice:
I have often read on menus meals including raspberry vinaigrette dressings but have never been game enough to try it. I love raspberries, and I love vinegar but I just wasn't quite sure how they would work in together. When the opportunity came up to try the Castle Rock Raspberry Vinegar I decided it was a good time to finally try it!

When my review parcel arrived I noticed this sitting inside. Not wanting to wait any longer to try it I opened up the bottle. I wasn't preparing any food, but just had to have a little taste. When the lid came off I took a sniff to see what the smell was like. Expecting it to smell like vinegar I was quite surprised - there was definitely the smell of raspberries, and not so much of vinegar. I dipped my finger into the top of the bottle and had a taste. Amazing! The taste of the raspberries is beautiful and it is balance perfectly with the sour of the vinegar. I was then kicking myself that this was something I hadn't tried earlier!

A couple of days later I made a simple salad to accompany our dinner. This salad needed a dressing so out came the Castle Rock Raspberry Vinegar. I got our the bottle and started to pour it on. Trying to pour just a little bit is a little difficult, it would be a little more practical in a bottle with a nozzle when using it for this purpose. I did splash a little too much onto my salad, but it was still beautiful. The flavour enhanced the salad even more - and left me wanting more salad! I certainly learnt that you only need a small amount, which makes it a little more worth the price as $12 does seem quite steep for such a small bottle.

All in all I will be using this product again. I look forward to finding even more ways to use it - it is definitely a flavour that is among the top of my favourite flavours!
This Review: 10/10
Taste:

Value for Money:

Number of Uses:

Personal Choice:
I was a bit apprehensive to request this Raspberry Vinegar to review, don't get me wrong I was definitely interested because I LOVE raspberries (it's my favourite berry), but I thought the vinegar would overpower the taste of the berries but WOW was I wrong! I can only describe both the raspberry smell and taste of this vinegar as exquisite, so deliciously yummy and enticing that I had to find more and more ways to use it in my meals.

The first way I tried the raspberry vinegar was added to iced water, it took a bit of time to get the mix just right; one glass of water mixed with 2 teaspoons of vinegar was just right for me. Then I splashed it over my green salad giving it a real zing, but the best way was over sliced strawberries! What a beautiful sweet treat that had the faintest hint of sour, my whole family loved their dessert that night that's for sure.

I think Castle Rock have created a fantastic product, my only recommendation would be for them to add a dropper type nozzle to the top of the bottle (it could be removed if need be) so when splashing it over a salad or drizzling on a dessert you won't be in danger of tipping too much on. I checked the Castle Rock cafe website and I see you can purchase online which is great for a South Islander like me and they have a range of fruity vinegars amongst many other offerings to choose from and I believe the prices are reasonable for such quality products. I have no hesitation recommending to others as I intend to purchase more of this in the near future!
This Review: 10/10
Taste:

Value for Money:

Number of Uses:

Personal Choice:
When it comes to food and cooking I love trying out new ingredients and experimenting with new flavour combinations. While I keep seeing fruit vinegar in the shops I have never tried it, since getting the raspberry vinegar to review I'm annoyed I hadn't tried it sooner. I think I have found a new favourite ingredient to play with. While the bottle is only 100mls it's clear a little goes a long way as I have tried it several different ways and still have a decent amount left in the bottle.

Opening the bottle for the first time I expected a vinegar smell but was surprised that it smelt just like raspberries. I couldn't help it I just had to dip my finger in to give it a taste, once again I was surprised while their was a little taste of vinegar the raspberries was the dominate flavour. Straight away I was thinking of different ways to use it. As I had already made a salad for dinner I poured on a little to try it out, it took a plain boring salad and gave it the wow factor! While it is sweet it has just a hint of sourness to it, it's the perfect balance of flavour.

The following night I decided to use it as a marinate for our steak for dinner. A few hours before cooking I brushed a little over each side of the steak and left it to do its job. Once again it brought the perfect balance of sweetness to the dish. After trying it with the steak I decided it would be great to drizzle through stir fries as well. So a couple of nights later I decided to give it a try, I was right - just a little tipped in near the end of the cooking gave a lovely fresh twist to the dish.

I am loving the raspberry vinegar and will be buying more for sure. I keep finding new ways to try it and I'm yet to find a dish it doesn't suit. From steak to a little drizzled into an apple crumble it has worked in all of them. I even decided to try it as recommended and add a little to sparkling water, I found I only needed a few drops to get the perfect flavour for me. Castle rock cafe have developed the perfect flavour balance in this tasty little vinegar.
This Review: 9.8/10
Taste:

Value for Money:

Number of Uses:

Personal Choice:
I was excited to try this Raspberry Vinegar by Castle Rock Cafe as it isn't something I would normally purchase myself so I was excited to see what I thought. I like the size of the glass bottle as its compact enough to hold easily in your hand, easy to pour, fits in tight spaces in my fridge and its about the right volume for us.

I wasn't to sure how this was taste and I read the suggestions on what to use it on. I thought I would take the easy way out and place it on a salad which I wasn't expecting to make it taste much different. Gosh was I wrong. The sweet yet sourish flavouring mixed together really well. It gave my salad that wow factor. I didn't use a lot on my salad but this is the type of dressing where a little goes a long way is true. It really livened up my salad and gave it that different burst of flavour.

I was intrigued to try this out in some sparkling water so I filled up my sodastream and popped in some of the raspberry vinegar. I had to use a decent amount so I could taste it but it was really nice. I found it to be really refreshing and would be a nice summer drink with a slice or two of lime added to it for a change or even made into a non alcoholic cocktail. I plan on trying this out in the summer.

I think the price is quite expensive but you don't need a lot of it so think it would last awhile. Unless you are adding it to sparkling water which uses a lot more. I would definately purchase this again and am looking forward to trying the other flavours in the range.
This Review: 10/10
Taste:

Value for Money:

Number of Uses:

Personal Choice: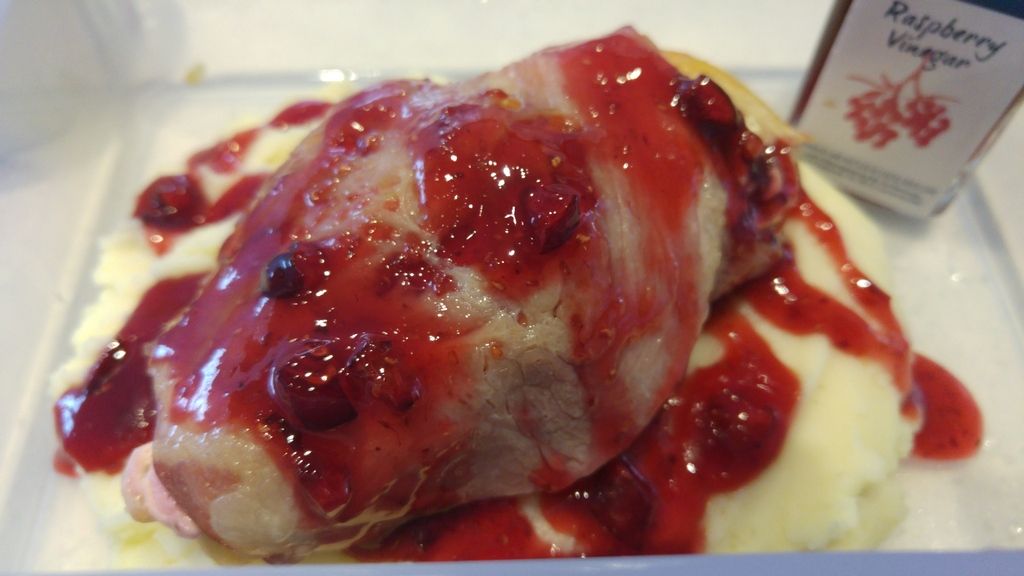 Raspberry vinegar is something that we always have a bottle of in our house as I just love it! When I saw that KIWIreviews had been given some raspberry vinegar from Castle Rock I was really hoping to give it a try, as it's always good to see if there's something better out there than that of what you are used to, and in this case I can happily say this was better, much better in fact!

The raspberry vinegar comes in a small, but very cute glass bottle which holds 100mls and while this may not seem like a lot, a little really does go along way and last a considerable amount of time, the expiry date on the bottle shows that it still has over a years use by date! Being a small bottle it makes it nice and easy to store in the fridge, which is another bonus.

Opening the lid and smelling the vinegar it smells just like raspberries, and being that the vinegar only contains raspberries, vinegar and sugar (in that order) it really is no surprise! I was looking forward to trying this out and so for my first initial taste I decided to simply drizzle a small amount over a mixed green salad, the flavour of the raspberries was just divine, it was sweet but this is exactly what I enjoy about such fruit flavoured vinegar's, the fruity taste and sweetness, i'm not a person who would pour balsamic vinegar directly over my food as I find it a bit to strong and bitter!

Trying this vinegar out further Miss 3 and I had made french toast for breakfast which was served with mixed berries, and so instead of using our usual maple syrup we poured some raspberry vinegar over the top, it made such a lovely combination and a nice change from our usual. Miss 3 loved it so much, and declared it her favourite out of all the 'sauces' (vinegar's) we had been given to sample, infact she has spent the past week enjoying this on her ice cream, yoghurt and even cereal!

For dinner tonight I decided to try this on a savoury dish, raspberry and cherry stuffed chicken. To make this I combined cream cheese, pine nuts, and cherries together as a stuffing for inside chicken breasts. I then wrapped the chicken in bacon and placed it in the slow cooker until cooked. When the chicken was cooked I whipped up a sauce using a tablespoon of raspberry jam, 2 tablespoons of raspberry vinegar, chopped up fresh cherries and some soy sauce. The chicken was then served on a bed of mashed potato and topped with a generous amount of sauce. The verdict was delicious! Though the sweet was sweet, the addition of the vinegar really helped to balance out the flavours and add a bit of a tang to it which everyone really enjoyed.

If you're a fan of fruit flavoured vinegar's this is well worth trying, not only ideal for salads, but also for so many other sweet and savoury dishes, anything goes together when you use your creativity!
This Review: 10/10
Taste:

Value for Money:

Number of Uses:

Personal Choice:
Raspberry vinegar... just the name immediately piqued my interest. I always think of vinegar as being something for cleaning or bee stings or the essential ingredient in a pavlova and I certainly don't associate vinegar with raspberries. I was really interested to see what this would be like. I love that the glass bottle is small so it wasn't a huge bottle that may not ever have been used. With only three ingredients of raspberries, vinegar and sugar this definitely ticks the boxes in terms of minimal ingredients with no hidden nasties. One thing I was interested to know however is what type of vinegar this was simply from a dietary perspective as my family can't have malt. Based on the colour I guessed it was probably white vinegar but I think that really the type of vinegar should be stated.

This wasn't something I was expecting to like and it sat on the shelf for a week or so. Miss Nine asked if she could have some on her pancakes for breakfast having read on the bottle that it could be poured on pancakes. Well I have to say she is now Raspberry vinegar's biggest fan. She absolutely loves it. My girls have been trying all the recommended uses and this vinegar seems to go with everything. It is a great addition to desserts especially meringues and cream and with yogurt and pancakes it is now a compulsory addition. We have used it with sparkling water also as a very subtle flavouring. It is very sweet but apparently only has 2.2g of sugar per 100 ml. We really do love this. It tastes perfect with sweet items but also with salads. The raspberry taste is so delicious and natural so you are just left with a sweet lingering taste of raspberries. I can really recommend this as a unique addition to the pantry. At $12 this is a little pricey but a little goes a long way and with such a unique taste this is well worth the price.
Random listing from 'Food'...
Product reviews for listing 8601: Tio Pablo Fiesta Tortillas - variety 12-pack -
Brand / Source : Tio Pable
Brighten up your next taco Tuesday with our mixed 12-pack of corn tortillas! Four varieties - blue corn, yellow corn, white corn, green jalapeno & chipotle - all in one pack!

Corn tortillas are a staple in authentic, Mexican cuisine. Used in a variety of dishes, such as tacos, enchiladas and even in soup, Tio Pablo tortillas are naturally gluten and dairy free. Tio Pablo bakes 5-6 days a week, using non GM masa harina flour. 15.5 cm (6 1/4 inch) diameter.
General Disclaimer...
All trademarks, images and copyrights on this site are owned by their respective companies.
KIWIreviews is an independent entity, part of the Knock Out News Group. This is a free public forum presenting user opinions on selected products, and as such the views expressed do not necessarily reflect the opinion of kiwireviews.nz and are protected under New Zealand law by the "Honest Opinion" clause of the Defamation Act of 1992. KIWIreviews accepts no liability for statements made on this site, on the premise that they have been submitted as the true and honest opinions of the individual posters. In most cases, prices and dates stated are approximate and should be considered as only guidelines.

"Who was the first person to say, 'See that chicken there... I'm gonna eat the next thing that comes outta it's bum.'"
unattributed