Product reviews on kiwireviews.nz : Friday 5th March 2021 - 04:21:45
Score:

9.8

/

10

[

5

reviews]


ProdID: 6072 - Kuwi's First Egg


Author: Kat Merewether
Price:

$19.99

Sample/s Supplied by:




Available:

via Online Store and selected quality stores nationwide
Kuwi's First Egg product reviews

Kuwi is a young and confused kiwi who has found herself alone with her newly laid egg.

She has never had an egg before...
This Review: 10/10
Price:

Value for Money:

ReReadability:

Personal Choice: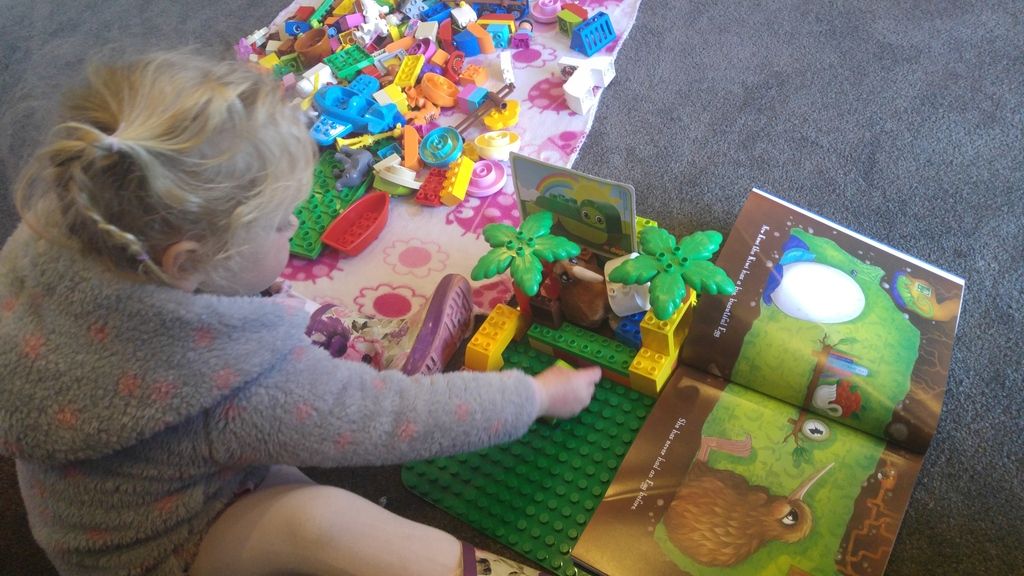 Kuwi's First Egg is the first book in the Kuwi series by Kat Merewether, there is also a second book Kuwi's Huhu Hunt both of which we own. Before purchasing these books I had heard so much about them via Facebook, everyone was raving about them so I knew that they were going to be on our to buy list.

Kuwi's first Egg is such a beautifully illustrated and well written book which follows the life of Kuwi the Kiwi who lays her first egg. It starts off with Kuwi being pregnant, and then goes through the process of Kuwi laying her egg, the egg hatching and of course the chick being born. As a Mother myself I could totally relate to the pregnant Kuwi, and the whole lot of uncertainty in which faced of being pregnant and having a egg for the very first time, as it is very similar to the fears and unknown that first time parents also face, how will you look after the baby, what will you do if the baby cries etc, it was much the same for poor Kuwi.

My daughter absolutely adores this book, the pictures are bright and colorful, and Kat Merewether has done a fantastic job at portraying Kuwi's feel.ings throughout. Being written by a New Zealand author there are lots of neat little pictures on each page that represent New Zealand and Kiwiana such as Kowhai flowers, Tuatara and Fantails,Miss 3 and I had a lot of fun looking all of the different objects on each page and she loved finding the little hidden spiders which featured on each double page at least once. There is a lovely addition to the story of Maori words which I like, it represents the Maori language nicely without being to much, just a simple word here and then which doesn't put you off reading the story altogether, Miss 3 loved telling me that kai meant food etc.

Kuwi wraps the egg in plasters when she see's it is beginning to crack and Miss 3 was most concerned about this, although was relieved when she realised that this was due to the baby chick hatching out. I'm pretty sure this was her favourite part of the story as she has a thing about plasters and is always using them herself in play to fix things up and hold them together.Miss 3 was also concerned about where the baby Kiwi's daddy was and so I had to use the opportunity to tell her that sometimes people only have either a Mummy or a Daddy but that that one parent loves them very much.

A very beautiful book which can not be doubted in anyway, I recommend it to every parent and daycare and think it would make a great present to send to a child living overseas, I can't wait to see if a 3rd book about Kuwi's adventures comes out.
This Review: 10/10
Price:

Value for Money:

ReReadability:

Personal Choice:
I was so happy when I received this book. Our canary has just laid three eggs so reading about another 'bird' that had laid an egg made it all the more real for my two girls. We giggled our way through the book as Kuwi came up with different ways to keep the egg entertained and we would compare it to what Olive is doing with her eggs. We are so lucky that we have Olive and Koby and not the crazy Kuwi.

All three of us loved the pictures and got excited when we found 'New Zealand' items like the picture of the Kiwi Fruit, the Manuka Honey or the Tiki to Kiwi picture. We all really enjoyed seeing the chrysalis hanging in the background and then eventually seeing a butterfly hanging in there as that is what has been happening with our Swan Plants. We also enjoyed the occasional Maori word as made it more representative of New Zealand and as my daughter is learning Maori words at school she was excited to be able to tell us what the words meant.

The story is so sweet and rather real. It must be very scary for animals, who do not know what is happening, and then all of a sudden have an egg they have to care for. You could feel the emotions coming through the pictures and you felt for her at the end when she thought the egg was broken. We all really enjoyed the story. Because the story is very repetitave it is great for young kids to read. My daughter now reads to my youngest and they love looking at the pictures together.

I think its such a sweet book and definitely be a family favourite even if its just to remind us how good of a mother Olive is. Mind you I don't think Olive will use sticky plaster when the eggs finally hatched neither will she cry I think she will just be happy to get off the nest.
This Review: 10/10
Price:

Value for Money:

ReReadability:

Personal Choice:
I was so excited to receive a copy of Kuwi's First Egg to review! I have seen this book mentioned all over Facebook and everyone who had read a copy was raving about it which just made me want one even more. I was slightly concerned that after all that hype I would be let down but I really shouldn't have worried.

As soon as I saw the big bright eyes of Kuwi on the front page my heart melted a little. She was such a cute wee Kiwi. The story is about Kuwi who has laid her first egg, and shows her trying to look after the egg the best that she can. It is very simple story with only a sentence on each page making it really good for young kids to learn to read with and adults trying to sneak in a quick story before bed!

I think the story shows what most woman go through when they are pregnant for the first time, worrying about eating right and making sure they are doing everything they can for the baby inside. My daughter thought it was really cute that Kuwi was so upset about the egg cracking and then on the next page it showed her newly hatched chick.

We took it into my daughter's daycare the next day so that she could share it with all her friends. They all absolutely loved it! The teachers came up to me and told me how well the story was written and how they loved the details in the pictures. They especially loved how the chocolate had huhu grubs in it and that it showed the kids how Kiwi's lay eggs and then hatch out of the egg. The maori words in the book were an added bonus for teaching the kids a couple more words that they could relate to a beautiful story.

I really liked how much care and effort was put into the images in the background and how they look similar to traditional Kiwi favourites such as the chocolate bar at the beginning, it really reminded me of whittaker's chocolate and the books on the bookshelf had familiar titles with a kiwi twist. One of my favourite background images was the birds hanging on the wall, it really made me laugh out loud, my husband did too. There is just so much to look at in every page that you can't get bored reading it because you always find something new!

I think it's safe to say that this book will remain a favourite for both my daughter and me for a while... until of course we get to read about Kuwi's First Chick?!
This Review: 9.0/10
Price:

Value for Money:

ReReadability:

Personal Choice:
I was rapt to open up my latest KIWIreviews package and see this gorgeous looking book, Kuwi's First Egg, in the box. My eldest two ( five and a half and three and a half) were clearly excited too, as immediately sat down and demanded I read it to them! This book is written and illustrated by an amazingly talented ( in my opinion ) lady - Kat Merewether. From the front cover to the very last page - with its explanation of some Maori items, it is an absolute pleasure.

What struck me first was all the attention to detail - all the little things that keep both the children and the adults interested in reading it. I loved the " NZ " touches - pohutuakawa, tiki's, choc huhu, wetas, and many many more ( I do not want to give away too many of the little hidden extras you can spot on your way through the book! ).

The story itself is about a Kiwi ( Kuwi is her name ) that is getting very big, and she then has an egg. She proceeds to care for the egg, worrying, like any mother would, about keeping her egg safe, dry, warm ( by knitting an egg onesie ). Ultimately the egg cracks - and Kuwi thinks it is her fault!!

My children ADORED this book and we have read it about 10 times since we got it. I love it - and think that it is a perfect gift to send overseas to NZ friends. The illustrations are adorable - Kat is a very talented lady! The book is great quality also - something that all parents consider!

I am so glad we received this book - and cannot WAIT for the sequel - which is due around October 2015.
This Review: 10/10
Price:

Value for Money:

ReReadability:

Personal Choice:
Tonight I told my girls we were going to read my new favourite book Kuwi's First Egg. Miss 5 told me it was her favourite too. This book is a real New Zealand book, not one that tries to cater for an international market and has some token New Zealand things. Everything about it is New Zealand including animals and some Maori words. I am often asked for recommendations of picture books to buy for gifts and this book would be top the list especially for a book to send overseas.

The story itself is very simple but sweet. There is only one sentence on each page. It is one all new mums can relate to, that of not knowing what to do and worrying that you are doing it all wrong. My daughters (5 and 6 years old) both thought it was hysterical that she didn't realise that eggs are meant to hatch and there was nothing wrong with it being cracked. The story ends perfectly placed for a sequel, which I really hope will happen.

The real strength of this book is with the illustrations. A word of warning: Don't think you can read this book quickly. There is so much that the children (and I) found on each page that we did lots of talking especially the first time we read it. There are several parallel stories happening in the illustrations. There are animals that have also burrowed underground and the pictures and ornaments in Kuwi's hole that made us giggle.

Kuwi is the most adorable looking kiwi with eyes that really show her emotions. At one stage she is in a puddle of tears and another the face of a proud mum. I really liked it that the focus was on her and not her chick. We never find out if the chick is a girl or boy and my girls were continually changing their mind as to which gender they thought the chick was.

My girls told me they want me to read it every night. To be honest by the end of the week they will be reading it to me since the text is so simple but I will happily listen to it over and over. Each time I read it I see something else in background I hadn't seen before. I don't think I will tire of Kuwi any time soon.
Random listing from 'Books'...
Product reviews for listing 7405: The Journey: How I Cheated Death And Cured My Diabetes In 21 Days -
Written by Ernest Quansah
Ernest Quansah almost lost his life to Type 2 diabetes. When he was diagnosed, the sugar buildup in his body had begun to seep from his tongue and the corners of his eyes as a sticky substance. Ernest's diabetes was managed medically with pharmaceutical drugs for two years, according to standard procedure. But after hearing from his doctor that Type 2 diabetes was curable, Ernest threw himself into researching the cause of the condition ... more...
General Disclaimer...
All trademarks, images and copyrights on this site are owned by their respective companies.
KIWIreviews is an independent entity, part of the Knock Out News Group. This is a free public forum presenting user opinions on selected products, and as such the views expressed do not necessarily reflect the opinion of kiwireviews.nz and are protected under New Zealand law by the "Honest Opinion" clause of the Defamation Act of 1992. KIWIreviews accepts no liability for statements made on this site, on the premise that they have been submitted as the true and honest opinions of the individual posters. In most cases, prices and dates stated are approximate and should be considered as only guidelines.

"Never invoke the gods unless you really want them to appear. It annoys them very much."
G.K. Chesterton