Product reviews on kiwireviews.nz : Monday 21st September 2020 - 17:54:30
Score:

9.5

/

10

[

6

reviews]


ProdID: 7043 - Alexandra's Moroccan Couscous - Olive, Sundried Tomato & Moroccan Spice -

Produced by Alexandra's
Price:

$6.95

Sample/s Supplied by:




Available:

at selected quality supermarkets
Alexandra's Moroccan Couscous - Olive, Sundried Tomato & Moroccan Spice product reviews
New Zealand olives with sundried tomato, Israeli couscous and Alexandra's Moroccan spices make an exotic dish as a meal on its own or as a side dish. Just add water.

Ready in 15 minutes.
Handmade in New Zealand
Serves: 4
This Review: 10/10
Taste:

Value for Money:

Visual Appeal:

Nutrition:

This Moroccan couscous has no artificial flavours or colours and the packaging is very minimal so its a complete win with me. The ingredient list is very simple having couscous, olives, tomatoes and mixed spices and salt. I love that the ingredient list is so simple without having lots of extras in it. This is as you would make it if you made it yourself (though way tastier than if I made it myself!)

As with the other couscous that I have had I followed the instructions and cooked with water (using slightly more than the two cups) simmering for about 8 minutes then let it sit whilst I prepared the rest of dinner. This is seriously the easiest meal to prepare and the longer it sits the tastier it gets.

The Moroccan couscous was really delicious. I had this with chicken and the flavours complemented each other perfectly. I loved the generous amount of dried tomatoes and olives and they were the perfect texture having sat for a while. It was even better the next day and the day after for lunch and as with the other couscous this definitely just improved as the flavours intensified in the couscous. At $6.95 I wouldn't buy this regularly but to be honest if I wanted to have a nice couscous dish I would rather buy this than try and make it myself as at least with this packet you know that it will taste really nice and be really impressive as opposed to making it myself from scratch and its just a bit below par!

If you want a nice side dish or a vegetarian dish to impress this is a great choice. Your guests will be impressed and wanting to know your secret recipe! I can definitely recommend this as with all of the other Alexandra's products.
This Review: 9.3/10
Taste:

Value for Money:

Visual Appeal:

Nutrition:
I have never been a huge experimenter with food I am such a picky eater and I get scared to try new things but I tried couscous at my mother in laws about a year ago and loved it. The particular couscous she got I believe was countdowns own brand morocco couscous. I have since bought this product regularly and it is something the whole family enjoy.

I was excited to try this couscous I love sundried tomato and olive flavours so this was really appealing. The first thing I noticed when I looked at the packet was that the couscous itself was a lot bigger than I was used to. The couscous I have had in the past has been a lot smaller grains if you like. The packaging was great you could see all the ingredients and seeing the pieces of tomato and olive showed that it was packed full of real ingredients.

I followed the packet instructions to cook this on the stovetop, when removing from the heat I noticed that the couscous still had a lot of water that hadn't been absorbed I just trusted that the time spent sitting covered would finish off the absorption. However when I went to serve I noticed it was still quite saucy. I wasn't sure what to do so served it anyway and I'm not sure if it was undercooked or just the larger couscous pearls but I wasn't a fan of the consistency.

I found them to be a bit chewy rather than soft and fluffy like the couscous I normally buy. I loved the flavours of the sundried tomato and olive but I could not finish my serving of the couscous due to the consistency. I do think this may have been a problem with the way I had cooked it so will try again at some stage as I have had friends and family try this couscous and love it.
This Review: 9.5/10
Taste:

Value for Money:

Visual Appeal:

Nutrition:
I have to admit I am loving these little bags of flavoured Couscous they can go with practically anything and are so easy to prepare. I am a sucker for an easy meal where I don't have to put in much effort but end up with a yummy flavourful meal at the end. I love that everything you need is there in one little bag, it looks appetising and it smells great too. Also it caters perfectly for our family.

Tonight on the menu we had Alexandra's Moroccan Couscous with Chicken covered in the remaining Mrs Rogers Moroccan Seasoning. I was a little concerned it would all be too much 'Moroccan' so I broke it up with Broccoli done in a butter and Parmesan Cheese sauce. The dishes all mixed it well and it did not matter what was on your fork as it tasted great. Actually just mixing the Broccoli in with the Couscous would be a fantastic meal on its own as this particular one had so much flavour that you could really taste - a little bit of spice but it was nice.

The Couscous is so easy to prepare, heat olive oil in pan, stir in couscous add water and wait to boil then simmer for seven minutes and that is it..... followed by simmering for seven minutes in its own steam - you don't need to do anything else. How simple, how easy, how devine. I will definitely be purchasing these little bags of gold in the future, probably not this flavour so much as out of the three that we have trialled so far this has been my least favourite. It is still yummy but just prefer the others especially the Mushroom, Pine Nut and the Moroccan Spice. I found this had more of a kick then the others.
This Review: 9.0/10
Taste:

Value for Money:

Visual Appeal:

Nutrition:
I have had couscous in the past but really wasn't keen on the texture, but I know that different styles of food can change everything and so I was keen to give this a try. Before tonight I had never heard of Israeli couscous (more that I didn't know that there was more than one version of this dish) and was pleasantly surprised at the finished shape and texture of this couscous. The bag is very handy, it comes with everything in a small sized bag and all you need to add is oil and water!

My mum likes couscous so I gave her a large helping and myself just a small one, the first bite was a delight as I found the texture to be quite nice (made me think of tiny pasta balls). I worried that the sundries tomato pieces might end up chewy but they didn't, a big plus. I ended up having seconds, putting salt on the second serving and it really made it pop, though it was nice either way. I forgot to add a dash of oil/butter at the end but the dish didn't need it, it was oily enough without this addition to the dish.

The packet states 4 servings, yet my mother and I have had quite a lot between is and there's enough left for my mum to a decent lunch tomorrow. I'm sure I will be grabbing this again, its a brilliant, quick and easy dish and can be the main show or the attraction.
This Review: 9.8/10
Taste:

Value for Money:

Visual Appeal:

Nutrition: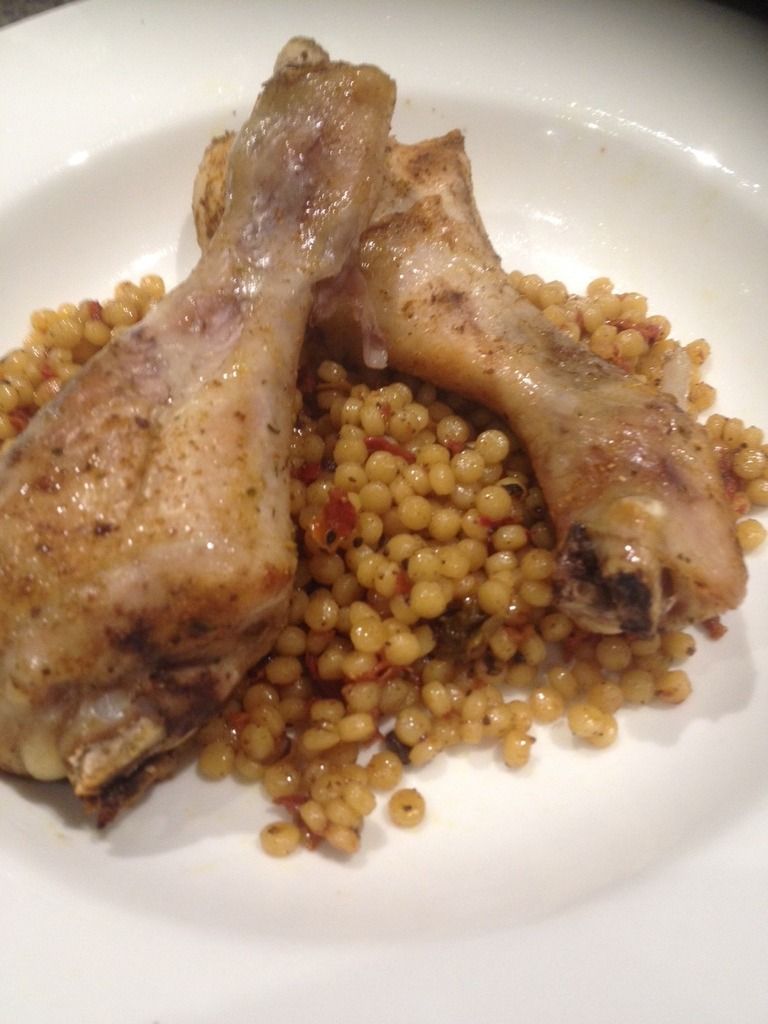 Israeli Couscous is a favourite in our house. Typically we have it plain with tomato and veggies on top as the kids like it that way. Every now and then it is nice to be able to have some that it a bit more 'adult' in taste and presentation. Alexandra's Moroccan Couscous combines our family's love of couscous with some flavours that I knew my husband and I would enjoy. The big question was whether the kids would enjoy it was well! I doubted it but I didn't care too much as it really caught my eye!

The package itself is visually appealing as you can see the layers of food through the clear bag. The ingredients listed on the back are simple and all items are recognisable as actually food! This is rather important to me and certainly a preference when it comes to feeding my family. The absence of artificial flavours and colours is important too. It is fantastic that it is a New Zealand product too. We love to support Kiwi businesses.

The first thing that I noticed when I wanted to open the bag was the fact that the easy tear opening was actually above the heat seal. This meant that I had to use scissors rather than just a simple tear. This wasn't a big deal but something worth noting. The next, and more important, thing that I noticed was the smell of the contents. Yummy! The sundried tomato and mixed spices were very pleasant to my senses.

Last night was the perfect night to try out this product. My husband had already got out some chicken drum sticks and seasoned them with Mrs Rogers Moroccan Seasoning. He was going to serve it with brown rice but I quickly managed to get him to change his mind. It sounded like a perfect plan to me to have Moroccan Couscous with Moroccan chicken! Preparing the meal was very simple. All I had to do was add a little olive oil and salt and pop it all into two cups of water in the pot. There was a suggestion to add some more oil but we decided that it looked like it had enough added at the initial stage of cooking. When we served it, we found that it could have done with a little more cooking and perhaps a little more water to allow it to cook more. Upon tasting it, we both agreed that there was plenty of oil in it without having to add the additional oil. The cooked product looked great and was very nice served hot. The verdict from the kids was that they weren't even keen to try it. I guess I will stick with the plain version for them and enjoy the fancy version with my husband!

We didn't eat all of the couscous last night, so that left enough to make a salad tonight. I added in some feta (as per the suggestion on the packet) and chopped tomato, cucumber and yellow capsicum. It made a tasty salad and would work really well for a plate for a BBQ or as a left over meal like we have just made.

I love the fact that this product is ready to go and so easy to create a delicious dish. It is a quality product which would be much more preferable to me than the prepackaged rice type products which can be purchased in the supermarket. It is one that I will consider again, especially on the odd occasion that my husband and I are dining without the children.
This Review: 9.5/10
Taste:

Value for Money:

Visual Appeal:

Nutrition:
Dinners can get a little bland in our house, this is normally due to time restraints and also not having all the ingredients for new dishes in the cupboard all at the same time. When seeing the Alexandra's Couscous I thought that this might solve those problems. All ingredients are in the one packet and 15 minutes to prepare I couldn't go wrong if I followed the simple instructions.

My family is rather new to Israeli couscous and I have struggled cooking this from scratch it the past and adding the right flavours. I do love the texture so was keen to find a way to incorporate this into our meals. I think Alexandra's has just solved this problem and also taught me exactly how this type of couscous should be cooked. This product is cleverly packaged in a clear bag allowing you to see the layers of ingredients - sundried tomato, olives and spice.

This was so simple to cook. A bit of oil in the pan, add the mix and some hot water and salt. After seven minutes cooking and seven minutes standing, my side dish was complete. I loved how you didn't have to stand over a hot pan while cooking and resting which gave you time to get the other items for dinner ready. There was not much of an aroma while cooking (this may be because the lid is on most of the time) but on tasting this the flavours of both olives and tomato were there. I originally had cut back on a bit of the salt they had suggested but found on a taste test that the whole 1/2 teaspoon actually brought out more flavours.

This was definitely an easy addition to our dinner that actually livened up the plate and added a new texture and flavour. This was a first for the kids and they have since nicknamed it pasta balls and they did enjoy this mixed with other things on the plate. I love how there is no waste with this product. The packaging is all recyclable, plastic can be recycled into the soft plastics bins and the cardboard label into the worm bin or paper recycling. This is definitely a big plus in our house. Will be looking forward to trying more flavours in this range.
Random listing from 'Food'...
Product reviews for listing 5608: Avalanche Coconut Sugar -
Brand / Manufacturer: Avalanche Coffee
Avalanche Pure Coconut Sugar is a natural product made from the nectar of the coconut palm tree.

It is an ideal natural replacement for regular cane sugar, perfect for baking and will dissolve in hot and cold liquids.

Avalanche Coconut Sugar has an amazing caramel flavour, is low-glycaemic, and full of micronutrients including amino acids, potassium, magnesium, zinc, iron and B vitamins. It is also Gluten Free!
General Disclaimer...
All trademarks, images and copyrights on this site are owned by their respective companies.
KIWIreviews is an independent entity, part of the Knock Out News Group. This is a free public forum presenting user opinions on selected products, and as such the views expressed do not necessarily reflect the opinion of kiwireviews.nz and are protected under New Zealand law by the "Honest Opinion" clause of the Defamation Act of 1992. KIWIreviews accepts no liability for statements made on this site, on the premise that they have been submitted as the true and honest opinions of the individual posters. In most cases, prices and dates stated are approximate and should be considered as only guidelines.

"Never tell people how to do things. Tell them what to do, and they will surprise you with their ingenuity."
George S. Patton (1885 - 1945)