Product reviews on kiwireviews.nz : Monday 13th July 2020 - 19:54:47
Score:

9.8

/

10

[

6

reviews]


ProdID: 7497 - Cable Camel - 6-cable pack


Brand / Manufactured by: Fun Foams
Price:

$9.90

Sample/s Supplied by:




Available:

via Online Store
Cable Camel - 6-cable pack product reviews
Cable Camel is the cable holder. They will hold electronics chargers, cables, cords, threads, earphones, lightweight tools, flowers and more...

Built with a strong adhesive that is damage free on finished woods, plastic, glass, Formica, and flat metals, it can also align your audio and TV cables!

Features:
• Designed and proudly Made in New Zealand
• Different cable sizes
• Strong double side adhesive
• Size adjustable
• Soft texture and light weight
• Damage free on most surfaces
• 100% money back guarantee
• Custom made design and sizes available

Available in a range of sizes and colours - see our website for more details.
This Review: 10/10
Style:

Effectiveness:

Value for Money:

Personal Choice:
As with any modern family we have lots of gadgets and that means lots of chargers and cables to clutter up the valuable bench space. Some of the chargers have needle thin ends so I don't want them in a tangle with the other chargers as replacing a charger for some tablets isn't an easy or cheap exercise. I have tried various methods of organising our charging space but nothing seemed to work for all of us.

When I saw KIWIreviews had the Camel Cable I thought this simple tool could be the answer to my clutter. It is a simple piece of foam that reminded me or the toe separators you use when painting your toenails. It has an adhesive back which you stick to your desk or wall and the cables fit into the slots. The one I got is for 6 cables and the slots are three different sizes. The packaging suggests you can use a sharp knife to cut it if you want a couple of smaller ones instead.

I don't know how durable it would be to regularly taking cables in and out but that wasn't what I was wanting to do. I wanted to have it as a hook to permanently hang my cables on so I could identify them easily and plug one end into the device and the other to the wall while still looped through the cable camel. I found the smaller holes were perfect for the iPhone lightning cables and the needle thin one I mentioned earlier. The middle size was great for the other chargers we had and the largest for a regular power lead.

I like how easy it was to install. No tools were needed, simply remove backing strip and apply. Then wait 4 hours (I left it over night) before using. At only $10 this is a handy gadget that I would get for places around my house. I am hoping that it will tidy the mess of cables I have for my computer too.
This Review: 10/10
Style:

Effectiveness:

Value for Money:

Personal Choice:
Wow let me just say this is a simple but very efficient wee invention. The cable camel has won a place in my heart and I will be ordering more to sort out the rest of the cables lying around our house.

I hate to admit it but in our household I think we own way too much gadgets, we have laptops, computers, tablets, phones, gaming machines. You name it we probably have it somewhere, which of course means chargers and cords everywhere! One of the main problem areas is beside my bed as I have chargers set up for my phone, e-reader and tablet. Also on my bedside table is a lamp and a scensty warmer which means it is usually a tangle of cords and I often have trouble finding the right charger.

As soon as my cable camel arrived I knew just where it was going on the side of my beside table. I quickly read the instructions which were clear and easy to follow. I peeled of the backing and stuck it on the side of my table and then left it till the next day. Once it was ready to add the cords I found it a little tricky to get some of them into the holder but that is a good thing it means they aren't going to be falling out in a hurry. Before long all my cords were neat and tidy and now I can easily find each charger as I need it. This product is a must buy for anyone who has loads of cords hanging around.


This Review: 9.8/10
Style:

Effectiveness:

Value for Money:

Personal Choice: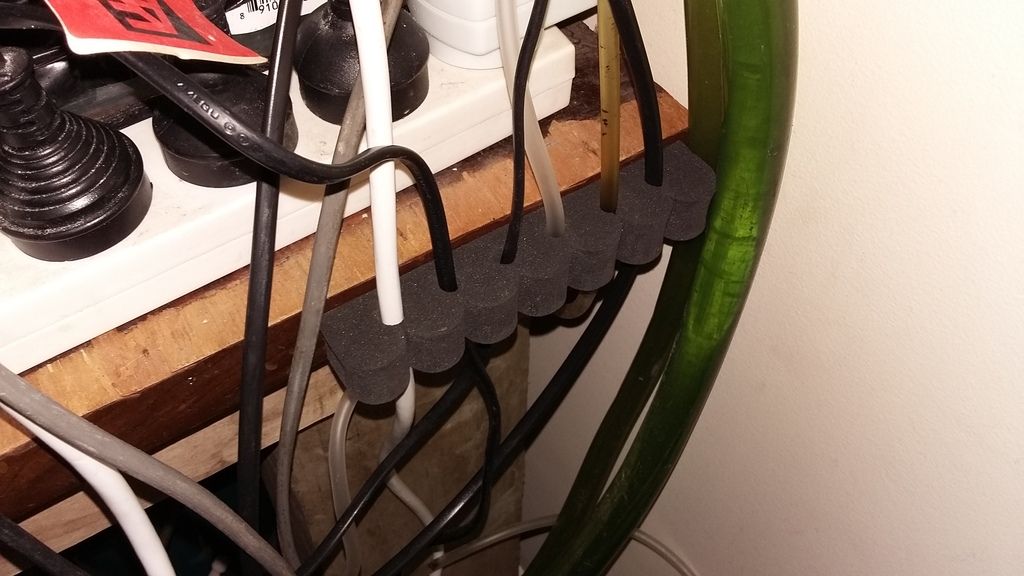 So it seems I looked at this product and decided I needed to give it a go for our bench to tidy up cables that were lying all over the place. It turns up here and my partner goes where you putting that, I told him next minute he has taken it read the back (very easy instructions to understand) and it was gone, gone from my sight, he decided he needed it for something else. He removed the back and stuck it to the side of the table which our fish tank sits on, and he left it overnight to do its thing of sticking, he was very impressed that it was easy to stick on and being made out of foam type fabric it hasn't actually broken when it pulled it.

He left it for over 12 hours, then decided to fill it with the cables, he said it is a little tight to get the cables in but once they are there it works really well, he said it's mint and works better than anything he has used before. He also then said, we need to get some more, so I guess we will be buying more of these, as we have other tanks, and need for kitchen areas as well. We like the idea that it is an NZ product and we are supporting an NZ company. He likes that it is really strong and even our 10-month-old can't get it off. The style of it blends into where we have it. So other colours you can match with where you are needing to put it, so it doesn't stick out as much. It has made it easier to find the right plugs for our fish tank, and made it a little tidier than what it was.
This Review: 9.3/10
Style:

Effectiveness:

Value for Money:

Personal Choice:
I'm lucky I even got to try this for our messy tangle of cords. There were so many twisted around each other and things were randomly getting unplugged. Not any more, this product helps not only keep them untangled and reduces the risk of fire but makes it easier to identify them all. The smaller holes don't hold the standard cords like TV, DVD etc but are fantastic for things like chargers, radios and even headphones. Being easy to cut also means you can personalise the holder to the size and location you want. We have found it didn't stick to all surfaces in our house, however this is not the fault of the product, more the roughness of the surface.

My biggest issue with this is that it only holds six cords, which is pretty minor when you can get them in 4 different colours. There was also a heated conversation about whether or not this would be suitable to hold fishing rods, if so it will revolutionise our household. When viewing the website to find out more I saw that they can make custom cable camels so I can see this becoming a well featured product on our furniture and around our house.
This Review: 10/10
Style:

Effectiveness:

Value for Money:

Personal Choice:
The Cable Holder has certainly found a perfect place our home. I am one that loves to organize and keep things tidy and orderly. I haven't in the past tried any cable holder products but do have an "electronics cupboard" in our pantry that has the plugs at the back, cords that go on and on and that is where our devices, camera, batteries, etc, all get recharged. Well.....with this little magic Cable Holder device I put it on the side of the cupboard, slipped through all the cords for the various devices and voila - neat and tidy, so easy to find which end I need for the device I am wanting to charge. It was easy to attach, light and the various sized cable holes made everything fit in perfectly!

It is inexpensive at $9.90 and has the quality that it will be long lasting. I love that this is a Kiwi designed and a Kiwi made product! I will be headed out to buy a few more so I can organized the cables behind the television, the computer room and unknown other items I will find it super handy to keep in order!

My husband and children are thrilled that they can find their cords so easily and I am thrilled that the cupboard of cords has become an organized area that is easy to use. I don't know how I didn't explore products like this years ago!
This Review: 9.5/10
Style:

Effectiveness:

Value for Money:

Personal Choice:
With so much technology available these days, you are left with cord galore and an absolute mess. Our television area has so much going on with Sky, DVD Player, Blue Ray Player, Speaker box, Xbox 360 and Kinnect, Television cords then our phone is also behind there and we just upgraded to Fiber so cords are coming out of the walls - like I said an absolute mess!

The reason I requested this was basically our Turtle, whenever she is out of her tank makes a bee line for the tv, climbs on the cabinet, slides down the speaker boom boom box and tangles herself in the cords - I hate it! I have tried to put obstacles around the cabinet but she just bulldozers right thru them and always finds a way to get behind it. So when I saw this advertised thru KIWIreviews I thought fantastic an easy fix. Well 90 minutes later, a lot of unused/unwanted cords (mainly internet/phone cords) were lying all over the floor we now have a beautifully clean space behind the entertainment unit.

The Cable Holder is extremely easy to use and although it has different sized holes we found the were perfect sizing and did not need to adjust them. We have attached the Cable Holder to the cabinet below the cord hole and all of the cords are perfectly set up. It looks amazing and just so clean - April will freak out next time she is out and about. One of our cats sat there and watched the carnage and once finished she jumped behind to investigate.

I think if you had your tv attached to the wall this would be perfect and would make it so much cleaner then having cords hanging all over the place. Alternatively, we considered using this in the kitchen where we all recharge out devices, but due to space constraints decided it was best to use behind the tv to save April from electrocuting herself or me at some later date.

We were impressed with its sticking ability as honestly I thought it would just fall off the cabinet but its been going strong for over a week now. In saying that it will be interesting when April is out next as she is a terror and if anyone/thing can pull something down it would be her, but due to the weather have not had her out for a while.

To be honest my husband commented that using a twisty tie could possibly have done the same job so not sure I would actually go out and buy one myself. I find the price a little steep but in saying that I am just over the moon with how clean it all looks. I think the real test will be when we upgrade and get a tv that we can stick to the wall as I detest going to friends houses and seeing grotty cords. If this looks as good as I think it would then I will be yelling from the roof tops about it.



Random listing from 'Hardware'...
Product reviews for listing 2285: Screw Extractor

Brand / Manufactured by: ADMAN
Remove stubborn screws without the damage!

The Screw Extractor with bonus milling bit is the ideal solution for effortlessly removing stubborn damaged screws without damaging the surrounding area.

Three unique screw removal attachments mean the Screw Extractor adapts to every type of screw making complicated D.I.Y ... more...
General Disclaimer...
All trademarks, images and copyrights on this site are owned by their respective companies.
KIWIreviews is an independent entity, part of the Knock Out News Group. This is a free public forum presenting user opinions on selected products, and as such the views expressed do not necessarily reflect the opinion of kiwireviews.nz and are protected under New Zealand law by the "Honest Opinion" clause of the Defamation Act of 1992. KIWIreviews accepts no liability for statements made on this site, on the premise that they have been submitted as the true and honest opinions of the individual posters. In most cases, prices and dates stated are approximate and should be considered as only guidelines.

"Ever notice that 'what the hell' is always the right decision?"
Marilyn Monroe (1926 - 1962)