Product reviews on kiwireviews.nz : Sunday 20th September 2020 - 13:08:39
Score:

7.0

/

10

[

2

reviews]


ProdID: 7352 - Klutz - Nail Charms


Brand / Manufacturer : Klutz
Price:

$27.00

Sample/s Supplied by:




Available:

October 2016
Klutz - Nail Charms product reviews
Accenting the success of previous Klutz nail books, Nail Charms takes manicures into three dimensions with adorable nail charms. Themed designs show you how to add charms to you nails for some extra bling.
This Review: 6.0/10
Value for Money:

Contents:

Functionality:

Personal Choice: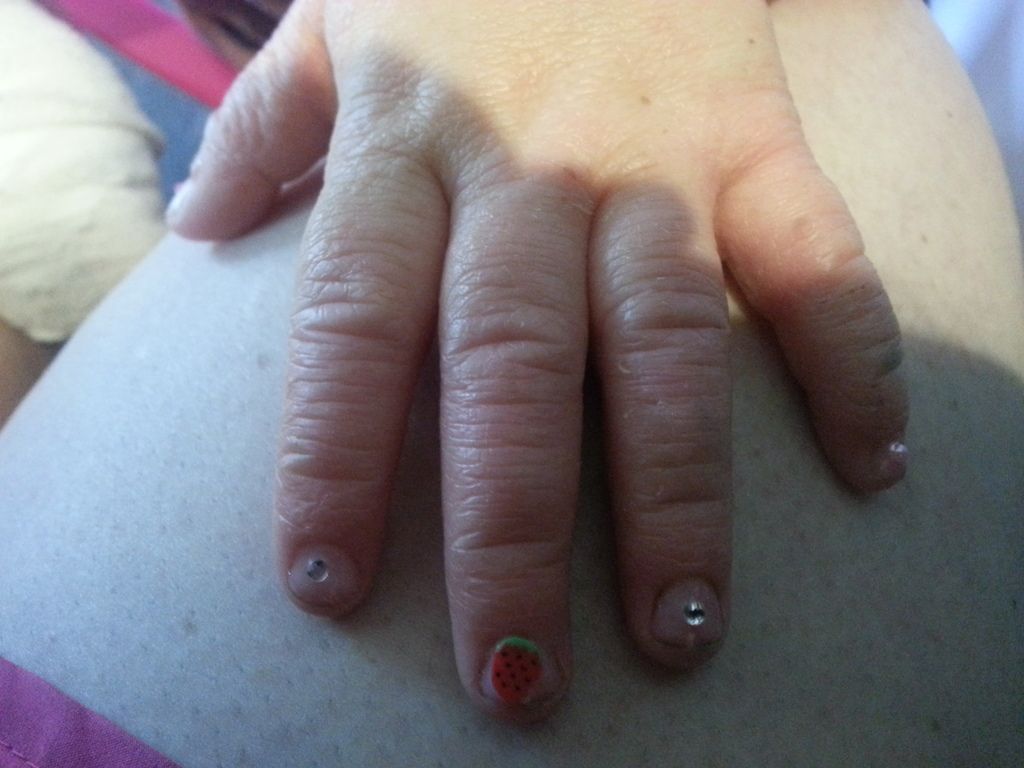 Miss 3, nearly 4 has been begging and begging me to buy her nail polish for the last few months, however seeing as Christmas is fast approaching I kept putting it off thinking that a little set of nail polish would be perfect as a stocking filler. However when I saw the amazing looking Nail Charms kit by Klutz come up for review I put my hand up for it straight away as it looked amazing with all the little gems, sparkles and charms and I knew without a doubt that it would be something Miss 3 would simply love, and simply love she did however she also was simply disappointed, upset and frustrated by this product as was I.

Like with all of the other Klutz products we have tried before (and loved) this kit comes with a beautifully illustrated book, complete with instructions which are simple to follow with step-by-step pictures and helpful tips along the way. It also includes a tray of beautiful charms, glitter, mini pearls and gems, studs and nail glaze as well as several tools for helping to apply the polish and the little gems. All of these are set in a little plastic tray with a removable lid which does look very beautifully presented with each in there own little compartment, however upon opening they unfortunately were easily mixed together and muddled which was quite a shame, I feel that have a container with little compartments with their own lids would have been a lot more suited.

Miss 3 obviously couldn't wait to get her nails done, flicking through the book she selected the design she wanted, strawberries. We gathered out all of the needed jewels, but then I quickly realised we had a problem, we didn't own any nail polish other than one very pale purple kids polish, not ideal for strawberries. Flicking through the pages of the book I finally read that this pack does not come with the nail polish which to me was an absolute shame, the whole reasoning of wanting this pack was for getting Miss 3 some nail polish, however this wasn't something noted on the front of the box for me to see as a needed extra. Instead I suggested to Miss 3 that we could make up our own nail designs using what came with the set and she somewhat agreed. We brushed each nail one at a time with the purple polish and then added some of the beautiful gems and charms, which we then brushed over with the varnish.

Although the nails looked very cute with the attached charms and jewels they sadly did not fit right on the nails at all and fell straight off, thinking perhaps this was due to the size of Miss 3's nails I tried them out on mine only to have the same thing happen. This is a set with so much potential I feel, but perhaps adding a nail polish or 2 could be helpful! Miss 3 still loves the set and asks almost daily for some of her nails to be done, so we will keep this kit until Santa arrives where we will be able to play around with it a bit more with some coloured nail polish, hopefully with some better results.
This Review: 8.0/10
Value for Money:

Contents:

Functionality:

Personal Choice: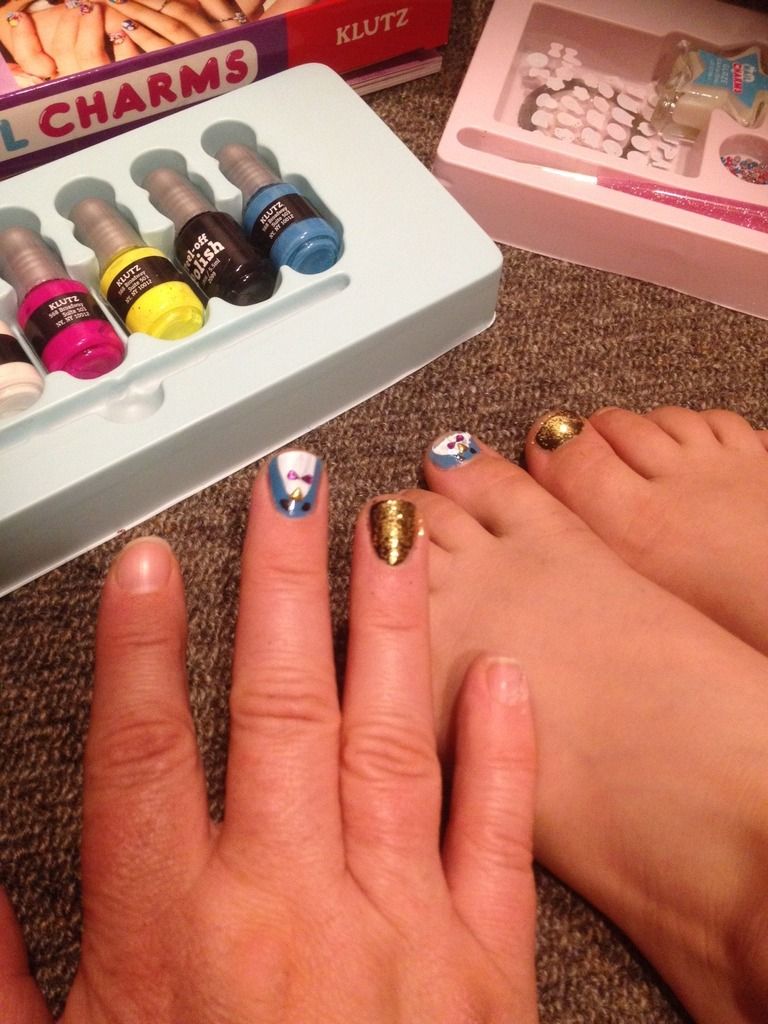 I have enjoyed so many different Klutz products now and I am always keen to try another one. Last year my daughter and I had a lot of fun with 'Nail Art' by Klutz and 'Nail Charms' seemed like a logical next step.

Miss Four was so excited to see what we could do with the kit. The outside of the box looked extremely enticing. She wanted to get into the box straight away. When we opened the kit with the charms, glitter, glaze, tool etc, I realised that it was going to be very easy to knock the bits and pieces out of the container. After using the kit, I think that the packaging could be improved somehow so that it is easier to get the small pieces out. I find that when I buy beads for my daughter they often come in a hard plastic case with a lid on it and the pieces are not so easily messed up.

As with the other Klutz kits, this one comes with a book and resources required to create a variety of designs. As always the instructions and diagrams are well presented. As we read through the instructions, I found that a lot more resources were required than were included in the kit. Nail polishes are included in the designs and instructions but are not included in the kit. They are listed as additional items that you will require to complete the designs. I think that this is something really important to note as I usually expect most items to be included in a Klutz kit. The 'Nail Charms' kit is one that wouldn't be ideal to pick up to take on a holiday if you are expecting to have everything in the box. I think that it would be a good add-on if you already own the 'Nail Art' kit rather than a totally standalone kit.

Miss Four has very short nail beds and therefore it was rather difficult to actually try any of the designs on her. In the end I used her big toes to put designs on. She was pretty happy with that. I think that it would be more ideal to use the kit on an older child simply because of the size of the nails available. I also tried to create some of the designs on my own fingers; however I found that my nails were a bit too rounded for the charms. I found that they didn't sit very well on my nails. I think that my nails were too thick and had no flexibility. My husbands nails are quite flat; however he wasn't keen on the idea of me doing his nails!

Miss Four and I had some fun playing around with designs. I think that I need a lot more practice to get the designs looking anything like in the book! The book suggests setting up your workspace so that you set out the charms etc that you wish to use in a little tray or something. I think that this a very important step, especially considering the fact that the gems are quite hard to get out of the tray that they come in. I found that if I wet the end of the tool which comes with the set, I could use it to select the charms that I wanted and get them out of the kit.

I found that some of the gems were too high when they were attached to the nail and therefore came off very easily as they got caught on things. The main fun that Miss Four and I experienced with this kit was creating the designs as we found that we couldn't expect them to stay on our fingers very long. The designs on Miss Four's big toe seems to stay for a much more reasonable amount of time. I had a go at adding glitter and found that that did adhere really well to the nail. The glitter seemed to stick to the nail polish wherever it wanted, rather than just where I had applied the glaze. I didn't manage to get the results shown in the book. Regardless of all this, Miss Four loved the set and today I found her applying her own designs to her nails all by herself. She was very happy with the creations she was making.

Although I am a huge Klutz fan, this isn't one of my favourites. Perhaps someone who is really good at dealing with small designs might be more successful than I was. I will be very interested to see how other people get on with the kit. NB: The picture that I have attached to this review shows a photo which includes the nail polishes form the 'Nail Art' kit as will as items from the 'Nail Charms' kit.
Random listing from 'Arts and Crafts'...
Product reviews for listing 7015: Color-in Stained Glass -
Brand / Manufacturer : Klutz
Children will enjoy fun coloring and decorating their rooms with this kit from Klutz. Featuring color-by-number pages, the kit makes it easy to create cool and colorful art to hang in the windows. The pieces are perforated to ensure clean edges.

Manufacturer's Suggested Age: 8 Years and Up
Educational Focus: Creative Thinking
Material: paper
Includes: Paper
Number of Pieces: 15
Level of Difficulty: ... more...
General Disclaimer...
All trademarks, images and copyrights on this site are owned by their respective companies.
KIWIreviews is an independent entity, part of the Knock Out News Group. This is a free public forum presenting user opinions on selected products, and as such the views expressed do not necessarily reflect the opinion of kiwireviews.nz and are protected under New Zealand law by the "Honest Opinion" clause of the Defamation Act of 1992. KIWIreviews accepts no liability for statements made on this site, on the premise that they have been submitted as the true and honest opinions of the individual posters. In most cases, prices and dates stated are approximate and should be considered as only guidelines.

"I like to pick up hitchhikers. When they get in the car I say, "Put on your seat belt. I want to try something. I saw it once in a cartoon, but I think I can do it."
Steve Wright