Product reviews on kiwireviews.nz : Saturday 30th May 2020 - 20:48:48
Score:

8.0

/

10

[

2

reviews]


ProdID: 7331 - Me and Moo & Roar too


Author: P Crumble
Price:

$27.00

Sample/s Supplied by:




Available:

September 2016
Me and Moo & Roar too product reviews
This is me, and this is Moo. And THIS is Roar. Moo has been part of the family for a while now. It was quite a surprise when Roar came to live with us too! Meet Me and Moo's new friend, Roar.

He likes dressing up, using Mum's hairbrush and sneaking snacks from the kitchen. But that's not all - Roar SNORES! What will Mum and Dad have to say when they find out Roar has come to stay too?
This Review: 8.0/10
Price:

Value for Money:

ReReadability:

Personal Choice:
I choose to review Me and Moo and Roar too as the cover really appealed to me. The cover is fun, bright and full of gorgeous illustrations. At first I read to book to myself to get a feel for it before reading it to my children. While reading it I didn't really click with the storyline and thought perhaps this is a sequel to a previous book so I did some research and found it is in fact sequel to Me and Moo. I read that Me and Moo is about "Me" a little boy who tells the story of him and his imaginary friend "Moo". After knowing this, the story made a lot more sense to me.

The story is about a young boy Me, who gets sent a present for his birthday from his uncle who works at the zoo which turns out to be his new friend Roar. The story talks about the day-to-day adventures Moo (Me's older friend) and Roar (his new friend) get up to together. As time goes on Roar's snoring gets louder, and he starts getting into trouble so they send him back to the zoo to live. It's nice to read a story that is about a child's imaginative play with his make-believe friends.

The book is full of cute, interactive illustrations that both my children and I enjoyed. The illustrations start of by showing Me is really happy with his new friend Roar. But as time goes on and Roar starts getting noisy and up to mischief, the illustrations show Me getting upset by his new friend Roar. So as a family they decided Roar should go live in the Zoo with the other animals. The story ends with Me being happy again, once Roar is living at the zoo. I love the emotions the illustrations show and they go really well with the story line.

Overall I feel the book is a great read. The storyline keeps you interested in finishing the story and is a good read for children. I think personally this book is suitable for younger children up to 5 years old.
This Review: 8.0/10
Price:

Value for Money:

ReReadability:

Personal Choice: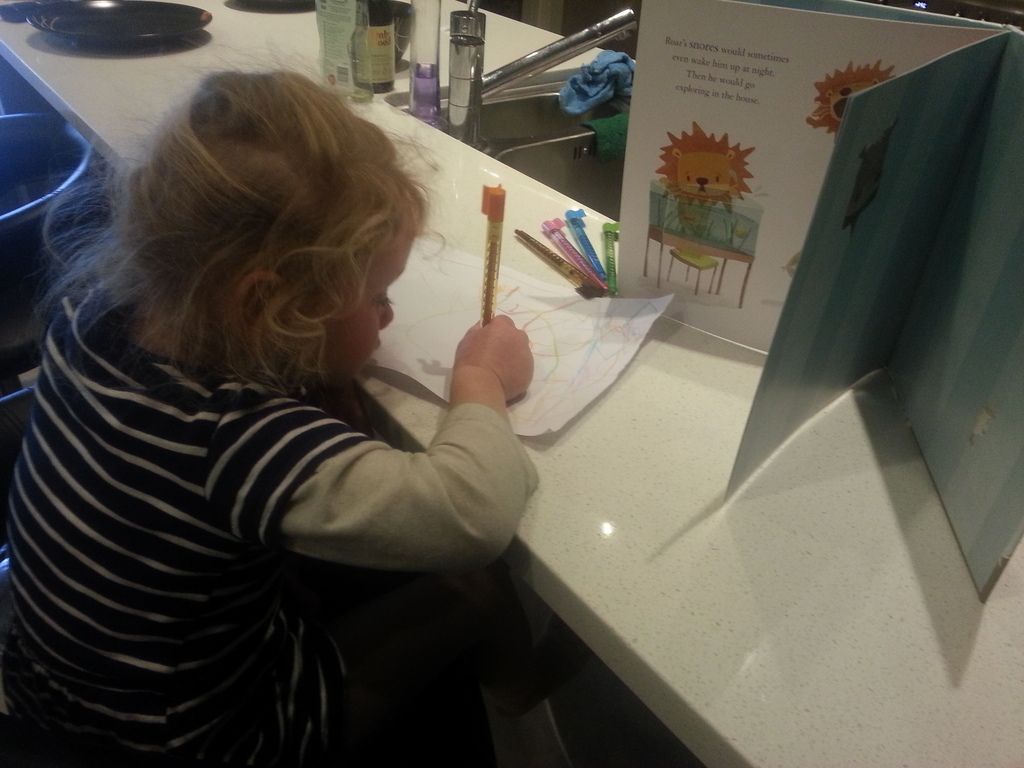 Me and Moo & Roar too is a gorgeous wee book with a hardcover. The story itself is quite short and simple making it suitable for younger children about 4 years and under. The cover of the book shows a cute picture of the main characters in the story Me, Moo and Roar, all of whom are great friends. The book follows the trio and shares the antics and adventures which they go through together in day to day life.

I thought that this was a lovely little book, however Miss 3 who has never really turned her nose up at a book before told me that she "doesn't like it", asking her why she couldn't really tell me, other than that she thought it was silly. This did surprise me a bit as she usually is a huge fan of books about animals and anything to do with the zoo, I must admit although not a fan of the story itself she did find it great for practicing drawing animals from. The older children at work, who are about 4 years old also didn't really seem to taken by this book, some of them said they thought it was a bit babyish for them, and that the pictures looked like they were for little kids, though I tend to disagree. I decided to share this book with my babies room to get their reaction to the book and I can tell you they loved it, they really related to the illustrations and loved the little red trolleys and the bike on the front cover, and 'Moo' was a hit with them as they love cows, and are constantly looking at the cows in the neighbouring paddocks.

The book was easy to read and short enough for younger children to sit through, the story is told through the voice of 'Me' as the main reader, who tells us what his friends love to do and shares their funny stories with us. I felt the story was easy enough for young children to follow and understand and love that it in a sense reflects what it is like to grow up and become bigger. The book had several good messages in it such as sometimes you have to let go of a love pet, as much as it may hurt as it is the right thing to do and also it showed the importance and value of friendship. The book features several funny parts such as when Roar snores louder and louder, this was a hit down in the babies room and caused lots of laughter and snoring children!

This is a lovely book, though I do feel the price is perhaps a bit steep even though it is a hardcover. This would make a great story book for a younger child, perhaps for a first birthday or christmas present. Not my favourite but one i'll gladly enjoy reading lots more I am sure.
Random listing from 'Books'...
Product reviews for listing 812: Zoom!

Author: Jonathan Emmett & Christyan Fox
5... 4... 3... 2... 1... GO!

Race along with Cat and Dog in five fabulous pop-up machines!

Car... Train... Boat... Plane... Rocket...

General Disclaimer...
All trademarks, images and copyrights on this site are owned by their respective companies.
KIWIreviews is an independent entity, part of the Knock Out News Group. This is a free public forum presenting user opinions on selected products, and as such the views expressed do not necessarily reflect the opinion of kiwireviews.nz and are protected under New Zealand law by the "Honest Opinion" clause of the Defamation Act of 1992. KIWIreviews accepts no liability for statements made on this site, on the premise that they have been submitted as the true and honest opinions of the individual posters. In most cases, prices and dates stated are approximate and should be considered as only guidelines.

"Why does someone believe you when you say there are four billion stars, but check when you say the paint is wet?"
unattributed