Product reviews on kiwireviews.nz : Thursday 28th May 2020 - 19:19:26
Score:

9.5

/

10

[

2

reviews]


ProdID: 7330 - Thelma the Unicorn Boxed Set Mini HB + Plush


Author: Aaron Blabey
Price:

$29.00

Sample/s Supplied by:




Available:

October 2016
Thelma the Unicorn Boxed Set Mini HB + Plush product reviews
Oh, Thelma looked amazing.
She was a unicorn!
'I'm special now,' she cried out loud.
And so, a star was born...

Thelma is an ordinary pony who longs to be more. One day, she spots a carrot on the ground and comes up with a brilliant idea. She ties it to her head, just before a skidding truck spills pink paint and glitter all over her. Presto - Thelma is a unicorn! Thelma quickly rises to fame, but does she really want all the attention? Or would she be happier as her old self again?
This Review: 9.0/10
Price:

Value for Money:

ReReadability:

Personal Choice:
My daughter is really into her books and soft toys. She loves to snuggle up in bed with a soft toy reading a book and this is usually the position I find her sleeping in when I go in to check on her before I go to bed. It's for this reason that I requested to review this Thelma the Unicorn Boxed Set and I don't think I made a mistake with my choice at all. When it arrived and my daughter saw it her eyes immediately lit up and she asked if she could have the toy and read the book straight away.

I read this story to my daughter and her friend, both 5 years, my son, 3 years, and his friend, 2 years and while I was reading they each had a turn holding Thelma the soft toy. The story is something almost everyone can relate to. It's about a horse who always dreamed of being a unicorn and through some unexpected circumstances she gets the opportunity to try it out. At first she loves being famous but eventually she realises that it's not all fun and games and she misses her friends so she decides to go back to life as a horse.

White I did managed to maintain all of their attentions for the whole story which is a massive feat in itself, I'm not entirely sure they quite grasped the concept of the story. After I'd finished reading I asked them each to show me their favourite page and the girls immediately pointed to the pictures of the pretty pink unicorn and both the girls still wanted to be a unicorn. The boys liked the pages with the horse but I think that's got more to do with the horse being an animal they easily recognised.

After the second time reading it to just my daughter this time, I really felt like she understood the story. She was saying how mean the people were who were being mean to Thelma the Unicorn and asking why she didn't just stay with her friend to start with.

I really like the theme of this story and I'm sure it's going to be a favourite among my kids. The bonus soft toy is the icing on the cake and I've often found my daughter sleeping with or reading stories to Thelma. I would definitely recommend this book set to anyone looking for a book for a child who likes to pretend, which is basically any child that I've ever met.
This Review: 10/10
Price:

Value for Money:

ReReadability:

Personal Choice: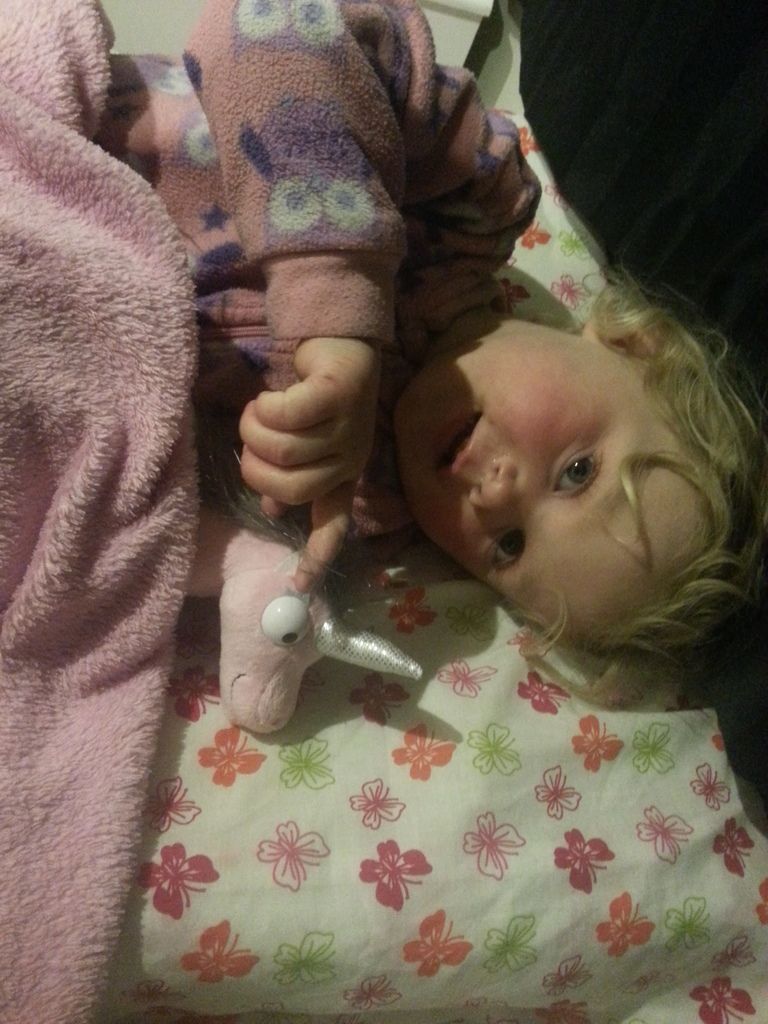 Aaron Blabey is an amazing author whose books I absolutely love. When I saw the boxed set of Thelma the Unicorn up for review I knew I had to grab it as Miss 3 is crazy about unicorns, ponies and anything pink! This particular set comes in a gorgeous gift box, complete with a smaller hard cover copy of the story 'Thelma the Unicorn' and also an adorable soft toy of a unicorn, which looks just like the unicorn in the story, Thelma.

Miss 3 was over the moon and jumping up and down excitedly when she saw this in my review package, without any thought she was asking me to open it straight up and read it. I hadn't heard of this story up until now so I happily agreed to sit down and read it to her as she cuddled up to her new special toy. The pictures in the book were beautifully presented and I love her Thelma was made to look as though she was sparkling. The story has such a beautiful message to it "to always love who you are". Throughout the story, Thelma who is a horse wishes she could be a unicorn, even though all of her friends said they loved her as she was. One day Thelma's wish comes true and she becomes a unicorn which leads her to becoming famous, while Thelma loves this life for a while she soon realises that being famous really isn't that great after all and so goes back to being herself. Miss 3 loved that Thelma turned into a unicorn, and of course told me that "when I grow up I want to be a pink unicorn", I love that Thelma showed how important it is to be yourself, though sometimes it is okay to pretend and make believe that you are something for a while, this is something I feel quite strongly about as an Early Childhood Teacher.

Taking this along to my daycare the 3 and 4 year olds really responded to and loved this story, they didn't like that Thelma ended up feeling quite sad and so alone and so thought it was good that she could just go back to being a horse. This book was the perfect level for them to be able to relate to and understand and the staff loved the message behind it and have spent quite a lot of time reading this story to the children and talking about it to them. One of the children at the centre turned 5 the other day and so as her leaving present she gave the centre a copy of this book, only a larger paperback copy, this was such an awesome gift for us to receive and I am sure a book we will always treasure.

This book is one I will read to my daughter often as it is so important that she knows how important she is as she is, and that she knows she shouldn't have to change to impress others. I plan to buy this gift set for my unicorn loving 5 year old niece for Christmas, and I also know a lady at work wants to get it for her niece as she was asking just the other day where to buy it from. An amazing book that gets a 10/10 from me.
Random listing from 'Books'...
Product reviews for listing 2719: Dinosaurs Life Size

Written by Darrin Naish
Packed with incredible facts and stunning images, "Dinosaurs Life Size" brings to life the most terrifying, infamous and fascinating dinosaurs from land, sea and air.

This lavishly illustrated book takes an in-depth look at their true size, combining life-size images of their bones, claws, horns and teeth with amazing statistics on height, weight, speed, lifespan and habitat.

The book also compares dinosaurs to humans, ... more...
General Disclaimer...
All trademarks, images and copyrights on this site are owned by their respective companies.
KIWIreviews is an independent entity, part of the Knock Out News Group. This is a free public forum presenting user opinions on selected products, and as such the views expressed do not necessarily reflect the opinion of kiwireviews.nz and are protected under New Zealand law by the "Honest Opinion" clause of the Defamation Act of 1992. KIWIreviews accepts no liability for statements made on this site, on the premise that they have been submitted as the true and honest opinions of the individual posters. In most cases, prices and dates stated are approximate and should be considered as only guidelines.

"Biologically speaking, if something bites you it's more likely to be female"
Desmond Morris