Product reviews on kiwireviews.nz : Tuesday 7th April 2020 - 22:41:25
Score:

9.7

/

10

[

3

reviews]


ProdID: 7311 - The Bee's Sneeze


Author: Lucy Davey
Price:

$19.00

Sample/s Supplied by:




Available:

October 2016
The Bee's Sneeze product reviews

A new flower has appeared in Willowomp Wood - an enticing bloom from the Tootletuff fig. First Buzzy McBee decides to check it out... but it makes her sneeze!

The force of the sneeze shoots her into the arms of Monkey Minx, who tries to help but also succumbs to the sneezes... and then they both find themselves bumped into Barefoot Bear. But what does crafty Crocodile have in mind?
This Review: 9.0/10
Price:

Value for Money:

ReReadability:

Personal Choice:
I decided to give the book firstly to my husband and 5 year old to gauge their reaction to this wonderfully front covered and attention grabbing book. Not even a minute had gone by and laughter erupted from her bedroom, and didn't end!

The pictures were clear and bright and worked in well with the story, making the hard, made-up words easier for us as parents to get the story flowing. The rhyming and rhythm made the story so much fun and easy to follow...even though the made-up words were hard and our (just turned) 5 year old couldn't figure out the words, it did help with her sounding out letters and made her give it a good go!

The font used was great for learning to read; it was big and bold and in simple type so easy to recognise. The story got to the point quickly and kept the attention of both a 5 year old girl and a 30 year old man for the entire book...not an easy feat! The sound words were the ones that made the most laughter...somehow AH-CHOOO is the most hilarious thing!! And being an animal themed story...well these are always the best stories in our books.

I love these sorts of stories bought out by Scholastic. I held high hopes for this book as we love The Wonky Donkey, Do Your Ears Hang Low and She'll Be Coming Round The Mountain and this book looked like it would fit in well and follow a similar similar pattern. Definitely keen to keep collecting these books by Scholastic. I wouldn't hesitate on buying this book as gifts.
This Review: 10/10
Price:

Value for Money:

ReReadability:

Personal Choice:
They say never to judge a book by its cover, however with the cover on this one it had me drawn in completely! The loveable bear on the front cover, the lovely bright colours and the little bumble bee. A very simple drawing but it definitely catches your eye. The tamariki at my centre were so excited when I brought out this book to read them at quiet time. I hadn't pre-read this one so it was all new to me as I was reading it to them for the first time.

Our current group focus in our Young Children's Centre is the living world focusing on spring - the weather, gardening and insects that we see and/or do at this time of year. Little did I know that this book was going to fit in perfectly! The book begins with a bird pooing out a little seed that then grows into a flower. This little flower causes all of the animals to sneeze. This was also very fitting as myself and some of the tamariki were suffering quite badly with hayfever this week! The tamariki loved identifying the animals on each page, and we took it further to identify the noises that each makes, and talking about where each animal likes to live. Their favourite part was the "ah-chooooo" each time an animal sneezed. I didn't have to prompt them after the first two, they knew where to fit in the sneeze and did it for me. Stories like this keep the interest of the tamariki as they don't want to miss the place where they can join in.

Once we got to the end of the story the tamariki wanted to read it again. This is a sure fire way to know that they enjoyed it - after all, we would never request to read a book for a second time if we didn't like it! I too enjoyed it so much that I did read it again, and no doubt it will be read a lot more often over the next while at our centre.
This Review: 10/10
Price:

Value for Money:

ReReadability:

Personal Choice: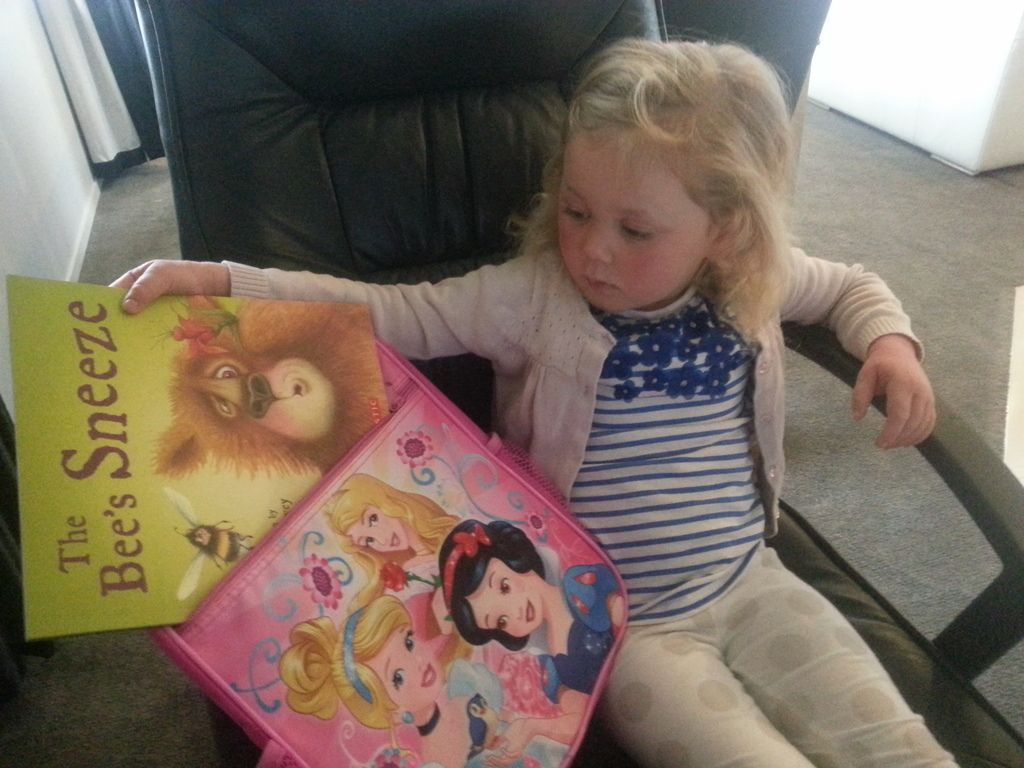 There was no doubt in my mind that this book was going to be an instant hit with everybody at work, children and teachers included! As soon as I turned up at work with it the centre was buzzing with excitement as straight away everybody made a connection with the bear and the bee on the very front cover, comparing it to the story 'Willbee the Bumblebee' which is a huge hit with the kids! Katz Cowley is an amazing illustrator who has illustrated both books so I could see the resemblance, and with Lucy Davey who had written some of our favourite books such as The Fidgety Itch, it was bound to become a favourite.

At mat time I shared this story and everybody loved it, and even though the story itself is quite long, it really is an exciting and very engaging book and so held the children's attention right the way through, and left them wanting to read it again and again. The story did take me a little while to get my mouth around it as there are quite a few tongue twisters throughout, but these are what helped to make the book such fun! Our centre currently has a huge focus on gardening and this book was awesome for helping to support this interest as the story follows a seed that has been dropped in the ground and then begins to grow into a bloom, which was great to make links with the plants growing in our very own garden. The children loved joining in with the story, as they learnt the actions that each animal did, as these followed on from one page to the next they were able to pick up on this and join in with the reading! They also thought the 'AH-CHOOOO" parts of the story were HILARIOUS and of course joined in with this sound effect.

The illustrations were just gorgeous, big bold pictures of happy, friendly animals and flowers and plants. The expressions on the animals faces are adorable and they just reflect what is happening in the story so very well. The colours are so soft and the details used on each picture are amazing the animals fur just looks so soft and fluffy.

With this being such a huge hit at work with everyone, our centre manager has already gone out and brought it and has already been enjoyed endlessly with the children. It is also a constantly requested bedtime story for my own Miss 3,a nd will be some time. The only thing which I feel could make this book even MORE amazing is if it were to have a C.D with it, just for a little bit more fun. This certainly gets a 10/10 everyone loves it.
Random listing from 'Books'...
Product reviews for listing 7888: My New Zealand Story: Dawn Raid -
Written by: Pauline (Vaeluaga) Smith
Through her spirited and heartfelt diary entries, we join Sofia as she navigates life in 1970s New Zealand. She is a typical 13-year-old girl: her main worries are how to get some groovy go-go boots, and how not to die of embarrassment giving a speech at school!

But when her older brother starts talking about protest and overstayers, and how Pacific Islanders are being bullied by the police, a shadow is cast over her sunny teenage ... more...
General Disclaimer...
All trademarks, images and copyrights on this site are owned by their respective companies.
KIWIreviews is an independent entity, part of the Knock Out News Group. This is a free public forum presenting user opinions on selected products, and as such the views expressed do not necessarily reflect the opinion of kiwireviews.nz and are protected under New Zealand law by the "Honest Opinion" clause of the Defamation Act of 1992. KIWIreviews accepts no liability for statements made on this site, on the premise that they have been submitted as the true and honest opinions of the individual posters. In most cases, prices and dates stated are approximate and should be considered as only guidelines.

"Next to being shot at and missed, nothing is really quite as satisfying as an income tax refund."
F. J. Raymond