Product reviews on kiwireviews.nz : Monday 6th July 2020 - 02:41:04
Score:

9.9

/

10

[

2

reviews]


ProdID: 7289 - Star Wars Jedi Academy #4: A New Class


Author: Jarret J. Krosoczka
Price:

$14.00

Sample/s Supplied by:




Available:

September 2016
Star Wars Jedi Academy #4: A New Class product reviews
My name is Victor Starspeeder, and I was so psyched that I had transferred to THE Jedi Academy! I didn't care that my big sister, Christina, was already here, and she said I would cramp her style. My last school sent me here because they said I needed "boundaries and structure." I thought that structure meant I'd get to do crazy Jedi stuff, but Master Yoda told me, "to the theater, we go. Drama Club, you will join!" Now I've got to learn to be a Jedi, AND help put on the school musical. As if being the new kid wasn't heard enough already.
This Review: 9.8/10
Price:

Value for Money:

ReReadability:

Personal Choice:
This is the forth book that I have read in the Jedi Academy series and the first time it has not been about Roan Novachez experiences at school but instead Victor Starspeeder. It was actually refreshing having a new pupil with new problems but at the same place with the same teachers. Where as the set out is exactly the same it was still slightly different in the execution and I enjoyed this one more than the previous installments. I found I liked Victor more than Roan and that his issues were completely different to what Victors were.

I liked the layout better in this book and Victors journal entries were easier to read. I also enjoyed reading The Padawan Observer especially since it included 'Spot the Droidrences' my only issue is they do not say how many changes you are suppose to find. I also found I giggled at some of the Wookie Circus entries. Actually I found I laughed a lot more in this book and the picture of the Ewoks dressed as Jedi's made me laugh more than I think I was suppose to, it is hilarious and if they ever bring out a movie where the Ewoks are Luke and Leia I will be the first one at the movie theater lined up to see it.

The book is very easy to follow and has a lot going on. It is one continuous read and does not have chapter breaks, so if you do need to stop its just a matter of putting your bookmark in and walking away. It is broken up by The School Newspapers, Graphics, Journal Entries, Friends Pictures, Ask Ms. Catara, School Reports and the Galaxy Feed so it does jump around a bit.

The pictures are (in my opinion) a bit rough around the edges and I think it would of been easier to identify what is going on in the pictures if they were done in colour. I found a couple of the characters looked a like so when looking at the pictures it could get rather confusing as to what/who I was actually looking at. But as it is told by a teenage boy it does work considering it is suppose to be coming from him.

I did like how a lot of the teachers talked and they stayed true to their form especially Yoda. I love reading what he says and I loved the 'ask Ms Catara' column her vocabulary is fantastic. I could read her advice all day if given the chance - a very wise woman indeed.

This book would be great for any Star Wars fans out there or anyone from the age of about seven. I will be giving to my daughter to read once her daddy has finished with it. He was the main reason I started reading the books as he is a huge Star Wars fan and it is nice to know things that he does not know (well for the next twelve hours or so) I am sure he will finish it tonight. A very fun, cute book.
This Review: 10/10
Price:

Value for Money:

ReReadability:

Personal Choice: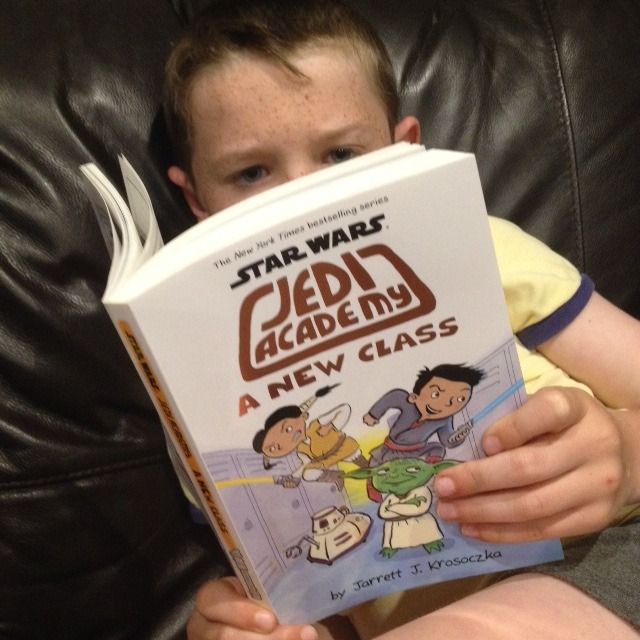 Mr Six demolished this book in just a few sittings. I when into his room one night and found him with a torch under the blankets trying to get a few more pages read before I found him. The next morning, he came into my room and announced that he had finished the book. Over the following day, he kept wanting to show me parts of the book that he enjoyed in particular. He is quite new to Star Wars in general; however, he seems to be hooked on it! He has recently collected the Star Wars cards form Countdown and he has made up his own game with them. This book 'Jedi Academy: A New Class' has come at the perfect time to capture his interest. He hasn't read any other books in the series yet but he was fine absolutely reading this book in isolation.

Even before I read the book myself, I got a real sense that this had to be a great book for my son as he couldn't stop talking about it. That has got to be a good sign! When I did begin reading the book, I understood why Mr Six liked it so much. The combination of pages of text, illustrations and comics works really well for a young reader. Mr Six was kept interested the whole time he was making his way through the book. There was always something for him to look at in addition to reading the lines on the page. Even though he had read the book himself, he was very excited to have me read the entire book to him again.

The story is about Victor and his experiences as he joins a new school, The Jedi Academy and attempts to settle in and find his place in the school. In amongst the fun storyline, there are some good messages for children including relationships between children, the place of technology in the lives of children, how to choose the right friends, being yourself and working hard to achieve a goal.

The story is written from the point of view of a child and is written in language that he would use speak to other kids. The text is interspersed with diary entries, cartoon strips, pages from a newspaper, agony column and 'factual' information sheets. Mr Six loved the spot the droidrences, he enjoyed finding the differences between the two items on the page. It was a fun play on the idea of 'spot the differences'. The variety of ways that the story is presented allows for a young reader's interest to be constantly engaged.

The illustrations tell a lot of the story and can be enjoyed alongside the text or in isolation. Mr Six has spent quite a bit of time just looking back through the book and picking the bits he liked to revisit. After watching Mr Six with this book, I think that we will be looking out for more in the series as he really enjoyed it.
Random listing from 'Books'...
Product reviews for listing 2011: Life Expectancy

Written by Dean Koontz
When the hand of fate reaches out to touch an ordinary man...

In the moments before he is born, Jimmy Tock has a strange destiny thrust upon him. His dying grandfather prophesies five dark days in his grandson's life - five dates on which Jimmy will face terror and violence, malice and perversion. A storm rages. There is a chilling significance in the old man's words. The moment his grandfather dies, ... more...
General Disclaimer...
All trademarks, images and copyrights on this site are owned by their respective companies.
KIWIreviews is an independent entity, part of the Knock Out News Group. This is a free public forum presenting user opinions on selected products, and as such the views expressed do not necessarily reflect the opinion of kiwireviews.nz and are protected under New Zealand law by the "Honest Opinion" clause of the Defamation Act of 1992. KIWIreviews accepts no liability for statements made on this site, on the premise that they have been submitted as the true and honest opinions of the individual posters. In most cases, prices and dates stated are approximate and should be considered as only guidelines.

"Biologically speaking, if something bites you it's more likely to be female"
Desmond Morris