Product reviews on kiwireviews.nz : Tuesday 7th April 2020 - 16:08:34
Score:

10.0

/

10

[

2

reviews]


ProdID: 7285 - Is That an Elephant in My Fridge?


Author: Caroline Crowe
Price:

$19.00

Sample/s Supplied by:




Available:

September 2016
Is That an Elephant in My Fridge? product reviews
When Fred can't sleep, he tries counting elephants instead of sheep.

In no time at all, the house is full of elephants - splashing in the bath, flying around the ceiling and eating everything in the fridge - there's even a marching band on the stairs! Fred realises he'll never get to sleep with all these noisy elephants causing mayhem, so he comes up with a cunning plan to persuade them to pack their trunks. This fun-filled picture book is perfect to share at bedtime!
This Review: 10/10
Price:

Value for Money:

ReReadability:

Personal Choice: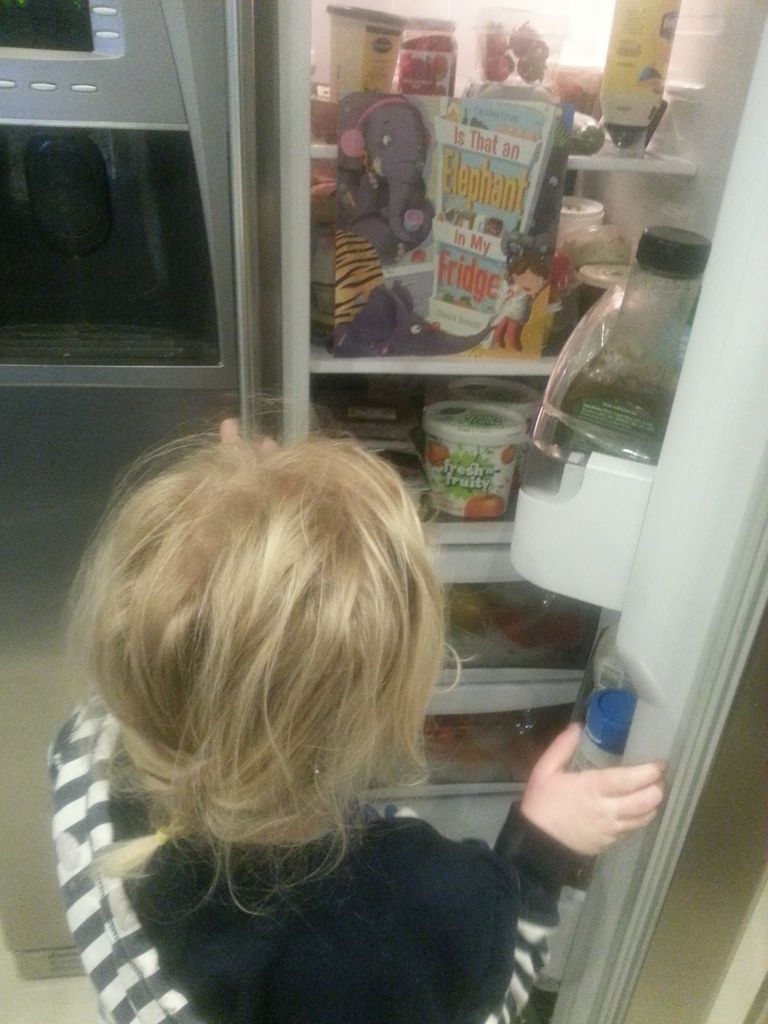 Sometimes a sign of a good book is that it has a silly title, one that has you wondering and giggling before you even open it up, and this is exactly what 'Is That an Elephant in My Fridge?' had Miss 3 and Miss4 doing when I first introduced the book to them. "Elephants don't live in fridges" they giggled as they together rushed towards our fridge to check it for elephants, Miss 4 was quick to announce that "an elephant would be just far to big to even fit in that little fridge".

Most children at some point in time have trouble falling to sleep and so this book is very easy for them to relate to as it is about a little boy named Fred who is having a lot of trouble trying to fall asleep, his Mother suggests he tries counting sheep, however Fred thinks sheep are boring and so decides to count elephants instead.The elephants however didn't just jump through the sky making it easy for Fred to count them as sheep would, instead they caused lot's of chaos throughout his house and in his imagination from splashing in the bathtub, to gobbling up ice creams. Both my daughter, Miss 3 and my niece Miss 4 were in hysterics during this story the thought the elephants antics were hilarious, and during their sleepover that night when they couldn't sleep (purely due to laughing and giggling) they decided to count elephants to help them, sharing with me in the morning what the elephants had done! This was a great story for bringing out their imagination.

The illustrations in the book are just gorgeous, with the big elephants taking up a lot of each of the pages, and being a much bigger size than Fred which I liked as it shows how much bigger elephants are than humans. They were bright and colourful and had a lot going on in each one, every time we've re-read the book we've managed to find something new on each page. The only thing that to me was a little odd was that the book didn't actually feature any pictures or mention elephants in the fridge, there were elephants standing outside a fridge who were eating ice creams, however from a perspective of a young child they were actually expecting to see an elephant in the fridge!

My daycare children loved this book aswell as the teachers, and it has been an absolute hit since I first shared it with them, and one that I get requested to bring back the next day to read, it is full of laughter and rhymes and everybody loves it! This book I will definitely be on the lookout to buy coming up to Christmas to buy as it would make a wonderful gift for a child.
This Review: 10/10
Price:

Value for Money:

ReReadability:

Personal Choice:
What child (or adult) hasn't had trouble getting to sleep at some stage? The traditional thing to do is to count sheep. The author of this book, Caroline Crowe, came up with the novel idea of counting elephants. My kids thought that this was a very funny idea! The book took us through all sorts of weird and wacky things that the elephants did as Fred tried to count them in the hope of getting to sleep. The more he tried to count them, the more active the elephants became. The elephants did "naughty" things that would get Fred into trouble if he had done them. They pulled out the toys, dressed up and raced around the bedroom, had a bubble fight in the bathroom, threw their toys around, and helped themselves to food - making a big mess in the process. Fred's imagination got him further and further away from getting to sleep and at least he had the elephants to blame about the fact he wasn't asleep when he was supposed to be!

As we read the book, Mr Six wondered why there was no actual mention in the book about an elephant in the fridge. The fact that the elephants is "gobbling ice-cream" didn't quite cut it for him as the ice-cream would be in the freezer! There was an illustration, however, which backed up the idea of it being a fridge. Although Mr Six really enjoyed the book, this bothered him as he expected there to be an actual comment about the elephant being in the fridge.

The illustrations in the book were bold, colourful and bright. The kids and I really enjoyed them. The way they were created adds depth to the page and the images looked three dimensional. Most pages were full colour; however, white space was also used effectively in some parts of the book. The children spent a bit of time trying to work out what age group the book was suitable for. After much thought, they figured that it was really good for Five and under. This certainly didn't stop Mr Six from reading and enjoying it!

Mr Six read the book to Miss Four at bedtime last night. The two of them snuggled under a blanket and every now and then I could hear Miss Four giggling! The text moved along fluidly and Mr Six found it easy and interesting to read. There was good use of rhyme and rhythm in the lines of text and Mr Six enjoyed the chance to use some good expression as he read the book. It was fun listening to him reading the book to Miss Four. As he read, he paused every now and then and they chatted about what he had read and what they could see in the illustrations. This added to the overall value and entertainment of the book.

A sign of a good book is that a child wants it read over and over. Today, I found Miss Four sitting on the sofa 'reading' this book to herself. She was telling her own story using the illustrations. She was really enjoying herself! This is another sign of a good book!! This is yet another lovely Scholastic book!
Random listing from 'Books'...
Product reviews for listing 8336: Dark Blade

Written by: Steve Feasey
WHEN GODS FAIL, WHO WILL KEEP THE DARKNESS OUT?

Lann knows nothing of his mysterious past, but by his fifteenth birthday he will come face to face with destiny. For Lann must wield the Dreadblade, an ancient sword forged to defeat terrible monsters. Across the mountains a King has been murdered. His daughter, Astrid, is a warrior with no desire to bear the crown. Only she can uncover her father's killer before her brother is ... more...
General Disclaimer...
All trademarks, images and copyrights on this site are owned by their respective companies.
KIWIreviews is an independent entity, part of the Knock Out News Group. This is a free public forum presenting user opinions on selected products, and as such the views expressed do not necessarily reflect the opinion of kiwireviews.nz and are protected under New Zealand law by the "Honest Opinion" clause of the Defamation Act of 1992. KIWIreviews accepts no liability for statements made on this site, on the premise that they have been submitted as the true and honest opinions of the individual posters. In most cases, prices and dates stated are approximate and should be considered as only guidelines.

"Why do the Alphabet song and Twinkle, Twinkle Little Star have the same tune?"
unattributed