Product reviews on kiwireviews.nz : Thursday 9th April 2020 - 08:48:35
Score:

9.0

/

10

[

3

reviews]


ProdID: 7096 - Deadpool


Directed by Tim Miller
Price:

POA

Available:

June 2016 on DVD
Deadpool product reviews
Wade Wilson (Ryan Reynolds) is a former Special Forces operative who now works as a mercenary. His world comes crashing down when evil scientist Ajax (Ed Skrein) tortures, disfigures and transforms him into Deadpool.

The rogue experiment leaves Deadpool with accelerated healing powers and a twisted sense of humor.

With help from mutant allies Colossus and Negasonic Teenage Warhead (Brianna Hildebrand), Deadpool uses his new skills to hunt down the man who nearly destroyed his life.
This Review: 8.3/10
Pay to see it again:

Attention Span:

Believeability:

Special Effects:
Deadpool is a movie that should not work, but it does.

Deadpool (the Marvel comics character) is a creation of notorious 90's comics hack Rob Liefeld, and began life as a more or less direct clone of the DC character Deathstroke. He only became a hit with fans after a new writer (Joe Kelly) hit on the idea of using his series to parody the ultra-dark-and-gritty superhero stories that were ubiquitous at the time.

This was genius, but the mechanism he hit on to do this presents the biggest problem the movie had to overcome. Deadpool is the result of an experiment which gave him a "healing factor" that makes him functionally immortal, but also accelerated the brain tumour he was previously unaware of. This left him horribly disfigured, in constant pain, and completely insane. The way this insanity manifests is in the delusion that he's living in a work of fiction. Deadpool in the comics is a character who literally grabs speech bubbles out of the air, comments on the spelling of sound effects and addresses the reader directly, with the deepest of sarcasm. If handled poorly, this could have been an incredibly grating way to spend an hour and a half. Deadpool is a character who is obnoxious by design, and whose founding concept is arch (to say the least).

Fortunately, the Marvel Cinematic Universe team have yet to make a bad movie, and all the hallmarks of the MCU are here to good effect. Deadpool's supporting cast are good fun, and much better characterised than they need to be. His relationships are surprisingly heartfelt and meaningful, and his character, and the revenge quest that drives the primary story are balanced carefully between tragedy and comedy, preventing a slide into 90s-issue grim mopiness, or aggravating snark.

The CG work is excellent, and applied equally to making Deadpool's fourth-wall-breaking antics make sense in a cinematic context, and to some truly spectacular superhero fights.

Highly recommended to fans of the MCU, everyone else will probably enjoy it as well.
This Review: 9.3/10
Pay to see it again:

Attention Span:

Believeability:

Special Effects: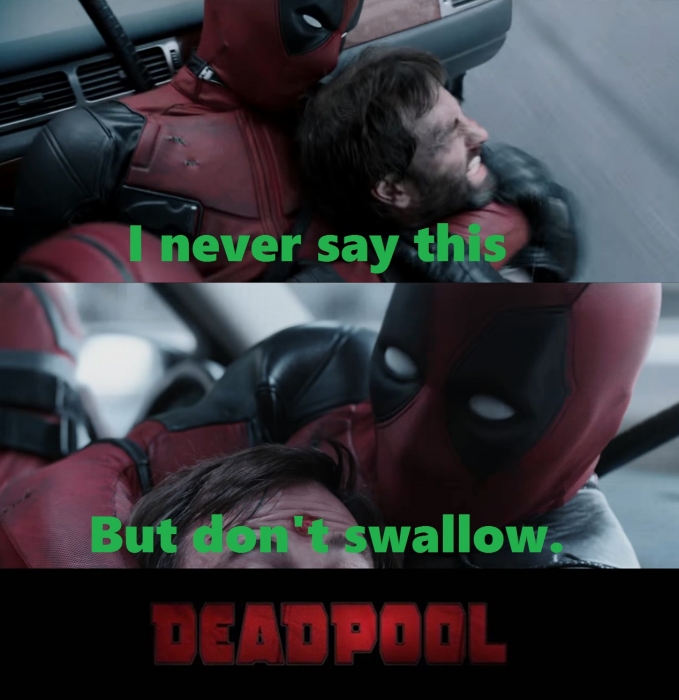 Let me start by saying, to parents, "DO NOT let your kids watch this!" The humour is gutter-level, the gore is graphic, and the violence is extreme. And it's all done in the worst possible taste... which is exactly as it should be for this character. Deadpool is irreverent, irrational, and unrepentant.

While not at all a "super hero movie" this is by far the funniest movie set in the Marvel X-Men Universe I have ever seen. Jam-packed full of bad jokes, witty banter, insane situations, and fourth-wall breaks... I don't know if this movie was scripted at all, or just fleshed out from a basic plot thread by some hugely talented actors and a massive amount of ad-libbing. And I don't care. I loved this movie, I loved the dialogue, I loved the insanity of it, and the stupid little jokes liberally sprinkled - using a dump-truck and bulldozer - throughout just made it a right laugh-fest. I didn't even mind that the rest of the audience were talking constantly... and that's usually one of my BIGGEST bug-bears!

Ryan Reynolds makes so many references to his abortive attempt to pull-off the character of Green Lantern in the 2011 movie by DC. "Just don't make the superhero costume green! Or animated!" he cries out as he is wheeled away to begin his transformation. He also spends a large part of the movie talking to the audience directly through the camera - something known as a 'fourth-wall break' - much to the confusion of the other characters in the scene who act as though there is no camera. This adds a huge feeling of unreality to the movie, but strangely a significantly large feeling of relatability.

Overall, this movie was brilliant - from the irreverent opening credits right through to the insane little cartoons that run throughout the closing credits. I not only would pay to see this again... I did! Repeatedly. And once it comes out on DVD I plan to add it to my collection of 'frequently watched' titles.
This Review: 9.5/10
Pay to see it again:

Attention Span:

Believeability:

Special Effects:
I think Deadpool must be the first 'comic book' movie I have wanted to see more than my husband. Watching previews it looked hilarious and unlike other 'Marvel/DC' movies it was something that seemed had the potential to appeal to me. I am a huge fan of Ryan Reynolds so was excited to see him in tights and as he is naturally funny I was extremely eager to watch.

Watching the opening credits I had a couple of chuckles. It was well done and it pays to read everything on the screen and watch out for special appearances from other comic book heros. I personally love when a movie uses the 'fourth wall' format and find it extremely amusing when someone engages with the viewers. Since this was used throughout most of the movie it provided a lot of entertainment. This is not a serious movie at all its a love story with horror thrown in to the mix (Deadpools words not mine). Also, it is a movie that pokes a lot of fun at people especially Hugh Jackman/Wolverine - his face turns up everywhere including a dart board.

I also enjoy that the Marvel family appear in each others movies, so was rather excited when a couple of the X-Men made an appearance - but as the studio were too cheap to involve all of the cast we had to settle for just the two of them (again Deadpools words not mine). Like all original movies it gives the whole backstory as to how the mutation occured, why the bad guys are bad and of course the epic fights. But, in this case the fights added a whole new dimension and were not boring or over done instead I found them entertaining and funny especially when Deadpool was keeping count of his bullets/kills on his 'murder spree'.

The soundtrack was great and found both my husband and I humming away late in to the night. He loved the movie and is eager to rewatch. He also said it kept true to the comic book and did not waver too much. I found it amusing and could potentially rewatch. I did find Ryans voice annoying to begin with as he gives a running commentary for most of the movie but it does have a lot of entertainment and comedy and I settled into it rather quickly. According to Deadpool at the very end there will be a second movie and it is due to come out shortly - and both my husband and I will be keen to watch.


Random listing from 'Movies'...
Product reviews for listing 7624: A Cure For Wellness

Directed by Gore Verbinski
From the director of "The Ring" comes this psychological thriller and fantastically creepy experience about an ambitious young executive sent to retrieve his company's CEO from a remote and mysterious "wellness centre". When he begins to unravel the retreat's terrifying secrets, his sanity is tested as he finds himself diagnosed with the same curious illness that keeps all the guests there longing for the cure.
General Disclaimer...
All trademarks, images and copyrights on this site are owned by their respective companies.
KIWIreviews is an independent entity, part of the Knock Out News Group. This is a free public forum presenting user opinions on selected products, and as such the views expressed do not necessarily reflect the opinion of kiwireviews.nz and are protected under New Zealand law by the "Honest Opinion" clause of the Defamation Act of 1992. KIWIreviews accepts no liability for statements made on this site, on the premise that they have been submitted as the true and honest opinions of the individual posters. In most cases, prices and dates stated are approximate and should be considered as only guidelines.

"Sometimes only those who love you can tell you what you need to hear, instead of what you want to hear."
anonymous