Product reviews on kiwireviews.nz : Wednesday 8th July 2020 - 22:24:35
Score:

9.2

/

10

[

4

reviews]


ProdID: 7047 - Manuka Smoked Garlic Salt


Brand / Manufacturer : Down at the Farm
Price:

$8.00

Sample/s Supplied by:




Available:

via Online Store and selected quality retailers
Manuka Smoked Garlic Salt product reviews
Natural solar-dried Sea Salt from New Zealand's South Island blended with quality dried garlic granules, Manuka smoked to give you that beautiful aroma and flavour we so love.

Use with eggs or tomatoes on toast, great in a cheese sauce, or toppings. Or of course with fish dishes or really anywhere you like!

Important! Grinder is coarse and fine. Pull out firmly for coarse grind and push in for fine.
This Review: 8.0/10
Taste:

Portions:

Value for Money:

Personal Choice:
I loooooooove!!! garlic and so getting this to review was pretty neat. I like the label on the jar, the colouring suits the product well and I like the recycled paper look to it. The jar is a little bigger than other garlic salts I've bought but more than double the price, so it would have to be pretty delicious to buy it once I run out of this jar. Popping open the lid I got a full hit of Smokey smell with a hint of manuka and a bigger hut of garlic, it smelled lovely.

My main issue with this being a salt grinder with garlic, is that I have experience of garlic starting to gum up the works and requiring a wash. I decided to open this right up and pour some of this salt into my cooking rice, it ended up with a nice Smokey taste to it. I've used this on several dishes and find this comes out very fine indeed (which resulted in helpful kids putting a little too much on as they couldn't see it as easy as other brands). This added a nice flavour to my meals but I'm happy to stick with other brands.
This Review: 9.8/10
Taste:

Portions:

Value for Money:

Personal Choice: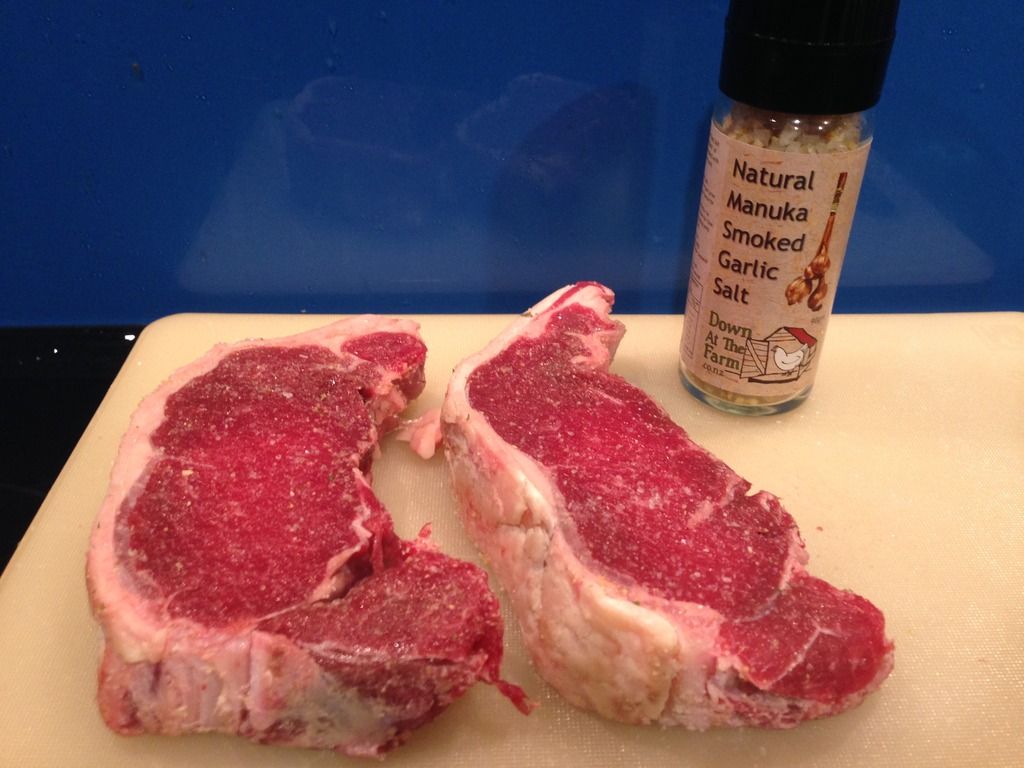 Garlic salt and steak go together like chips and sauce... Coincidentally all mentioned were part of our dinner last night. My husband loves garlic salt and I would have to say that it's his favourite spice. With the addition of it being manuka smoked really made it stand out from the crowd. The size of the jar is also another plus, it's bigger than our usual spice jars and is very aesthetically pleasing with the big chunks of salt.

My husband used the attached grinder to sprinkle a generous helping over some raw steak, then sprinkled some more on for good measure. He chucked it in the fry pan and started to cook everything (don't ask me how he cooks steak because I really have no idea, I just like eating it). Five minutes later I could smell the salivating deliciousness from 2 rooms away and had to come back into the kitchen and just soak in the flavours.

We served the steak up with some chips which we added some garlic salt to and sat down to eat. If I thought the smell of the garlic salt was good, it was nothing compared to the taste. Using the grinder on large chunks of salt intensified the flavour compared to the powdery stuff we were used to. The amount my husband added to the steak before it was cooked ensured a full flavour hit with every bite and even though I like more tomato sauce on my chip than the chip itself I could still taste the smokey garlic salt taste and it wasn't at all too overpowering but just the right amount.

Overall I thought it was a delicious version of garlic salt and the size of the jar compared to the price seemed accurate to me. My husband also gave it the thumbs up and now I have to make sure we have a steady supply of this in the spice draw.
This Review: 9.8/10
Taste:

Portions:

Value for Money:

Personal Choice:
I love garlic... too much some times. But "Garlic Salt" is not something unusual to see on supermarket shelves any more. This has a 'point of distinction' with it's "Manuka-smoked" aspect, but still... is it distinct enough from similar products on the market to warrant an $8 price tag? Personally, I'd say "Pretty much, yeah." At least, enough difference and uniqueness to warrant paying a bit more for at least. Plus, of course, you've got the grinder built-in, so... yeah. It's getting there.

I used this salt to make some Garlic Butter for home-cooking use. Some unsalted butter and some VERY generous grinds of this, mix, divide into portions and freeze. So simple, so versatile! I recently had a guest over for a meal, and since we were in the mood for something very simple, I threw a couple of lumps of the garlic butter in a pan and fried up some ham steaks, some shredded onion and a few eggs each. Make some toast, put cheese on top, grill until melted, stack the fried stuff on top... MASSIVELY unhealthy, but oh so tasty! From "What are we going to have?" to "Grub's up!" in under 10 minutes and WOW... Didn't even THINK about a photo until we were mopping the last of the egg up off the plates.

Taking into account the small amount of garlic and salt that actually ended up in the food, and the strong flavours of the cheese and ham steaks, I was really impressed at how much of the smokey and garlic flavours came through in the end. More than "subtle" but less than "obvious", it was noticeable but in the best of ways - like knowing you can hear a flute in the orchestra without it being the one instrument you can't help but focus on.

Overall, I really liked this salt, and since that experiment it has become a part of every egg dish I cook, it has replaced regular salt when I use it, and it's a product I have raved about to my neighbours - a family of Samoans who make some amazing smelling dishes and use a BUCKET of salt in their meals. I keep this close to hand in the kitchen at all times now.
This Review: 9.3/10
Taste:

Portions:

Value for Money:

Personal Choice:
Pure genius whoever thought of the idea to mix all these ingredients together - they deserve a promotion. It can go with so many dishes and 'spice it up'. The smell is absolutely devine and you can really smell the smokey flavour to it. My only problem is I can not figure how to pull the grinder to give me a coarse mixture - I have tried everything and nothing will budge. Even the 'brains of the operation' (his words not mine) could not work it out.

The first time I tried this was with home made fish and chips. I sprinkled on the chips just using the grinder and then with the fish I oven baked in a butter sauce with the sauce as a flavour boaster. The meal was delicious but nobody even noticed the salt. Maybe it was my fault, from previous experience using garlic salt a little can go a long way and be completely over powering so I was a tad cautious with it.

The next time was with egg sandwiches thought it would give a nice kick to the flavour and it worked a treat. Used quite a bit as I love garlic and salt with eggs and it was devine. Really gave it a nice smokey tinge.

Tonight I used with home made potato chips. Because, again, I could not figure out how to lift the cap I just took it off and sprinkled all over the potatos and mixed it around before serving. I really enjoyed it and so did everyone else. My husband unfortunately, got a big piece and commented that I should of grinded it - can't win! I really would love to figure out how to use this grinder as at times you need more than just fine speckles. But I do love the taste and the smell and I don't mind getting big chunks in my meals.
Random listing from 'Food'...
Product reviews for listing 2752: Tiffany's Cafe

Located: Te Kuiti
Open until late.

241 Rora St
Te Kuiti
Waikato

Phone: 07-878 8872
General Disclaimer...
All trademarks, images and copyrights on this site are owned by their respective companies.
KIWIreviews is an independent entity, part of the Knock Out News Group. This is a free public forum presenting user opinions on selected products, and as such the views expressed do not necessarily reflect the opinion of kiwireviews.nz and are protected under New Zealand law by the "Honest Opinion" clause of the Defamation Act of 1992. KIWIreviews accepts no liability for statements made on this site, on the premise that they have been submitted as the true and honest opinions of the individual posters. In most cases, prices and dates stated are approximate and should be considered as only guidelines.

"Why do people point to their wrist when asking for the time, but don't point to their bum when they ask where the bathroom is?"
unattributed