Product reviews on kiwireviews.nz : Tuesday 14th July 2020 - 10:33:02
Score:

8.9

/

10

[

6

reviews]


ProdID: 7040 - Alexandra's Quinoa - White Bean & Cranberry


Produced by Alexandra's
Price:

$6.95

Sample/s Supplied by:




Available:

at selected quality supermarkets
Alexandra's Quinoa - White Bean & Cranberry product reviews
Our 'White Bean & Cranberry' Quinoa is gluten free, ready to cook and super delicious. Just add water and in 25 minutes you'll have a healthy and nutritious meal for two. Eat on its own or add meat, fish or chicken.

Ready in 25 minutes.
Handmade in New Zealand
Serves: 2 as a main or 4 as a side
This Review: 10/10
Taste:

Value for Money:

Visual Appeal:

Nutrition:
I have tried many times to cook quinoa and most of the time it just tastes awful and ends up with the chickens. Given how much I have loved the other products I have tried in the Alexandra's range I though if I was ever going to succeed it would be using one of these packets. To be honest looked at the packet and figured that this wasn't going to feed me well so immediately started cooking up a heap of vegetables and some meat as I figured that this would be enough to just give us each a small serving.

I cooked this as directed on the stove with a couple of cups of water and then as I was waiting for everything else to cook left it on the stove for probably another 30 minutes. I was worried it would dry out so added a little bit more water. Well I was completely wrong about the serving size. This produced plenty. I had a large bowl of these and then put the rest in a dish on the table and told the kids I had made a yummy rice dish. The girls all tried it and really liked it. My eldest even had seconds. The cranberry''s add a lovely sweetness to it and the white beans are quite tasteless so the kids didn't even notice them. I really enjoyed it but there was a lot left over so I took the leftovers into work the next day. Great move. This was even nicer cold the second day. Probably one of the nicest lunches I had had in a while and everyone was very impressed that I had made it myself!

Cost wise for the fact that this ended up edible and produced so much I would definitely buy this again and I feel that by using these products I am getting more confident cooking food that I have always managed to ruin in the past. I can definitely recommend this and I am looking forward to trying the next flavor in this range.
This Review: 9.3/10
Taste:

Value for Money:

Visual Appeal:

Nutrition:
I am a big fan of couscous and seeing the alexandras couscous and these available to request I decided to put in a request. I had never tried Quinoa before but have heard of it before on cooking shows so it sounded really nice. This particular variety with the white bean and cranberry is very enticing I am a big fan on sweet/savoury combinations like this.

We decided to cook this up when we had some chicken breast I love the combination of cranberry and chicken so it seemed appropriate to use it with the chicken. I cut the chicken up into small pieces and fried it off cooked the quinoa according to packet instructions stove top method and then stirred the chicken through the finished quinoa. The aroma from the kitchen was quite spectacular I wasnt able to pick out what spices were used but they smelt great.

The one thing I did find was it was a little bit bland in flavour but having the bits of fruit, bean and chicken made it quite enjoyable to eat. I may add a bit of dressing in future and have it as more of a salad as I just felt like it was lacking a bit in the flavour department. Overall though it was enjoyable and I would buy it again. Having never tried or cooked quinoa before I liked the ease of cooking because I wouldn't really know where to start if starting from scratch!
This Review: 7.3/10
Taste:

Value for Money:

Visual Appeal:

Nutrition:
Having tried some of Alexandra's products before, I was excited to receive another one to review. I was a bit intrigued as to what the white bean, cranberry and quinoa would be like. Looking through the clear packaging, it looked like it had a nice blend of colour, texture and ingredients. Like the other Alexandra's products, the ingredients list looked like quality items and made up of real food. I really do appreciate these characteristics in the food I feed my family.

My husband was on cooking duties tonight and he opted to follow the microwave cooking instructions. The instructions were simple and involved adding some water, salt (if desired) and cooking on high for 20 minutes. This was nice and simple and allowed this part of the dinner to be created pretty smartly.

My first reaction to the taste of the quinoa mix wasn't particularly positive. It was tolerable but certainly wasn't something that I would rave about. I gave some to my husband and a friend who was visiting for dinner. Their reactions we the same. We all found it rather bland.

When it was time to dish dinner up, we put a number of sauces and condiments on the table to see what flavours might improve the taste. I found that adding some of the tomato based sauce from the crockpot chicken dish helped the flavour a lot. The taste was coming from the sauce as the quinoa really wasn't providing much flavour. Worcestershire sauce was another option which gave it a bit of a kick, although, again, the flavour was coming from the sauce rather than the quinoa.

I think that the product was most successful when mixed in with the chicken, sauce and vegetables. This provided a salad type mix and allowed the quinoa to be a distributed out amongst the other flavours in the meal. If I was to buy a prepackaged product like this, I would expect that it would be full of flavour and not require added flavours to make it interesting to the palate.

Although I love the other Alexandra's products that I have tried, this is on that I won't be buying again.
This Review: 9.8/10
Taste:

Value for Money:

Visual Appeal:

Nutrition: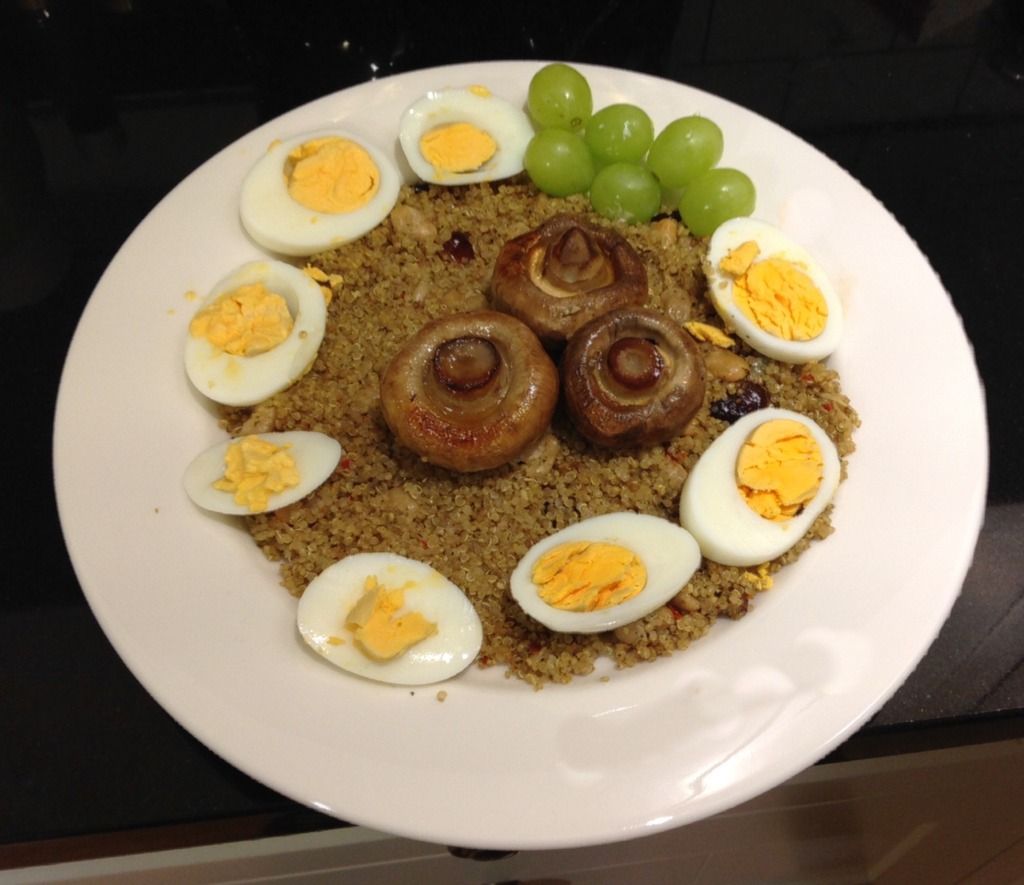 When I opened the pack, a strong spicy smell wafted out to meet me. I think it may have been cumin, but the exact spices used were not identified on the packaging so it was not possible to be certain. But whatever was there was delicious, just begging to be cooked and eaten! I had previously tried another of the quinoa mixes in this range, so I was sure I would not be disappointed.

When I tried the last quinoa mix I prepared it using the microwave, so I opted for stove-top this time to check that it would come up to expectations. It was a little alarming when the contents of the pot first began to heat up as streaks of greeny blue appeared among the grains, but I quickly realised that this was due to the natural colour of the cranberries, not an unexpected leeching from the walls of the cooking pot! Once the mix was stirred, the colour blended in with the different ingredients.

The label suggested adding salt, but I prefer to leave that for people to add at the table if they require it. From the aroma that was rising from the simmering grains I did not think there would be much salt needed anyway. I left it on the stove for precisely 20 minutes (as recommended on the packet) and when I turned off the heat it had cooked to perfection - not too dry, but not runny either. I tasted a little and the flavour was delicious, more subtle than the initial aroma might have suggested, but certainly flavoursome enough for me without the addition of salt being necessary.

The cranberries stood out in the mix; if you bit into one on its own, the sweet flavour came through strongly. The beans, on the other hand, had absorbed the flavours of the spice mix along with the quinoa itself so they just blended into the background.

As there were several of us for dinner, I served it with sliced hard boiled eggs, grilled mushrooms, and grapes. This made the contents stretch to feed four people, and the extras enhanced the Mediterranean feel of the dish. Everyone gave it the thumbs up, and there were four very empty plates at the end of the meal. Another item to add to my shopping list for winter fare!


This Review: 8.0/10
Taste:

Value for Money:

Visual Appeal:

Nutrition:
When I first got this, my impression was that it was a dessert item, not aimed as a dinner dish, so I decided to cook it up and use it as both. I like that this is deceptively small, looking at it I wouldn't think that I could get at least 4 side servings from it. All you need to add is water and off you go, so nice and easy and not a dish you have to stress about, even clean up was an ease (the pot got missed and so sat for a day and the food came of with great ease.

As a savoury dish, I added a dash of salt which I stirred through that half and then cooked up some chicken in a teriyaki sauce and combined the two. My kids weren't keen on it but I thought that it worked ok, though not a preferred item for dinner. For dessert I decided to just have it as it was but then I felt it could have a little more to it and added some golden syrup to it, this gave it the bump that it needed and I far preferred it as a sweet dish than savoury.

I don't think that I will get this again but a good, versatile dish.
This Review: 9.0/10
Taste:

Value for Money:

Visual Appeal:

Nutrition:
The unusual combination of this quinoa was the reason I wanted to try this product. I enjoy quinoa and find that with all the health benefit it has to offer adding the beans and cranberry could only be a good thing. I had tried other Alexandra products so knew that the preparation of this meal was going to be very easy.

I love the way that this product is packaged. You can see all ingredients inside this plastic packet and the white beans and red cranberries made it look very colourful. I was looking forward to the cranberries adding a bit of sweetness to this quinoa making it a great salad option. After following the very simple instructions to cook this dish I served it up as a side serving with dinner. I was looking forward to a cranberry taste through the quinoa however I found this was not the case. I decided that I would serve the left overs up with baby spinach, feta and cherry tomatoes the next day. This gave a different taste to the quinoa and also made it a little moister.

Overall I did enjoy the ease of this product to not only prepare but also what could be added to change the taste. I personally preferred it cold as a salad rather than a side dish. I would love to see this product in a 2 serving size so that I could use as a lunch option.
Random listing from 'Food'...
Product reviews for listing 3522: Jelly Belly Smoothie Blend -
Manufactured by Jelly Belly
Jelly Belly Smoothie Blend jelly beans in 100g bags. Real tropical flavor. Great candy for a party, gifts or giveaways.

Once again we bring you flavors you just won't find anywhere else. The Smoothie Blend features five creamy delicious tastes:
• ... more...
General Disclaimer...
All trademarks, images and copyrights on this site are owned by their respective companies.
KIWIreviews is an independent entity, part of the Knock Out News Group. This is a free public forum presenting user opinions on selected products, and as such the views expressed do not necessarily reflect the opinion of kiwireviews.nz and are protected under New Zealand law by the "Honest Opinion" clause of the Defamation Act of 1992. KIWIreviews accepts no liability for statements made on this site, on the premise that they have been submitted as the true and honest opinions of the individual posters. In most cases, prices and dates stated are approximate and should be considered as only guidelines.

"Why do banks charge a fee on 'insufficient funds' when they know there is not enough?"
unattributed