Product reviews on kiwireviews.nz : Friday 29th May 2020 - 04:10:02
Score:

7.0

/

10

[

1

review]


ProdID: 6843 - PowerLine AV2 DHP-701AV 2000Mbps Starter Kit w/ Gigabit Lan -

Brand: D-Link
Price:

$229.00

Sample/s Supplied by:




Available:

Now
PowerLine AV2 DHP-701AV 2000Mbps Starter Kit w/ Gigabit Lan product reviews
Do more with MIMO technology:
MIMO technology will let you transfer more data so that you can do more of the stuff you love: play more online games and transfer more large files.

Higher speeds mean more entertainment:
Stream more HD media, play more online games and transfer all of the large files you want. AV2 MIMO technology will guarantee you a higher data transfer rate.

Easy setup:
Simply plug and play. No need to configure or to remember passwords. A simple push of a button will get your network secured in minutes.

Extend your wired network:
Extend your Powerline network by adding up to 16 adapters in total. Backward compatible with PowerLine AV, AV5003.

Power saving mode comes in handy:
Power Saving mode reduces power consumption up to 85% when compared with existing PowerLine Adapters.
This Review: 7.0/10
Value for Money:

Functionality:

Features:

Personal Choice: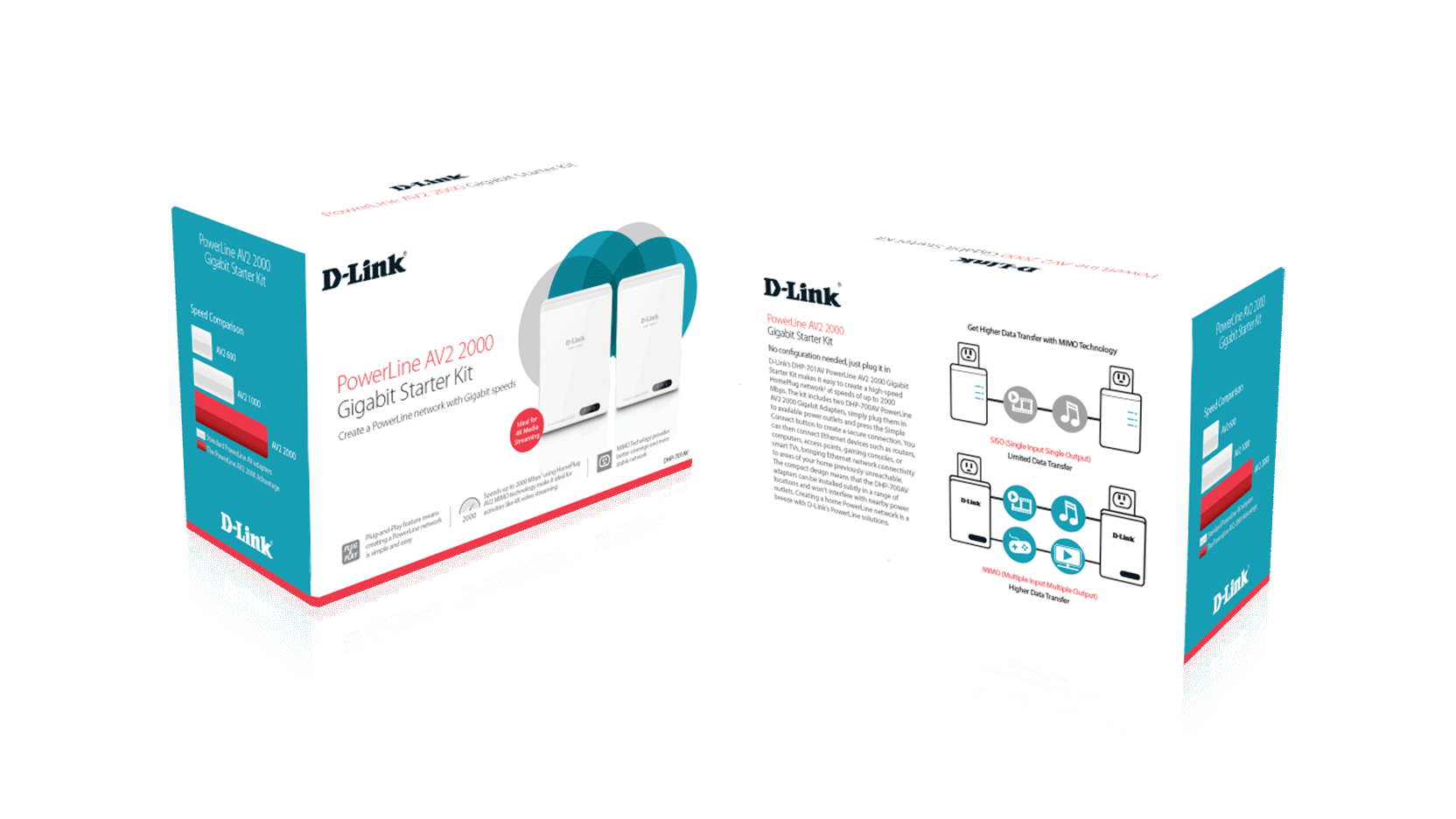 I am going to dive right in and tell you what is good, what is bad and what is ugly about these adapters. Most people looking for these are looking for a networking solution for smart TV's or the people that want to add internet connectivity to their TiVo and they don't have a network connection nearby. This is a very real problem nowadays and D-Link have jumped on the bandwagon and produced a range of solutions for this quandary.

The Good: They are out of the box, no instructions necessary plug and play. Literally. You plug them in to the mains, connect the supplied network cable and you are away. I didn't even need to press the pairing button on my supplied pair. Being a starter kit I imagine you would need to do this later when adding a third or fourth to the system. They are solidly built and they work instantly. The box and packaging is nice. When you use them for connecting your smart TV and taking advantage of MIMO technology they work perfectly.

The Bad: They are super oversized. They will take up in most houses that have a double side by side outlet, both slots. This is because the AV2 will half cover the outlet next to it. you will need to use an extension cord but surprisingly this is not advised or recommended because I can only assume it will affect the speed throughput. More on this in "the ugly". So its huge, it is unnecessarily cumbersome. The price point for these units is on the high side also. Its RRP is three times its equivalent competitors price.

The Ugly: I use PowerLine technology and I have done for years. it is absolutely amazing and whomever invented it needs a cake and a beer. The problem I have with the AV2 AV2000, is that it is so inconsistent when you look at its real world throughput speeds and connection lag. I was getting widely varying ranges of speeds that bizarrely saw the upload speed faster than the download speed! There is no way these would ever hit their rated speeds which is pretty much false advertising.

Using speedtest.net I was able to look at what was happening with my connection. I saw speeds maxing out at 35Mbps down and 40 odd up with pings around 10ms. Then I ran the test straight away again and would get a completely different speed and ping. I would see 23Mbps down and 32 up and 18ms ping. This just is not good enough. With other units I have tested I consistently get the advertised speeds and in most cases more. On 20Mbit rated paired units I get 23Mbps down and up with minimal ping and it is repeatable.

The biggest gripe I think with these units is the price. I just don't know where it is justified. It certainly is not in the speed throughput, it can't be the design and footprint because these things are massive. I just don't get it. Reliable fast speeds are important for me because I don't want to just plug them in and forget about them using them on a smart TV. The position of my main workhorse PC means that I have to drape a network cable across the room to get connected. I need these units to supply me with 200Mbps of speed.

I run a 212Mbps down 220Mbps up and >3ms ping connection through a gigabit lan connection so I expected these devices to give me that same speed (after all this is the advertised rated speed of the devices) I process large video files and upload them through youtube, I shouldn't have to wait for an hour for a 5 minute video to be processed. This just cannot be done reliably through these units. I even tested them out at a different location to see if they just don't like working with my house wiring, but the results were the same.

If I was using a TiVo and a smart TV and wanted a rough and ready connection then these would do the job, but for triple the price of their competitors I still would not buy them. I have to add also that for a third of the price my other units maintain a fast speed. I just did another test with speedtest.net and the results I got speak for themselves. 16.85Mbps down, 14.78Mbps up and 35ms ping. Where is the rest of my 180 odd Mbps gone D-Link?
Random listing from 'Computer Hardware'...
Product reviews for listing 2155: 2.4 GHz Wireless Keyboard and Optical Mouse Set - AKM11AU -
Manufactured by Targus
The Wireless Keyboard and Optical Mouse Set from Targus provides wireless connectivity for up to 10 meters.

The 1000 DPI Optical Mouse with 5 buttons allows smooth, simple navigation and includes power-saving sleep mode to extend battery life while not in use.

Twelve built-in one-touch Multimedia/Internet buttons offer instant access to frequently used commands and allow easy management of multimedia files.
General Disclaimer...
All trademarks, images and copyrights on this site are owned by their respective companies.
KIWIreviews is an independent entity, part of the Knock Out News Group. This is a free public forum presenting user opinions on selected products, and as such the views expressed do not necessarily reflect the opinion of kiwireviews.nz and are protected under New Zealand law by the "Honest Opinion" clause of the Defamation Act of 1992. KIWIreviews accepts no liability for statements made on this site, on the premise that they have been submitted as the true and honest opinions of the individual posters. In most cases, prices and dates stated are approximate and should be considered as only guidelines.

"Small opportunities are often the beginning of great enterprises."
Demosthenes