Product reviews on kiwireviews.nz : Tuesday 14th July 2020 - 08:26:31
Score:

9.5

/

10

[

2

reviews]


ProdID: 6523 - Crayola Model Magic - Deluxe Variety Pack


Brand / Manufacturer : Crayola
Price:

$19.99

Sample/s Supplied by:




Available:

at selected quality retailers
Crayola Model Magic - Deluxe Variety Pack product reviews
Crayola Model Magic adds a new dimension to creating art. Model Magic is a soft, easy-to-use modelling material. It is very lightweight, spongy and sticks to itself - not your hands! Shape it, mould it and air-dry to save your projects and create permanent keepsakes. Use Crayola markers, paints and other items to decorate your designs.

SAFE & EASY: Model Magic air-dries, usually within 24 hours. Suited for ages 5+
This Review: 9.0/10
Value for Money:

Contents:

Functionality:

Personal Choice:
I was keen to give this product a go as I love having tactile dough in my hands - without the mess.

On opening the box I was please to see that there were 14 individual packets inside. For me this was a bonus as it meant that I did not have to have all colours out at once and less wastage. I was surprised however to find that their was neither 2 packets of each colour or one of each colour. Some colours have two and others had one. By reading the packet I do wonder whether each box just has random colours as it does say - 'look out for all 18 colours'. I kept excess clay in wrapped in gladwrap and in a plastic bag.

I loved the squishy texture of this modelling clay. It was very easy to mould and put into different shapes (whether this be big or delicate). I liked how this clay stuck to another piece with no hassle so made putting smaller pieces on easier. Although this is something I did like - I found it very frustrating with my young boy as he didn't realise that things could not be undone (hence we have some very colourful clay).

There is no way you can make anything huge with this kit (there just isn't enough clay) but we made some larger items and let them to air-dry. This took a good 5 days before we were happy that playing would not remould. We did have a few little details break off but this was quickly fixed with a bit of superglue.

I would highly recommend this product to any no mess parent. Was easy to mould and clean up - red was the only colour that seemed to stain the board and hands. What I would of liked to see Crayola do is add just a couple of utensils to this box so that it made a complete packet eg a plastic knife.
This Review: 10/10
Value for Money:

Contents:

Functionality:

Personal Choice: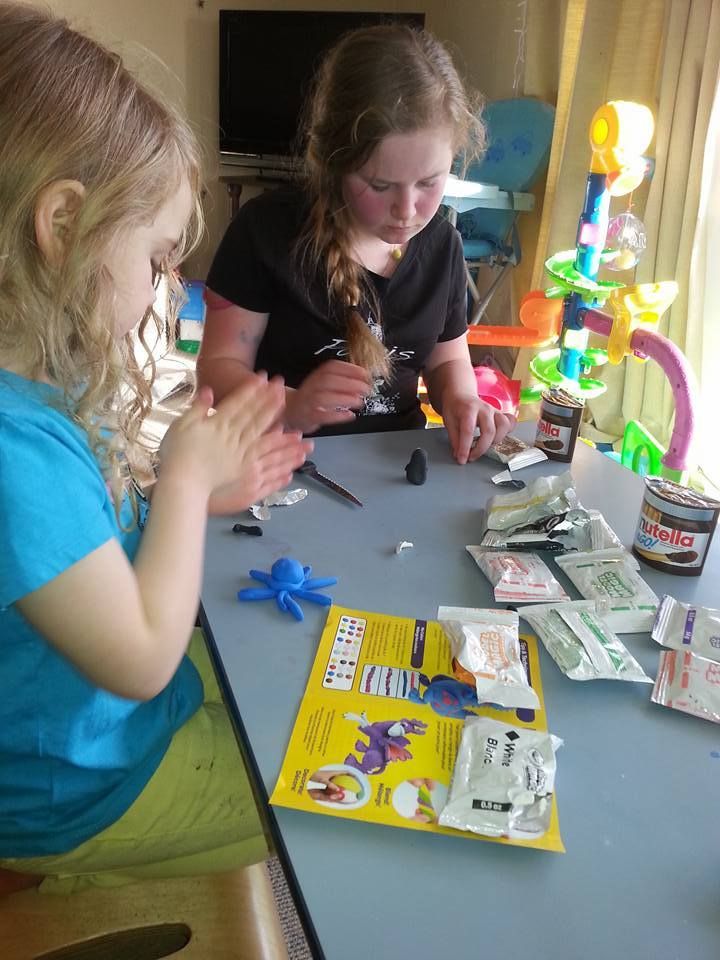 I was very excited to be able to review the model magic, I love trying out new arts and craft and with creative nieces I knew it was going to be a hit and I wasn't wrong. Both miss nearly 5 and Miss 12 loved it and it kept them busy for ages.

Pulling out the box to show them straight away there was interest miss nearly 5 pulled everything out and named all the colours. I was very impressed to find lots of little packets and two of most colours so if you didn't want to use it all at once there was less risk of it drying out. Upon finding the instructions they were quickly handed to me and as we read through them, she spotted a model of an octopus and decided that she wanted to make one of them.

Opening the packets we wanted was easy they just ripped open with ease. the first thing that struck me was how light and spongy it was, the texture is quite unlike anything I have used for modelling before. I really like it as did miss 5 who straight away took a piece to everyone in the house to make them feel 'the really cool clay stuff!'. As soon as she showed miss 12 she joined us at the table to create as well.

As promised it was very easy to use and soon without any help both girls were creating their models. I was impressed that not a single bit of it was sticking to hands or the table everything was staying clean! Mixing colours together was easy to do and when we wanted to add different colours and parts to the models. They stuck together so well if a mistake was made it was hard to remove it again.

The model magic held the girls interest for ages and soon we had lots of little models to dry out, it really sparked their creativity. once we were done clean up was super easy there were a few leftover little bits so miss nearly 5 grabbed a wee ball of the clay and rolled it over the table, it worked as it picked up all the little bits once again none of it stuck to the table. After leaving the models for a couple of days the girls were very pleased to see that they had dried out nicely. Since I introduced it to them they have used it a few times and have already requested more model magic.

I would recommend it to anyone who likes being creative the texture is amazing, its completely mess free, easy to use and perfect for children of all ages. I love that you can either leave your model out to dry or you can throw it all into a sealed bag and reuse it again another day.

Random listing from 'Arts and Crafts'...
Product reviews for listing 3440: Washable Dry Erase Activity Book -
Brand: Crayola
Set of four activity books for ages 4 years plus. All books contain 30 Dry Erase Activity pages and one Washable Dry Erase Marker. Encourage creativity, build handwriting skills and shape recognition with adventure learning activities.

About Dry-Erase Activity Workbook - Ship Shapes
Sail across the high seas ... more...
General Disclaimer...
All trademarks, images and copyrights on this site are owned by their respective companies.
KIWIreviews is an independent entity, part of the Knock Out News Group. This is a free public forum presenting user opinions on selected products, and as such the views expressed do not necessarily reflect the opinion of kiwireviews.nz and are protected under New Zealand law by the "Honest Opinion" clause of the Defamation Act of 1992. KIWIreviews accepts no liability for statements made on this site, on the premise that they have been submitted as the true and honest opinions of the individual posters. In most cases, prices and dates stated are approximate and should be considered as only guidelines.

"Why do the Alphabet song and Twinkle, Twinkle Little Star have the same tune?"
unattributed